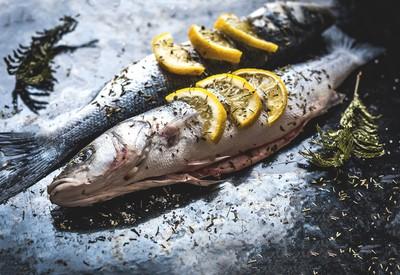 How To Choose & Cook Fish Properly

---
Sydney chef Josh Niland's award-winning and bestselling The Whole Fish Cookbook created the new blueprint for sustainable fish cookery. In his latest book, Take One Fish, Josh continues to showcase the full potential of fish in the kitchen. Here, he shares his tips for buying fish, plus four recipes to try at home – from tuna and 'nduja on toast to john dory chops with jerk cauliflower.
Photography ZINAIDASOPINA/ISTOCK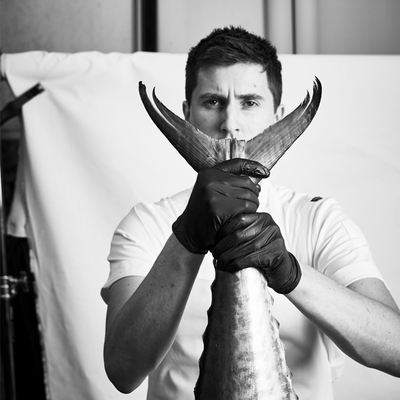 1. Have A Game Plan
Know how many you are feeding and what methods of cookery you have available to you before you go to the fish shop. 
2. Know What To Look For
Whole fish
Glistening eyes that are bulbous and clear, a firmness in appearance and to the touch, scales that are tightly composed and are unaffected by bruising, abrasions or deep cuts, and a light ocean or seaweed odour. 
 
Fillets
Ensure the fillets are dry and not sitting in a puddle of their juices, ice and water, that the skin is intact, free from bruising and marking, and that the flesh is translucent and glassy (it should not appear to be foggy, milky or have a brown lateral muscle, as these are all key indicators of a poorly handled fish). 
 
Frozen
All of the above quality points are relevant, but also be certain to check packaging dates and inspect quality of freezing to make sure there is no freezer burn (tell-tale signs of which include ice crystals on the fish itself and discolouration in spots).
3. Get The Work Done For You
If you would like a fish to be filleted, de-boned, butterflied or have its skin removed, then ask for it! There is nothing wrong with getting a professional to do this for you, especially if it will improve your experience with the fish once you get home. 
4. Look Past The Top Tier
You don't always need to buy the centre cut of a fillet or pay top dollar for the most premium fish available. Instead, if a recipe calls for fish mince, or just the collars or even the tail of the fish, be specific and ask for these items. It would be ludicrously expensive to mince beef fillet or sirloin for a lasagne (not to mention it being the wrong cut to be cooking for hours). Fish have muscles and components to them that offer different flavours and textures and – importantly – come in at different price points. In short, start thinking about buying fish like you would meat. 
5. Ask About Cooking
While you are shopping, ask about cookery methods that are applicable to the fish you have chosen. You might pick up some good advice that will lead not only to a delicious dinner but also a greater confidence moving forward. 
Got a decent piece of fish? Here are four recipes to try at home…
Tuna 'Nduja On Toast
This is a great way to use up the trimmings after breaking down a tuna. It's very quick to make and the results are absolutely delicious served up on toast like this or as an addition to pasta or vegetable-based dishes. The easiest way to cook the 'nduja is by frying it in a little oil – separating out the fat (which you can use for grilled veg, or even octopus or calamari) and transforming the texture into a fine mince.
 
Serves: 4
Total Time: 20 Minutes
 
INGREDIENTS
500g of yellowfin tuna loin, trimmed

3 garlic cloves, 2 finely grated, 1 peeled and halved

110g of olive oil

Sea salt flakes and freshly cracked black pepper

4 slices of quality sourdough bread

Extra virgin olive oil, for brushing and finishing
For the 'nduja spice mix:
1½ tbsp of smoked paprika

½ tsp of freshly cracked black pepper

½ tsp of ground fennel seeds

1 pinch of finely grated nutmeg

½ tsp of chilli flakes

1 tsp of sea salt flakes
METHOD
To make the 'nduja spice mix, combine all the ingredients in a small bowl.

Pass the trimmed tuna through a meat grinder on a coarse setting (or chop into a coarse mince consistency with a sharp knife). Transfer to a large bowl, add the spice mix, grated garlic, rendered fish fat and a pinch of salt, and stir gently to combine, being careful not to overwork it. Set aside.

Brush both sides of the bread slices with extra virgin olive oil, taking it right to the edges.

Heat a chargrill pan over a medium heat, add the sourdough slices (in batches if necessary) and grill for 2-3 minutes each side, or until very well toasted with nice char lines. Remove from the pan and rub with the halved garlic clove, then transfer to individual serving plates.

Pile a heaped tablespoon of the 'nduja onto each slice of hot toast and drizzle with 2 teaspoons of olive oil. Using a fork, drag the tips through the 'nduja, working from left to right to create even ridges for the oil and seasoning to settle into. Season liberally with salt flakes and black pepper, and serve immediately. Store any leftover 'nduja in an airtight container in the fridge for up to 4 days.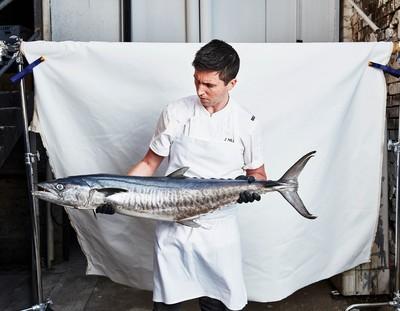 Tacos Al Pastor
Serves: 8-12
Total Time: 1 Hour
INGREDIENTS
2 ½ tbsp of rapeseed oil, plus extra for brushing

8 garlic cloves, coarsely chopped

2 tsp of dried oregano

1 tsp of freshly ground cumin seeds

1 tsp of freshly cracked black pepper

½ tsp of freshly ground cloves

7 dried guajillo or ancho chillies, stems and seeds removed, cut into 2.5cm pieces

180ml of pineapple juice

80ml of apple-cider vinegar

100g of achiote paste

Sea salt flakes

2kg of trimmed swordfish loin (or other meaty white fish), sliced into 3mm thick rounds

½ medium pineapple, peeled
To serve:
20 warm corn tortillas

1 large onion, finely diced

Sea salt flakes

2 bunches of coriander, stems and leaves coarsely chopped

3 limes, cut into wedges
METHOD
Heat the oil in a medium saucepan over a medium-high heat to a light haze. Add the garlic and cook, stirring occasionally, for about 1 minute until lightly coloured. Reduce the heat to medium, add the oregano, cumin, pepper and clove and cook until fragrant, about 1 minute. Add the chilli and cook, stirring, for 30 seconds or until it begins to blister and bubble. Add the pineapple juice, vinegar and achiote paste and bring to the boil. Remove from the heat and stand for 5 minutes.

Pour the chilli mixture into a blender and blitz to a smooth puree. Season well with salt. Decant the marinade into a very clean stainless steel baking tray or clean airtight container. Add the fish and turn to coat liberally and evenly. Leave uncovered in the fridge to marinate overnight.

The next day, thread the marinated fish onto large metal skewers, folding the rounds over to create half moons. Alternate the direction of the slices so the finished result is even and the slices are interlocked.

If you are using a charcoal grill, make sure the grill is very hot with evenly burnt-down embers. If you are working with a rotisserie, make sure the coals are spread evenly through the centre of the grill, so the fiercest heat is in the middle.

The key to cooking this dish well is to work over a very high heat – the more caramelisation you can achieve on the marinade the better. If the temperature is too low the fish will cook before it has any real colour.

Before grilling the fish, brush the peeled pineapple with a little rapeseed oil.

Grill over a medium heat, turning every 3-4 minutes, until it is evenly charred on the outside with tender flesh on the inside. (Alternatively, set the pineapple in the embers and leave for 1 hour until blackened all over.) Set aside.

Brush the skewered fish with rapeseed oil and grill over a high heat, turning regularly to allow the fish and marinade to toast and caramelise. The cooking time will vary, depending on the fattiness of the fish and the heat of your grill, but it could take between 12-15 minutes.

The best way to check is to insert a probe thermometer close against the skewer: the temperature should not exceed 46-48°C. Too much heat will result in very dry, chalky fish. Remove from the grill and rest for 4-5 minutes.

To serve, using a very sharp knife, slice the fish off the skewer straight onto warm corn tortillas. Cut the pineapple into thick slices. Top the tortillas with diced onion, salt flakes, a slice of grilled pineapple and chopped coriander, and finish with a big squeeze of lime. Serve hot with cold beers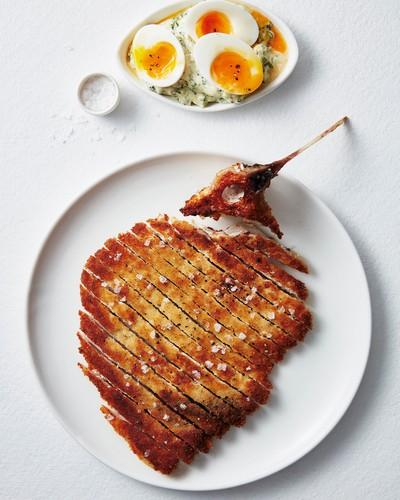 Swordfish Schnitzel & Egg Salad
Serves: 2
Total Time: 30 Minutes
 
INGREDIENTS
2 × 250g swordfish cutlets, bone in

250ml of whole milk 

1 large egg

Sea salt flakes and freshly cracked black pepper

250g of plain flour

180g white panko breadcrumbs

160g of ghee
For the egg salad:
4 soft-boiled eggs, cooled and peeled

100g of quality mayonnaise

1 tbsp of dijon mustard

1½ tbsp of red onion, finely diced

1½ tbsp of celery, finely diced

1 tbsp of salted capers, rinsed and drained

1 bunch of chives, finely chopped

1 pinch of cayenne pepper

Sea salt flakes and freshly cracked black pepper
​METHOD
Place each swordfish cutlet between two sheets of baking paper and beat with a meat mallet to an even thickness of approximately 2-3mm.

Place the milk and egg in a shallow bowl, season with salt and whisk to combine. Tip the flour and breadcrumbs onto separate flat baking trays or dinner plates.

Dip the swordfish first into the flour and tap away any excess, then dip it into the egg mixture, allowing the excess to drip away. Lastly, coat with the breadcrumbs, pushing down firmly so the breadcrumbs stick evenly from edge to edge.

Melt half the ghee in a large cast-iron frying pan over a medium heat. Add one cutlet and cook for 4 minutes, keeping the pan moving to swirl the fish around in the hot fat and turning it over halfway through cooking, until golden and evenly coloured on both sides. Season liberally with salt and pepper, then transfer to a plate lined with paper towel to rest. Repeat with the remaining ghee and the second cutlet.

For the egg salad, halve the soft-boiled eggs lengthways. Stir all the remaining ingredients together in a serving bowl until combined, then position the halved eggs on top. Season with a little more salt and pepper. Serve with the swordfish cutlets.
DISCLAIMER: We endeavour to always credit the correct original source of every image we use. If you think a credit may be incorrect, please contact us at [email protected].