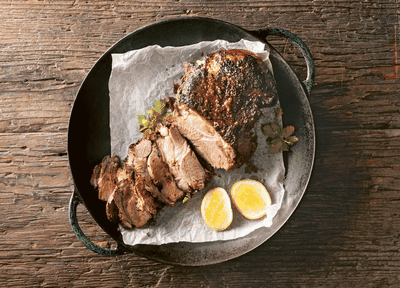 How To Cook Like An Aussie

---
Ross Dobson is an Australian food writer and chef. He's written bestselling cookbooks while establishing a number of cafés and restaurants in the western suburbs of Sydney. His latest venture is Café Royce in Penrith, where he cooks classic and contemporary Australian food. In his new Australia: The Cookbook, he explains exactly what Australian food is today and showcases it with some outstanding examples of it – look out for hot and spicy Australian-Chinese fusions, updated British classics, fresh Thai and Vietnamese-inspired dishes, as well as Greek and Turkish imports. He told SLMan more, and picked out some of his favourite recipes that you can easily recreate at home…

Breakfast is an Australian obsession. The national preoccupation with a tasty breakfast started long before hipster cafés began offering avocado on toast, coconut yogurt, kimchee, sourdough or fresh ricotta whipped into hotcakes. While Sydney likes to claim they did it first, bigger and better, this phenomenon probably started in Melbourne in the late 80s or early 90s. And it may well be the result of the coffee and espresso machines that Italian immigrants were importing into Melbourne in the 50s. Breakfast is but one meal or occasion that reflects what Australian food is today: an eclectic combination of ingredients and cooking styles, simply prepared food using prime locally grown produce, with a no-holds-barred attitude. A rollercoaster ride of freshness and flavour.
Chinese culture has flourished in Australia. Melbourne has one of the oldest Chinatowns in Australia and the oldest continuous Chinatown outside of Asia. It would not be an exaggeration to say that every Australian town has a Chinese restaurant serving classic Australian-Chinese dishes like prawn cutlets and Mongolian lamb. Chinese recipes also enticed the home cook with their ease and flavour. Chicken with almonds became a favourite to make at home, as did short soup – the colloquial term for wonton soup (long soup being egg noodles in broth). Today, these classics are served alongside more modern Australian-Chinese dishes, like salt and pepper squid.
Australians can't get enough of the fresh and fragrant offerings of Vietnamese food. Vietnamese bakeries are thriving, offering freshly baked, French-inspired pastries and breads. Many of these bakeries also sell Anglo-Australian items like sausage rolls, meat pies and custard tarts. They introduced the traditional baguette-style banh mi rolls. A good Vietnamese bakery will have people lined up at lunchtime to buy a banh mi sandwich filled with ingredients like pâté, pork sausage, chicken, salad, mayonnaise and coriander.
The mighty prawn is the hero of Australian seafood. They either come cooked in their vibrant orange shell, all ready to go, or they are sold raw and are called green prawns. In Australia, this crustacean has inspired Australian-Chinese restaurants to come up with a whole host of prawn-centric specialities, such as deep-fried prawn cutlets, prawn toasts and even battered prawns drizzled with honey. Prawns have come to symbolise us, and I don't mean the cliché about throwing a shrimp on the barbie. For one thing, we don't call them shrimp here. Such a diminutive term would be an insult to us and our prawns. They are big, colourful and sweet creatures. They define a prawn cocktail, or are divine simply peeled and eaten as fresh as can be. They can be fried, steamed or baked. Few things are as good as prawns bubbling in a cast-iron pot of olive oil and garlic, all pink and curled up, crusty bread at the ready to dive in.
Inspired? Here are five simple recipes to try at home…
Neil Perry and Kylie Kwong have forged success in the local and international food scene with their unique take on the fusion of Asia and Australia thanks to their passion for Asian cookery and advocacy of premium Australian produce. They've helped popularise thise dish to the extend you'd now be hard pressed to find a pub restaurant that didn't have salt-and-pepper squid or chilli salt squid on the menu. Versions using prawns or tofu are popular too.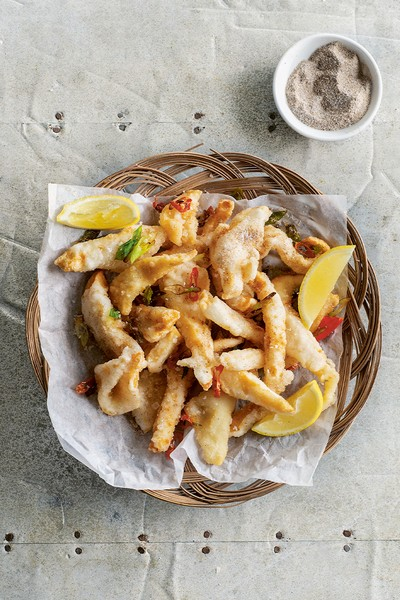 Ingredients
Vegetable oil, for deep-frying
1
large red chilli, finely sliced
1
spring onion, finely sliced
For the spiced salt

1
tsp
of ground white pepper
½
tsp
of Chinese five-spice powder
For the batter

250ml
of soda water, chilled
Method
Step 1
To prepare the squid, cut the squid hood down the centre on a chopping board and open it flat. Use a small knife to scrape off the membrane on the inside of the hood, then cut the hood lengthwise into 1cm-wide strips. Pat the squid pieces dry with paper towels and transfer to a bowl.
Step 2
For the spiced salt, combine the salt, sugar, white pepper and five-spice in a small bowl, then set aside.
Step 3
To make the batter, put the cornflour into a bowl and stir through the soda water to make a smooth mixture, then set aside.
Step 4
To prepare the squid, first line a plate with paper towels, then put the cornflour into a bowl. Half-fill a saucepan with enough oil for deep frying and heat over a high heat. The oil is ready when a cube of bread sizzles on contact and turns golden in 10–15 seconds. Alternatively, use a thermometer and heat to 220°C.
Step 5
Working in batches, and using your hands, add about one-third of the squid to the bowl of cornflour. Toss the squid around to lightly coat in the cornflour then toss in the batter. Allow excess batter to drip back into the bowl. Carefully add the squid to the oil and cook for 2-3 minutes, until light golden. Use a slotted spoon or metal tongs to transfer the squid to the lined plate. Repeat to cook the remaining squid in batches.
Step 6
Carefully add the chilli and spring onion to the hot oil and deep-fry for 1-2 minutes. Remove with a slotted spoon and transfer to a bowl with the squid. Sprinkle over 1-2 teaspoons of the salt mixture and tumble the squid onto a serving plate.
Step 7
Serve the squid with lemon wedges on the side and the remaining salt mixture in a small bowl to add to taste.
Fried rice is very much an Australian-Chinese restaurant thing. The Chinese don't have one clearly defined recipe for it. Plain, steamed rice is what is traditionally eaten with a meal. This is an easy version of fried rice. Restaurants will also offer a luxe edition called 'special fried rice', which will include any combination of prawns, chicken and Chinese BBQ pork.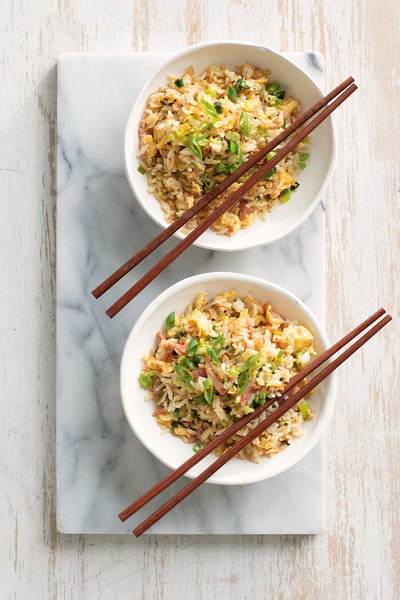 Ingredients
2
tbsp
of rapeseed or groundnut oil
1
tsp
of toasted sesame oil
2
rashers of streaky bacon, finely sliced
2
cloves of garlic, finely chopped
3
-cm piece of fresh root ginger, peeled and grated
6
spring onions, finely sliced
1
tbsp
of light soy sauce
Method
Step 1
Heat 1 tbsp of the rapeseed oil in a wok over a high heat. Swirl the oil around in the wok until it is coated in oil. Pour in the eggs and stir fry for 2 minutes until just set. Transfer the eggs to a plate and set aside.
Step 2
Add the remaining rapeseed oil and the sesame oil to the wok. Add the bacon and stir-fry for 2-3 minutes until golden. Add the garlic, ginger and three-quarters of the spring onions and stir-fry for 30 seconds. Add the rice and leave without stirring for 1 minute. Return the eggs to the wok and stir-fry for 2-3 minutes, breaking the eggs into smaller pieces. Pour the soy sauce over the rice and stir-fry for 1 minute. Serve with the remaining spring onions scattered over the rice.
Pronounced 'pee-dae', these freshly baked Turkish breads have been around for as long as I can remember. Thanks to diplomatic relations between Australia and Turkey starting in 1967, Turkish citizens were able to live and work in Australia. The Cypriot Turks who came to Australia initially settled in the inner-city suburbs of Sydney and Melbourne and so this is where many of the first Turkish restaurants and shops were established. Turkish bread became hugely popular in cafés here and remains a very popular bread to toast and spread with butter and Vegemite. Pide are now sold in all three of the leading supermarkets in Australia. Pide refers not only to bread but also to Turkish pizzas. These Turkish pie-cum-pizzas are topped with spiced meat, spinach, feta or egg and are very popular.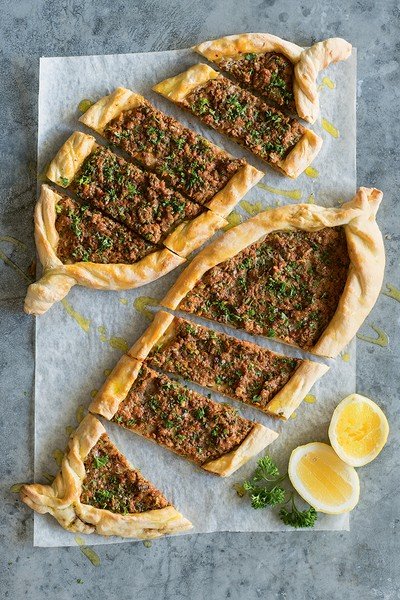 Ingredients
1
tomato, coarsely grated
10g
of curly parsley, finely chopped, plus extra to serve
2
spring onions, finely chopped
2
tsp
of extra virgin olive oil
For the pide dough

Vegetable oil, for greasing
250g
of plain flour, plus extra for dusting
2
tsp
of instant or active-dry yeast granules
Method
Step 1
To make the pide dough, lightly grease a bowl with vegetable oil and set aside. Place the flour and salt in a stand mixer fitted with a dough hook. Push the flour to the side of the bowl to make a well in the centre, add the yeast and sugar and pour in 185ml of warm water (38-42°C) into the well. Knead for 5 minutes, or until the dough is smooth. Tip onto a lightly floured work counter and form into a smooth ball. Put into the prepared bowl, cover with clingfilm and leave in a warm place for about 1 hour, or until doubled in size.
Step 2
Preheat the oven to 200°C/Gas Mark 6. Lightly dust 2 medium sheets or 1 large baking sheet with flour.
Step 3
Tip the dough onto a lightly floured work counter and divide it in half. Working one at a time, lightly flour a rolling pin and roll the dough into a large oval shape, measuring 40 x 30 cm. Transfer to the baking sheet and repeat with the other portion of dough.
Step 4
For the filling, combine the minced lamb with the remaining ingredients, except the pepper and lemon wedges, in a large bowl. Season with pepper and mix until really well combined. Spread the mixture over the dough, leaving a border 2-cm from the edge. Pinch the top ends of the dough together, then fold 2 cm of the sides over the filling. The pide should resemble a boat. Bake in the oven for 20 minutes, or until golden around the edges and the underneath is golden, too.
Step 5
Remove from the oven, sprinkle with parsley and let cool for a few minutes. Cut crosswise into thick slices and serve with lemon wedges on the side.
In 1985, the Australian Meat & Livestock Research Development Corporation promoted boneless cuts of lamb as convenient and quick to prepare. With the increase in popularity of cooking outside on the BBQ, larger deboned and butterflied lamb was also in demand. A whole boneless leg of lamb could be easily splayed out on a BBQ and would feed eight people, with salads on the side. Supermarkets will have 'easy-carve' butterflied legs of lamb ready to go, but they are often marinated and can be very salty. For quality control, simply ask your butcher to butterfly the leg for you.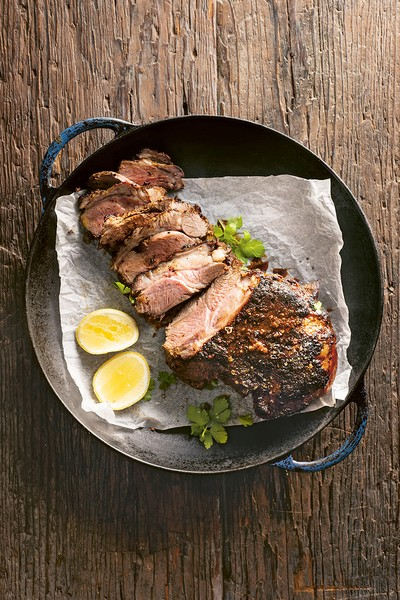 Total Time
50 Minutes
Plus 6-8 hours resting
Ingredients
1
x
2
.5kg butterflied leg of lamb
4
cloves of garlic, coarsely chopped
1
small bunch of flat-leaf parsley, stems discarded
Method
Step 1
Leave any excess fat on the meat as this will prevent the meat from burning. Using a sharp knife, cut 4-5 shallow, diagonal slashes on each side of the lamb and put into a large, non-metallic bowl.
Step 2
Combine the paprika, cumin, olive oil, lemon juice, garlic and salt in a food processor. Coarsely tear the bunch of parsley and throw it into the food processor, then process to make a chunky paste. Rub the paste all over the lamb and into the cuts, then refrigerate for 6 hours, or overnight.
Step 3
When ready to cook, remove the lamb from the fridge 1 hour before cooking.
Step 4
Heat a barbecue hotplate or indoor grill to medium heat. If the barbecue has a lid, close it to keep the heat in. Put the lamb, skin side down, on the barbecue or indoor grill, and cook for 15 minutes. Reduce the heat to low and cook for another 10 minutes. Turn over and cook for another 10 minutes. Wrap the lamb in aluminium foil and transfer to a large plate or tray. Leave to rest for 30 minutes.
Step 5
Slice the meat and serve with potato salad and lemon wedges on the side.
This is a classic combination, all made in one pan. Smoked salmon was never something that Australians ate before the mid-70s, and when they did it was almost always imported. Now, the local industry, though confronting environmental issues, is producing some of the best smoked salmon in the business.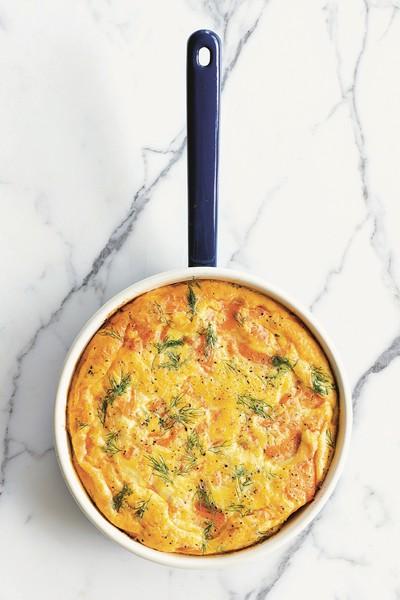 Ingredients
2
tbsp
of parmesan, finely grated
20g
of dill, finely chopped, plus extra fronds to sprinkle
300g
of smoked salmon, coarsely torn
Method
Step 1
Preheat the oven to 180°C/Gas Mark 4.
Step 2
Place the eggs, cream and cheese in a bowl and beat together with a balloon whisk until well combined. Stir through the dill and season with salt and pepper.
Step 3
Heat the oil in an ovenproof non-stick frying pan or skillet over a medium heat. Swirl the pan around to coat in the oil. Pour in the egg mixture, then add the salmon and sprinkle with some dill fronds. Cook for 2 minutes, or until the eggs start to set around the edge. Transfer to the oven and cook for another 8-10 minutes until golden.
Step 4
Remove from the oven and leave to stand for 10 minutes before cutting into wedges to serve.
DISCLAIMER: We endeavour to always credit the correct original source of every image we use. If you think a credit may be incorrect, please contact us at [email protected].