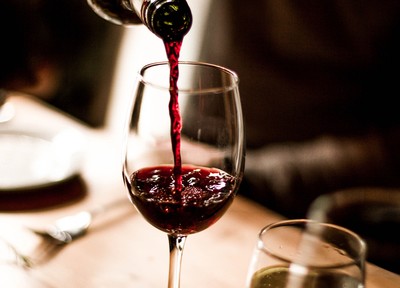 How To Get Into Red Wine

---
At this time of year, when the weather is chilly and the days are short, there's almost nothing better than curling up with a glass of red wine. But if you don't know much about it, it's easy to go too heavy and overwhelm your palate. To help, we asked wine expert Aleesha Hansel to share her tips and recommendations.

Photography
DEBYAHO/ISTOCK
If you don't know much about red wine but would like to get into it, the best place to start is with fruity, rounded styles. 'Rounded' refers to the fact that there is no, one singular characteristic of the wine that sticks out. It all blends nicely together and feels soft and smooth. Varieties such as merlot, zinfandel and malbec are good examples of this.
The easiest way to think about the body of a wine is to compare it to milk. Light bodied is similar to skimmed, medium to semi-skimmed and full bodied to full fat. The body of a wine is made up of a combination of elements including alcohol (which is more viscous than water) tannins (the thing that makes your gums feel dry), residual sugar and acidity. A low body wine would be pinot noir, a medium body merlot and a full body wine, cabinet sauvignon.
Whether or not a wine should 'breathe' is a bit of a debate. The main reasons to do so would be to separate a wine from the sediment at the bottom, or to allow oxygen in to help a wine 'open up'. There is a preconception that all old, red wines should be decanted, but this could do more harm than good, as exposing it to too much oxygen can make it fade quickly. The only time I decant for taste is if it smells of rotten eggs or a struck match when opened. This sometimes happens as a result of wines being produced under hermetic conditions and giving it air often fixes the problem. If, however, you are a fan of letting a wine breathe, then just taking the cork out or unscrewing the lid isn't going to do anything, as the amount of wine in contact with the air is minimal. Pour it all out into decanter, jug, vase – it doesn't really matter, just remember the wider the vessel the more contact with the air the wine has and the quicker the aroma/flavour profile will change.
If you really don't know what to pick from a restaurant wine list, then go for house red. The perception of a house wine has somewhat changed over the years, but originally it was the wine that the restaurant or bar put their name and reputation to as a good-quality, crowd-pleasing wine and wasn't necessarily the cheapest. The same goes for supermarket own-brand wines. They won't be the best you've ever had, but they will be affordable, from well-known producers and appeal to the widest audience.
How a wine is made affects the cost. If a grape is particularly tricky to grow or requires several years ageing or the use of expensive equipment such as oak barrels, it will all add to the final cost. However, on top of the practical and logistical reasons, the insanely expensive wines rely on a mixture of reputation and history, cult status and hype.
Red wines have such a range of characteristics to match with food – you really can find one for any occasion. We have quite a narrow view of what red wine should match with, which really needs to change. A red wine can be found to match with spicy cuisine, aromatic dishes, sweet courses and even fish.
How and what you serve red wine in matters. If the bottom of the glass is wider than the brim, it allows the aromatics of the wine to congregate closer together so you can get a better smell. Ultimately, though, wine for me is all about pleasure and sharing that with friends and loved ones, so any time we get together over a bottle is a good one.
 
Visit AleeshaHansel.com or follow Aleesha on Instagram here.

 
Inspired? Here are Aleesha's top recommendations…​
Morande Reserva One to One Pais 2019, £8.99
I'm a big fan of under-the-radar grape varieties. They can offer excellent value for money and it's something new and exciting. This wine made with the pais grape is a great alternative for beaujolais and pinot noir lovers. Light, with red cherry and raspberry flavours and a little spice on the finish, it's great served with a charcuterie board.
Available here
Davy's No 1 House Red, £8.50
When a company like Davy's puts its name on a bottle, you know it will be good. A blend of gamay, grenache and shiraz, this is a juicy, round, easy-drinking wine with red berry characteristics and medium body. Think of it as one for the merlot drinkers that want to branch out. Plus, it's a great pairing for weekday meals if you're so inclined – think quesadillas and grilled veggies.
Available here  
2019 Primitivo Appassimento Carlomagno, £9.95
Primitivo is actually the same grape as zinfandel, which is known for being full-bodied, with plenty of black fruits and a high alcohol content. This wine has an added dimension, though, in that it's made in an 'appassimento' style, where the grapes are picked and then dried on straw mats in the sun. Similar to sun-dried tomatoes, this concentrates the flavours, resulting in a very ripe, soft wine with a gentle sweet spice. Pair it with mature cheeses and curries.
Available here
Château Capendu La Comelle Corbières, £6.99
A blend of carignan and grenache noir, this one is bursting with cherry and red fruit. Famously, wines from Corbieres (in Languedoc-Roussillon) have a slightly savoury note in the form of herbs – but there's also a touch of vanilla and notes of spice. Plus, it's great value for money. Serve it with hearty winter stews.
Available in store at Waitrose
Sainsbury's Taste the Difference Marzemino Trentino, £8.50
This is another relatively unknown variety, and one which is native to the region of Trentino. A great wine for those that want something lighter and more refreshing, like many from the north of Italy, it has a pretty high acidity, which means it will go perfectly with tomato-based dishes.
Available here
Salvaje del Moncayo Garnacha 2018, £9.50
Spanish wines don't get enough credit compared to the other 'old world' countries such as France or Italy. With notes of red fruit, floral and acidic freshness, this is one to try if you are a côtes du rhône fan. It's best served with aubergine dishes now, and possibly a BBQ – weather permitting – as we get further into the spring.
Available here
Domaine Jean-Marc Burgaud Morgon Côte du Py, £19.95
You may think this is mightily expensive for a beaujolais, but it's top end stuff. The côte du py area sits at the highest point in Morgon, at the top of an extinct volcano, in which the black soils produce complex, structured and rich wines that can age. In my view, it's an incredible expression of beaujolais, packed with dark cherry, blackberry, liquorice and forest floor. Serve it with game, such as pheasant, rabbit and duck.
Available here
Nivola Lambrusco, £14.99
I love sparkling reds, and I will try to convert everyone. Great with food, great without food, great for a celebration or just on your own, lambrusco has a bit of a bad reputation due to the not-so-great versions of the 70s and 80s, but it's so much more than that today. Lambrusco is actually the name for a group of grapes, with this one being lambrusco grasparossa – which makes the boldest version with flavours of black currant, blueberries and a deeper colour. Match it with pizza, BBQ… and Eurovision.
Available in store at Majestic Wines
No.1 IPW Chianti Classico Riserva, £15.99
Living up to its name, this wine is a truly a classic. Crafted by the prestigious Piccini Estate, it's aged for at least two years, producing delicate scents of rose petal and sweet spice and flavours of plum, cherry and dried rosemary, combined with a subtle oakiness that gives structure and elegance. It's Tuscany in a glass, and the perfect partner to roast lamb. 
Available here
INSPIRATION CREDITS: DEBYAHO/ISTOCK
DISCLAIMER: We endeavour to always credit the correct original source of every image we use. If you think a credit may be incorrect, please contact us at [email protected].