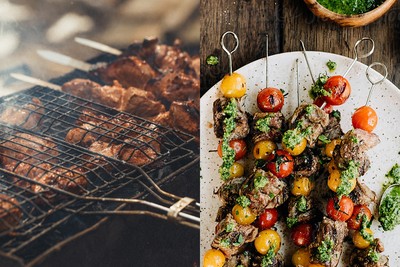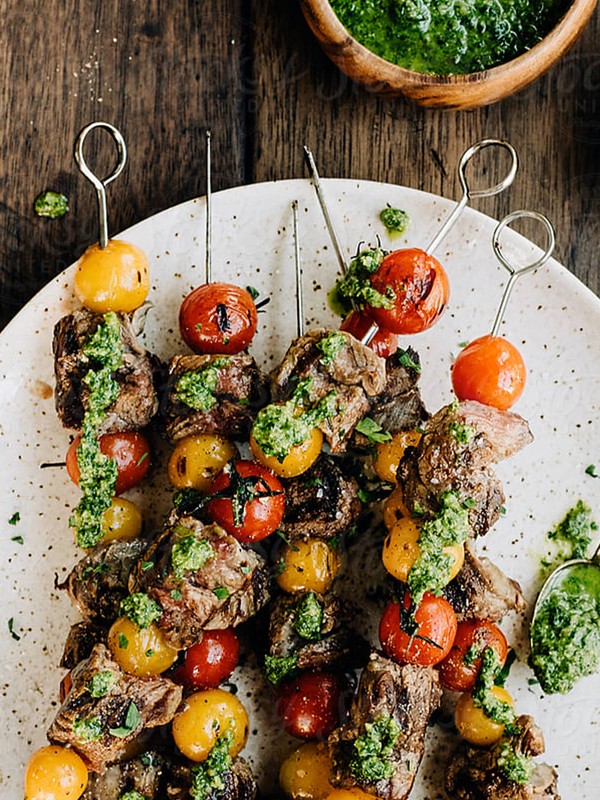 How To Make Great Kebabs At Home

---
Forget greasy doners. Any chef will tell you shish kebabs are healthier and tastier to make at home on the BBQ or griddle. So yours are the best they can be, we asked three top chefs for their prep and cooking tips…

Photography
DANIL NEVSKY/STOCKSY UNITED
"For a great kebab, I prefer to use chicken, but it's completely down to personal preference. My kebab shop order has been a chicken shish since day one. For juicy and tender meat, use chicken thighs and cut it across the grain in long strips before you marinate and skewer it out flat. With chicken, it's imperative you source your meat correctly. We need to eradicate the demand for factory-farmed hens. Aim for soy-free chickens from suppliers like Redwoods Farm, or free-range slow-reared hens from Fosse Meadow or Sutton Hoo. The Ethical Butcher is your best online resource for all things meat, but if you fancy interacting with some great butchers, head to Northfield Farm in Borough Market or Drings in Greenwich." – Ivan Tisdall-Downes, Native 
"You can't go wrong with a chicken kebab. Arguably the tastiest part of the chicken, thighs are little parcels of tender, juicy meat from the top of the bird's leg. You can buy them on the bone, off the bone, and with the skin on or off. The meat is darker and firmer than the white breast meat and needs slightly longer to cook. The firmer texture means they hold together brilliantly on cracking chicken tandoor-style kebabs. If you prefer lamb kebabs, choose the right cut of meat – for a shish, ask your local butcher for rib, loin, breast, leg or shoulder. I buy meat from my local butcher so I get the exact cut I want, otherwise we source our lamb from Daphne's Welsh Lamb, which offers nationwide delivery." – Sohan Bhandari, Colonel Saab
"Whatever meat you're using, make sure it's cut into evenly sized chunks so they cook in the same time. This is especially important if you want to use veg on each skewer, like peppers, mushroom or tomatoes. The meat for fried or grilled kebabs needs to be 80% meat and 20% fat. If you want to used minced meat for a kofta-style kebab, ask your butcher to mince the meat for you twice to get the right consistency. For chicken or lamb, sprinkle it with kosher salt then add a ginger and garlic paste, lime juice and mustard oil. For poultry, allow it to marinate in a bowl for at least our hour, then let it reach room temperature before you cook. Any kind of marinade should include an acidic component to tenderise the meat and help the flavours infuse deeper." – Sohan 
"Keep the fat content high and always use quality produce to pack in as much flavour as possible. I can't give you my secret marinade recipe as it was handed to me by my good Cypriot friend Nejmi and he wouldn't be best pleased with me for sharing it. However, a simple marinade that works with everything is yogurt mixed with crushed garlic, tomato paste and olive oil. You can then add a pinch of garam masala and turmeric for colour and spice." – Ivan 
"Lamb is one of my favourite meats as it can take on many flavours and spices. Spring leg of lamb is best if you can get it, as it makes delicious and tender kebabs. Use a few simple ingredients to bring out its juicy flavour. Cut your lamb into small chunks and marinate it with crushed garlic, grated ginger, onion paste, Kashmiri chilli powder, cumin powder, garam masala, mustard oil, Greek yoghurt, and a good crack of black pepper and sea salt. Leave it to marinate for at least 30 minutes before putting it on skewers, ready for cooking." – Yousuf Mohammed, Tsaretta Spice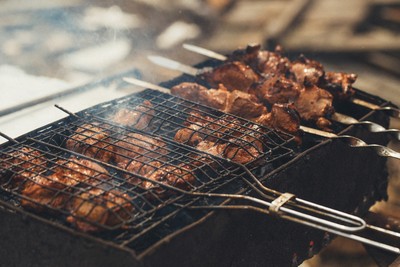 DANIL NEVSKY/STOCKSY UNITED
"Kebabs will sing on the BBQ. Make sure the hot coals have burnt grey and the grill is as close to the coals as possible. Warm up your bread on top of the meat while it's cooking to soak up all the juices. When it's not BBQ season, I cook my kebabs under the grill in the oven. Turn the heat up as high as it goes and place the shelf on the top level. Balance the skewers on a baking tin so the meat is suspended and not touching the tray. Turn and cook as if it was an upside BBQ." – Ivan 
"If you're using bamboo skewers, soak them in water overnight so they don't catch on the BBQ or grill. Fire up the BBQ and drizzle or brush a little oil over the kebabs. Cook them on a medium heat directly over the coals until tender. You have to turn the kebabs every few minutes to avoid charring so use an oven glove or tongs, rather than metal skewers which get very hot. If you encounter any flames or flare-ups, move the kebabs to the side of the BBQ grill. I like to finish mine with a basting of butter, lemon juice and chaat masala. If you want to do them in the oven, cook the meat for two to three minutes on each side under a hot grill, then finish them in the oven for around five minutes on a medium/hot heat." – Sohan
"For a proper kebab, serve yours with an authentic bread. Depending what spices you use, you could have naan, paratha or sheermal roti, available at most Indian supermarkets. However, a classic Turkish bread always hits the spot. My Turkish lavas puff bread takes a few hours to make but the result is worth it. Get a large bowl and stir together two teaspoons of active dry yeast in warm water (follow the packet instructions). Add two teaspoons of sugar and stir again until it has dissolved. Set the yeast mixture aside in a warm place for about 15 minutes to let it develop. You'll know it's ready when you see bubbles on the surface. Meanwhile, melt four tablespoons of salted butter, let it cool, and stir it into the yeast mixture. In a separate bowl, mix together 750ml of bread flour with two teaspoons of fine salt. Add the dry ingredients to the yeast mixture and combine until you have a ball of dough. Knead the dough first in the bowl, then on a lightly floured surface until it forms a smooth ball. Grease the inside of a deep bowl with a little olive oil, place the dough inside, and cover with plastic wrap. Allow the dough to rise in a warm place for about 15 minutes. 
"Turn the dough out onto your floured surface and knead again for 15 minutes. Oil the bowl and re-add the dough, this time letting it rise for about two hours in a warm area. It should double in size. Preheat the oven to 250°C/480°F. Turn out the dough onto the floured surface and flatten it with your hands. Cut the dough in half, then cut each half into three even-sized pieces, making six pieces in total. Form the pieces into balls, cover them with cling film, and let them rise on the floured surface for 15 minutes. Using your hands or a rolling pin, make a disc out of each piece of dough. Continue to flatten the disc until it becomes very thin. Use extra flour to keep it from sticking to your hands and the surface. Sprinkle sesame and nigella seeds onto the dough and roll it in with the rolling pin with one last stroke to press the seeds into the dough. Grease two large baking trays with a little olive oil and place three pieces of dough on each one. Bake for about eight minutes, or until the centres puff up high and they begin to brown." – Sohan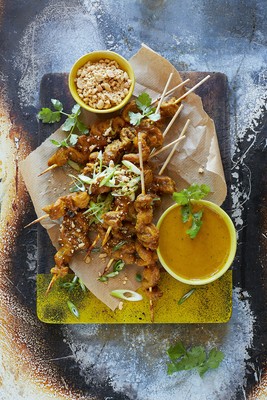 THE FRY FAMILY FOOD CO/ UNSPLASH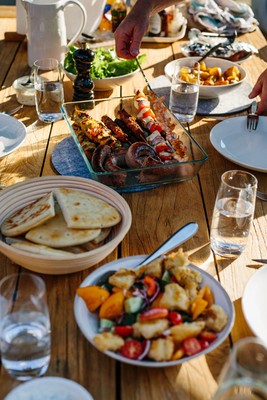 HELEN RUSHBROOK/STOCKSY UNITED
"I like to eat my kebab with acili ezme, which is a kind of spicy tomato salad. You'll need to finely dice tomatoes, onion, garlic, green peppers, and add in chopped herbs (like parsley or coriander), lemon juice, chilli flakes, sumac and salt and pepper. I could eat bowlfuls; and it's so simple. Also, red cabbage is a nice touch. The authentic taste of kebab shop cabbage is a hard one to replicate – the time it spends sitting in the countertop refrigerator gives it its uniqueness. At home, I slice the cabbage as thinly as possible and season with one teaspoon of sea salt and a pinch of ground cloves. Leave them to sit over a colander to drain for two to four hours before serving." – Ivan
"There's something about kebab shop salad that tastes so good. The lettuce, the white cabbage and then there's the red shredded cabbage that's everyone's favourite: it's sweet, crunchy and sour all at the same time. Plus, it looks so beautiful on the table. There are a few simple steps to turn ordinary cabbage into kebab-shop cabbage with its delicious taste and texture. The first step is to add salt to the cabbage and leave it for a few minutes. This draws out the moisture from the cabbage which is then squeezed out. You'll notice once you've done this step, the texture of the cabbage will resemble kebab-shop cabbage. The next step is to coat the cabbage in a very simple salad dressing, then leave it for a few hours to soak up the flavours. Once this is done, I shred some lettuce, slice white onion and cucumber, and make a quick onion salad seasoned with salt, pepper and lemon juice. Of course, you also need chillies – dried Kashmiri chillies or jarred whole green chillies work best." – Sohan
"Kachumber salad is easy to make and complements marinated kebabs. Dice fresh tomatoes, cucumber, onions and chilli peppers, and add in any fresh herbs you like – mint will go nicely with lamb while coriander or parsley compliments chicken. Season generously and add a squeeze of lemon juice or drizzle of olive oil. You can also add in any veg you like, including radishes or peppers." – Yousuf
"I like to serve my kebabs with a simple raita or dollop of yogurt, but if you want a kebab-shop style sauce, you can't go wrong with homemade garlic mayo. Making mayo from scratch can be tricky, so save yourself time by using shop-bought mayo like Hellman's. Whisk six tablespoons of mayo with two crushed garlic cloves, a squeeze of lemon juice and one teaspoon of extra virgin olive oil. Season with salt and pepper and leave it – ideally overnight – in the fridge." – Sohan
"Kebab-shop chilli sauce tastes so good because it contains a complex range of ingredients and various oils. For a quick and healthy alternative, my green coriander chutney packs a real punch and is full of flavour. Put 200g of coriander leaves and stalks into a blender with six green bird's eye chillies (stalks removed), 40g of fresh mint, six garlic cloves and five teaspoons of oil. Pulse until you have a soft spoon-able consistency. When ready to serve, mix it with two teaspoons of salt, one teaspoon of sugar and the juice of one lemon." – Sohan
---
Inspired? Shop Our Edit Below…
DISCLAIMER: We endeavour to always credit the correct original source of every image we use. If you think a credit may be incorrect, please contact us at [email protected].