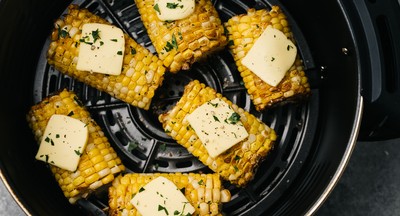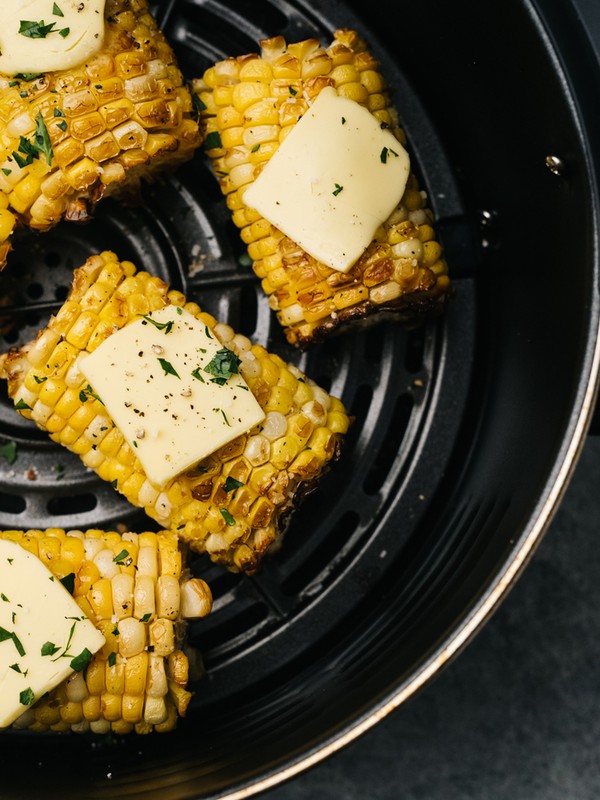 How To Make The Most Of An Air Fryer

---
Faster and more energy efficient than regular fan ovens, air fryers use up to 75% less oil than conventional cooking methods. No wonder sales are through the roof. We asked two chefs how best to use one – plus we've got five recipes to try…

Photography
CWP, LLC/STOCKSY UNITED
Always Pre-Heat Your Air Fryer
Air fryers come in various models and sizes, but most have a pre-heat setting which should always be used, explains private chef Jacob Roberts. "Always heat up the drum, especially when cooking meat and fish. You should think of your air fryer like a conventional oven in this way to ensure your food cooks evenly. It'll also help reduce the amount of energy you use overall, as some models can heat up in as little as two minutes." Simon Locke, head chef at The Boathouse, agrees. "I like to whack my air fryer on at 200°C for about five minutes to heat it up. That way, you can maintain a regular temperature and time the cooking accurately."
Use Oil Sparingly
"Air fryers are generally healthier than other cooking methods as they require little to no oil," Simon explains. "For a full drum of food – like roasted veg or potatoes – you only need about a quarter of a teaspoon of cooking oil. Drizzle it directly over the food before giving it a shake. I would stay away from extra virgin olive oil (which is better in dressings) and stick to oils that cook at a high temperature instead, like sunflower or sesame oil. But remember, less is more."
Don't Overcrowd The Drum 
To ensure the food cooks evenly, don't overcrowd the drum and try to cook food in batches, says Jacob. "I'd recommend an air fryer with two drawers like the Ninja Dual Zone Air Fryer so you can cook two dishes at the same time. If your model has one drum, don't add too much at a time otherwise your food won't cook evenly. This is particularly important for meat, so it comes out moist on the inside and crispy on the outside – one of the main benefits of an air fryer. With chicken, for example, don't be tempted to layer it up. Instead, make sure there's enough space between pieces. One of my favourite recipes is chicken shawarma marinated in garlic, smoked paprika, chilli, lime juice, spices and natural yogurt. Cook it for around 20 minutes at 200°C until crispy, and serve with flatbreads, hummus and kebab chillies." 
Don't Bother Lining It
"Not many people know you can put tin foil and baking tins in an air fryer if it's big enough to do so," says Simon. "That said, you really don't need to line your air fryer with anything, whether you're cooking oven food or a whole chicken from scratch. You can spray the main drum with some oil, but you'll get the best result if you pop your food in and let the machine do its thing. Just make sure to shake the drum every 10-15 minutes so it cooks from every angle." If you're worried about food sticking, add a small tray suggests Jacob. "I also like to wrap homemade burgers in foil and pop them in the fryer for five minutes to let the cheese melt and bun soften – Five Guys style."
Don't Be Afraid To Cook A Whole Chicken
For a great crispy roast chicken, pop it in the air fryer suggests Simon. "Air fryers aren't just for roasted veg and healthy chips. Take the chicken out of the fridge for around 15 minutes before seasoning with herbs and spices of your choice. Shove half a lemon, fresh thyme and plenty of garlic into the cavity before adding it to a pre-heated air fryer. For a 7lb medium-sized chicken, allow 75 to 90 minutes of cooking time. Cook it at 200°C for 40 minutes, before turning it down to 180°C for the remainder of the time. You'll get some lovely juices at the bottom which you can use for basting and to make a gravy."
Air Fryers Are For Dessert Too
"One of my favourite recipes is air fryer cookies," says Simon. "Make a simple dough and roll them into balls before freezing. When you're craving a snack, pop one in the air fryer for five minutes for a perfectly baked gooey-in-the-middle cookie – chocolate chips are a must. I also use mine to cook everything from Jus-Rol croissants to basic cakes which you can bake in a normal tin." Jacob suggests: "For a simple pudding, cut a fresh pineapple into fingers and glaze with honey or agave syrup. Cook them at 200°C for 15 minutes until sticky and charred. I like to top them with coconut cream and crushed gingernuts for a Caribbean-inspired treat."
Clean It After Each Use
Don't be tempted to use your air fryer continuously without washing it, says Jacob. "Clean it after every use otherwise you run the risk of reheating old oil which can get smoky and smelly. Wash the drum after each use or pop in a new silicone liner which can be taken out and washed." Simon likes to use a sponge and soapy water to wash his: "Wipe it out with a cloth if you're worried about submerging the drum in water. You can then dry it with kitchen towel before using again."
---
Ready to get air frying? Here are five recipes to try…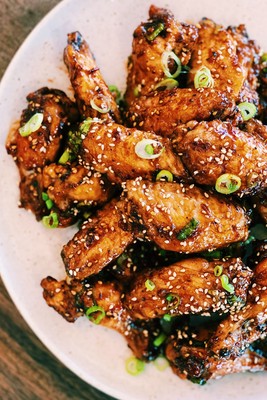 Ingredients
1

tbsp

of five spice powder
For the soy sauce glaze:

4

cloves of garlic grated
1

tsp

of five spice powder
To garnish:

2

stalks of spring onion chopped
Method
Step 1
Add the chicken, spices and oil to a bowl. Mix and massage the chicken for 2-3 minutes.
Step 2
Spray the air fryer with oil to prevent the chicken from sticking, then cook the chicken in batches for 15 minutes at 180°C. Don't overcrowd the air fryer so the chicken can get extra crispy.
Step 3
After 15 minutes, air fry at 200°C for another 7-10 minutes, or until chicken is crispy and golden brown.
Step 4
To make the glaze, add the soy sauce, honey, garlic and five-spice powder to a saucepan on a medium heat. Bring to a simmer and let it cook for 3-5 minutes. Mix the cornflour with the water, then add this to the sauce so it thickens up. Let it simmer for another minute until thick and glossy.
Step 5
Pour the sauce of the chicken wings and garnish with the sesame seeds and spring onion.
Visit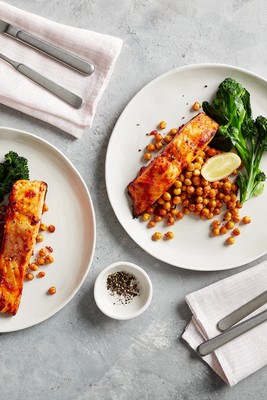 Harissa Salmon With Crispy Chickpeas
Ingredients
200g

of tenderstem broccoli
Method
Step 1
Preheat the air fryer to 180°C. Rub a tablespoon of harissa paste over each salmon fillet with the back of a spoon.
Step 2
Drain the chickpeas and pour them onto a plate. Pat dry with kitchen roll and pour over the oil, pepper and the final tablespoon of harissa paste. Give them a roll around to combine and pick up all the flavours.
Step 3
Add the fillets and all the chickpeas you can fit into the air fryer and fry for 10 minutes.
Step 4
Finish off the rest of the chickpeas and the broccoli for another five minutes.
Step 5
Serve everything together with a slice of lemon.
Visit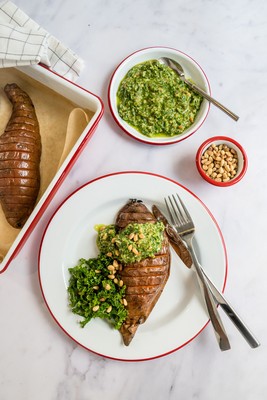 Hasselback Potato with Zero-Waste Pesto & Kale Salad
Ingredients
Leftover potatoes (2 sweet potatoes or a handful of whatever you have left)
2

lemons, zested & juiced
Handful of kale or mixed salad leaves
Method
Step 1
Heat your air fryer to 205°C.
Step 2
Cut each potato in half lengthways and slice down three-quarters of the way at 0.5cm intervals. Rub all over with olive oil and sea salt.
Step 3
Cook for 15-20 minutes in the air fryer, or until they are soft through but golden on the outside.
Step 4
While the potatoes are cooking, make the zero-waste pesto. In a small blender, combine the toasted pine nuts, basil, parmesan, lemon zest and juice of 1 lemon. Drizzle in the olive oil as you blitz. Season with sea salt to taste.
Step 5
Very thinly slice the kale and dress in a bowl with the zest and juice of the other lemon, a drizzle of oil and a little sea salt. Mix and scrunch with your hands to help soften the kale.
Step 6
When the potatoes are cooked, remove from the air fryer and dress with the pesto and kale salad.
Visit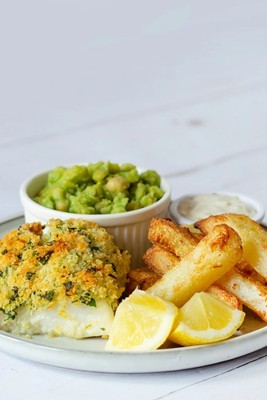 Ingredients
For the chips:

700g

of King Edward or Maris Piper potatoes
2

tsp

of semolina (optional)
Lemon wedges & parsley to garnish
For the fish:

Four thick skinless cod fillets, patted dry
2

slices of stale bread, crusts removed and torn into pieces
5g

of fresh parsley, leaves & stalks removed
Sea salt & pepper to taste
Tartar sauce & mushy peas, to serve
Method
Step 1
Peel the potatoes and cut into 1.5cm-thick chips. Place in a bowl, cover with water and allow to soak for 30 minutes to remove excess starch. Rinse and pat potatoes dry.
Step 2
In a clean bowl, add chips, oil, salt and semolina. Toss together to make sure the chips are coated. Cook in the air fryer for 30 minutes at 200°C.
Step 3
Meanwhile, place the bread, garlic, lemon, parsley and seasoning into a food processor. Blitz until you have fine breadcrumbs. Add the oil and pulse until mixed. Spoon the breadcrumb topping onto each cod fillet and press it down with the back of spoon.
Step 4
Once the chips are done, turn the fryer down to 170°C and cook the cod fillets for 14 minutes.
Step 5
Serve the fish and chips with tartar sauce and mushy peas.
Visit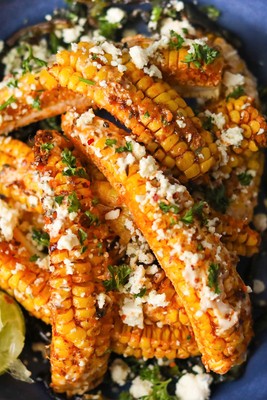 Ingredients
1

tsp

of Mexican seasoning
A small bunch of coriander, chopped
Method
Step 1
Rinse and clean the corn. Using a sharp knife, carefully cut the corn into quarters, lengthways.
Step 2
Make sure the butter is at room temperature, then make a spread by adding in the Mexican seasoning, garlic powder, smoked paprika and salt.
Step 3
Spread the butter mixture over each corn riblet and place them in the air fryer. Cook for up to 15 minutes on a high heat until charred and crispy.
Step 4
Place the 'ribs' in a bowl and sprinkle over the feta and coriander, and squeeze over the lime juice. Serve warm.
Visit
---
Feeling inspired? Shop the pros' favourites below…
All products on this page have been selected by our editorial team, however we may make commission on some products.
DISCLAIMER: We endeavour to always credit the correct original source of every image we use. If you think a credit may be incorrect, please contact us at [email protected].