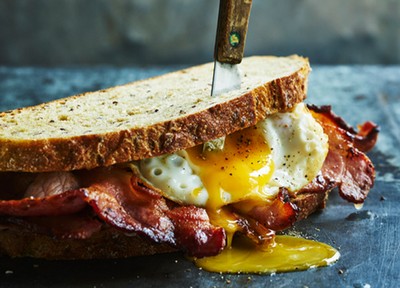 How To Make The Ultimate Bacon Sandwich

---
Whether you're looking for ways to raise your weekend breakfast game or need something quick and tasty to rustle up while entertaining in your garden, a seriously good barcon sarnie is hard to beat. From where to buy the best meat to tips on which bread and accompaniments to use, ten top chefs share their advice for making the best.

James Packman, Le Swine
"Every ingredient has to be great quality – and not just the bacon. Every component plays a part. At Le Swine we use middle bacon which is a mix of back and streaky. You can purchase this at a good-quality butchers. Make sure to buy thick rashers of unsmoked back and go for streaky if they don't have middle – it has the perfect mix of meatiness and fatty streaky. For the bread, I would recommend using a milk bun or a nice thick slice of white tin loaf. Fry your rashers with a tablespoon of vegetable oil. While the bacon is cooking, sprinkle your rashers with the finely chopped sage and season generously with freshly cracked black pepper. Once beautifully caramelised, set aside and keep warm. Add a couple of spoons of the rendered fat from the pan to some room-temperature butter and mix well until combined. Then mix in three or four shakes of Worcestershire sauce to create delicious homemade bacon butter. In a separate pan, slowly cook a duck egg with a small amount of vegetable oil – make sure it has a nice runny yolk. Turn the egg at the last second to seal the white of the egg – no one wants a snotty egg. Lightly toast your buns or bread and slather with your bacon butter. Add your bacon and egg and tuck in. I'll leave the choice of sauce up to you, but surely it has to be brown?"
Visit LeSwine.co.uk
 
Brodie Meah, Top Cuvée
"For the perfect bacon sandwich, you should really go for good-quality bacon from a reputable butcher. The smoked bacon from our supplier HG Walter is a revelation: it's free-range, native-breed dry-cured pork belly that's thick cut and smoked over beech and apple. Crucially, it's not pumped full of water like the stuff you find in supermarkets. Using thick-cut, lightly toasted bread, spread lots of high-grade butter from the likes of Estate Dairy or Ivy House. For the sauce, it's got to be ketchup from the fridge – a bit of hot and cold action really livens things up. The real secret is an ice-cold bottle of Vichy Catalan on the side, as the salty minerality really pairs well with the bacon and obviously, being water, it combats that salt in the bacon. A true food pairing."
Visit TopCuvee.com
 
Olly Kohn, Pigsty & The Jolly Hog
"To take your bacon roll to the next level, try making it on the BBQ. Start with great charcoal (we use lumpwood) and a clean grill. Buy thick-cut bacon, it's just better. Barbecuing the bacon gives it a richer, smokier flavour and texture with lovely charred crispy bits. Slice some fresh sourdough and gently toast directly onto the grill until grill marks appear, then spread on lashings of butter. Stokes Bloody Mary ketchup has a lovely little spicy-sweet kick and is the perfect partner in crime. I know it's obvious, but don't hold back on bacon – you are having a bacon sarnie after all."
Visit TheJollyHog.com & PigstyUK.com
 
Luke French, JÖRO
"The bacon has to be streaky and smoked, and come from amazing pigs. I'd go for at least five rashers per sarnie, baked on a tray at 180ºC until crispy. My bread of choice is white toastie supermarket bread, covered in cultured butter, then dipped in the bacon fat after cooking. For the sauces, I go in with a good spread of Tracklements Tewkesbury mustard, a good squirt of Kewpie mayonnaise and a little squirt of Red's True BBQ Sauce. Follow that with a couple of slices of beefsteak tomato tossed in some sea salt and pepper, and a bit of crunchy gem lettuce. Now that is an absolutely fire bacon sarnie."
Visit JoroRestaurant.co.uk
 
James Cochran, 12:51
"You don't mess with a bacon sandwich – it's a classic for a reason. For me, it's a fresh thick-cut farmhouse loaf and high-quality bacon from a top butcher like HG Walter. In the pan, don't play around with it. Just one turn should do it. Simple. One thing you can mix up is the sauce. Something like a chilli jam works a treat with the salty bacon."
Visit 1251.co.u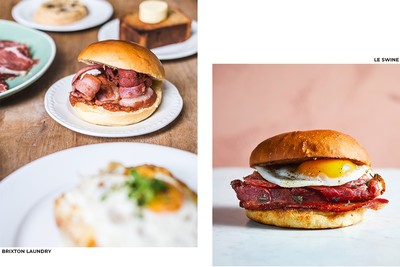 Andrew Watts, Hawkstone Hall & Gardens
"I would definitely go for pan-fried dry-cured English bacon from your local butcher. Toast some fresh sourdough with proper English butter. Top it off with a fried duck egg and add some chopped chives to the pan to finish. Serve with HP brown sauce or ketchup."
Visit HawkstoneHall.co.uk
 
Mark Greenaway, Grazing by Mark Greenaway
"The best bacon is smoked with no added water, so a dry cure and cold smoke. Grilled is always better than fried – that way it gets properly crispy and makes for an excellent breakfast sandwich. When it comes to bread, a very lightly toasted sourdough is the way forward, in my opinion."
Visit MarkGreenaway.com
 
Gemma Simmonite, Gastrono-Me
"At our restaurant we're always looking for different ways to elevate an already great dish. But the proviso is, it's got to make something great even greater – there's no point in unnecessary tweaks just for the sake of it. With that in mind we created our 'Ultimate Bacon Waffle Sandwich'. Even that last glistening drip of bacon fat is precious, so we wanted a vessel to soak up every last bit of bacon, and for that we make some really excellent crispy buttermilk waffles. We fill the waffles with grilled Dingley Dell streaky smoked rashers, a sunny side-up local free-range egg, wilted baby spinach, then a combination of beefsteak tomatoes and smoked preserved tomatoes. We then drizzle with the best Canadian Maple syrup we can lay our hands on. The smoky-sweet combination really works and completely complements Dingley Dell's amazing bacon."
Visit Gastrono-Me.co.uk
 
Irini Tzortzoglou, Winner of MasterChef 2019
"For me, a good bacon sandwich is as much what you put with the bacon as it is with the bacon itself. Certainly, quality of bacon is paramount and I always buy from local producers, not the heavily processed, cheap stuff. But adding some pickles and a gooey cheese like Tunworth (the English equivalent to Camembert) is key to an enjoyable eat."
Visit IriniCooks.com
 
Sami Harvey, The Laundry
"There are three crucial elements that you need to consider in order to make the perfect bacon bap: the bun, bacon and condiment. The right bun is a must. It needs to be white, soft and pillowy, and definitely no sweetness. At The Laundry, we get ours from St John Bakery. It has to be streaky bacon all the way, no doubt about it – we all know it's the fat you get all the flavour from. Your bacon needs to be cooked until just crisp: too little and it's chewy; too much and you can't crunch through it. Your choice of condiment is key to the perfect sandwich. We use a generous portion of our homemade tomato relish – it's the perfect balance of sweet and sour, with a hint of chilli."
Visit TheLaundryBrixton.com
DISCLAIMER: We endeavour to always credit the correct original source of every image we use. If you think a credit may be incorrect, please contact us at [email protected].