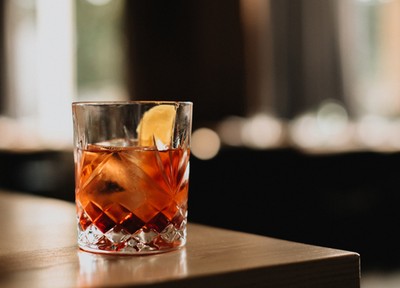 How To Make The Ultimate Negroni

---
The negroni is a classic cocktail whose popularity in the UK has risen immeasurably in recent years – and not just because Stanley Tucci was making them in lockdown. An ideal balance between sweet and bitter, this Italian aperitivo works as well on a hot afternoon as it does as a pre-dinner drink. Here, two top bartenders tell us what makes it so good and how to make the ultimate version at home.

Declan McGurk, Director of Bars at The Savoy
 
What does a negroni mean for you?
Having worked with so many Italians at the Savoy, it's a cocktail that always reminds me of them. Italy has such a fine tradition of offering hospitality very much like us Irish. The Irish signature drink is a Guinness; for the Italian it is always a negroni.
 
Where did you discover it?
I discovered it in 2000 when working at the Square in Leeds. It was part of our training, but back then I thought it was undrinkable. My palate has since changed to really appreciate the bitter-sweet combination. Guests' palates have also changed over the last 20 years, and this style of drink is far more popular now. Early 2000 was dominated by a style of drinks called 'disco cocktails' – think 'Pornstar Martinis' – but classics like the negroni always return.
 
What are its definitive ingredients?
For me Campari's flavour is impossible to beat for the bitter agent. Vermouth wise, there needs to be a good depth of flavour and some ripe notes. My preferred choice here would be Cocchi Vermouth Di Torino or Martini Gran Riserva Rubino.
 
Any secret tips?
This is a great cocktail to make at home – try batching and bottling it. Ensuring there is 20% water added for dilution to the classic ratio, stick the batch in a freezer for 90 minutes. Serve in a frozen glass and with a large block of ice.
 
What's the difference between a good negroni and a great negroni?
Using the right vermouth and high-quality ice make the difference as far as I am concerned.
 
When do you tend to drink one?
It is an excellent pre-dinner cocktail. However, I wouldn't pigeonhole it – the negroni is a versatile cocktail suitable for all occasions. A word of caution: the negroni is an easy drinker, but has quite a bit of alcohol in it, so limiting yourself to a couple is a wise move.
 

DECLAN'S ULTIMATE NEGRONI RECIPE 
I quite like vermouth to have slight dominance so often go 5ml more than the gin and Campari. That's a personal preference – serving in a bar I go for equal parts to maintain consistency. I prefer an orange wedge to zest as the garnish.
 
INGREDIENTS
25ml of gin
25ml of Campari
30ml of Cocchi Vermouth Di Torino 
METHOD
Mix all three spirits together with ice and stir.
Garnish with a wedge of orange.
 
Visit TheSavoy.com
Giancarlo Mancino, International Bartender & Drinks Consultant
What does a negroni mean for you?
It's the original Italian aperitif. And it's now the second biggest selling cocktail in the world, after an old fashioned. It's super popular because there's so much variation on it – you can use red vermouth or white, sweet, dry, chinato – and almost any gin you like.
 
Where did you discover it?
Well, I'm Italian so I've always known about them. I first tried one about 25 years ago – it was sweet, bitter, strong and I liked it instantly. Years ago, Italians used to drink them to get pissed as they weren't made with the same balance or lots of ice like they are now. You'd have five or six, and have a big night!
 
How do you serve it?
Always in a beautiful cut-crystal rocks glass with lots of ice and a huge wedge of orange.
 
Which gins work best?
For a negroni, it has to be a London dry gin. I like Sipsmith and Berry Brothers & Rudd No. 3.
 
Any secret tips?
It doesn't have to be a short drink. Serve in a highball glass and top with tonic or soda water for a longer serve on a hot afternoon.
 
What's the difference between a good negroni and a great negroni?
The quality of the vermouth. Personally, I'd recommend buying a bottle of Gordon's – which works really well in a negroni – rather than a £40-£60 bottle of gin, and then spend more on an excellent vermouth. It's what makes the biggest difference: you could pour out six different glasses of the same mix of gin and Campari, add a different vermouth to each and you'd have six very different cocktails.
 
When do you tend to drink one?
It is a classic aperitivo. That said, it really is an anytime drink. I think it always works well after dinner, as the bitterness cuts through and helps digestion. A negroni also goes well with a post-meal cigar or dark chocolate.
 

GIANCARLO'S ULTIMATE NEGRONI RECIPES 
Vintage Negroni
 
This is something I would love to drink every day with good friends.
 
INGREDIENTS
30ml of gin
20ml of Campari
50ml of Mancino Vermouth Rosso Amaranto
2 dashes of The Bitter Truth Orange Bitters
2 dashes of The Bitter Truth Grapefruit Bitters
METHOD
Stir with high-quality ice and strain on the rocks in a rocks glass.
Garnish with a wedge of orange and grapefruit twist.
Mancino Negroni
This is a slightly lighter version of a classic negroni.
 
INGREDIENTS
30ml of Genever gin
25ml of Aperol
40ml of Mancino Vermouth Bianco Ambrato
METHOD
Stir the ingredients with high-quality ice and strain on the rocks into a rocks glass.
Garnish with a lemon and orange twist.
 
Visit GiancarloMancino.com
AND HERE ARE ALL OF THE BOTTLES YOU NEED…
DISCLAIMER: We endeavour to always credit the correct original source of every image we use. If you think a credit may be incorrect, please contact us at [email protected].