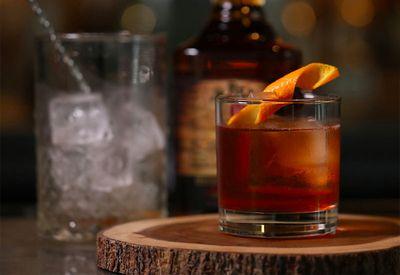 How To Make The Ultimate Old Fashioned

---
Dating back to the 1800s, the Old Fashioned is a classic cocktail. Calling on whisky, bitters, sugar and water, it balances sweet and smoky, and comes into its own at this time of year. We asked four top bartenders what makes it so good and how to make the ultimate Old Fashioned at home.

Photography iStock / Castle City Creative
OLIVER MORRIS, COTSWOLDS DISTILLERY 
What does an Old Fashioned mean to you?
It's a familiar companion in the cocktail library. Like a trusty steed or a loyal dog, this timeless classic has never let me down and can metamorphosis from the sublime to the ridiculous. 
 
Where did you discover it?  
In the late 90s, while cocktail training. Although it was never a popular drink back then – due to the prevalence of sweet disco cocktails – it appealed to the older crowd. I was taught different variations and learned how to create a crowd pleaser. 
 
What are its definitive ingredients? 
Bourbon whiskey, rye whiskey, a sugar cube or sugar syrup, aromatic bitters and ice.  
 
Which whiskies work best?  
I traditionally used a Kentucky straight bourbon that has been aged for more than a year, sitting around the 40% ABV mark – until we made Cotswolds Single Malt Whisky. I know some would say using a single malt for a cocktail is sacrilege to the whisky gods, but I think it's worth it. Cotswolds Single Malt Whisky is next-level liquid gold and turns a good Old Fashioned into a deluxe one. It offers glorious fruity richness and flavours of butterscotch, honey and Seville orange marmalade, all stirred down with a touch of sweetness.
 
How do you serve it?  
Dilute the cocktail by stirring with ice repeatedly. A large measure of Cotswolds Single Malt Whisky is always called for – I opt for 60ml – a touch of maple syrup and Angostura bitters, finished with an orange peel. 
 
Any secret tips?  
The quality of your ice is important. Use ice straight from the freezer, as this will help control the dilution better, as it won't melt too quickly while you're stirring. Pure maple syrup complements the wood sugars that already exist in whisky and has more complex flavours than sugar cane syrup. Also, choose your dash of bitters to complement the whisky and extend the flavours that already exist, creating bolder and more intense flavours in the glass. 
 
What's the difference between a good Old Fashioned and a great Old Fashioned?
The balance between the strength of the whisky, dilution and sweetness. I stir the cocktail 44 times, slowly adding the ingredients in parts, use ice cubes to stir and, once diluted, pour over a single large chunk of ice to create slower dilution once in the glass. 
 
When do you tend to drink one? 
Usually as a digestif, mainly in the evening after a hectic day. At this time of year – with the log fire roaring and the dog on my lap – life is complete. 
 

Make Oliver's Ultimate Old Fashioned
 
INGREDIENTS
60ml of Cotswolds Single Malt Whisky 
10ml of pure maple syrup
1 dash of orange bitters  
1 dash of Angostura bitters 
METHOD
Use a large stirring jar and add 30ml of the whisky, the maple syrup and a few cubes of ice. 
Stir 22 times, then add the remainder of the whisky (30ml), a large scoop of ice and the bitters. Stir for a further 22 times, moving the ice as a whole. 
Pour over a large chunk of ice in a rocks glass and embellish with an orange peel. 
Visit CotswoldsDistillery.com
 

CARL ANTHONY BROWN, DRINKS EXPERT ON CHANNEL 4'S SUNDAY BRUNCH
What does an Old Fashioned mean to you?
The Old Fashioned is the quintessential cocktail. It was the first drink I learnt as a baby bartender and the 'Viceroy's Old Fashioned' – a muddle of Woodford Reserve bourbon, bayleaf reduction and green tea – was my first reinvented drink.
Where did you discover it?
It feels like it's always been there as part of my bartending background. I really got in tune with it when I was creating the drinks for Dishoom in Shoreditch. For me, knowing the story and history of a drink is vital. I love the fact that an Old Fashioned isn't really just a drink made with whiskey, it's an entire category of drinks. 
What are its definitive ingredients?
I would say spirit, bitter, sugar and water. That offers the freedom to create and try a multitude of flavours, but that could be a little too loose. The traditional spirit is a bourbon, but an 'Anejo Old Fashioned' made with tequila is a lovely drink. The traditional bitters to use is Angostura, but I always think bitters should be used to complement the spirit. Sugar is a personal preference. Using granules is no different to syrup; it just takes longer to make them dissolve. With a syrup you don't need to dilute the drinks as much. I personally like to use an unbleached natural sugar as the flavour is nicer. The last ingredient is water, which comes from the ice when you're stirring it down.
Which whiskies work best?
My personal favourite is Wild Turkey 101. This is because the higher ABV gives me more ability to control the dilution. But you should use your favourite spirit. Just understand its taste first: for example, if it's sweet, add less sugar; if it's strong, dilute it more. Now that I've launched Crossip, which is non-alcoholic, I often use it for a booze-free Old Fashioned. Use Crossip's Dandy Smoke flavour, a little honey and some bitter orange and stir it down.
How do you serve it?
I bottle mine with half dilution then serve straight from the fridge. Pour it over a couple of ice cubes and add a little spritz of orange zest.
Any secret tips?
If you're adding a flavour, use a pinch of salt to boost it. Add the ice slowly as you stir to be in control of the dilution. Always add ice into booze and not the other way around. A recipe is designed for a specific glass size, so you might have to make more or less depending on which you use. But the most important thing is to enjoy your drink, not worry about how someone else perceives your beverage-making skills.
What's the difference between a good Old Fashioned and a great Old Fashioned?
Care – and trying to ensure you make a drink diluted to 26.6% ABV.
 
When do you tend to drink one?
In the evening after a long day, accompanied by a little jazz.
 

Make Carl's Ultimate Old Fashioned
 
INGREDIENTS
300ml of Wild Turkey 101
50ml of demerara sugar syrup
7 dashes of Angostura bitters 
7 dashes of peach bitters
150ml of water
METHOD
Stir all the ingredients together and place in a fridge. Drink when ready.
Visit CrossipDrinks.com
 

CATALIN CIONT, BAR MANAGER OF CITY SOCIAL BY JASON ATHERTON
What does an Old-Fashioned mean to you?  
For me, an Old Fashioned is the expression of a man who knows what he wants and how to get it. I would say that for a long time it has been regarded as a manly drink, however more and more women tend to drink it these days.
What are its definitive ingredients? 
I would say the most important ingredient is the actual whisky that you use, although the Angostura bitters and brown sugar play their roles. Ice comes in second place, because of its dilution.
How do you serve it?
In a rocks glass with cubed ice, an orange peel garnish and a maraschino cherry.
Any secret tips?
It shouldn't be a secret anymore, but you should never add or muddle any orange slices into the cocktail. Also, although an Old Fashioned is usually made with whiskey, I recommend trying it with dark rum.
 

Make Catalin's Ultimate Old Fashioned
 
INGREDIENTS
50ml of Hennessey VS cognac
10ml of almond syrup
20ml of Frangelico liqueur
3 dashes of Peychaud bitters
METHOD
Stir the ingredients together and pour into a rocks glass over a cube of clear ice.
Garnish with almond flakes and serve. 
Visit CitySocialLondon.com
 

MAX VENNING, THREE SHEETS BAR & RESTAURANT
What does an Old Fashioned mean to you? 
It's probably one of the two true cocktail icons. Alongside the Martini it stands out above the rest in its reach over time. Arguably the first cocktail ever made, it drifts in and out of trend but remains constantly relevant. It's also generally a safe bet to order in any decent bar, so I'll often order one if I'm in a new city or country. 
Where did you discover it?
Drinking in Socio Rehab in Manchester, at around 16 years old. It was probably the first experience that made me want to get into the cocktail world. I ended up working there a few years later when I was of age, so it definitely made an impression.
 
What are its definitive ingredients?
Good whiskey (bourbon traditionally, but it works well with any style), sugar syrup, Angostura bitters and ice. 
 
Which whiskies work best?
I like quite younger whiskies, as the sugar and bitters take the edge off and you get the true flavour of the distilled spirit. Saying that, if I was having bourbon I'd go for Corner Creek – it has some age but works so well. With scotch I'd go for something light, a Glenfarclas 10 maybe, with a splash of Caol Ila 8 for a bit of smoke.
 
How do you serve it?
Over a big chunk of ice with a small zest of orange on the top.
 
Any secret tips?
At Three Sheets we infuse a small amount of the whiskey with a great rooibos tea – it adds depth and some tannic structure so you can go lighter on the bitters, so it doesn't dominate too much.
What's the difference between a good Old Fashioned and a great Old Fashioned?
It's all about balance. You need a good amount of sugar to carry the flavour, but this means you need to add a good amount of dilution. It takes practice and it's also subjective, so try it and figure out how you enjoy it.
 
When do you tend to drink one? 
After dinner, particularly if I'm near a fire. 
 

Make Max's Ultimate Old Fashioned
 
INGREDIENTS
40ml of Glenfarclas 10 
10ml of Caol Ila
5ml of rooibos Glenfarclas (see method below)
2 dashes of Angostura bitters
10ml of sugar syrup
METHOD
Take 100ml of the Glenfarclas and infuse it for 30 minutes with a good quality rooibos tea. Strain this and store, as it will last indefinitely. 
Add all the ingredients over ice in a mixing glass or jug. Stir for 30 seconds or so. Strain over a block of ice and finish with a twist of orange zest.  
Visit ThreeSheets-Bar.com
 HERE ARE ALL OF THE BOTTLES YOU NEED…
AND IF YOU'RE FEELING LAZY…
DISCLAIMER: We endeavour to always credit the correct original source of every image we use. If you think a credit may be incorrect, please contact us at [email protected].