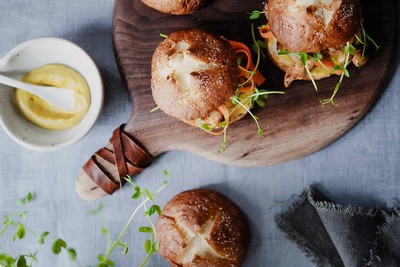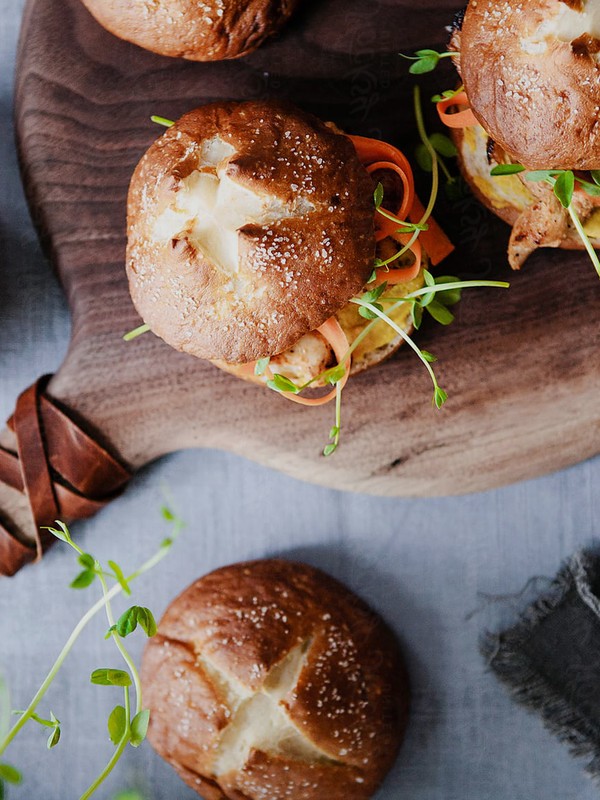 How To Make Your Best Ever Boxing Day Sandwich

---
Whether you're flying solo on a furtive fridge forage or have been put in charge of Boxing Day supper, there are some techniques and fillings that will lift your leftovers sandwich from good to great. From a festive twist on a reuben to a deep-filled cheese toastie, eight chefs share their favourite recipes…

Photography
ELLIE BAYGULOV/STOCKY UNITED
Adam Layton, Honest Burgers
"Having just picked up a Breville Deep Fill Sandwich Toaster for under £20, I present to you the 'Minesweeper Toastie'. Whatever soft bread you like will do. I'm a show-off, so I go for Dunn's spelt and honey round loaf from my favourite bakery in Crouch End. Slather the bread in Heinz mayo and fill the sandwiches with 2-3 thick slices of Montgomery's Extra Mature Cheddar, 2 thick slices of leftover honey-glazed ham, 1 tsp of Colman's mustard, 1 ball of stuffing and a few sliced pickled onions. Pop in the sandwich toaster until crisp on the outside. A few words of caution: don't overfill the sandwiches. A little bit more cheese than you need is fine as it will leak out the sides and go crispy, which is great in itself. But don't put anything too moist in there as the escaping steam will stop the greased, mayo-slathered exterior from crisping."
Visit HonestBurgers.co.uk
Alex Bond, Alchemilla
"Here's my festive take on a reuben. Shred your turkey, a slice of gouda cheese and 2 slices of pastrami. Toast your soft white bloomer and butter both sides. Add the meat, then the cheese and 1 tbsp of sauerkraut. Top with 1 tsp of french mustard, and serve."
Visit AlchemillaRestaurant.UK
Max Halley, Max's Sandwich Shop
"Mash roast potatoes, leftover veg and stuffing together with a fork or a potato masher. Add a beaten egg and mash again. Season and form the mix into a small patty-like burger. Refrigerate for at least half an hour. This will stop it falling apart when you fry it later. For the slaw, slice 2 leftover sprouts and a few leaves of cabbage as finely as possible. Put them in a bowl and grate a small carrot in there too. Whisk 1/3 lemon juice to 2/3 olive oil, add a good pinch of salt and toss it through the veg. Set the bowl aside to soften. For the gravy mayonnaise, heat 4 tbsp of leftover gravy in a pan and boil until reduced by half. Beat it, hot, into the mayo. It'll look weird at first but keep beating – it will all come back together. Put your leftover meat in a pan, add a splash of water and a touch of vinegar and heat it up. Cut an English muffin in two and toast the insides under the grill. Meanwhile, fry the patty in a medium-hot frying pan. Do not be tempted to turn it too quick, let a crust build up and then flip it. Heat some more leftover gravy up in a pan and keep it nice and warm. To assemble, slather the insides of your muffin with the gravy mayo. Put a good heap of hot meat on the bottom. Squish the patty on top of that. Crush some crisps and sprinkle them all over the mayo side of the muffin. Put the slaw/salad all over the patty. Tip your extra gravy on to a saucer to dunk your sandwich in. Serve."
Visit MaxsSandwichShop.com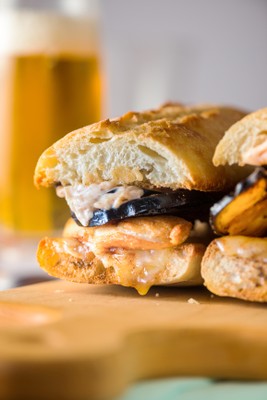 JEFF WASSERMAN/STOCKSY UNITED
Adam Byatt, Trinity
"I love teatime at Christmas, the most unnecessary but wonderful feast somewhere between Monopoly and madeira. It must be turkey sandwiches for me. The key here is that the turkey hasn't been in the fridge: make sure it's room temperature, thinly sliced and seasoned. Coleslaw seals the deal. If you have gravy left from lunch, bring it to the boil and dip the turkey into the gravy before adding to your sandwich. Lay the two slices of white bread out on a board. Butter the bread slices liberally. Dip the sliced turkey in the warmed gravy and place on one slice of the bread. Top the turkey with the coleslaw. On the second slice of bread, spread 25g of room-temperature brie to create a thin layer. Add the 10g of cranberry sauce to the brie and spread evenly. Sandwich the two slices together and cut in half."
Visit TrinityRestaurant.co.uk
Michael Carr, The Old Vol
"Cut a loaf of sourdough into thick slices and butter both sides. Build up with any leftover relish, sausage meat, turkey breast, cranberry sauce, mayonnaise, leftover crispy vegetables and potatoes, lettuce, red onion and hot dog mustard. Put the next slice of bread on top and place into a warm pan. Fry for 1-2 minutes on both sides. Flip over and add lots of parmesan cheese. Put in the oven at 160ºC for 3-4 minutes. Take out the oven and enjoy the best dirty turkey sandwich you'll ever eat."
Visit OldVolPub.co.uk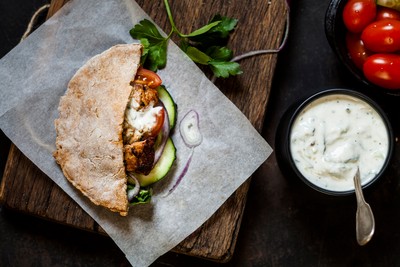 SUSAN BROOKS-DAMMAN/STOCKSY UNITED
Gemma Simmonite, Gastrono-me
"Lightly toast two slices of rye bread on both sides to maintain maximum robustness. Smear one side with some of the cold gravy. Smear the other side equally with mustard and horseradish. Meanwhile, heat your leftover stuffing, roasties, yorkshires, crispy bacon and veg briefly in the microwave with a few dollops of gravy – not until piping hot, just to take the chill off. Now let the layering begin. This is entirely up to you, but you are aiming for different layers, using slices of turkey, thick-cut ham and sliced pickled onions as barriers between the soggier elements. I also like to add coleslaw and pastrami. Give it all a squish and mentally prepare yourself for a religious experience. You should now be looking at the most splendid creation – less a sandwich, more a veritable feast between bread. Eat undisturbed, partly as this will get messy, and partly so you don't have to share. May I also remind you not to leave this sandwich unattended in the fridge – people will steal it."
Visit Gastrono-me.co.uk
Iain Smith, No. Fifty Cheyne
"In the morning, pull and roughly shred the turkey meat into a pan with the leftover gravy, add a splash of Worcestershire sauce, stir and simmer until it's all wonderfully thick and sticky. Leave this in the fridge for an hour, then use the back of a spoon to spread the gravy and turkey mixture onto thick-cut brioche – perhaps squeezing in a pig-in-blanket or two. Blitz any leftover brussels sprouts into a chunky purée and top with some cranberry sauce, before wrapping things up with another slice of brioche. If you're feeling extra swanky, pan-fry some foie gras."
Visit FiftyCheyne.com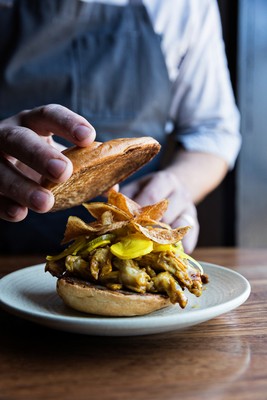 ELLIE BAYGULOV/STOCKY UNITED
Michaela Hanna, With M
"My favourite Boxing Day snack is my take on a French dip sandwich. You'll need a piece of crusty baguette for this. Get all your sandwich fillings ready: my choice would be turkey, bread sauce, slices of leftover stuffing and cranberry sauce. Warm some leftover gravy in a frying pan – if it's very thick, you can thin it down with a little water. When it's nice and hot, take your baguette halves and carefully dip the cut side into the gravy. The bread soaks up moisture and makes the dough nice and soft – a fantastic contrast to the crispiness of the outside. Layer up your fillings and sandwich together, ideally with extra gravy on the side. My final recommendation is to try and do this when no one else is around, or you'll be at it all day, and the leftovers will be no more."
Visit WithM.co.uk
Tristan Welch, Parker's Tavern
"I love to make a roast Christmas turkey burrito using all the leftover turkey meat, vegetables, gravy, cranberry sauce etc. Take a burrito and lie it flat, then take some cold roast potatoes and crush onto the burrito with a fork – you can also sprinkle a little grated cheese on top. Add on top some sliced leftover turkey meat, pigs in blankets, plus brussels sprouts and Christmas veg. Add gravy to taste and a little bit of cranberry sauce if you like, just for that fruitiness. Season with a little salt and pepper, and roll it up into a burrito shape. Toast it in a hot pan until it's crispy and golden on both sides – and enjoy."
Visit ParkersTavern.com
DISCLAIMER: We endeavour to always credit the correct original source of every image we use. If you think a credit may be incorrect, please contact us at [email protected].