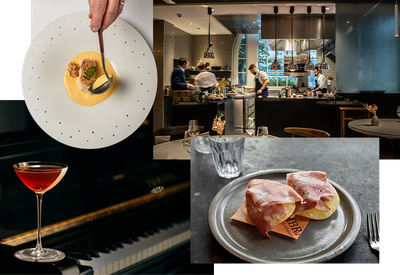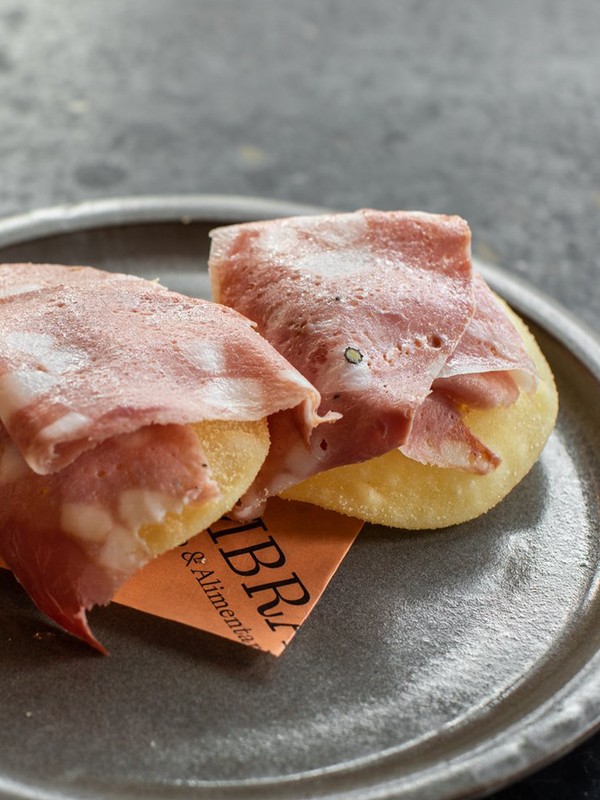 An Insider's Guide To Bethnal Green

---
Heston's Fat Duck, Simon Rogan's Aulis – chef Rafael Cagali served his time in the kitchens of the greats. Then, as chef and co-owner of Da Terra in Bethnal Green, he struck out on his own. Eight months later, it won a Michelin star. This year, it won two. Who better to give us a culinary tour of his local area? From coffee places to late-night cocktail haunts, here are Rafael's favourite places in E1 and E2.

Photography
DA TERRA; COUPETTE; OMBRA
Bethnal Green and the East End in general is full of vibrancy and diversity. There's a deep history and an electric energy which is unique to the area. In terms of restaurants, bars and pubs, there's a lot of emerging talent doing really creative things right next to old boozers and establishments that have been around for years. I really love that contrast.
We chose to open Da Terra in Bethnal Green because it's that little bit unexpected. But it's also the part of London where we felt most at home. My food is about bringing nostalgia and recipes from Brazil and Italy (where I'm from), and we wanted to be playful while still remaining elegant. I feel like this area is perfect for that. Charlie – my wonderful husband and front of house at Da Terra – just felt like it was right for us. And he was right. Here are my favourite local spots…
FOR BREAKFAST
E. Pellicci on Bethnal Green Road was established in the 1900s and it's a real institution around here. An Italian workers' café and deli, it's unpretentious and has a strong family feel. It's perfect if you need a big breakfast before a full day's work, or if you are suffering a little from the night before.
FOR BRUNCH
Bistrotheque is probably my favourite place for brunch. I love to come here on a Sunday to catch up and have a little fun with friends. The space is beautiful, elegant and light, the atmosphere is always vibrant, and the food is great. It's such a great way to start the day.
FOR PINTS
Mother Kelly's is great for a pint or two. I love trying all the beers from the taps – they always seem to have something different on. There's a communal feel to the place that makes it great for a sunny afternoon on Paradise Row with friends. A little bit down the road towards Hoxton, you can never really go wrong with The Marksman. The team are friendly, the space is beautiful and it has a corner roof terrace which is really rare in this part of town. The wine list is fantastic. The Royal Oak on Columbia Road is also great a quick pint.
FOR COFFEE
I always need a good cup of coffee en route to Da Terra. My favourite coffee spots have to include Ozone – the team make a delicious cup and are really conscious of their sourcing of the beans. I also love The Beehive. They are such a friendly bunch, the coffee is delicious and – crucially – it's really close to my restaurant, so I go there a lot. 
FOR LUNCH
I love Italian food and one of the best places in the area is a low-key pizzeria called Italina. It's on Cambridge Heath Road, and is great for Italian comfort food, such as spaghetti alle vongole and Napoli-style pizzas.
FOR AN APERITIVO
Ombra is great whatever time of day you visit. There's a really relaxed energy to it, but there's something special about sitting outside on a sunny afternoon looking over the canals with a negroni and some snacks. The chef Mitshel Ibrahim is really talented – he cooks really beautiful Venetian plates, such as gnocco fritto with wild boar mortadella; Roman-style fried whole artichokes; and monkfish with pink radicchio.
FOR DINNER
Brawn, which is also on the ever-buzzy Columbia Road, is a real favourite. It's one of those places where you know you will always get a good meal, great wine and cocktails. I love the relaxed vibe – it's almost like you're dining at a friend's house. For something a little different, try The Waterhouse Project right next to Oval Space. Gabriel Waterhouse does a hyper-seasonal tasting menu which changes all the time, and the space is impressive.
FOR LATE-NIGHT DRINKS
The Laughing Heart is a real institution and one of my favourite spots. The food is delicious and the wine list is one of the best. I love to go for dinner first and then – if La Cave is open downstairs – a night cap and some music. Owner Charlie Mellor is always around to recommend his favourite bottles. I also love Satan's Whiskers for a night cap – it's been one of the best bars in London for a long time. This is the sort of bar that bartenders like to go to on their night off – high praise indeed. 
FOR A BIG NIGHT OUT
I don't really go out too late that often, but some of my team like Oval Space and The Pickle Factory for gigs and late-night partying. I like to visit Coupette, which is a French-inspired cocktail bar. It's rare you can get a good cocktail at 1am, but this place hits the mark.
DISCLAIMER: We endeavour to always credit the correct original source of every image we use. If you think a credit may be incorrect, please contact us at [email protected].