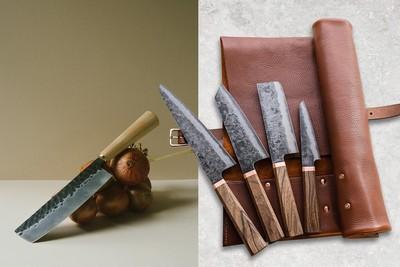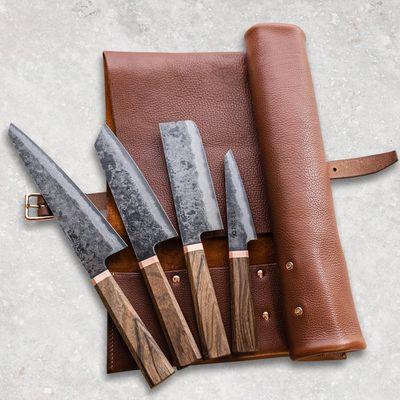 The Knives You Need To Up Your Kitchen Game

---
Everyone deserves the tools to match their talent – so if you fancy yourself a dab hand in the kitchen, you need a serious set of knives. We asked food critic and knife aficionado Tim Hayward and chef Tom Aikens for the lowdown on what to buy and how to use them to your advantage…

Photography BLENHEIM FORGE | KATTO
All products on this page have been selected by our editorial team, however we may make commission on some products.
How many knives does an at-home cook actually need?
Tim: As many or as few as you feel comfortable with. There are great cooks who just have one large and one small one which they can do everything with. Chinese cooks can legendarily do everything with a single 'cai dao' or light chopper-shaped blade. If you like knives, you will find a way to use them. I keep mine in a toolbox in the kitchen: a 2m-high toolbox, with 20 drawers, on wheels. It can become an obsession!
Tom: I find six is the ideal number: a paring knife; a serrated knife; one for filleting; a cook's knife; then two other smaller knives sized between a paring and cook's knife.
Which of those would you consider absolutely essential?
Tom: A paring knife is an essential – it's a chef's best friend.
Tim: The general-purpose knife in most cultures – the chef's knife, the cai dao, the santoku in Japan – is between eight and ten inches long. The next one most cooks need is a smaller blade for more delicate work. In the UK or France, you'd call this an 'office knife'. I always think of it as a 'side knife' because it tends to sit at the side of the chopping board at all times.
What are the top knife brands to know?
Tom: Some of the best knife brands are MAC, Wüsthof, Shun, Zwilling and JA Henckels.
Tim: Wüsthof and JA Henckels are still the best German knives. For Japanese ones, you'll want the individual name of a 'Shokunin' craftsman. The best thing to do is Google the specialist sites to see what's available. For craftsman-made British knives, I'd go for Joel Black or Blenheim Forge.
What kind of aftercare do knives require?
Tom: It depends on the quality of the knife and the way they need to be sharpened (stone or steel), but you should always clean them well after use with hot soapy water.
Tim: They need storing in a knife rack, block or drawer and to be sharpened regularly. Good knives should last your lifetime.
"If you like knives, you will find a way to use them. I keep mine in a toolbox in the kitchen."
Is price point important when buying a knife?
Tom: As with most things, the more you spend, the higher the quality of the knife, so buy to suit your means.
Tim: Go to a knife shop and try lots because the knife that suits you best may well be cheap.
What is the best knife material?
Tom: In my opinion, steel is hands down the best material for knives.
 
Tim: But then there are the different types of steel. Carbon steel is easy to sharpen but rusts; stainless steel is difficult to keep sharp but easier to keep clean. There are infinite Japanese steels – and combinations of steels – that will beat a light saber.
So should you buy German or Japanese? Or something else?
Tom: It all comes down to price and what you are comfortable with. For example, most Japanese knives require a stone to sharpen – and the process of using it is a skill in itself.
Tim: Germany does excellent mass-produced blades, with great engineering and precision. Japan does gorgeous hand craftsmanship with heritage and soul. I use German mostly in the professional kitchen and Japanese when I'm enjoying myself. Imagine I'm a painter and decorator who does watercolours as a hobby. I want a brilliant roller and lovely sable-hair brushes, so why not own both?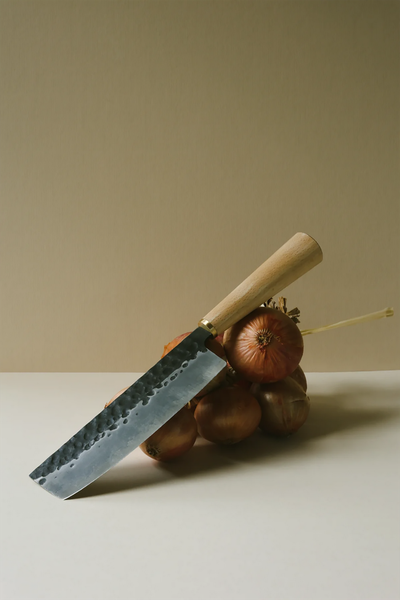 Katto
Are there good knife sets out there?
Tom: Yes. MAC does a good basic set – three pieces with a wrap to keep them in – for about £60. Wüsthof and JA Henckels do sets too, though they are a bit dearer.
Tim: Personally, I prefer a selection of individual knives. The spread of knives you have in your roll are such personal expressions that I can't imagine a kit would ever be a true fit for most cooks.
What are the best knife sharpeners?
Tom: I used to have an amazing old steel sharpener which I was very attached to. I bought it in a flea market in Paris when I was working for Joël Robuchon. It was very old (from 1971) and could sharpen any knife going, but sadly someone nicked it from me!
Tim: 'Shinkansen' sharpeners are good. Japanese wheel sharpeners are cheap and, if used carefully, will maintain a brilliant edge. A set of stones is a real commitment for wicked sharpness. Anything else will just butcher your edges.
Can you put your knives in the dishwasher?
Tom: I would not recommend it.
Tim: No! Definitely not.
Is there a best overall knife?
Tom: I don't think so, as they're personal to everyone. You become attached to a knife if it feels right.
Where is the best place to buy knives?
Tom: The Japanese Knife Company shop on Baker Street is brilliant. Or if you're looking for the real deal, go to Japan itself!
Tim: Buy from the individual maker wherever you can. You might end up doing the actual buying in a motorway service station, but it's worth the effort.
Tom Aikens is chef-owner of Muse. For more information, visit TomAikens.co.uk
Tim Hayward is a writer and food critic. For more information, visit TimHayward.com. His book, Knife: The Culture, Craft & Cult of the Cook's Knife, is available here.
---
INSPIRED? HERE ARE SOME OF OUR FAVOURITE KNIVES
DISCLAIMER: We endeavour to always credit the correct original source of every image we use. If you think a credit may be incorrect, please contact us at [email protected].