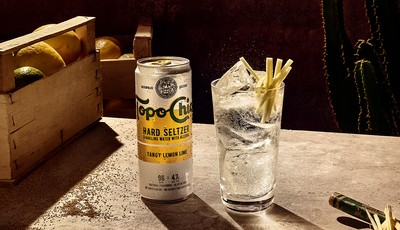 The Low-Calorie Summer Drink To Know

---
Hard seltzers have been a mainstay in the US for the last few years, with over 80m cans sold there in 2020 alone. And like most good things, these tasty, low-calorie drinks have now made their way over to the UK. One of the best brands to hit the market is Topo Chico Hard Seltzer – a collection of South American-inspired cans designed to take your summer drinking plans with friends to the next level. Here's why they're worth a try.

CREATED IN PARTNERSHIP WITH TOPO CHICO HARD SELTZER
Set to be the drink of the summer, Topo Chico Hard Seltzer takes inspiration from the brand's well-loved sparkling mineral water, which was first bottled in Monterrey, Mexico in 1895. The drinks company has quietly built a following in those 125 years, becoming a favourite of mixologists and bartenders alike. Now, Topo Chico has made the most of its existing reputation by creating a range of ready-to-drink canned hard seltzers, which pair sparkling water with alcohol and natural fruit flavours to create three refreshing combinations: Cherry Acai, Tangy Lemon Lime and Tropical Mango. The first alcoholic offering from Coca-Cola, these hard seltzers are delicious and gluten free – with no added sweeteners or preservatives. Each serving contains just 96 calories, making it a great choice for after-work drinks, BBQs or picnics in the park.
 
What Is A Hard Seltzer?
A recent contender in the ready-to-drink market, hard seltzer is simply sparkling water infused with alcohol. Usually served in cans, the drink contains carbonated water, alcohol – traditionally vodka – and fruit flavourings. Hard seltzers aren't as sweet as you might expect from their flavour combinations, which often contain berries, passionfruit or – in the case of Topo Chico Hard Seltzer– mango, lemon/lime and cherry. Instead, they tend to be pleasantly fruity and with a refreshing taste, rather than overly sugary.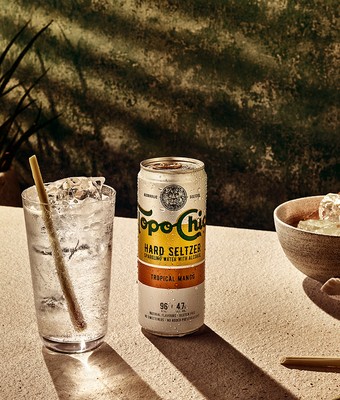 "Each serving contains just 96 calories, making it a great choice for after-work drinks or BBQs."
How Does It Compare To BEER, Wine Or G&Ts?
For a start, the alcohol by volume (ABV) is much lower than wine or spirits – on average, a hard seltzer comes in at 5%, compared to 13% for red wine and 37.5% for gin and tonic. And when it comes to calories, Topo Chico's hard seltzers contain fewer than 100, whereas an average pint of beer come in at 239 calories, a medium glass of red wine has 133 calories and a double G&T has around 150 calories.
What Are The Benefits?
Topo Chico's three variations are low on sugar, free of preservatives and only use natural flavourings. Their low ABV – 4.7% – is also a draw, making them a great option if you don't fancy having a big, boozy night. Finally, their low-cal (96 calories), no-carb credentials make these a good choice for those wanting something with a lighter taste. Hard seltzers are also naturally vegan and gluten free. 
KEEN TO GIVE HARD SELTZER A TRY? THESE ARE THE FLAVOURS TO KNOW…
Topo Chico Cherry Acai, £2.20
The balance of sweet cherry against rich acai creates a crisp and well-balanced taste. Serve ice-cold with your favourite garnish for a ready-made cocktail.
Buy here, or purchase at Tesco, Sainsbury's and Ocado
Topo Chico Tangy Lemon Lime, £2.20
Earthy and sweet with a citrusy tamarind twist, this is a simple, zesty upgrade to a G&T.
Buy here, or purchase at Tesco, Sainsbury's and Ocado
Topo Chico Tropical Mango, £2.20
With a bittersweet taste, this mango-flavoured drink will transport you to the tropics.
Buy here, or purchase at Tesco, Sainsbury's and Ocado
DISCLAIMER: We endeavour to always credit the correct original source of every image we use. If you think a credit may be incorrect, please contact us at [email protected].