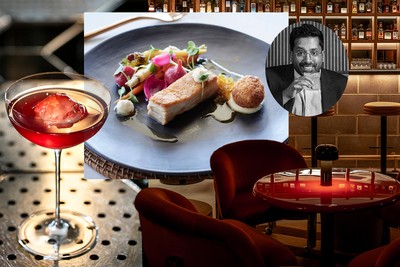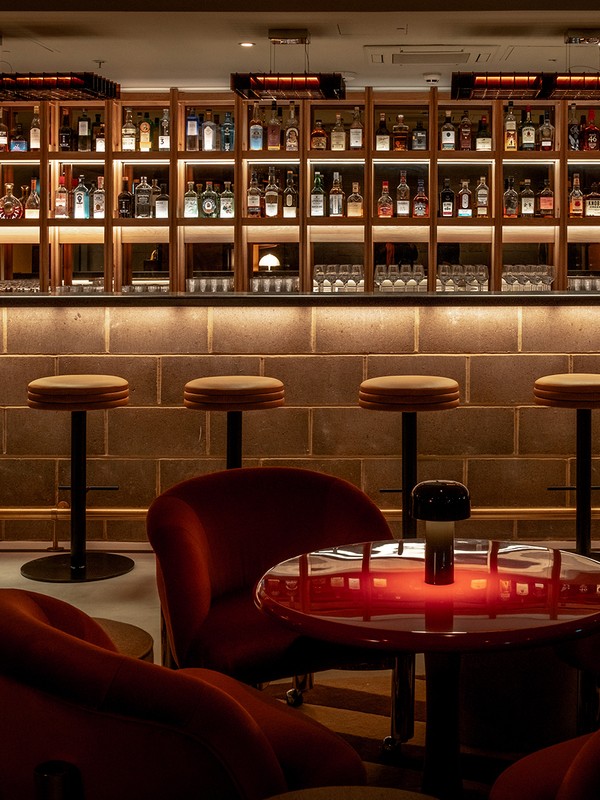 Mr Lyan's Little Black Book

---
Ryan Chetiyawardana is Mr Lyan – the ground-breaking, taste-making bar owner and mixologist who's redefined London's cocktail scene and won more awards than you've had negronis. He knows everything worth knowing about the best booze and where to drink it, so we're delighted to present his own personal little black book…

Photography
CAITLIN ISOLA
I love London's hotel bars – we do them better than anywhere else in the world. Places like The Connaught, Dukes and The Savoy have an incredible balance of excellence and old-world glamour. However, I also love progressive neighbourhood spots like Three Sheets in Dalston and Tayer & Elementary on Old Street that could only exist in London. Here, I love to order my go-to drink, a scotch and soda, made with lots of ice, a simple blended scotch and very cold soda. Both venues make you feel like you're in safe hands, so I'm also happy to be led by what they're excited to showcase. 
One of my favourite date-night bars is Soma in Soho. It's where my girlfriend Annabelle and I had our first date. For excellent cocktails and food, we're both totally in love with what Chet and the team at Bibi in Mayfair are doing. The food and drinks are fantastic, and although we don't like much spice, it never fails to feel really special. As ever, we put ourselves in the team's hands, but we love to kick off with a glass of bubbles like a crémant or blanc de blancs champagne.
It's hard to choose a favourite London restaurant, but there are a few that really stand out. Black Axe Mangal in Highbury, Silo in Hackney and the St John's outposts are among my favourite spots. I like to commit to each menu and order everything – all the extras, with paired drinks at each. 
If you want to impress someone, take them to east London. You can go to galleries and soak up the cultural richness during the day, get great baked goods and coffee on any street corner (Jolene is my go-to) then have a casual dinner at Bao or Smoking Goat. For something fancier, I love Lyle's, The Clove Club and Brat, then still manage room for drinks or dancing at a bar. My own Seed Library at 100 Shoreditch is bang in the middle, and late-night bagels at Brick Lane Beigel complete the day. 
On holiday, I love bars that showcase a new perspective. I've often found this in traditional cuisines, or growers and ingredients that have a different starting point to what I grew up with. Despite my Singhalese heritage, I discovered this afresh in Sri Lanka, but also on travels through Japan, Mexico and Australia. Bars such as Native in Singapore, Cantina OK! and Ante in Sydney, and La Venencia in Madrid have really stuck out to me. They're all totally unique with inventive drinks.
I love progressive neighbourhood spots like Three Sheets in Dalston and Tayer & Elementary on Old Street that could only exist in London.
One of my favourite restaurants abroad is Noma in Copenhagen. I'm lucky to call many of the team pals, and what they continue to create astounds me. Annabelle and I recently went to an ancient little taverna run by some brothers in Greece with our family and it was absolutely perfect. We found a couple of similar spots in Rome, and although I love experiencing a modern vision and passion around a project, these types of timeless places are just magic.
If I had to choose a favourite hotel, it'd probably be The Connaught. I haven't stayed yet but I took my mum for afternoon tea for her 60th and I've frequented the bar countless times. It always channels a sense of old-school glamour and sophistication, but with a playful, modern edge. Overseas, Pulitzer in Amsterdam has always been a gem given its unique layout and design. Another that stands out is Fujiya Ryokan in Ginzan, Japan, which we stayed at for my sister's 30th – the food, design and service were all incredible. 
At home, I always make martinis. I love making them for people as it's definitely a drink to be shared, but I like to make mine on the wetter side with a classic London Dry gin, or have it dry with a traditional vodka. The perfect aperitif, I serve them with savoury bites ahead of dinner. If you want to be extra, caviar is incredible with a martini, but anything that's not too heavily spiced or too greasy is also ace. That said, I'll never say no to fried chicken and can't resist if it's on a bar's menu.
I use a mixture of big brands and lesser known names in my drinks. I especially love whisky, and some of my favourite blends include Johnnie Walker and Compass Box, as well as malts like Talisker, Glen Garioch, Bowmore, Yamazaki, Springbank, Chichibu and Clynelish. Then, there are newer brands I rate like Dornoch, Amrut, Daftmill and Holyrood, as well as names like Maker's Mark and Jack Daniel's from the States. Beefeater and Belvedere Vodka remain go-tos, as well as brands from dear friends such as JJ Corry, Empirical and Porter's.
I am partial to a shot or two, but they're often done so wrong. At my very first bar – White Lyan in east London – we served lower ABV shots which let the evening flow without putting people on their ass. I've followed this mantra ever since. Although I love the odd tequila or whisky, the idea of shots is so often the wrong call! 
Fever-Tree is a fantastic mixer and I love its commitment to great produce. Plus, sugar is way better for you than sweeteners or fructose. I don't believe in low sugar or low fat alternatives – they're much worse for you. We're built to process fat, sugar and booze – just have them in moderation. 
For wine, I lean towards bottles from Burgundy and Rhone. That said, I like to try wines from Spain and South Africa, and have a real soft spot for fortified wines like sherry, port and vin jaune made in the Jura region of France. I got into champagne quite late, but I love anything made with méthode champenoise and – annoyingly for my wallet – ones that have a richer autolytic character. Annabelle loves clean, crisp blanc de blancs and has opened my eyes to different producers and regions. Timberyard in Edinburgh has an excellent wine list for all of the above.
At home, I always make martinis, but I like to make mine on the wetter side with a classic London Dry gin, or have it dry with a traditional vodka.
One of the best drinks my team and I have created was the 'Moby Dick Sazerac' at White Lyan. Many in the industry have kindly touted it as the best cocktail ever created. It contained some really expensive and unusual ingredients (we made our own rye whisky and used rare ambergris) but we served it quick and we served it cheap. Every person who ordered it gave a bemused and baffled – but positive – look and chatted to us about how something so simple could taste that way. 
I'd love to see more innovation in the drinks industry. It's sad to see that, as things have gotten tougher (and they really have), lots of establishments have rejected the focus on creativity. That's the wrong strategy – everything needs to evolve, even the most traditional venues. That doesn't mean innovation needs to be flashy. It needs to be personal to each venue, but there needs to be newness in the mix. Of course, there are still great examples of this, but I'd like to see more daring choices. 
I'm really excited for the festive season. Even though this year is a little tighter, I'll still lean into indulgence at Christmas – the escapism and sense of togetherness is needed more than ever. At this time of year, I like to bottle up drinks that reflect the season, like punches, hot drinks and accented simple serves including highballs, glasses of fizz and sodas. I'm also looking forward to New Year's Eve. I always worked on the night, so have only really started to experience the other side of the bar in recent years. This year, we're going to chill out with friends at Lyaness and toast to 2023. 
If you're spending NYE at home, try a fizz-based cocktail. Grab a empty bottle and fill it up with your spirit of choice, cordial, a water base (like soda) and a herb accent to garnish. Then top it up with your favourite bottle of fizz, like champagne or crémant. Every at-home bar should have three useful items: a sharp knife, precise scales and some large ice-cube trays. 
There are some exciting upcoming projects for the Lyan brand. We're constantly trying and exploring new ideas, and always want to think about the future of luxury drinks, sustainable drinks and how to create new thrills across the bars. Seed Library continues to create new products and Silver Lyan is gearing up for a new menu. There's also a new menu at Lyaness: 'The Ancestral Cookbook' is based on the link between food and culture – it's all about connection and gathering. There are 15 really interesting cocktails, including the 'Tornado Sazerac' made with Courvoisier, struck match grenadine, oud wood, The Balvenie and Death Bitters; and the 'Mizuwari' with Glenfiddich Orchard Experiment, Glasshouse whisky, melon, pear and our special homemade vinegar. 
Follow Ryan @MrLyan on Instagram & visit MrLyan.com
DISCLAIMER: We endeavour to always credit the correct original source of every image we use. If you think a credit may be incorrect, please contact us at [email protected].