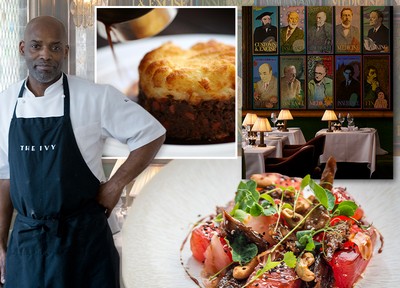 My Life In Food: Gary Lee, The Ivy

---
Gary Lee has worked at the original Ivy since 2007. As executive chef since 2011, he's brought a bold approach that still respects the classic British style of cooking the restaurant is loved for (his shepherd's pie is famous for a reason). As his kitchen launches a new post-lockdown winter menu, Gary took a quick break to share his restaurant recommendations, his travel tips and what he likes to eat after a long, late shift…

The restaurant that will always stay with me is The Dorchester. It was the first hotel I worked in, when I was 17 and still at college. I did work experience as a commis chef and was completely blown away with what I saw, how I was treated and the knowledge I gained in a short amount of time. In the main kitchen, my duties varied from seeing in the fresh delivery of fish with the sous chef (and being tested on what was what – great fun) to watching what the senior chefs looked for in quality and freshness. The amount of seasonal produce that arrived daily was surreal and the terrace restaurant upstairs was the cleanest kitchen I had ever seen in my life. Hats off to them!
The first dish I learned to make was fairy cakes at school. If my mind serves me correctly, it was topped with angelica, blue icing and loads of hundreds and thousands.
 
The restaurants I revisit most often are probably Cora Pearl in Covent Garden; El Callejon on Upper Street, where I'll always order the rabbit paella; and Flesh & Buns in Covent Garden.
 
I don't get to travel as often as I would like but Spain is without doubt a fantastic place to eat, drink and be happy – San Sebastian in particular, alongside Segovia and Seville. Dubai was an eye-opener and I will always love Malta, but Spain is my destination of choice. I hope to go to Japan one day as well, and I would also love to go to Hong Kong for the food culture.
I have too many favourite chefs to mention all of them. I have adored Telegraph columnist Diana Henry for many years – her food is very well flavoured. I think Jason Atherton is great, Brett Graham is a master, Alain Ducasse is a maestro and Thomas Keller is incredible.
 
I don't have a favourite restaurant as such but I do have places that I like to go to more than others. I think Annabel's is complete opulence and you have to see it to believe it.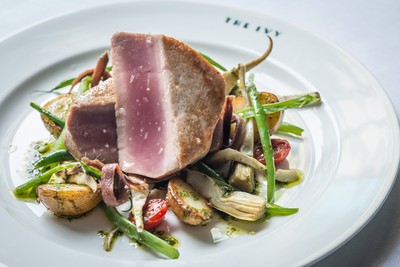 My most memorable meal still sits very clearly in my mind: Aux Lyonnais by Alain Ducasse in Paris. Everything from the seasoned salt on the table to the charcuterie was unbelievable. Elsewhere, ABaC in Barcelona had a dish where you have rabbit seven ways – that blew me away, I could have cried it was so brilliantly executed. As for The Ledbury, words eluded me every single time. It was complete class.
 
I like to relax on a Sunday and get the stress of the week out of my system. I start off with natural yoghurt and fresh fruit, followed by a hard boxing session on the pads, swimming, then a session in the sauna, before heading home for a big hearty dinner: roast beef, Yorkshire puddings, goose-fat roast potatoes, cauliflower cheese, blackened greens – with football on the TV. Come on you Spurs!
 
After a long, late shift I usually rustle up a light salad, but it depends on how the day has been! It might also be a bowl of steaming hot noodles.
 
I don't really drink but if I do I love a Guinness – it was originally advertised as a breakfast drink. Otherwise, it's herbal teas all day long. I like lemon, ginger and chamomile best.
"My most memorable meal still sits very clearly in my mind: Aux Lyonnais by Alain Ducasse in Paris. Everything from the seasoned salt on the table to the charcuterie was unbelievable."
I like to buy my ingredients from Waitrose. At Borough Market, I love Brindisa, which sells the best Spanish products in London; Turnips, which has been going for an absolute age and sells fantastic produce; and The Tomato Stall for tomatoes, of course. I also really like Berwick Street market. There's a stall that does brilliant loaves called Continental Bread, and a Caribbean place called The Jerk Drum, which serves priceless jerk chicken. When it comes to meat, I like Billfields Butchers and then Capital Fish for seafood.
 
My favourite dining companions are my daughters. They always bring a smile to my face and we don't get a lot of time together, so when we do it's priceless. There's always laughter, enjoyment and good conversation. I am humbled when I see them all together and it makes me extremely proud. Hixy is a great dining companion as you never know what she might say next.
 
If I'm entertaining at home I love to make salads and Asian food. A dish I brought to The Ivy West Street was my fragrant chicken salad with coconut, chilli and herbs. As long as it's light, healthy and well flavoured, I am in. I also do a mean spicy, crispy chicken wing – the best in town, in fact.
 
The secret to hosting a good dinner party is to stay calm, don't panic, organise your evening and make sure you spend time with your guests rather than slaving away in the kitchen.
The best party I've ever thrown was when I was 18 and had a flat which was on the 18th floor. The party was absolutely packed full of people, phenomenal DJs, lovely people and everyone having a great time. The food served was bargain buckets from KFC.
 
The dish I always order is the one that makes me think, "Go on then!" I always have the ham & cheese toastie with fat chips at Cora Pearl – divine. When I go to Supawan Thai on Caledonian Road, I always have the slow-cooked pork belly and pad see ew – an unbelievable noodle dish with tiger prawns, scented with tamarind and finished with coconut cream. I can almost taste it now. The kitchen's stuffed chicken wings should also be given a gold medal.
 
I've been very lucky to have had many decadent dinners. Simon Rogan at Fera will never leave me. I'll always remember an incredibly light, hard-to-describe goats' cheese mousse on a seaweed quaker, which melted as soon as it hit my mouth. The Typing Room in Bethnal Green was another. Everything I tried there was amazing. Then there was the time I had dinner at The Terrace restaurant when Anton Mosimann was at The Dorchester and I was commis. There was a dish that can only be described as heaven. All I remember were two copper pots with braised beef in one and the creamiest mashed potato in the other – sublime. I've also loved everything I've ever eaten at The Ledbury and Som Saa in Shoreditch, where we ordered the whole menu and were completely blown away by it. Wonderful cooking.
 
My idea of food hell is having to sit down and eat a bowl of okra. I've never been a fan, beginning in childhood when I was told that, unless I cleared my plate, I couldn't leave the table. I still dislike the taste and look of it.
 
My favourite thing about London is the people, the characters, the diversity, the culture. If you work hard to achieve, then you will accomplish what you set out to do. It's something I have drummed into my daughters and all the young chefs that come to us for work experience as well as full-time work. London gives you a chance.
 
 
The Ivy, 1-5 West Street, Covent Garden, WC2H 9NQ
 
Visit The-Ivy.co.uk
 
DISCLAIMER: We endeavour to always credit the correct original source of every image we use. If you think a credit may be incorrect, please contact us at [email protected].