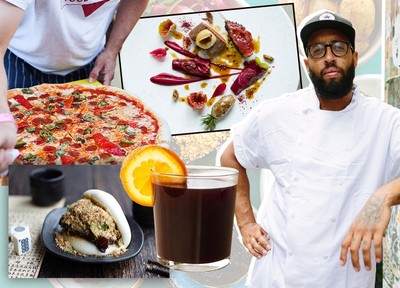 My Life In Food: James Cochran

---
James Cochran spent nine years working for Brett Graham at Michelin-starred The Ledbury and The Harwood Arms before striking out on his own with James Cochran EC3 and then Islington's 12:51. Here, the Great British Menu champ tells us what he's been cooking in lockdown, recalls some of his most memorable meals and reveals where he's heading when restaurants reopen…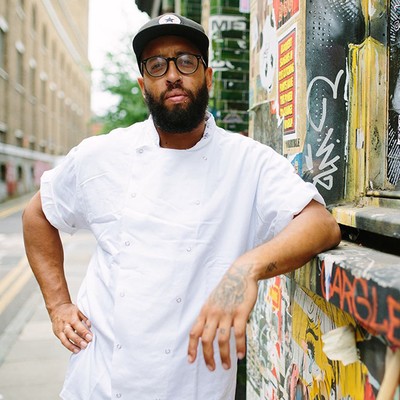 The restaurant I remember most from my childhood is Wheelers Oyster Bar in Whitstable. It was where I began cooking. Some of their dishes have inspired dishes on my menus, though I could never capture exactly what it was they had in their versions. Whenever I return to visit Whitstable, I always go in and order the crab and prawn tartlet.
 
The first dish I learned to cook was banana bread. I remember vividly making it with my mum. It still remains one of my favourite sweet treats, although these days I like to top mine with homemade rum syrup.
 
The restaurant I revisit most often is Silk Road in Camberwell. It's a south London classic and everything you order is banging. My go-to is a shish kebab – either lamb, offal or fish.
 
The chef I most admire is Brett Graham of The Ledbury. He built his restaurant without the use of social media, which is incredible to do in London. And he was one of the youngest chefs to earn two Michelin stars. The best dish I've ever eaten there is the baked celeriac in ash with pig's head kromeski (a croquette wrapped in bacon), truffle mayo, grated hen's egg and split jus.
 
The top five cookbooks everyone must own are Alinea by Grant Achatz, Momofuku Milk Bar by Christina Tosi, Nose To Tail Eating by Fergus Henderson, The Whole Fish Cookbook by Josh Niland, and Eleven Madison Park: The Cookbook by Daniel Humm and Will Guidara.
My favourite relatively recent opening has to be Black Axe Mangal in Highbury – everything from the energy to the food being turned out is undeniable and unapologetic. Make sure to order the offal flat bread.
 
My most memorable meal was at Geranium in Denmark. Me and my partner Jess went for my 32nd birthday and we had something crazy like 26 courses. We got seats at the chef's table. The whole experience was amazing from start to finish, but my highlight was probably chef Rasmus Kofoed's razor clams, minerals and sour cream dish, where the 'shells' are edible.
When I'm entertaining at home I tend to make homemade pizza topped with 'nduja, capers, parsley and aged pecorino. Everyone loves pizza, it's a super simple dish and one that's easy to adapt to cater for different people. It also means you can spend more time with your guests rather than fussing in the kitchen.
My most-used ingredient has to be salt. It really brings the best and most prominent flavours out of a product, even if that might be the sweetness.
 
My dream dinner-party guest would be Jimi Hendrix. My mum and dad were huge fans and always listened to him, and I found that he was an amazing performer. The life of a chef isn't the standard 9-5, similar to musicians, and I like to imagine we would get on really well because of this.
 
The secret to hosting a good dinner party is negronis. At the restaurant our signature cocktail is a negroni but instead of using martini rosso we use Pampelle, which is a grapefruit liqueur. I also like to add Punt E Mes vermouth to mine at home. 
 
The best party I've ever thrown is one I can't remember…
When it comes to takeaways I've recently been opting for Mr Bao's drunken prawns. But my usual choice is Voodoo Ray's pizza place in Peckham. The 12" Hot Mix Five – pepperoni, jalapenos, red peppers, mozzarella and tomato sauce – is my go-to.
 
My favourite quick midweek meal is char-grilled chicken with rice, pickled veg, peanuts and herbs. It's a nice, cheap meal and full of protein. You can also prep everything in advance so, on the night, all you need to focus on is making the chicken nice and juicy.
 
My perfect Sunday is a walk with Jess and Bella, my boxer dog. Then cocktails at Forza Wine and at Frank's Café & Campari Bar – both in Peckham – followed by a Sunday roast or pie, and then a classic episode of Only Fools and Horses.
My death-row dinner is fried chicken with gravy, smoked bone-marrow mash potato with grated comte, truffle and frozen smoked bone marrow. And a pint of negroni.
 
And my idea of food hell? Dinner made by Jess. For my birthday, she made me bangers and mash, and managed to burn the sausages, the mash was lumpy and flavourless, and the gravy was cold!
During lockdown, I've launched a delivery business. I've always had Around The Cluck as an idea in the back of my mind, so when I could no longer run 12:51 due to Covid-19, it seemed like the perfect time to take the plunge. Buttermilk fried chicken has always been my signature dish, and right now comfort is at the top of everyone's agenda – so I'm glad to be providing the ultimate comfort dish in a very trying time for our community. I didn't want it to be too indulgent though, especially with people being confined to their houses, so kept some of the personality of the dishes we serve at 12:51 and translated that in the sides we serve. They're all seasonal and vegetable based: smacked cucumbers; radish kimchi; sweet potato with smoked yoghurt and pickled jalapeños; and beetroot with goats' cheese. We do have a very naughty chicken fat-pressed potato though, which we serve with chip-shop curry sauce – filthy.
Before the weather turned, I bought an outdoor pizza oven. What's better than a freshly made slice of pizza to go with a beer? I also got a Kamado BBQ. With both, I've been trying to learn the art of using them to become a true BBQ and pizza master, but I'm still not quite there.
 
To try Around The Cluck, visit 1251.Slerp.com
DISCLAIMER: We endeavour to always credit the correct original source of every image we use. If you think a credit may be incorrect, please contact us at [email protected].