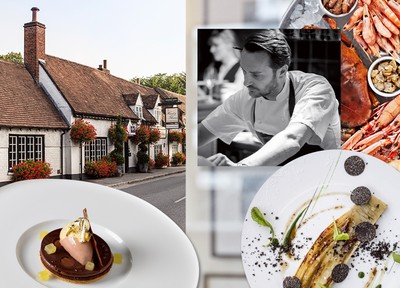 My Life In Food: Jason Atherton

---
Jason Atherton started out working under some of the greats, including Pierre Koffmann and Marco Pierre White, before joining Gordon Ramsay in 2001. He launched Pollen Street Social in 2010 and now has 18 restaurants and bars around the world, four of which hold Michelin stars. Here, he tells us what he's cooking in lockdown, his most memorable meal and where he is heading when restaurants reopen…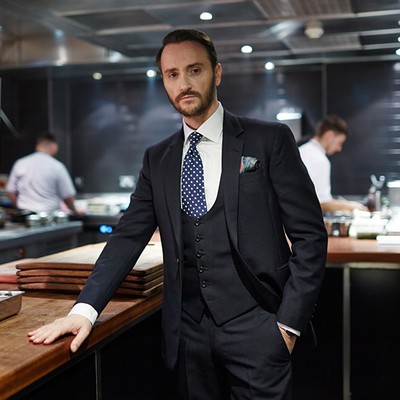 The restaurant I remember most from my childhood is Pizza Hut. It doesn't sound fancy, but it was the first real restaurant I went to. We didn't eat in restaurants when I was younger, as we couldn't afford to, so at the age of 16 Pizza Hut really was the height of luxury for me. When I turned 18, I had my first eye-opening experience with food and restaurants at a gastropub in Burgh le Marsh on the east coast of England. I remember homemade terrine with freshly baked bread.
 
I got a job at a hotel when I was 18 and the first thing I learned to cook was steak diane, a cut served with a sauce made of shallots, peppercorns, Worcestershire sauce, brandy and double cream, among other ingredients. It's an old classic and it was one of the most-ordered dishes, so I made it a lot.
 
Every year at Christmas, we go skiing as a family in Megève. We always go to Flocons de Sel.. It's a three Michelin-starred restaurant, and the menu and ambiance are magical. Aside from my own, it's definitely the restaurant I've visited the most.
There have been so many influences on my career and people who continue to inspire me, so it's hard to just pin down just one. A few I admire include Alain Ducasse: he's the ultimate chef in classic French cookery and a mentor of mine. This April, we were meant to be co-hosting a collaborative dinner to support Hospitality Action, a charity which looks after the wellbeing of those who work in our industry, but sadly this has been postponed. I look forward to that taking place when we return to normality again. Thomas Keller – who runs The French Laundry in California – is an American chef I admire for his constant pursuit of perfection. And then there is Daniel Humm – the man behind Eleven Madison Park in New York who I admire for his creativity with flavour.
The best place I've been recently is Frantzén in Stockholm. It has just been awarded its third Michelin star and I think the flair and ingenuity of this young chef, Bjorn Frantzén, is  very exciting. The dishes change seasonally but every time I've been, it has been standout.
 
My most memorable meal was at the Chef's Table at Brooklyn Fare, New York. It's more than the dishes: both here and at Frantzén, they capture the restaurant experience perfectly and the creativity on show is unbelievable.
My favourite pub has to be Tom Kerridge's Hand & Flowers in Marlow. It combines everything you love about a good old-fashioned boozer with a really great restaurant. The food is uncomplicated and generous – and in the summer it's even better.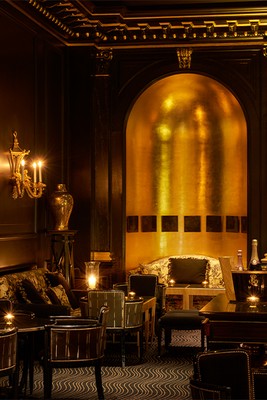 My favourite bar in London is genuinely  my pub and cocktail bar The Blind Pig, above the Social Eating House in Soho. We have so much fun creating the cocktails there and they've become real classics. People love the nostalgic links they have. My favourite is the 'Rhubarb & Custard'. The Beaufort Bar at the Savoy is the quintessential London bar. It oozes class. You can never go wrong with an old fashioned, and it's made excellently there.
My go-to dish on a Sunday night is sausage pork casserole – it's a crowd pleaser and comforting too. It's really easy to prepare with whatever you have lying about in the fridge.
My date-night dinner dish? Scallops or ceviche, followed by a chocolate soufflé. If we're doing date night at home, I like to make seabass ceviche and fresh avocado. It's light,  fresh and quick to make.
If I'm going on a date, I'd have to pick Claude Bosi at Bibendum. Me and Claude are great friends, and the chocolate soufflé there is one of my favourite dishes to share with my wife.
 
After a long, late shift there's nothing better than a beer and a long natter with my kitchen.
When it comes to ingredients, I like to support local suppliers and farmers' markets. I've been enjoying amazing meat from the Ethical Butcher – the steaks are absolutely amazing – as well as delicious, fresh fish from Bethnal Green Fisheries.
 
My most-used ingredients are garlic and olive oil. I even use olive oil in cakes.
 
My favourite dining companion has to be Irha. We've been lucky to have dined out together all around the world.
 
When I'm entertaining at home, my go-to is a côte de boeuf served with the Berners Tavern mac 'n' cheese.
 
My dream dinner-party guestlist would consist of my wife, Alain Ducasse, celebrated Swiss chef Frédy Girardet, three Michelin-starred Korean-American chef Corey Lee, and the opera singer Andrea Bocelli.
 
There secret to a good dinner party is to keep it simple: try to be in the kitchen as little as possible and instead be with your guests. Prepare as much as possible in advance. Buy the best wine you can afford. And finally, do your favourites and well-practised dishes. It is not the time for experimentation.
 
The best party I've ever thrown was my wife's 40th at Sosharu, a former restaurant of mine. We had DJ Tall Paul on the decks and a private sushi chef doing the catering. Everyone partied until 6am.
 
When it comes to ordering in, I like to go for Thai as it travels well, and is light and delicious unlike some takeaways. My go to is Red Pepper Tree in Clapham. The pad thai is very good.
 
My go-to quick midweek meal is Spanish chicken bake with chorizo, large haricot beans and lots of fresh parsley. Weirdly, this dish works whatever time of year – serve with mash in the winter for something heartier, and a nice fresh salad in spring and summer.
 
My perfect Sunday involves a big roast: roast beef with loads of Yorkshire puddings and hot horseradish. And watching Sheffield United.  
 
My last supper would involve a prawn cocktail starter, as it's a real classic, followed by steak and chips, and a lemon tart. Plus the most expensive bottle of red I could get my hands on.
 
My idea of food hell? A disappointing meal out. There's nothing worse than paying for dinner and thinking you could do it better, or knowing you're being ripped off.
 
Visit JasonAtherton.co.uk
DISCLAIMER: We endeavour to always credit the correct original source of every image we use. If you think a credit may be incorrect, please contact us at [email protected].