3 Fun, Tasty Ways With Chicken

---
As founder of both the Chik'n and Chick 'n' Sours mini chains, Carl Clarke has built a reputation as an authority on cooking ethically reared chicken. The former DJ's new book, The Whole Chicken, is not just an homage to the world's most-eaten meat, but also a demonstration of its versatility. From soy spatchcocked chicken to Asian-style fajitas, he shared three of his top recipes with SLMan…

By definition, I am very much an accidental chef. I did not sit on my grandmother's knee peeling broad beans looking at bubbling pots on the stove. I became a chef out of necessity; to have a job, to earn money, and hopefully keep a roof over my head in the years to come. In fact, I didn't even have a pronounced interest in food, apart from knowing what I liked and what I didn't like. Little did I know at that time what the universe had in store for me, or how colourful the journey of my career would turn out to be, so far.  
With Chick 'n' Sours, we wanted to build a restaurant that was about more than just the food. We wanted a place where people would feel like they were in our home with super-friendly hospitality, incredible sour cocktails and next-level fried chicken. So with me in the kitchen, co-founder David Wolanski out front, and our mate Sam behind the bar, we cranked up the tunes, turned down the lights, opened the doors and set out on a journey which can only be described as something beyond our wildest dreams. Let's just say that five years later, it's still there, and has become something of a London icon, now with two sister restaurants, and an incredible following of loyal customers who we love dearly. In fact, we often think it's more their restaurant than ours.
Inevitably, there was a second chapter to the fried chicken story. Chik'n is what we call fast food, not rushed food. It felt like a natural follow-on from Chick 'n' Sours, because we wanted to bring the same quality and ethos to a wider audience in a modern, fast-food environment with social responsibilities. A fried chicken brand that is not only better for you, but also better for our planet. It has the personality of Chick 'n' Sours at a much faster pace. David and I have a simple mantra: "We just want to be known as the guys who make the best fried chicken sandwich in the world." Are we there yet? Probably not, but one thing is for sure, we will never give up trying.
 
I wanted to write The Whole Chicken for the very same reason ­– to bring some light and life to an ingredient I have come to be very passionate about, with twists and takes that are designed to make you think differently, taste differently, and eat differently, wherever you are in the world. I firmly recommend that you approach my recipes with my random musings in mind. Not only will it help you to navigate your likes and dislikes, it will also encourage you to take your own path; in my experience, that's the only way to food heaven. None of these recipes are authentic, but they were created by me through my lens, with love and respect for their origin. This is happy food that is meant to make you smile (if it's not, then something's wrong).
Inspired? Here are three of Carl's recipes to try yourself…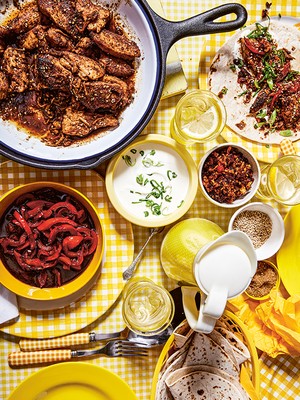 Xian-Style Fajitas
Yield: Serves 4-6
Difficulty: Easy
Total Time: 30 minutes
 
When I was thinking about this dish, I was wondering how to put a Chinese twist on everyone's secret favourite dish – fajitas. Even the ones out of the packet were a real treat when I was a child and I remember getting excited on the rare occasion we had them. Cumin is not an ingredient usually associated with Chinese cooking, but was in fact brought north with Arabic traders travelling the Silk Route and it became a staple in Xian food. We serve this spice mix on our chicken strips at my restaurant Chick 'n' Sours and they are a favourite on the menu. This is a big family or group of friends sharing dish where everyone can just get stuck in and build their own. I hope this brings back fond memories of fajitas in days gone by.
INGREDIENTS
4 large boneless chicken breasts, sliced into strips
2 tbsp of rapeseed oil
12 flour or corn tortillas, warmed
For the xian fajita seasoning:
3 tbsp of cumin seeds
3 tbsp of coriander seeds
1 tsp of dried chilli flakes
4 tsp of demerara sugar
¼ tsp of salt
For the pan deglaze:
2 tbsp of rapeseed oil
1 garlic clove, finely chopped
Thumb-sized piece of fresh ginger root, peeled & finely chopped
2 tbsp of light soy sauce
1½ tbsp of oyster sauce
1½ tbsp of rice wine vinegar
2 tsp of sesame oil
For the soy pickled peppers:
3 tbsp of rapeseed oil
2 large red peppers, thinly sliced
2 tbsp of caster sugar
2 tbsp of light soy sauce
1½ tbsp of dark soy sauce
100ml of rice wine vinegar
To serve:
250ml of sour cream or labneh
1 quantity of chilli dipping sauce (recipe below)
2 tbsp of sesame seeds
1 bunch of spring onions, finely sliced 
For the explosive chilli dipping sauce:
4 tbsp of store-bought peanut chilli oil (I love the Laoganma brand)
1 tbsp of rapeseed oil
2 tbsp of crispy shallots (available at most supermarkets in the Asian aisle)
½ tsp of ground Sichuan pepper
METHOD
Mix all the chilli dipping oil ingredients together in a bowl and set aside. This will keep for up to two weeks in the refrigerator.
To make the seasoning, roast all the whole spices and dried chilli in a dry frying pan over a medium heat for 2-3 minutes.
Transfer to a mortar and pestle with the rest of the seasoning ingredients and pound to a powder.
For the sauce, heat the rapeseed oil in a frying pan over a medium heat and quickly fry the garlic and ginger, then add the soy sauce, oyster sauce and vinegar and bring to a simmer. As soon as it is simmering at the edges, add the sesame oil and seeds, then remove the pan from the heat.
To make the pickled peppers, heat the oil in a large saucepan over a medium heat until very hot. Add the peppers and fry for 3-4 minutes until they are charred at the edges but still have some crunch. Add the sugar and toss around until the peppers are coated in the sugar. Add all the remaining ingredients and coat the peppers in the sauce. Remove the pan from the heat and set aside.
To finish, heat the rapeseed oil in a frying pan over a medium heat. Add the chicken strips and fry for 4-5 minutes until they are almost cooked. Pour in the sauce and stir, scraping up any crispy bits on the base of the pan. Cook for a minute or so, until the chicken is glazed but don't overcook or over reduce. Remove the pan from the heat and set aside.
Heat the tortillas in a dry frying pan for 2 minutes, then set aside and keep warm.
To serve, pile some chicken in the centre of a warm tortilla. Top with the pickled peppers, sour cream, chilli sauce, sesame seeds and spring onions, and liberally sprinkle with Xian seasoning.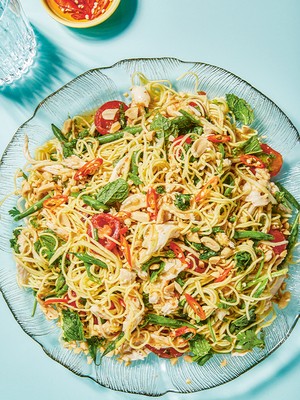 Green Mango & Chicken Salad With Avocado & Crispy Skin (Som Tam)
 
Yield: Serves 4
Difficulty: Easy
Total Time: 20 minutes
 
Som tam is a dish you will find all across Thailand, and there are many different variations depending on which part of the country you are from. Some will have coconut palm sugar, some won't; some will use fish sauce while others will use these tiny little salted crabs instead. This dish comprises green beans, green papaya, tomatoes and other variations with an incredibly spicy, sweet and sour dressing that lends itself to lots of other Thai salads or just as a dipping sauce for grilled chicken or cold noodles. When I'm in Thailand, I often see dishes created with instant noodles. In fact, I once ate at a restaurant in Chiang Mai that was a pimped-up instant-noodle restaurant. Here, I have recreated one of the dishes I ate in Thailand that was made with giant prawns, but I have used green mango for crunchiness instead of prawns. The instant noodles add a nice chewy texture to the salad and, of course, lots of fun.
INGREDIENTS
1 packet of plain instant noodles
2 tbsp of dried shrimp, rinsed
3 tbsp of roasted peanuts
2 garlic cloves
2-6 bird's eye chillies, depending on degree of bravery
25 french beans, cut into 1cm lengths
20 cherry tomatoes, halved
2 green mangoes
3 tbsp of lime juice
1 tbsp of tamarind water (to make your own, soak tamarind pulp in warm water for 15 minutes, drain, then pass through a sieve. You can use store-bought tamarind sauce, but fresh is so much better)
2 tbsp of fish sauce
3 tbsp of coconut palm sugar
3 large cooked boneless skinless chicken breasts, sliced
Pinch of coarse salt
Handful of coriander leaves, to serve
Handful of mint, to serve
METHOD
Place the instant noodles in a heatproof bowl and pour in enough boiling water to cover. Leave to stand until cooked, then cool to refrigerator temperature.
Toast the shrimp in a dry frying pan over a medium heat for 3 minutes until crisp. Remove from the pan and set aside, then add the peanuts to the pan and fry for 3 minutes until toasted. Set aside.
Transfer the shrimp, peanuts and garlic to a mortar and pestle and crush to a rough paste. Add the chillies to the mortar and just bruise them, then add the beans and tomatoes and roughly bruise them. Scoop out of the mortar and set aside with all the liquid in a large bowl.
Peel the green mangoes and cut into thin julienne. A mandolin is perfect for this, otherwise a very sharp knife will do. Add the strips in batches to the mortar and pestle, and bruise, then add to the bowl with the tomatoes.
In a separate bowl, mix the lime juice, tamarind water, fish sauce and sugar together until the sugar has dissolved. Pour over the other salad ingredients, then add the sliced chicken and cold noodles and toss to combine, seasoning with salt to taste. Sprinkle over the toasted peanuts, coriander and mint, and serve.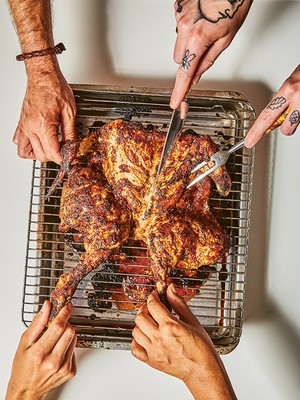 Spatchcock Chicken With Five Spice, Honey & Soy
 
Yield: Serves 2-4
Difficulty: Easy
Total Time: 40 minutes
 
This is a simple recipe, but one of the most delicious in my book. The marinade creates a beautiful burnished glaze that chars around the edges as you would get when cooking on a BBQ. This is one of those dishes you can marinate the night before and just cook in the oven when you get in from work, then 40 minutes later it's ready. Once you've made it, I guarantee you will make it time and time again.
INGREDIENTS
1.5kg whole chicken, skin on & spatchcocked
200g of steamed white or brown jasmine rice
For the marinade:
4 tbsp of runny honey
2 tbsp of groundnut oil
6 fat garlic cloves, very finely chopped
Knob of fresh ginger root, peeled & very finely chopped
3 heaped tsp of Chinese five-spice powder
1 tbsp of dark soy sauce
4 tbsp of light soy sauce
2 tbsp of hoisin sauce
1 tbsp of mirin
METHOD
Mix all the marinade ingredients together in a large shallow bowl.
Using a sharp knife, make a few slashes in the chicken skin, then add the chicken to the marinade and mix to coat well. Cover with cling film and marinate in the refrigerator for at least 1 hour, preferably overnight, turning the chicken in the marinade occasionally.
Remove the chicken from the refrigerator at least 15 minutes before you are ready to cook. (Preheat the oven to 200°C/Gas 6).
You can either pop the chicken onto a shallow baking tray or cook on a roasting rack over a roasting tray. Drizzle the chicken with the remaining marinade, then roast for 40-45 minutes, basting every 15 minutes or so with the marinade until the chicken is completely cooked through. Serve with steamed rice, if you like.
DISCLAIMER: We endeavour to always credit the correct original source of every image we use. If you think a credit may be incorrect, please contact us at [email protected].