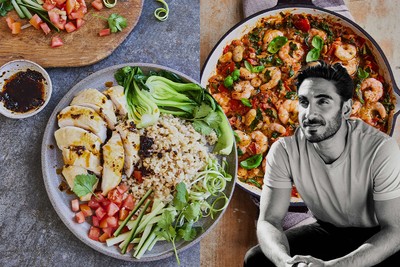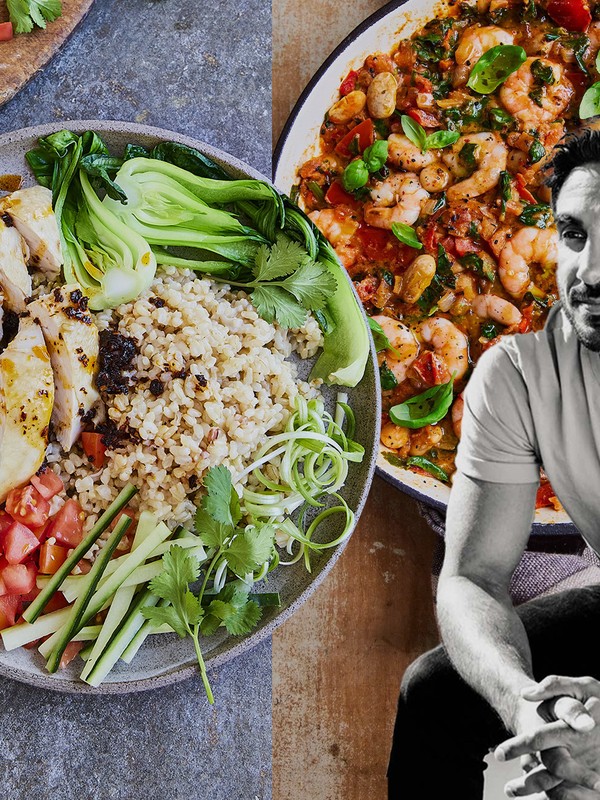 3 Healthy Weeknight Meals From Dr Rupy

---
Nutritional medicine expert Dr Rupy is the man behind the popular Doctor's Kitchen books and podcast, which has over 12m downloads to date. His new book Dr Rupy Cooks features more than 100 delicious and easy recipes that put taste and nutrition joint first. Here, he shares his tips for eating well – plus three great dishes to try at home.

I want food to be flavourful, every single day. It's that intersection of flavour and functional benefits that I want to infuse into any recipe I create. When I speak to patients, I work hard to get them excited about food, and I apply that to the recipes you find in this book; I want that marriage of flavour and functionality. If food doesn't taste good and it's not easy to prepare, no matter how strong your willpower, you won't keep eating it. And the aim of the game is to get people eating well every day, for life.
A number of years ago I fell ill. I was suffering from atrial fibrillation (an irregular and often abnormally fast heartbeat) and after many tests, I was told to have an ablation procedure. This is what sparked a change in my own lifestyle. The power of food and healthy living isn't taught in medical school, and it took my own experience to realise just how much of an impact nutrition can have. The driving force behind The Doctor's Kitchen was the idea of creating motivating, exciting and accessible recipes that encourage people to recognise food as an important health intervention. Now I'm trying to understand how we can equip the modern doctor to feel confident having conversations about food in a clinical environment.
I started The Doctor's Kitchen to inspire my patients about the beauty of food and the medicinal effects of eating well. Creating delicious recipes and bringing attention to the clinical research behind the ingredients I used has been a great way of motivating not only my patients but also my colleagues in medicine. Rather than scaring people into a restrictive way of eating, my philosophy is to use flavour and celebrate our cultural diversity to make healthy lifestyles enjoyable and accessible to everyone.
Want to be healthier at home? Drop the high-protein 'muscle building' diets and focus on wholefoods, mostly plants and tons of colours. Think about experimenting with seasonal vegetables and swapping the meat for beans, pulses and legumes. A colourful plant-focused diet will help you feel lighter, stronger, fitter, more focused and energetic – and will drastically reduce your risk of disease.
"Choose one recipe and absolutely master cooking it, so you can swap in a different selection of spices or ingredients the more confident you get."
Work-life balance, alcohol and the inability to cook are the main barriers men can face when it comes to eating healthier. I tend to suggest batch cooking and bringing your own lunch rather than relying on grab-and-go options that are often highly processed and nutrient poor. Choose one recipe and absolutely master cooking it, so you can swap in a different selection of spices or ingredients the more confident you get. Have back-up meal options that you can make from scratch when you're super hungry and itching for a takeout. Have regular alcohol-free weeks where you choose not to drink in social settings. It will get you into the habit of abstaining from alcohol and more confident at navigating any peer pressure as a result.
I prefer not to single out ingredients and instead talk about categories of food. In each category there are cheap, accessible, nutritionally dense ingredients, loaded with antioxidants, inflammation-reducing compounds, fibre to feed your gut microbiome and tons of flavour. These are:
Spices: Turmeric, Ginger, Garlic, Cinnamon
Brassicas: Cauliflower, Broccoli, Sprouts
Greens: Cabbage, Kale, Chard, Savoy Cabbage 
Root Veg: Carrots, Sweet Potato, Beetroot
Herbs: Parsley, Coriander, Basil, Oregano, Sage, Rosemary 
I love cooking dishes like a white bean stew with cavolo nero. It's lemony, salty and delicious. I also love a chilli corn chowder – it has peppers in it, and you essentially blend that down into a soup with white beans. I dress it with a little bit of extra sweet corn and chilli oil on the top. This lifts the whole flavour, it's got a wonderful taste to it and looks visually appealing too. Both these dishes are so simple – they're one pot dishes, you make them in literally 20 minutes. Even my wife was surprised at how quickly I did the white bean stew yesterday.
Dr Rupy Cooks is all about healthy, easy, flavourful meals. They will save you time in the kitchen and help you effortlessly achieve and maintain a way of eating that supports your health and wellbeing. They've been rigorously tested by over 1,000 people in kitchens from across the globe and I personally reviewed every tester's feedback to make sure all the recipes were spot on before we finalised and shot them. I don't think there's another cookbook that's ever done such intensive testing! All the recipes – including midweek meals, traybakes, stews, curries – are designed to support your gut, brain, heart and mental health. That's why they all contain at least three portions of plants per serving, a rich diversity of ingredients and lots of fibre.
---
Inspired? Here Are Three Great Recipes To Try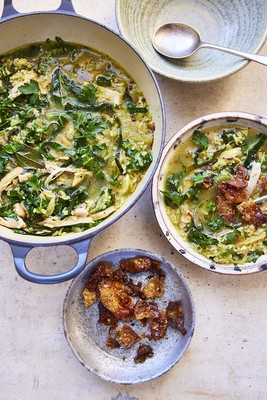 Ayurvedic Jewish Penicillin
This nourishing and spicy broth is my favourite meal to prepare for the family when they need a boost. It has a great collection of polyphenol-rich spices, anti-viral allium vegetables and plenty of warming flavours. I prefer to keep the spices like cloves and peppercorns whole, but feel free to remove them before serving.
Ingredients
2

-3

bone-in chicken thighs (350g), skins removed and reserved (optional)
1

large onion, thinly sliced
3

celery sticks, thinly sliced
6

garlic cloves, peeled and bashed
30g

of fresh ginger, sliced
4

-5

thin slices of fresh turmeric or

½

tsp

of ground turmeric
1

tsp

of black mustard seeds
½

tsp

of black peppercorns
Small bunch of parsley, leaves and stalks chopped separately
100g

of brown basmati rice, thoroughly rinsed
1

.2 litres of chicken stock or vegetable stock
160g

of spring greens, finely shredded
Method
Step 1
If serving with crispy chicken skin, preheat the oven to 180ºC fan. Spread the chicken skins flat on a baking tray, sprinkle with a little salt and roast in the oven for 20 minutes. Leave to stand (they will crisp up as they cool), then season lightly and break into shards.
Step 2
Meanwhile, heat 1 tablespoon of the oil in a deep saucepan over a medium heat, add the chicken thighs and brown all over for 5 to 6 minutes. Remove from the pan and set aside. Add the remaining oil to the pan and fry the onion and celery for 5 minutes until softened. Add the garlic, ginger, bay leaves, turmeric and whole spices and fry for a further 1 minute.
Step 3
Add the chopped parsley stalks and rice. Return the chicken to the pan then pour over the stock. Bring to a simmer, cover and simmer for 30 minutes. Add salt to taste (it may not need it if the stock was salty).
Step 4
Remove the chicken from the pan and set aside to cool slightly. Pull the chicken meat from the bones, roughly chop, then put into individual bowls. Check for seasoning, add the shredded greens to the pan and simmer gently for a couple of minutes until wilted, then finish with the parsley leaves.
Step 5
Ladle the soup into the bowls and top with shards of the crispy chicken skin, if you like.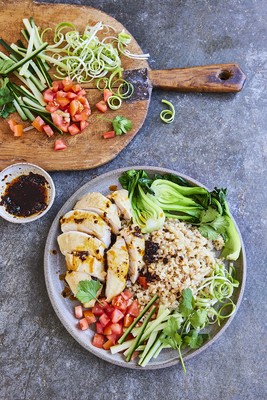 Inauthentic Singaporean Chicken Rice
This is my take on Hainanese chicken, with wonderful aromatic flavours, delicious spices and plenty of colourful greens to serve with a gorgeously flavoured rice. Cooking a chicken in this way is super economical and low waste, as well as bringing out the best from the produce.
Ingredients
50g

of fresh ginger, sliced
6

garlic cloves, unpeeled, bashed
4

tbsp

of tamari or soy sauce
2

tbsp

of coriander seeds
2

tsp

of black peppercorns
300g

of short-grain brown rice, rinsed well
To Serve

400g

of choi sum or pak choi
300g

of ripe tomatoes, diced
1

cucumber, thinly sliced
4

spring onions, shredded
Small bunch of coriander, torn
4

tbsp

of Chinese chiu chow chilli oil
3

tbsp

of light olive oil
1

tsp

of toasted sesame oil
2

tsp

of tamari or light soy sauce
Method
Step 1
Put the chicken into a large stockpot and pour over enough cold water to completely cover. Add the ginger, garlic, tamari or soy sauce and spices, then bring to a gentle simmer. Cover and cook for 40 minutes, skimming the surface occasionally to remove any impurities. Remove from the heat and leave to stand with the lid on for 10 minutes, then transfer the chicken to a baking tray, cover loosely with foil and set aside to rest.
Step 2
Strain the poaching broth into a jug, skim off any fat, then pour 600ml back into the pan (any leftover broth can be chilled or frozen). Add the rice, bring to the boil, then reduce to a gentle simmer, cover with a lid and cook for 30 minutes. Remove from the heat and leave to stand with the lid on for a further 10 minutes.
Step 3
When the rice is nearly ready, steam the choi sum or pak choi in a separate pan for 2 to 3 minutes until wilted.
Step 4
Take the chicken breast off the bone and cut into thick slices. Pull the thigh and leg meat away from the bone. Season the rice with a little extra tamari or soy sauce, if needed. Serve the chicken with the rice, choi sum, tomatoes and cucumber, drizzled with the chilli oil. Garnish with the spring onions and coriander.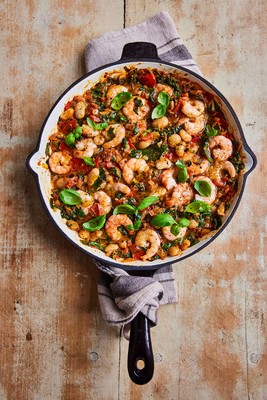 White Bean Prawn Saganaki
This dish will blow you away. The sauce is simple to make, but the flavours are intense, sweet and spicy. The caraway and nigella seeds lend an undertone of earthy flavours with the hum of garlic and kick of red chilli to counter. The greens and beans pack this with more vegetables, but the sauce is full of the good stuff too. You can easily make this vegetarian by simply substituting the prawns with more beans that have plenty of protein.
Ingredients
4

tbsp

of extra virgin olive oil
240g

of white onion, diced
5

garlic cloves, finely chopped
2

red chillies, finely chopped
500g

of tomatoes, roughly chopped
200g

of chard or spinach leaves, roughly chopped
20g

of basil, roughly chopped (reserve some leaves to garnish)
1

x

400g

can giant white beans or butter beans (or any other white bean), drained and rinsed
200g

of raw jumbo prawns, shelled and deveined
Method
Step 1
Preheat the grill to high.
Step 2
Heat the oil in a flameproof casserole over a medium heat, add the onion and cook for 5 minutes until soft and translucent, then add the garlic, chilli and seasoning and cook for 2 minutes to colour and infuse their flavour.
Step 3
Toss in the caraway and nigella seeds with the oregano and stir into the onions for 1 minute before adding the tomatoes, tomato purée, honey and feta. Cover and cook for 12 minutes until the tomatoes have fully broken down and the feta has melted into the sauce. Add a splash of water if it sticks to the bottom of the pan.
Step 4
Uncover the pan and stir so that all the ingredients combine with the sauce, then add the green leaves and basil, reserving a few basil leaves to garnish, and stir for 2 to 3 minutes or until the greens have wilted.
Step 5
Add the beans to the sauce and place the prawns on top. Simmer for 2 minutes then transfer to the grill for 4 minutes to finish cooking the prawns and caramelise the top of the dish.
Step 6
Garnish with the reserved basil leaves and serve.
DISCLAIMER: We endeavour to always credit the correct original source of every image we use. If you think a credit may be incorrect, please contact us at [email protected].