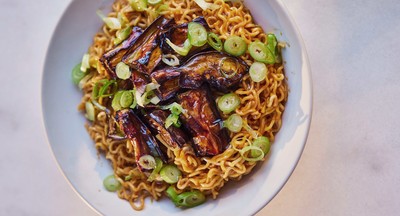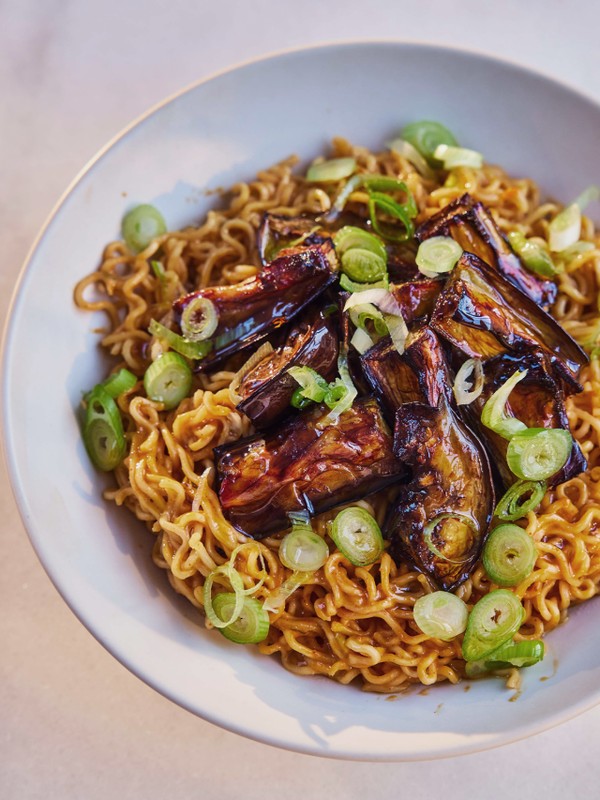 3 New 6-Ingredient Recipes From The Mob Team

---
Ben Lebus's Mob crew is back with its simplest cookbook yet – this time, it's all about great recipes made with six ingredients. With no compromise on flavour, the dishes within deliver all the excitement that defines Mob's modern style of cooking – think negroni jelly, chorizo mac 'n' manchego and harissa sausage orzotto. Here, Ben explains the Mob 6 mindset – and shares three great recipes to try at home.

The aim of this book is simple. We want to prove that you can cook something special – not just a half-decent dinner but a memorable meal your mates will be raving about for years to come – using just six ingredients. It might not sound like a lot of ingredients, but that's kind of the point. Cooking doesn't have to be complicated to be delicious.
Every recipe in this book maximises on flavour and provides a fresh and exciting example of what you can make from very little. You won't find any precious, overly complex recipes here – just six simple ingredients that, when combined correctly, produce some killer dishes. Don't let the simplicity fool you: these recipes are anything but basic. We're talking about dishes that will make your taste buds lose their little minds, like juicy steak with a zesty madras curry butter sauce, crispy-skinned roast chicken with all the trimmings and a simple garlicky gravy and tender pork chops with sweet peaches and fiery padron peppers.
Using fewer ingredients means these recipes are on the whole more affordable and accessible. But we have occasionally splurged on an ingredient like a big fat steak or a jar of fancy beans because we want to make sure the dish tastes like the best version of itself. We've also used a couple of ingredients that are a tiny bit harder to find – like, for instance, pickled sushi ginger or guindilla chilli peppers – but we've only put them in there because they slap. Don't like an ingredient we've used? Swap it out. No stress. We want you to use these recipes as a guide because, ultimately, you know what you like better than we do, and the whole point of Mob 6 is to help you enjoy the process of cooking and eating as much as possible.
You don't need an ingredients list as long as your forearm to make a banging meal. Coming up with the recipes for Mob 6 gave us an opportunity to reassess the way we look at cooking; it forced us to think more creatively about ingredients and how to get the most out of the basics. Sometimes that means using shallots three ways in one recipe. Sometimes that means using capers and the brine that comes in the jar. Sometimes that means taking thrifty shortcuts like using pre-made pizza dough or shop-bought jam. While we've cut a few corners to help you save time and money, there have been absolutely no compromises when it comes to flavour.
---
Inspired? Here are three recipes to try at home…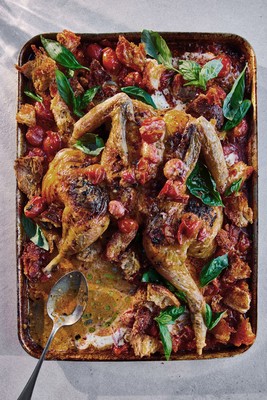 Chicken, 'Nduja & Sourdough
Something magic happens when the juices from the chicken saturate deep into the sourdough croutons in this dish, getting them all caramelised and intensely chicken-y. We've used a whole chicken here because it feels fancy-ish for midweek, but it still cooks in the same amount of time as chicken thighs.
Ingredients
3

tbsp

of extra virgin olive oil
5

slices of sourdough, roughly torn into chunks
3

tbsp

of crème fraîche
5

sprigs of basil, leaves picked
Method
Step 1
Use sharp scissors to cut down either side of the backbone (on the underside of the chicken) to remove it. Place the chicken on a baking tray. Push down on the point between the breasts until you hear a little crack to help flatten it. Pull the skin to release it from the meat slightly, then use your hand to distribute 2 tablespoons of 'nduja under the breast skin.
Step 2
Season the chicken generously with salt and pepper and drizzle with olive oil. Roast for 20 minutes, then remove from the oven. Nestle the sourdough, cherry tomatoes and remaining 4 tablespoons of 'nduja around the chicken, tossing them to coat in the olive oil and juices. Return to the oven for 30 minutes. When the chicken skin is golden and crisp, transfer the chicken and croutons to a chopping board to rest.
Step 3
Set the tray on the hob over a medium heat. Add 250ml of water to the tray and use a wooden spoon to scrape up all the tomato and 'nduja from the base. Cook for 5 minutes until the sauce has reduced slightly. Turn off the heat and stir through the crème fraîche.
Step 4
Serve the chicken with the croutons and pour the sauce over everything. Garnish with basil and let everyone tuck in.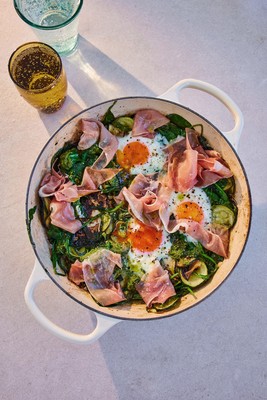 Greens, Eggs & Ham
Dr Seuss would be chuffed with this brunchy one-pot wonder. When using minimal ingredients, it's not a bad idea to splurge on the best ingredients you can find. Fridge-fresh pesto will make this taste miles better than any jarred versions out there. 
Ingredients
2

tbsp

of extra virgin olive oil
2

courgettes, sliced thinly into rounds
3

garlic cloves, grated or finely chopped
Method
Step 1
Heat the olive oil in a frying pan set over a high heat and add the sliced courgettes, frying until golden, about 6 minutes. The courgettes need to get colour, without getting mushy and overcooked, so take care not to stir too much.
Step 2
Add the garlic and spinach, then pop a lid on to help the leaves wilt, which will take 1-2 minutes. Gently stir through the pesto.
Step 3
Make 4 wells in the mixture, then crack an egg into each well. Cook for 2-3 minutes until the whites of the eggs are set and the yolks are still runny. Pop the lid on for a bit to help it along.
Step 4
Tear the prosciutto over the top, season with salt and black pepper, and serve.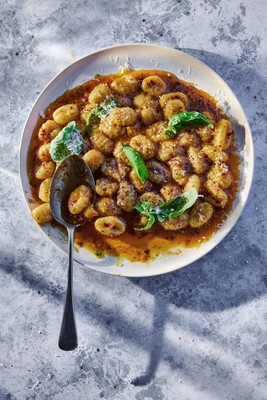 Chilli Butter Gnocchi
The entire Mob workforce has a passionate love affair with crispy chilli oil. We get through jars of it a week, using it to top most meals that come out of the staff kitchen. This speedy gnocchi number is dedicated to all of the Mob team, using our favourite ingredient to form a silky, umami-packed gnocchi sauce. There's no chopping involved, so this is the perfect lazy supper. 
Ingredients
2

tbsp

of crispy chilli oil (we like Lao Gan Ma)
100g

of cold salted butter, cubed
1

large handful of basil leaves
Method
Step 1
Set a large frying pan over a medium heat and add the chilli oil and 150ml of water. Bring to a gentle simmer and add the lemon juice.
Step 2
Add the butter, reduce the heat to low and whisk to melt – the sauce should get thick and creamy, and the butter will emulsify with the water. Remove from the heat.
Step 3
Set a large saucepan of salted water over a medium heat and bring to a boil. Add the gnocchi and cook for 2 minutes, or until the pieces rise to the surface.
Step 4
Lift the gnocchi out of the pan with a slotted spoon, then drop it into the sauce, with an extra splash of starchy pasta water if you need it. Give it a good mix, adding more pasta water to loosen if needed. Add most of the parmesan, then season to taste.
Step 5
Spoon the gnocchi onto plates, then top with the basil leaves and the remaining parmesan to serve.
All products on this page have been selected by our editorial team, however we may make commission on some products.
DISCLAIMER: We endeavour to always credit the correct original source of every image we use. If you think a credit may be incorrect, please contact us at [email protected].