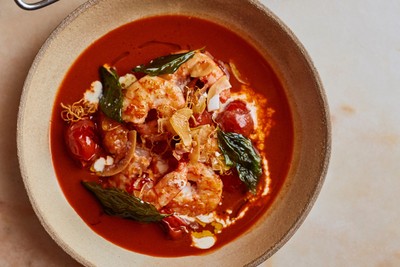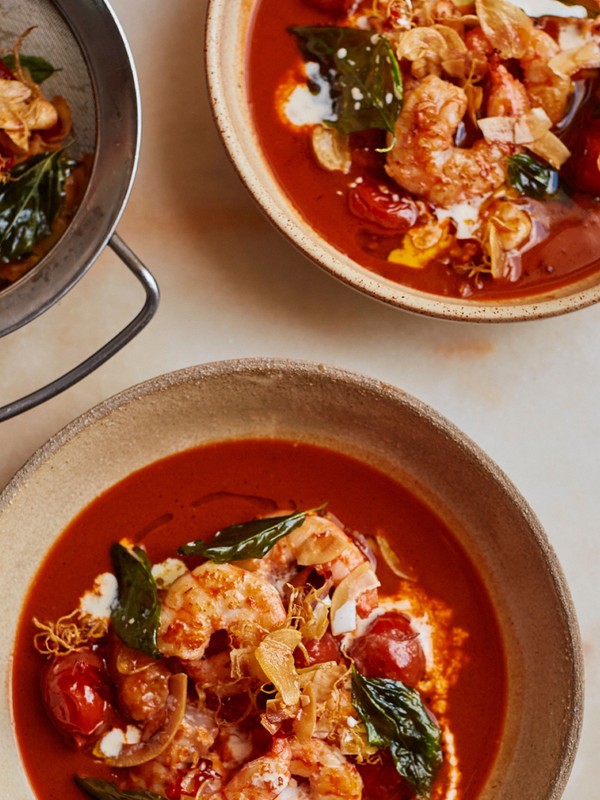 3 New Ottolenghi Recipes To Try This Week

---
Exciting times – Ottolenghi's got a new cookbook out. This one's all about using simple, homemade condiments to elevate crowd-favourite staples like roasted mushrooms or fried eggs. Here are three of the recipes we rate…

Good things come in multiple forms: experiences and memories, friends and loved ones, travels and places and all the cheerful sights in between. Sometimes, though, good things show up with a little bit extra. You get a meal, a dish, a recipe, but you also get a takeaway – a sauce, a sprinkle, a pickle – a condiment you can repurpose time and time again, with limitless opportunity. These extras help you build up your fridges and shelves, to be brought out at any and every mealtime; accessorising your plates with pops of texture and colour, acidity and heat, and all the magical flavour bombs that make a good meal great.
The new book offers an abundance of veg-forward meals from the OTK team, each with an added condiment or skill to build into your creative repertoire. In Shelf Love, we had readers raiding shelves, digging through cupboards and clearing out the corners of the kitchens. It was all about utilising and improvising, using up what you have and swapping out with what you need. All in all, it was about creating lots of empty space and plenty of opportunity to refill and restock. Cue Extra Good Things, which is about just that: filling your shelves, filling your fridges, filling your kitchens to your heart's desire and, hopefully, feeling extra good in the process.
It's all based on the notion of abundance and creativity, of picking and choosing, of mixing and matching, of starting from zero and ending at 10 with plenty more room for expansion. It's an exploration into the OTK pantry via sauces and dressings, oils and jams, sprinkles and crunchy bits, salsas and pickles, ferments and cures and dessert foundations. It's all the added extras that dress up a meal, making an already good dish deliciously better.
The evolution of a meal is where one 'extra thing' used in a multitude of ways becomes the gift that keeps on giving. It's all the good things, plus plenty of playful opportunities for your own reinvention.
---
Inspired? Here Are Three Great Recipes To Try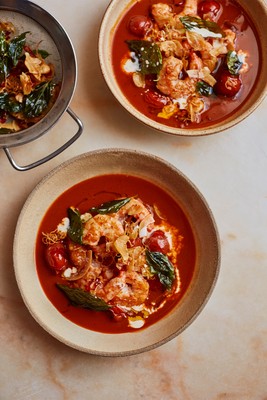 Coconut Broth Prawns With Fried Aromatics
This dish is inspired by South East Asian flavours and is all about building depth – starting with the base, which uses prawn shells to make a rich and spicy broth. Feel free to add other types of fish or shellfish, cooking them directly in the broth. Serve this with fragrant coconut rice or just plain jasmine or brown rice.
Ingredients
Ingredients

750g

of large tiger prawns, shells and heads on
6

garlic cloves, peeled and bashed with the side of a knife
40g

of fresh ginger, peeled and thinly sliced
5g

of lemongrass stalks (about

4

), roughly sliced
8

large makrut lime leaves
3

red chillies, roughly sliced, seeds and all
1

tin of full-fat coconut milk
60ml

of double cream, plus

2

tbsp

extra to serve
250g

of datterini or cherry tomatoes
1

lime, cut into

4

wedges
For the fried aromatics

6

garlic cloves, peeled and thinly sliced
2

red chillies, thinly sliced at a slight angle, seeds and all
30g

of fresh ginger, peeled and julienned
15g

of picked basil leaves
Method
Step 1
Peel the prawns – remove the heads and shells and set these aside. Devein the peeled prawns and refrigerate until needed.
Step 2
Heat the oil in a large sauté pan, for which you have a lid, over a medium-high heat. Add the tomato paste and prawn heads and shells and cook, stirring occasionally, for 3 minutes or until deeply red. Add the garlic, ginger, lemongrass, lime leaves and chillies, and cook for a minute more, until fragrant. Add the coconut milk, cream, 450ml of water and 1 teaspoon of salt, bring to a simmer, then turn the heat down to medium-low, cover with the lid and leave to cook for 25 minutes. Strain through a sieve set over a large bowl, pressing down on the solids to extract as much flavour as possible (discard the solids, or save them for another use). Rinse out the sauté pan; you'll use it again later.
Step 3
Meanwhile, make the fried aromatics. Put the oil, garlic, chillies and ginger into a large frying pan over a medium heat. Cook for 8 minutes, stirring occasionally, then add the coconut flakes and a tiny pinch of salt and cook for 4 minutes more, or until the garlic and coconut are golden and the chillies transparent. Use a slotted spoon to transfer the solids to a plate lined with kitchen paper. Add the basil leaves to the frying pan and cook for 2-3 minutes more, or until deeply green and translucent. Drain them in a sieve set over a bowl, reserving the aromatic oil. Transfer the basil to the plate of fried aromatics. Wipe out the frying pan; you'll use it for the prawns.
Step 4
Add a tablespoon of the aromatic oil to the large sauté pan and place over a medium-high heat. Once hot, add the tomatoes and cook for 6-7 minutes, or until charred and starting to burst. Add the strained broth and bring to a simmer. Simmer for 3 minutes, then keep on a low heat while you fry the prawns.
Step 5
Lastly, heat the large frying pan on a medium-high heat. Toss the prawns with ⅓ teaspoon the aromatic oil. Once the pan is very hot, fry the prawns for 60–90 seconds per side (flipping just to get them nice and coloured). If you're overcrowding the pan, do this in two batches.
Step 6
Divide the broth between four shallow bowls and top with the fried prawns. Squeeze a lime wedge over each of the bowls and drizzle each bowl with ½ tablespoon of the extra cream and a teaspoon of the aromatic oil. Top with the fried aromatics.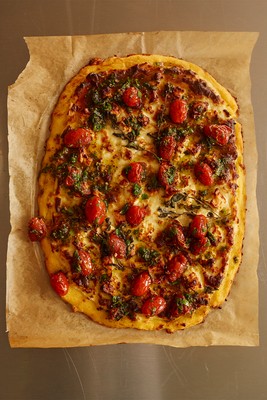 Baked Polenta With Feta, Bechamel & Za'atar Tomatoes
It's not a pizza, insisted Noor, when referring to this baked polenta, which does in fact look like a giant pizza. It ended up with multiple names at the Test Kitchen such as: 'polenta-pizza', 'polizza' or 'polenta not-a-pizza'. It really is a happy-looking pie, with its yellows and reds and wonderfully golden edges. Serve with the chicory salad or anything leafy and green. You can keep this gluten free by swapping out the flour for gluten-free flour, if you like.
Ingredients
Ingredients

4

garlic cloves, peeled and crushed
200g

of quick-cook polenta
65g

of pecorino romano, roughly grated
180g

of Greek feta, roughly crumbled
5g

of oregano sprigs (try to use the softer sprigs)
For the za'atar tomatoes

400g

of datterini or cherry tomatoes
1

½

tbsp

of balsamic vinegar
2

garlic cloves, peeled and crushed
5g

of parsley, roughly chopped
5g

of oregano leaves, roughly chopped
Method
Step 1
Preheat the oven to 150°C fan. Make the za'atar tomatoes. Put the tomatoes, oil, vinegar, garlic, ½ teaspoon of salt and a good grind of pepper into a medium baking dish, roughly 30cm x 20cm. Cover tightly with foil and bake for 40-45 minutes, stirring halfway through, or until the tomatoes have just burst but aren't completely falling apart. Remove the foil, gently stir in the za'atar and sugar and leave to cool completely. Once cool, stir in the herbs (gently, so as not to break up the tomatoes).
Step 2
Turn the heat up to 230°C fan. Line a large baking tray roughly 40cm x 30cm in size with baking parchment.
Step 3
Put 40g of the butter into a medium saucepan over a medium-high heat. Once melted, add the flour and cook, whisking continuously, for 30 seconds or until it smells like popcorn. Slowly pour in 350ml of the milk, whisking continuously to avoid any lumps, then add the garlic, ½ teaspoon of salt and plenty of pepper, turn the heat down to medium and cook for 5 minutes, stirring often, until quite thick and no longer floury tasting. Set aside and cover with a piece of baking parchment, to stop a skin forming.
Step 4
Meanwhile, prepare the polenta by first putting the remaining 400ml of milk, 300ml of water, 20g of the butter, 1¼ teaspoons of salt and a good grind of pepper into a medium sauté pan (or saucepan) over a medium-high heat. Once it gently bubbles, turn the heat down to medium-low, slowly add the polenta, whisking continuously to incorporate, and cook for 2 minutes, to thicken. Add the pecorino and the remaining 20g of butter and stir with a spatula until incorporated. Quickly transfer to your prepared baking tray and spread out in a large oblong shape about 1cm thick and 38cm in length. Spoon over the béchamel and spread it so it covers the surface, leaving a 1½cm rim exposed around the edges. Top evenly with the feta and the oregano sprigs and bake for 22 minutes, or until golden and bubbling on top and starting to brown around the edges. Leave to cool for 5-10 minutes.
Step 5
Spoon about half the za'atar tomatoes on top of the baked polenta, serving the rest in a bowl alongside. Use a pizza cutter to easily cut into slabs and serve warm.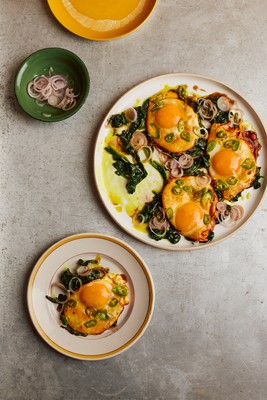 Turmeric Fried Eggs With Tamarind Dressing
These are fried eggs but with a very eccentric wardrobe, thanks to the turmeric and chilli, which make them as good to eat as they are to look at. You can serve this easy, vibrant breakfast as it is, or alongside the potato rosti, as part of a brunch spread.
Ingredients
Ingredients

1

shallot, peeled and sliced into thin rounds
2

garlic cloves, peeled and crushed
1

green chilli, finely sliced into rounds, seeds and all
For the tamarind dressing

2

tsp

of light soft brown sugar
5g

of fresh coriander, roughly chopped
Method
Step 1
Put the shallot, lime juice and a pinch of salt into a small bowl and use your fingers to gently massage everything together. Set aside to pickle lightly while you continue with the rest.
Step 2
Make the tamarind dressing by putting all the ingredients into a bowl and whisking to combine and dissolve the sugar. Add 2-4 teaspoons of water, to loosen the mixture (this will vary according to different makes of tamarind paste).
Step 3
Put 1 tablespoon of oil into a large frying pan over a medium-high heat. Once hot, add the garlic and cook for 90 seconds, stirring, until fragrant and lightly coloured, then stir in the spinach and ⅛ teaspoon of salt and cook until wilted, about 4 minutes. Transfer to a serving plate and wipe out the pan.
Step 4
Add the remaining 2½ tablespoons of oil plus the turmeric to the same pan, stirring to combine, and return it to a medium-high heat. Once hot but not smoking, crack in the eggs and quickly sprinkle the whites with the chilli slices. Season the eggs all over with a good pinch of salt and use a spatula to separate the whites so that the eggs are not joined together. Fry for 3-4 minutes, spooning some of the oil over the whites. You want the whites to be crispy around the edges and the yolk to be runny (fry them for longer if you like your eggs more cooked).
Step 5
When ready, use a spatula to transfer the eggs to the plate of spinach, drizzling with any extra turmeric oil in the pan. Top with the pickled shallots and then drizzle with some of the tamarind dressing, serving any remaining alongside.
Ottolenghi Test Kitchen: Extra Good Things by Yotham Ottolenghi and Noor Murad is available to buy here
All products on this page have been selected by our editorial team, however we may make commission on some products.
DISCLAIMER: We endeavour to always credit the correct original source of every image we use. If you think a credit may be incorrect, please contact us at [email protected].