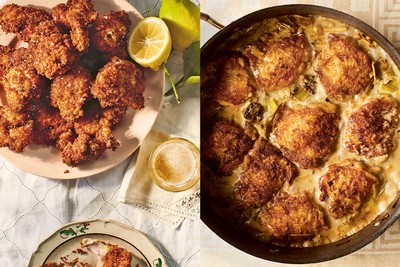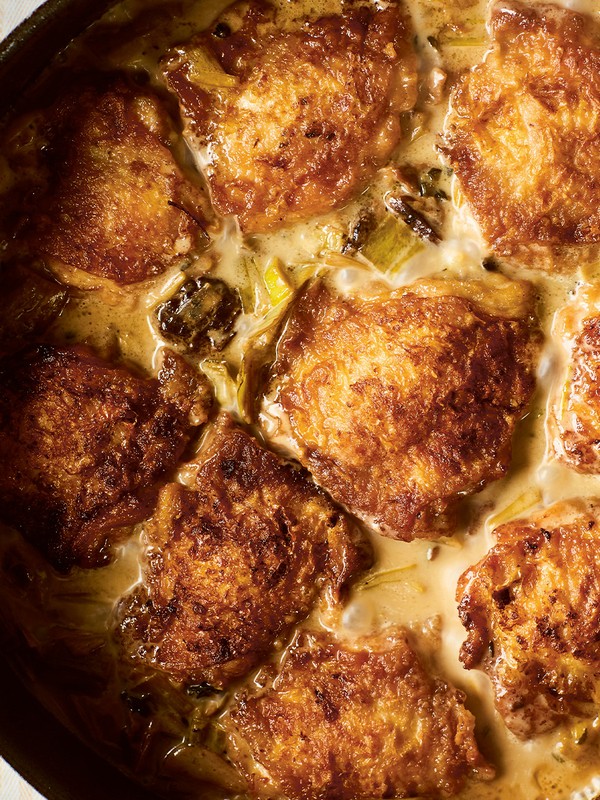 4 Great Store-Cupboard Meals To Try This Week

---
Theo Randall believes your kitchen cupboard should always contain some key Italian ingredients. In his new book, the Michelin-starred chef has taken ten of these staples – including breadcrumbs, lemons and polenta – and created simple, satisfying recipes with them. From meatballs with burrata to slow-cooked chicken thighs with porcini mushrooms, Theo let SLMan in on four of his favourites…

My mother had the best pantry ever. It was chaotic, messy and over-stocked but had an amazing array of ingredients. When I was little, I used to check out what was in the cupboard to see if I could find a sweet or savoury treat. Cunningly my mother always put the chocolate on the top shelf because she knew I would be trying to find it. I always thought I could overcome this obstacle by climbing up the drawer handles to find the hidden gems. 
These items were mostly procured during summer holidays. We would drive from England to southern France and then on to Italy. Over this three-week family holiday, we would visit various places of architectural interest, art museums and plenty of galleries, which wasn't my favourite thing to do at that age, but I tended not to complain as the days always ended with good food. Along the way we would also visit vineyards and food markets, packing various bottles and jars into the trailer with all the camping equipment. When the trailer was full, we moved on to cramming things into the boot and the footwells of the car – my father was a master at squeezing everything in. These days we don't have to travel half of Europe to buy amazing ingredients, however I can't help taking an extra suitcase on holiday, as you never know what you'll come across that's too good not to bring home.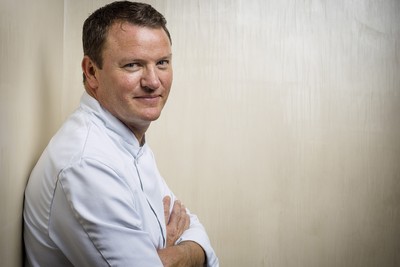 A well-stocked pantry should always have some essential Italian ingredients: olive oil, passata, dried mushrooms, fennel seeds, dried chillies, preserved anchovies, saffron, capers, olives, dried oregano, vinegars, nuts, pasta flour, cheeses, semolina, risotto rice, polenta, dried pasta (lots of that), dried fruit and, of course, chocolate. I can get very carried away with overzealous purchases for our pantry, but my wife Natalie keeps me on my toes, and tells me when we are getting over-stocked or if I'm simply making a mess! 
---
Inspired? Here are four simple recipes to try…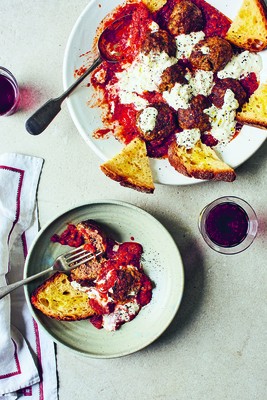 Meatballs In Tomato Sauce With Burrata & Crostini
This dish was on the menu at Theo's Simple Italian in Kensington – the restaurant is no longer, but the dish is still very much a classic. The richness of the meatballs with the vibrant tomato sauce is very comforting and it's a perfect dish to serve to a large gathering. I love the addition of the chopped burrata, as it makes the tomato sauce taste even sweeter and adds a soft, creamy texture. Scale the quantities up or down as required. 
Ingredients
INGREDIENTS

1

ciabatta or sourdough loaf, cut into thin slices (crostini)
Sea salt and freshly ground black pepper
For the meatballs

2

tbsp

of chopped flat-leaf parsley leaves
1

garlic clove, crushed to a paste with a little sea salt
100g

of dried breadcrumbs
75g

of parmesan, finely grated
2

tbsp

of extra virgin olive oil, plus extra for frying and drizzling
Method
Step 1
Place all ingredients for the meatballs into a large bowl and combine to form a firm, evenly distributed mixture. Cover your hands in olive oil, take a generous tablespoon of the mixture and roll it between your palms to form a meatball the size of a golf ball. Repeat until you have used all the mixture – you should have 16 meatballs. Place them on a tray in the fridge to firm up for 30 minutes.
Step 2
Place a large, non-stick, ovenproof frying pan over a high heat and add a tablespoon or so of olive oil. When the oil is hot, begin browning the meatballs (in batches if necessary), ensuring you don't cook them completely – a little colour on the outside is perfect. Once they are all browned off, remove them from the pan and leave them to one side while you make your tomato sauce.

Step 3
Preheat the oven to 200°C/180°C Fan/Gas Mark 6.
Step 4
Make the tomato sauce. Add 1 tablespoon of the olive oil to the pan and set it back over a medium heat. When hot, add the garlic, thyme and chilli. Simmer for 1 minute, then add the passata. Cook gently for 15 minutes, or until the sauce has reduced by half. Season the sauce and take the pan off the heat.
Step 5
Place the meatballs in the pan on top of the sauce, evenly spaced, then transfer the pan to the oven and bake for 20 minutes, until the meatballs are cooked through. Leave to one side for 5 minutes to cool slightly (leave the oven on).
Step 6
Drizzle a little oil over your ciabatta slices and sprinkle them with some sea salt. Place them on a baking sheet and bake them for 4 minutes, or until crispy, then rub them all over with the garlic clove.
Step 7
Meanwhile, finely chop the burrata, then use a spoon to drop dollops all over the baked meatballs.

Step 8
Give everything a sprinkle of sea salt and a good grinding of black pepper, then serve in the middle of the table alongside the crostini and let everyone help themselves.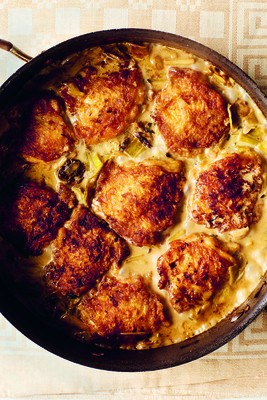 Slow-Cooked Chicken Thighs With Porcini Mushrooms & Marsala
Chicken thighs are tender, inexpensive and really easy to cook. I like to use the ones with the skin on as it keeps the flesh juicy and tender, and the skin adds lots of flavour. Leeks and porcini mushrooms go really well together – I first had this combination in a restaurant called Da Cesare in Monforte d'Alba. The restaurant is sadly no longer but the memories of eating the brilliant food cooked by Cesare live on. 
Ingredients
8

bone-in chicken thighs (skin on), seasoned with salt and pepper
2

tbsp

of extra-virgin olive oil
2

portobello mushrooms, sliced
20g

of dried porcini mushrooms, just covered in boiling water and left to soak
Sea salt and freshly ground black pepper
Method
Step 1
Preheat the oven to 200°C/180°C Fan/Gas Mark 6.
Step 2
Tip a few tablespoons of the flour on to a large plate and roll the chicken thighs in the flour so that they are nicely coated.
Step 3
Heat the olive oil in large, heavy-based casserole pan over a medium heat. When hot, add the floured thighs skin-side down and cook them until the skin has a golden colour (about 4 minutes). Turn the thighs over and seal the other side for about 2 minutes. Then, remove the thighs from the pan and leave them to one side.
Step 4
Wipe the dish clean with some kitchen paper then add the pancetta. Cook it for 2 minutes to release the fat, then add the garlic, thyme and portobello mushrooms and cook for a further 5 minutes.
Step 5
Meanwhile, drain the porcini, reserving the soaking water, and finely chop them. Add the chopped porcini to the pan with the soaking water, along with the leeks, and cook for a further 5 minutes to soften. Stir through the marsala and the mascarpone, then season with salt and pepper.
Step 6
Place the chicken thighs back into the casserole, skin-side up, on top of the other ingredients. Cover the pan with a lid and transfer it to the oven. Bake the thighs for 30 minutes, then remove the lid and cook for a further 10 minutes, until the chicken is cooked through and the skin is crisp.
Step 7
Serve with creamy wet polenta, flavoured with butter and parmesan, or buttery mashed potatoes.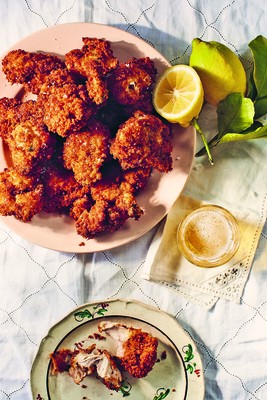 Venetian-Style Fried Chicken With Lemon & Sage
Lemons
If you dream of fried chicken, do try making it yourself – I promise it tastes so much better than shop-bought versions that you reheat in the oven (or buy as fast food). I have a portable deep-fat fryer, which I plug in outside when I'm frying chicken because it makes my wife Natalie a lot happier – the smell of fried chicken can linger somewhat. However, you can simply use a deep, heavy-based saucepan on the hob if you prefer. This is a favourite in our household – a dish to serve in the warmer months, outside as part of a BBQ, and with cold beers alongside.
Total Time
40 Minutes
Plus marinating time
Ingredients
8

skinless, boneless chicken thighs, cut into

2cm

pieces
2

tbsp

of extra-virgin olive oil
6

sage leaves, roughly chopped
1

garlic clove, crushed to a paste with a little sea salt
Pared zest and juice of

1

lemon, plus extra wedges to serve
100g

of dried breadcrumbs
Method
Step 1
Place the chicken in a large bowl with the olive oil, sage, garlic and lemon zest strips and juice. Mix well, cover with cling film and leave to marinate for 2 hours.
Step 2
Pour the oil into a large, deep frying pan and heat it to 160°C on a cooking thermometer. (If you don't have a thermometer, simply drop a few breadcrumbs into the hot oil – if they sizzle and rise to the top within 30 seconds then the oil is ready.)
Step 3
Tip the flour on to a large plate, then tip the breadcrumbs on to another and the beaten eggs into a shallow bowl.
Step 4
Take out the chicken from the fridge and remove the lemon zest strips. Carefully take a few of the chicken pieces and roll them in the flour. Once they are fully coated, roll them in the beaten egg and finally roll them in the breadcrumbs. Coat a few pieces at a time, so as not to overcrowd the plates.
Step 5
When the chicken is nicely coated in the breadcrumbs, start frying it in the hot oil – again, do this in batches. Once each batch is dark golden all over and crisp, remove the chicken from the oil with a slotted spoon and drain it on kitchen paper. Transfer them to a metal baking tray and keep them in a warm oven (about 140°C/120°C Fan/Gas Mark 1) while you fry the remaining batches.
Step 6
Serve the chicken immediately with a sprinkle of flaky sea salt, a squeeze of fresh lemon – and a cold beer.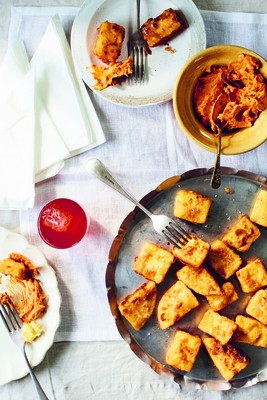 Polenta Fritta With 'Nduja Butter
I love deep-fried polenta and when served with 'nduja it is heaven. Combining butter and 'nduja isn't a classic combination, and I'm sure a few Calabrese would be disapproving of the idea, but hey, it tastes really good. I remember first tasting 'nduja many years ago when Rose Gray had just got back from a holiday in Calabria. We had a wine event that evening at The River Café and Rose was adamant that they tasted the 'nduja with their glass of Franciacorta, the way the locals ate it in the village in which she had been staying, so it was served on tiny bits of dry toast. The 'nduja Rose had brought back was a huge traditional 'orba' that tasted amazing but had a serious kick to it. The wine connoisseurs were a little taken back by this spreadable salami and one of them, with a red face and watery eyes, said he wasn't impressed with the canapés and they had ruined his palate for the night. Rose and I laughed in the kitchen – and those laughs quickly turned to chilli-fuelled tears when we tasted the 'nduja.
Ingredients
100g

of unsalted butter, softened at room temperature
40g

of 'nduja, at room temperature
½

tsp

of rosemary leaves, finely chopped
150g

of tipo OO flour (or chickpea/gram flour if you're gluten intolerant)
Method
Step 1
First make the 'nduja butter. Put the butter in a ceramic bowl and beat it with a wooden spoon until it is really creamy. Add the 'nduja (it's important this is at room temperature) and the rosemary and mix to a smooth paste. Set aside while you make the polenta.
Step 2
Pour 400ml of water into a medium saucepan and place it over a high heat. Bring it to a boil, add a pinch of salt and bring the water back to a simmer. Reduce the heat so that the water is simmering gently and slowly pour in the bramata polenta, stirring with a balloon whisk the whole time – slow is the key here, so that you disperse the polenta evenly in the water. Once you have added all the polenta, turn down the heat and cook the polenta gently for 30 minutes, until it is starting to come away from the edges of the pan. Immediately pour the polenta into a straight-sided ceramic dish so that it's 2cm thick. Leave to cool and set firm. Slice the cooled, set polenta into 2 x 4cm pieces.
Step 3
Pour the milk into a wide, shallow bowl and the flour into another.
Step 4
One by one, dip the polenta pieces first into the milk and then into the flour, making sure each is fully coated. Set each aside on a plate while you coat the remainder.
Step 5
Pour the sunflower oil into a small, heavy-based saucepan and place it over a high heat. When it reaches 170°C on a cooking thermometer (or when a small piece of polenta dropped into the oil sizzles and turns golden within a few seconds), carefully place a few of the polenta pieces in the hot oil (no more than 4 at a time). Deep-fry them for about 3 minutes, until they are a light golden colour all over. Remove them using a slotted spoon and transfer them to a wire rack set over a tray to drain. Fry the remaining polenta pieces.
Step 6
Sprinkle the warm fingers with flaky sea salt and serve with the 'nduja butter in little bowls alongside for dunking.
All products on this page have been selected by our editorial team, however we may make commission on some products.
DISCLAIMER: We endeavour to always credit the correct original source of every image we use. If you think a credit may be incorrect, please contact us at [email protected].