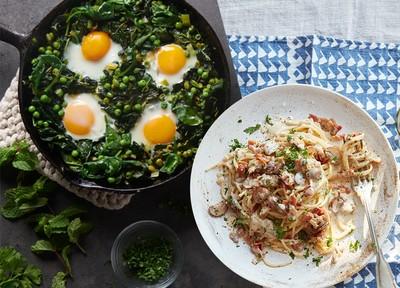 6 Easy But Impressive Meals For Two

---
Whether you're looking to improve or just expand your repertoire of speedy weeknight meals, SLMan is here to help. From ten-minute mushroom gnocchi to a flavoursome winter warmer of chicken and prawn laksa, seven chefs gave us their favourite foolproof recipes for two…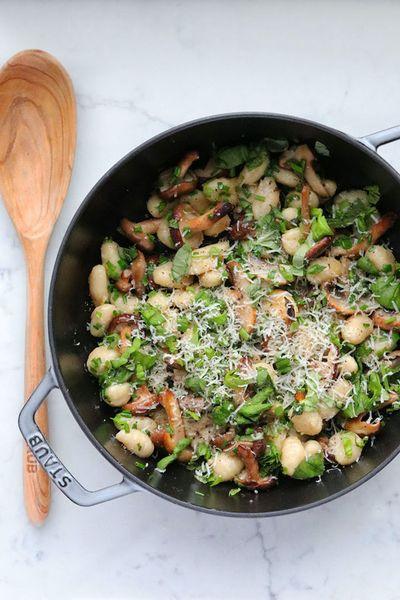 Wild Mushroom Gnocchi: Humphrey Munson, Staub
Yield: Serves 2
Difficulty: Easy
Total Time: 12 minutes
INGREDIENTS
Glug of olive oil
1 packet of pre-prepared gnocchi (I love the Difatti gluten-free plain gnocchi, also available in spinach)
200g of wild or shiitake mushrooms, sliced
1 small clove of garlic, crushed & finely chopped
Handful of chives, finely chopped
Handful of fresh basil, chopped
Parmesan
Sea salt & black pepper to taste
METHOD
 Bring a pan of water to the boil and add a pinch of salt. Add the gnocchi and keep over a rolling boil until the gnocchi rises to the surface. Remove from the pan with a sieve.
Heat some olive oil in a pan. Add the mushrooms and fry off over a high heat to get a good bit of colour on them. Once lightly browned, add the garlic and a small glug of white wine if you have it open. Next add the gnocchi and stir to combine over a medium heat for 1-2 minutes.
Finally add the herbs, season with salt and pepper, and add parmesan if desired. So fast, so simple.
Visit HumphreyMunson.co.uk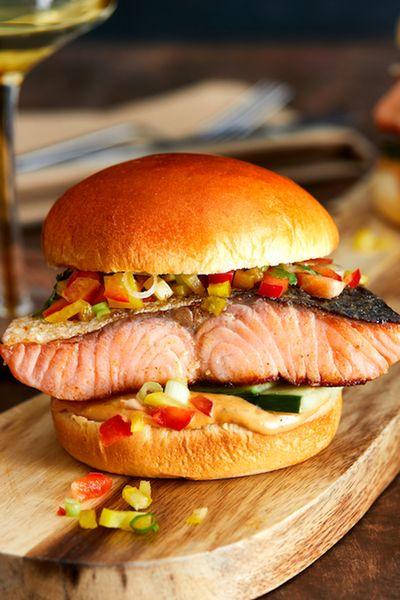 Blackened Salmon Burgers: St Pierre
 
Yield: Serves 2
Difficulty: Easy
Total Time: 15 minutes
INGREDIENTS
2 brioche burger buns
2 salmon fillets
1-2 tbsp of butter, melted
1-2 tsp of Cajun spice mix
1 red pepper, finely diced
1 yellow pepper, finely diced
1 tomato, finely diced
2 spring onions, finely chopped
Ground black pepper
1 lime, juiced
Sriracha mayonnaise (or chilli flavoured)
½ cucumber, finely sliced
METHOD
Brush the salmon fillets with melted butter and liberally coat with the Cajun spice mix.
In a pan on a medium heat, fry the coated salmon fillets for a few minutes on each side, without moving around the pan until cooked.
To make the salsa, put the yellow and red peppers, tomato and spring onions into a small bowl, then add the ground pepper and lime juice, and mix together.
On the base of your bun, spread a thin layer of sriracha mayonnaise, then add a couple of sliced cucumber pieces on top followed by the pan-fried salmon fillet.
Top the salmon with a generous spoonful of the fresh salsa to finish. 
Visit StPierreBakery.co.uk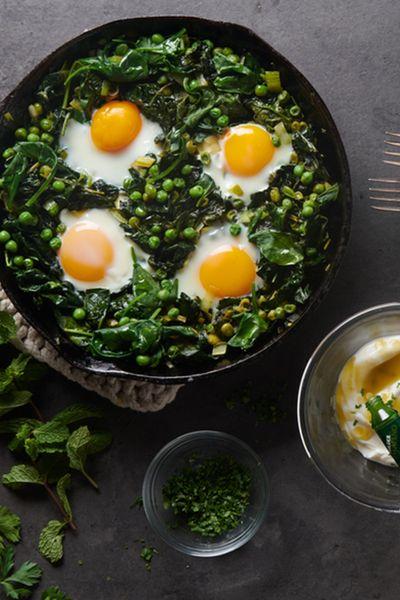 Spicy Green Shakshuka: Tabasco
Yield: Serves 2
Difficulty: Easy
Total Time: 25 minutes
 
INGREDIENTS
150g of fresh baby spinach
100g of chopped kale
1 medium leek, diced
150g of frozen peas
4 eggs
40ml of Tabasco Green Sauce
2 tbsp of olive oil
4 tbsp of natural yogurt
1 tbsp of coriander, chopped
1 tsp of mint, chopped
Salt & pepper to taste
METHOD
Heat the oil in a pan on a medium heat and sauté the peas and leeks until soft.
Add the chopped kale and spinach then heat until wilted.
Stir in 30ml of Tabasco.
Make a well in four areas of the mixture and crack the eggs into these.
Cover the pan with a lid and heat until the eggs are cooked to your liking.
Meanwhile, mix together the yogurt, coriander, mint and remaining Tabasco Green Sauce.
Serve the shakshuka topped with the yogurt dressing drizzled over the dish.
Visit Tabasco.com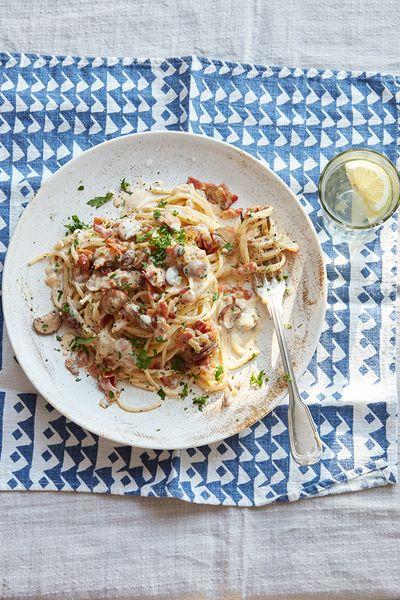 Pasta Carbonara: Justine Murphy, MyMuyBueno
Yield: Serves 2
Difficulty: Easy
Total Time: 20 minutes
 
INGREDIENTS
75g of streaky bacon, chopped
½ clove of garlic, peeled and grated
½ onion, finely diced
½ tbsp of sunflower oil
50g of chestnut mushrooms, thinly sliced
Pinch of flaked sea salt
Grind of black pepper
200g of spaghetti
½ tsp of olive oil
1 egg yolk
75ml of single cream
25g of parmesan block, finely grated
½ sprig of parsley, leaves finely chopped
METHOD
In a dry pan, cook the bacon until it starts to get crispy, then set aside. Using the same pan, fry the garlic and onion in a tablespoon of oil until they are soft and translucent. Set aside, then fry the mushrooms until well cooked through and season. Take the pan off the heat.
Cook the pasta in a large saucepan of boiling water for 6 to 10 minutes (depending on whether it's fresh or dry). Cook until al dente (take a piece out carefully with a fork to taste) then drain and place back in the saucepan with a drizzle of olive oil. Use tongs to move it around so it doesn't all stick together.
While the pasta is cooking, combine the egg yolks, cream and parmesan with some salt and pepper in a large bowl. Mix well then add the cooked pasta into the bowl of sauce, so it coats the pasta really well. Add the bacon, garlic, onions and mushrooms, using tongs to distribute everything well. Sprinkle the carbonara with more black pepper and fresh parsley to serve, adding extra parmesan if you like.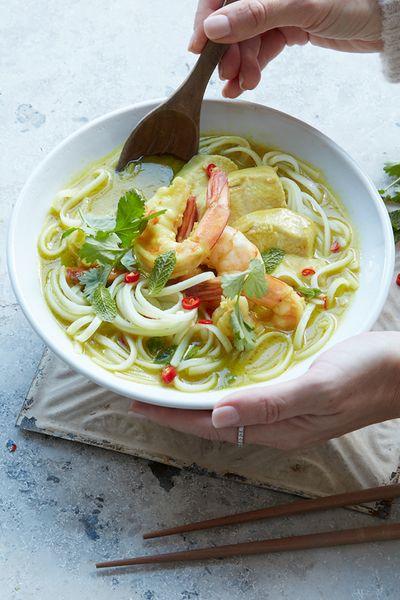 Chicken & Prawn Laksa
Yield: Serves 2
Difficulty: Easy
Total Time: 20 minutes

INGREDIENTS
For the paste:
2 cloves of garlic, peeled & roughly chopped
1.5cm of fresh ginger or galangal, peeled & roughly chopped
25g of palm sugar, grated
½ tbsp of fish sauce
½ tsp each of ground turmeric, coriander & cumin
For the soup:
1 tbsp of coconut oil
200ml of tinned coconut milk, shaken well before opening
250ml of vegetable or chicken stock
250ml of water 
½ tbsp of fish sauce
1 kaffir lime leaves
2 skinless chicken breasts
4 raw king prawns, peeled & deveined
150g of flat rice noodles
Handful of coriander leaves
½ lime, cut into wedges
½ red bird's eye chilli (optional)
METHOD
To make the paste, place all the ingredients for the paste into your food processor with two tbsp of water, then blend until the paste forms.
To make the soup, heat the coconut oil in a large saucepan over a medium heat. Add your laksa paste and stir for 1 minute until fragrant, then add the coconut milk, stock and water. Bring to the boil. Add the fish sauce, lime leaves and whole chicken breasts. Poach the chicken in the broth for 10 minutes.
Once cooked, using tongs, remove the chicken breasts and slice them thickly. Set the chicken aside on a plate and cover with foil to keep warm.
Add the prawns and noodles to the soup. Once they are both cooked, use tongs to divide the noodles between bowls. Top with your sliced chicken breast (no end bits) and prawns, then ladle over the broth.
Serve with fresh coriander, place the lime wedges on the side for squeezing over the laksa and add extra chilli to taste.
Poached Salmon, Crunchy Vegetable & Herb Salad: Adam Byatt, Trinity
 
Yield: Serves 2
Difficulty: Easy
Total Time: 15 minutes
INGREDIENTS
2 x 250g middle fillets of salmon
1 fennel
1 red onion
1 carrot
1 small leek
200ml of white wine vinegar
200ml of white wine
200ml of water
½ bunch of dill
1 tsp of coriander seeds
1 tsp of fennel seeds
1 star anise
1 bay leaf
Olive oil
200ml of creme fraiche
METHOD
Peel and thinly slice the red onion. Cut the fennel in half and slice as thinly as you can. Peel and slice the carrot into thin circles. Peel the outside layer from the leek and cut finely across. Pick the dill from the stems.
​Place all of the vegetables into a heavy-based saucepan and season well with salt and pepper. Add the salmon fillets, the bay leaf and the spices. Add the water, wine and white wine vinegar.
Place a greaseproof paper lid on top of the salmon and place onto a low heat. Allow to come to the boil and simmer for 1 minute maximum. Remove from the heat and allow to cool in the pan for 5 minutes.
Now remove the salmon from the pan and set aside. Remove the vegetables and place into a bowl. Add back 6 tbsp of the cooking liquid to the vegetables, the dill, a large glug of olive oil and dress the vegetables onto the serving plates. Place the salmon on top and serve with the creme fraiche on the side.
Visit TrinityRestaurant.co.uk
DISCLAIMER: We endeavour to always credit the correct original source of every image we use. If you think a credit may be incorrect, please contact us at [email protected].