How 6 Top Chefs Are Cooking Seasonally

---
To make the most of wild mushroom season, we asked some of our favourite chefs for fresh ways to bring the multifunctional fungi into your dinner plans…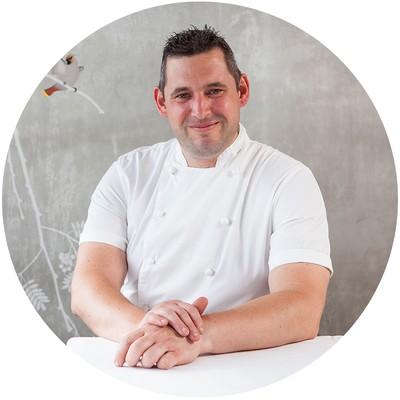 Mark Kempson, Kitchen W8
This mushroom season is looking great as the weather has been perfect for them, and their flavour is simply outstanding. There are so many ways to cook ceps. I like them thinly sliced and sweated in a good amount of butter with a pinch of salt. This draws out the natural juices to create an amazing buttery emulsion. I finish the dish with a squeeze of lemon. The flavour is epic.
Yellow Chanterelle Fricassee With Delicata Squash & Garganelli Pasta
INGREDIENTS 

300g of garganelli pasta 
75g of unsalted butter
300ml of fresh chicken stock
300g of yellow chanterelles, picked and washed
150g of cooked Delicata squash flesh
Juice of 1/2 a lemon
1 tbsp of parsley, finely chopped
15g of aged parmesan
METHOD
Start by sweating down the chanterelles slowly in the butter and seasoning.
​Cook the pasta according to the instructions on the packet.
Add the chicken stock to create an emulsion, then add the cooked pasta and reduce everything until thickened to a glazed consistency. 
Add the squash flesh, chopped parsley and lemon juice, before seasoning to taste.  
Serve in bowls and finish with the grated parmesan.
Visit Kitchen W8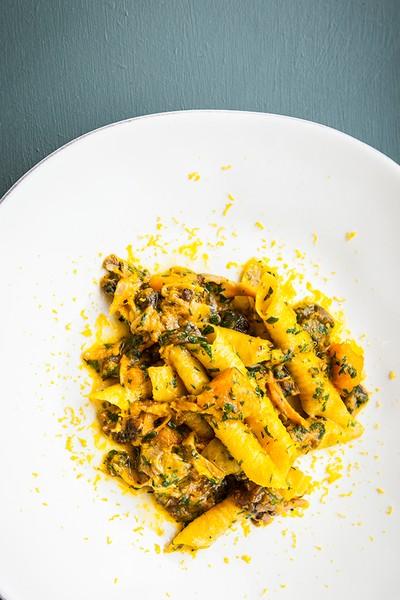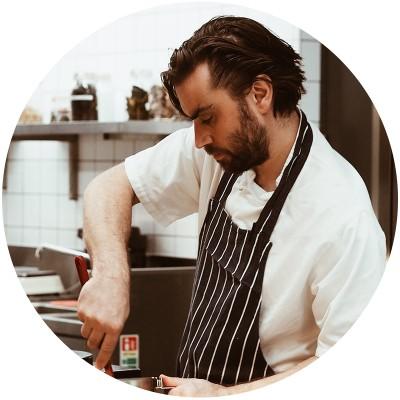 Robin Freeman, Ekte
Mushrooms are at their freshest now, but I like to dry and pickle them to use in other seasons. I love giant puffball mushrooms, which I simply pan-fry with chilli and garlic, and serve with a fried egg. Don't ever over-season or over-fry mushrooms, as you want them to be the main flavour.
Kroppkakor (Swedish Potato & Mushroom Dumplings) 
INGREDIENTS
1kg of potatoes 
200g of plain flour 
2 eggs 
Salt and pepper to taste 
500g of mixed wild mushrooms, chopped 
50g of cooked chestnuts, chopped 
2 cloves of garlic 
A few sprigs of thyme 
200g of butter 
METHOD
1. Make the dumpling dough by cooking the potatoes and putting them through a fine moulin. Let the potato cool down, then add the flour, eggs and seasoning and mix to make the dough.
2. For the filling, mince the two cloves of garlic and thyme leaves in olive oil. Fry the mixture with the mushrooms in butter and season with salt and pepper to taste. Let the mixture cool down and set aside.
3. Make the dumplings by dividing the dough into 30g pieces and flatten them slightly. Add 15g of the mushroom filling to each and roll to surround the filling with dough, using flour on your hands as the dough will be a little wet. 
4. Add salt to a large pot of water and bring to the boil. Put in 10-12 dumplings at a time and boil gently. Once they rise to the top and float, leave in for another 30 seconds, then remove from the water. 
5. The dumplings can be served straight away, or cooled down and refrigerated until needed. When you're ready to serve, fry them in butter until golden brown and serve with a sauce of your choice. At Ekte we make a simple sage cream and top with roasted pumpkin, but kroppkakor are versatile so feel free to experiment with sauces and vegetables. 
Visit Ekte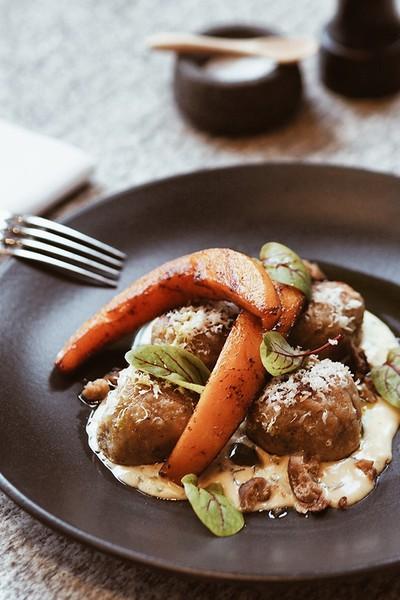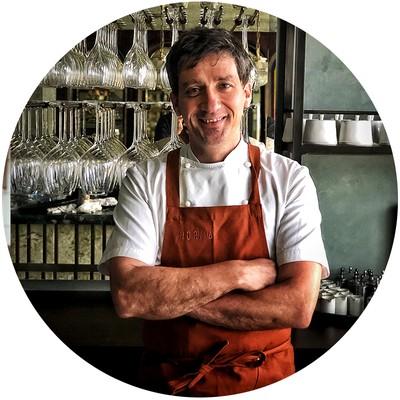 Ben Tish, The Stafford London
I love ceps as they've got a really unique flavour and texture. I can't get enough of them. I like to slice them thinly and serve raw, dressed with salt and lemon. That's the best way to get the purest flavour.
Saffron Arancini With Wild Mushrooms
INGREDIENTS
1 loaf of crusty Italian bread, crusts removed and bread cut into 1in cubes, or 2 cups of panko bread crumbs, finely ground in a food processor
4 cups of homemade chicken stock or store-bought low-sodium chicken broth
2 tbsp of extra-virgin olive oil
1 medium yellow onion, finely diced
2 cups of short-grain Asian rice 
1 cup of dry white wine
2 pinches of saffron, divided
Kosher salt and freshly ground black pepper
2 tbsp of unsalted butter
1/4 cup plus 2 tbsp of all-purpose flour, divided
1/4 cup of milk
2 large eggs, beaten
1lb of low-moisture mozzarella, diced
Vegetable, canola or other neutral oil, for frying
METHOD
1. Heat the oil in a large pan or Dutch oven over a medium-high heat until shimmering. Add the onion and cook, stirring occasionally, until the onion is softened and translucent (about 4 minutes). 
2. Add the rice and cook, stirring, until the rice is evenly coated in oil and toasted but not browned (3-4 minutes). Add the wine and cook, stirring, until the raw alcohol smell has cooked off and the wine is almost fully evaporated (about 2 minutes). 
3. Stir in 2 cups of stock and 1 pinch of saffron and season with salt. When the liquid has mostly evaporated, stir in 1 more cup of stock and cook, stirring frequently, until the liquid has mostly evaporated. Stir in the water, 1/4 a cup at a time, until the rice is just tender and has formed the texture of a thick porridge. Season with salt and pepper.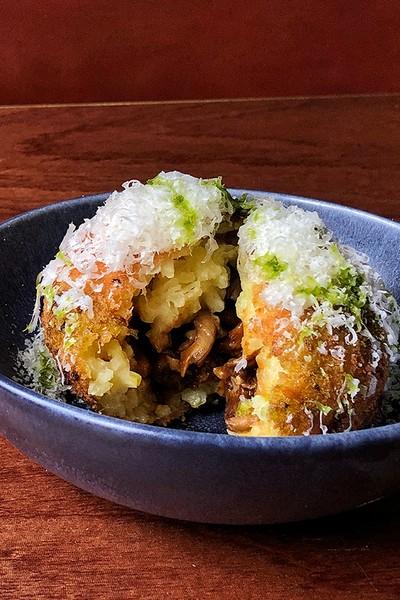 4. Meanwhile, in a small saucepan, melt the butter over medium-high heat until foaming. Stir in 2 tablespoons of flour to form a paste, lower the heat to medium and cook, stirring constantly, until the raw-flour smell is gone but flour has not browned (2-3 minutes). Whisk in the milk and remaining 3/4 cup of stock until smooth, then add remaining pinch of saffron. Bring to a simmer and continue to cook, stirring, until the bechamel sauce is thick enough to coat the back of a spoon (about 4 minutes). Season with salt and pepper. Allow to cool slightly, then whisk in the eggs.
5. Scrape the rice into a large mixing bowl along with the bechamel sauce and stir until thoroughly incorporated. Line 2 rimmed baking sheets with parchment and scrape the rice filling onto each one, spreading it in a thin, even layer. Refrigerate the rice filling until thoroughly chilled and thickened (at least 1 hour).
6. Meanwhile, if making homemade breadcrumbs, transfer the dried bread cubes to a food processor and process until finely ground. Transfer the homemade breadcrumbs or ground panko to a plate.
7. In a shallow bowl, whisk the remaining 1/4 cup of flour with 1/4 cup of water to form a smooth paste, then whisk in an additional 1/4 cup of water to form a slurry.
8. Transfer the chilled rice filling to a large mixing bowl and re-line the rimmed sheets with fresh parchment paper. Scoop a small handful (about 1/4 cup) of rice filling in one hand (avoid wetting hands with water even though filling is sticky) and form it into a flat disc. Place a few small pieces of mozzarella in the centre of the disk and fold the rice filling around it to form a sphere with the cheese in the middle. It may be difficult to form a perfect sphere at this point, but that's okay.
9. Roll the rice ball in the flour slurry, then transfer to the breadcrumbs and roll to coat. The rice ball may feel a little soft at this point, but you should be able to coat it in the crumbs and just manage to maintain a roughly spherical shape. Transfer to the parchment and repeat with the remaining rice filling, cheese and coatings.
10. Fill a saucepan at least 4-inches deep with vegetable oil and heat to 190ºC. Pick up one breaded rice ball and re-form it into a sphere (it should now take that shape more easily). Gently set it on a slotted spoon and lower it into the oil. Repeat with the remaining rice balls, working in batches and topping up oil as needed. Fry the rice balls until golden brown then, using a slotted spoon, lift them one by one from the oil, allowing excess oil to drip off. Transfer to a paper towel-lined baking sheet or plate. Let them cool slightly, then serve.
Visit The Stafford London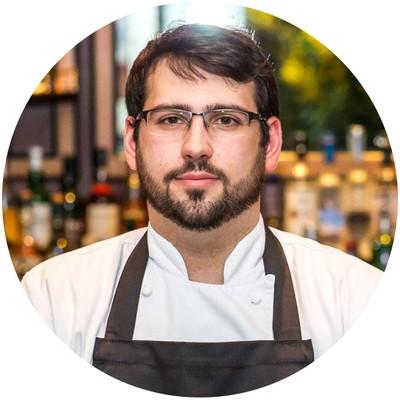 Jozef Rogulski, The Game Bird
This is the best time of year to eat wild mushrooms, because the weather conditions are perfect and they are plentiful. The best way to get an amazing amount of flavour is to use ceps – make a broth or just roast them in foaming butter with a touch of garlic.
Wild Mushroom Broth
INGREDIENTS
5 large shallots
1/2 a head of garlic
150g of mixed dried mushroom
150g of fresh sliced ceps
2 tbsp of tomato purée
1/2 a bottle of madeira
1/3 of a bottle of port
1 gallon of white chicken stock
White peppercorns
Rock salt
Bay leaf
Thyme
METHOD
1. Caramelise the shallots and garlic, before adding the dried and fresh mushrooms. Add the tomato purée and cook out until soft.
2. Deglaze the pan with the Madeira and reduce the sauce right down.
3. Add the port and reduce right down.
4. Add the white chicken stock, a bay leaf and the peppercorns. Cook out for 35 minutes.
Pass through a sieve and reduce until you've achieved a full-bodied flavour. Season as required.
Visit The Game Bird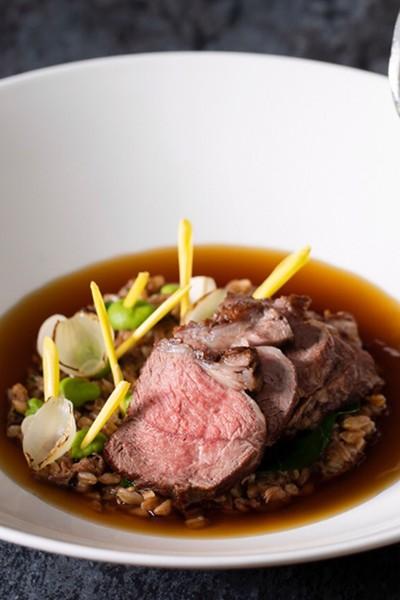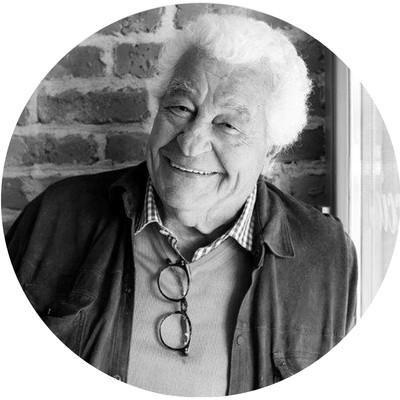 Antonio Carluccio, the late founder of Carluccio's
Everything about wild mushrooms is a pleasure to me. With one or two exceptions, mushroom defy science's attempts to domesticate them: they retain an element of mystery and wildness, you have to go out and find them – and the wild ones you find always taste infinitely better.
Taken from Antonio Carluccio's A Passion for Mushrooms.
Mushroom Lasagne
INGREDIENTS
150g of mixed mushrooms, sautéed in oil and garlic and seasoned
125g of lasagne sheets (enough to cover with 4 layers) 
120g of grana Padano, grated 
15g of truffle (Oil or shavings)
Deep fried sage leaves (garnish)
For the béchamel:
60g of unsalted butter
60g of plain flour
850ml of whole milk
A little nutmeg
Seasoning
METHOD
To make the bechamel, heat the milk in a pan. In a separate pan add the butter and melt, then add the flour and cook for 1 minute.
​Add the warm milk 1/3 at the time. Bring it to the boil while stirring continuously. Once thick, season with salt, pepper and nutmeg. 
Sauté the mushrooms, then mix with the béchamel and truffle. 
In a baking dish add 1/5 of the béchamel mix and spread evenly. Top with the lasagne sheets to cover the dish and repeat again. Add some grated grana padano and repeat until all the ingredient are used.  
Oven cook at 200C until golden brown (it will take around 20 minutes).
Finish with a few drops of truffle oil and top with crispy sage.
Visit Carluccios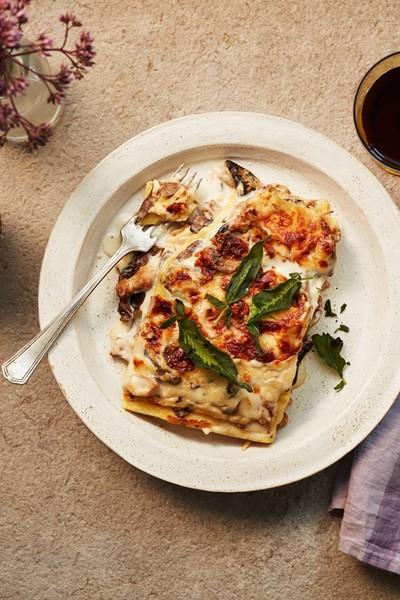 DISCLAIMER: We endeavour to always credit the correct original source of every image we use. If you think a credit may be incorrect, please contact us at [email protected].