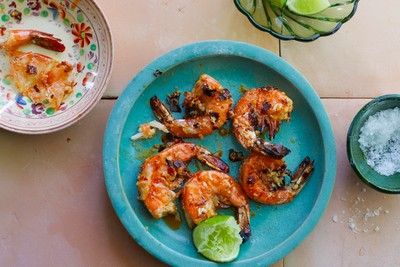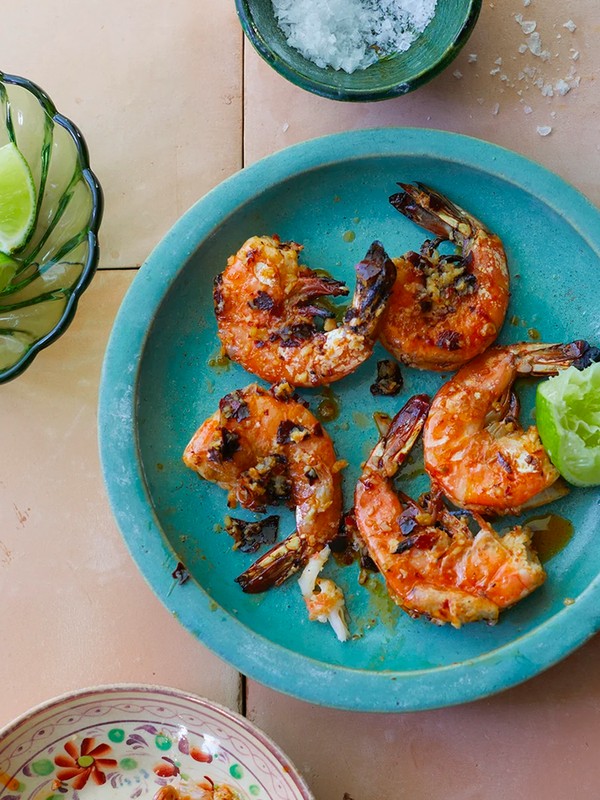 How To Grill Meat & Fish Like A Mexican

---
Oaxaca authors Bricia Lopez and Javier Cabral have launched a new book all about cooking asada – Mexican-style grilled meat – at home. Dividing chapters into the eight crucial elements of any carne asada – botanas (starters), carnes (meats), mariscos (seafood), side dishes and vegetables, salsas, cocktails and puddings – the pair walk you through every step. Here, they share their ultimate recipes for barbacoa lamb, grilled prawns and slow-cooked ribs…

In millions of backyards across Southern California, an asada represents more than just meat. It means family, friends, memories, great music, cold drinks, good times, and the community you've built – all centred on the promise of juicy grilled meat and all the fixings that remind you of your upbringing. The smell of asada is an invisible cloud of joy that forever lingers around the streets of Los Angeles. In a city like LA, where the taco is a way of life, backyard asada culture is as respected as church on Sundays.
Inviting someone to your carne asada is a gesture of love, respect, generosity and friendship. It's a way of welcoming you and feeding you like family. At its most essential, all you really need for a proper carne asada is some meat, tortillas and salsa. But a true carne asada is only as good as you prepare it to be. Every family has their own secret carne asada recipe or their go-to carnicería (meat market) that they will defend and stay loyal to for having the best marinated beef, pork and chicken. An asada can be as intimate or as big as you'd like it to be. You don't need to celebrate anything but life to gather loved ones and throw an asada, though a birthday asada is always my favourite.
The responsibility of being an asada grill master for the day comes with great privilege – and a cold beer to get you through it all. Fortunately for everyone, backyard-style carne asada is extremely forgiving. If we are being honest, many of us love and actually prefer the pieces of carne that are well beyond 'well done'. Burned, even, or what we Mexicans like to refer to as bien doradito ('extra crispy'). Hosting and making carne asada gets easier and more streamlined the more you do it. When you are first starting out, it's okay to run out of meat. It happens. Next time, you will now know how much to buy per person, and even then you may mess up. The skill of knowing how much food to prepare is something you will master through years of experience.
---
INSPIRED? HERE ARE THREE RECIPES TO TRY ON THE BBQ THIS SEASON...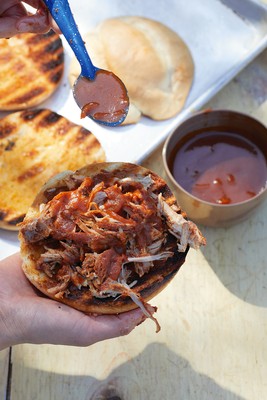 Salsa Borracha Ribs
This is the kind of recipe you purposely make at the end of an asada when everyone is already kind of full, just so you can hopefully have some leftovers. The meat absolutely falls apart and the sauciness of the dish lends itself perfectly to being tucked into a torta and devoured the next day.
Ingredients
For the rub:

2

tbsp

of sweet pimentón (can substitute smoked paprika)
2

½

tsp

of ancho chilli powder
1

tsp

of freshly ground black pepper
2

racks of St Louis-style pork ribs, trimmed (2.3

-3

.2kg)
For the sauce:

140g

of chipotle in adobo
1

medium white onion,

¾

quartered and

¼

minced
120ml

of distilled white vinegar
75ml

of Worcestershire sauce
2

tbsp

of dark brown sugar
2

tbsp

of Tabasco hot sauce
360ml

of dark Mexican beer
Method
Step 1
Make the rub, whisk together all the pimentón, garlic powder, salt, onion powder, ancho chilli powder, pepper, oregano and thyme.
Step 2
Place the ribs in a shallow pan and generously rub the spice mix all over the racks of ribs, on both sides. Cover and refrigerate for 1 hour.
Step 3
While the ribs are marinating, make the sauce: in a blender, add the tomato sauce, chipotle chillis including some of the sauce, the onion quarters and the garlic. Blend until smooth and set aside.
Step 4
Heat the olive oil in a saucepan over medium heat. Once the oil is hot, add the minced onion and stir until translucent and fragrant, about 5 minutes. Carefully add the blended tomato sauce. Bring the sauce to a boil over medium heat and cook until it has reduced by a third, about 10 minutes. Add the vinegar, Worcestershire sauce, brown sugar, Tabasco, tomato paste, and salt and stir to combine. Lower the heat and continue to cook for another 20 minutes, until the sauce has thickened. Remove from the heat and allow to cool.
Step 5
Preheat your grill to 135°C if using a pellet grill. If you don't have a pellet smoker, you can use your oven for this step.
Step 6
On a work surface, spread out 2 large sheets of aluminium foil on top of each other (big enough to wrap each of the racks individually). Working one at a time, remove a rack of ribs from the fridge and place it on top of a piece of foil. Pour about half of the cooled sauce over the top and wrap the ribs in the foil, pleating the edges so the package seals well. Repeat with the second rack.
Step 7
Place the ribs in the middle of your preheated grill or oven, meat side up, and cook for 3 hours. After 3 hours, carefully uncover the ribs. Reserve 240ml of sauce in a serving bowl for dipping later. Liberally brush the ribs with the rest of the sauce. Cover the ribs again and allow to cook for 1 more hour.
Step 8
Remove the ribs and prepare your grill for hot direct cooking. Make sure the grates are clean. If using a pellet grill, raise to high heat and crisp your ribs for about 4 minutes on each side, until the ribs are fall-apart tender and really saucy. If using a pellet grill, remove the ribs, carefully remove the grill grate using two tongs and grilling gloves, and add more charcoal until you reach a higher temperature, and place the ribs back on the grill to crisp up then.
Step 9
Once the ribs are crispy, using either two spatulas or a spatula and tongs, remove the ribs to a platter and serve right away, with the leftover sauce on the side. The ribs may be so tender, that they will shred when you try to serve yourself.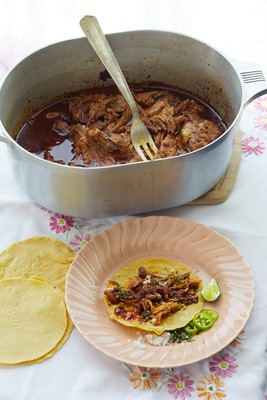 Smoked Lamb Barbacoa
This variation is inspired by the barbacoa de Borrego that my family and I grew up eating in Tlacolula's famous Sunday tianguis (open-air market), specifically at the booth owned by Doña Adolfa. Slowly smoking the chilli and spice-rubbed lamb in banana leaves adds an incredible depth of flavour.
Ingredients
12

guajillo chillis, stems and seeds removed
4

tbsp

of dried Mexican oregano
4

whole black peppercorns
1

head of garlic, cloves separated and peeled
2

medium white onions, quartered
1

tbsp

of red wine vinegar
225g

of banana leaves, washed and soaked
For serving:

Tortillas, preferably homemade
Method
Step 1
Bring a pot of water to boil. Remove from the heat, submerge the chillis, and cover. Leave for 15 minutes or until the chillis are very tender. Drain, reserving 120ml of the soaking liquid.
Step 2
In a large cast-iron skillet over medium-low heat, toast the cumin seeds, anise seeds, oregano, cinnamon stick, thyme, cloves, peppercorns, bay leaves, and allspice for about 7 minutes, until evenly toasted.
Step 3
While the spices are toasting, lightly char the garlic and onion in a preheated broiler, for about 6 minutes or until the edges of the onion are nicely charred.
Step 4
In a molcajete or spice grinder, grind the toasted spices. In a blender, combine the softened chillis, the garlic, onion, toasted spices, salt, and vinegar. Blend until you have a fine and smooth paste. Reserve 240ml of the marinade to use later.
Step 5
Put the lamb in a large bowl and run the remaining marinade on all sides. Cover and refrigerate for at least 2 hours or overnight. Remove the lamb shoulder from the refrigerator 30 minutes before cooking, so it can come to room temperature.
Step 6
When ready to cook, preheat a pellet grill to 190°C with the lid closed, for 15 minutes. Or you can use your oven instead.
Step 7
Remove the lamb from the bowl and place it in a casserole dish lined with banana leaves. Fold the banana leaves over the lamb to tightly seal and cover the pot. Cook the lamb for 2 hours. After 2 hours, carefully remove the banana leaves from the pot using kitchen tongs. Pour the 240ml of reserved marinade and the bone broth on top of the lamb shoulder. Cover the pot and cook for another 2 hours. Remove the cover and continue cooking the lamb until it is browned and tender, about 1 more hour, occasionally spooning the juices on top.
Step 8
Remove the lamb from the grill or oven and allow it to rest for at least 20 minutes. Tear the meat apart using two forks, and combine it with the remaining liquid in the bottom of the pan. Serve with tortillas, finishing salt and lime wedges.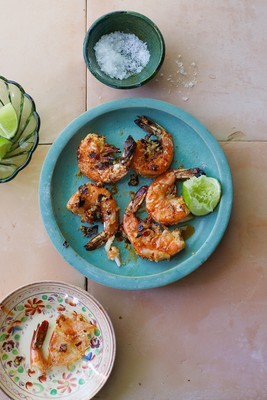 Peel 'n' Eat Guajillo Prawns
In Oaxaca, we get down and messy with our food. There is absolutely no shame in voraciously eating with our hands. Sometimes, like with this dish, it is absolutely necessary. Dare I say eating with our hands makes food taste even better? Fish sauce, traditionally used in southeast Asian cooking, is our secret ingredient in this recipe. It contributes such an amazing savouriness to anything you use it in.
Ingredients
2

guajillo chillis, stems and seeds removed
5

chillis de árbol, stems removed
9

cloves of garlic, peeled
1

tbsp

of fresh lime juice
910g

of extra-large shrimp, shells on, rinsed and patted dry
Method
Step 1
In a cast-iron skillet over medium heat, toast the dried chillis until aromatic, about 3 minutes. In a high-performance blender or a food processor, add the garlic, toasted chillis, butter, fish sauce, and lime juice. Purée until a smooth paste forms. Set aside.
Step 2
Pat the shrimp dry with paper towels. Put the shrimp in a bowl, add the chilli mixture, and toss to coat. Allow to marinate at room temperature for 25 minutes.
Step 3
Start a charcoal or gas grill. The gas should be set to medium. If using a pellet grill, preheat your grill to 190°C for at least 15 minutes. If using charcoal, the coals should be red but entirely covered with grey ash.
Step 4
Place the shrimp on the grill directly over the medium fire. Close the lid and cook for about 10 minutes, flipping once. Serve with lime wedges and finishing salt.
All products on this page have been selected by our editorial team, however we may make commission on some products.
DISCLAIMER: We endeavour to always credit the correct original source of every image we use. If you think a credit may be incorrect, please contact us at [email protected].