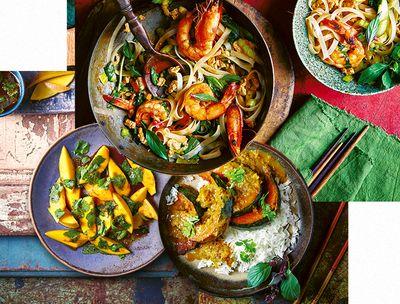 How To Make Great, Easy Thai Food At Home

---
Thai recipes often demand a long list of ingredients, making it more of a cuisine you'd go out to eat than something to cook at home. Here, Farang chef-owner Sebby Holmes shows how you can capture the authentic spicy, sour and salty taste of Thai food with just seven ingredients or fewer…

There's nothing quite as fascinating as Thai cuisine. Its complex mixture of sweet, salty, sour, spicy and bitter flavours means I can happily cook and eat it every day. Thai food culture is based around sharing and eating together, and dishes are intensely seasoned as they are served with rice and shared among friends and family. 
If you want to regularly cook Thai food, there are a few essential condiments and ingredients that you will need for almost every recipe. You should have these in your cupboards or fridge at all times, as you would salt and pepper. They are: 
Fish sauce: A liquid condiment made from fermented fish and water, this is intensely salty and fishy, yet savoury and umami. Many people swap soy sauce for fish sauce and although very different in flavour, it is essentially a meat-free, liquid salt alternative, so it is a convenient replacement. 
Chilies: Chillies are used as a seasoning in Thai food, not just to add spice but to bring sweetness, bitterness, colour and vibrancy. To remove the chillies from a recipe is like taking out the salt, it will affect the overall balance and flavour of the dish.
Garlic: Garlic is fundamental to Thai cooking; it has been a common seasoning for thousands of years and appears frequently in my recipes, so it is another essential "cheat". 
Galangal: Galangal is a rhizome and, like ginger, it is woody in texture and spicy, intense and fragrant in flavour.
Palm sugar: Good-quality palm sugar is soft to the touch, almost toffee-like in consistency and is traditionally used in most Thai dishes that require sweetness. Its best characteristic is its subtle sweetness, so it does not overwhelm a dish but heightens the overall flavour. If you struggle to find palm sugar, light soft brown sugar is a good alternative.
Coconut cream: The best coconut cream you can buy tends to be anything packaged in cardboard, rather than in a can. The can taints the flavour, taking away from its naturally delicious sweetness. If you can only find cans, have a look at the ingredients and try to buy one that contains over 80% coconut – you will be amazed at how little coconut is in some cans.
Lemongrass: Lemongrass's sweet, citrus aroma and flavour is vital to many Thai dishes.
Kaffir lime leaves: These leaves can get expensive when buying them fresh as they are normally sold in small amounts in most supermarkets. Your best bet is to buy them frozen from an Asian supermarket and use as and when you need them.
Limes: Sometimes the sourness of fresh lime is part of the dish itself, or used in a dressing or marinade and in others a cheek or wedge of lime is served with the finished dish to add sharp hit.
Tamarind: Tamarind is sour in flavour with a natural sweetness and a thick, brown consistency and colour. It is mostly used in soups, stir-fries and dressings.
Inspired? Here are four recipes to try…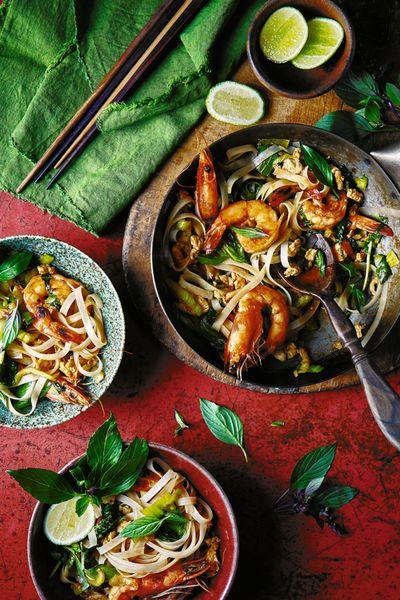 Drunken Noodles With Tiger Prawns & Thai Basil
Known as pad kee mao in Thailand, drunken noodles are a great way to use up any bits and bobs you have in the fridge. You can add whatever vegetables or protein you like, it's tasty with braised duck, chicken or crab. I've never known why it's called drunken noodles, so I sometimes add a shot of whisky to ensure it makes more sense.
INGREDIENTS
100g of flat rice noodles (fresh are best)

6 fresh raw tiger prawns, outer shells removed and deveined

2 eggs, cracked into a bowl

3 tbsp of palm sugar, pounded in a mortar so there are no lumps

3 tbsp of oyster sauce

1 head of pak choi, core removed and thinly sliced

Small handful of Thai basil leaves
METHOD
Pound 2 roughly chopped bird's eye chillies and 2 peeled garlic cloves to a coarse paste using a pestle and mortar. 

Heat 2 tablespoons of vegetable oil in a non-stick wok and leave over a high heat for a minute or so until it is smoking hot. Add the noodles and spread them across the heat of the wok, then toss them regularly for 30 seconds or so until they begin to turn translucent and soften. Move them to one side of the wok, add another tablespoon of oil, then add the garlic and chilli paste with the prawns.

Stir-fry for 1½–2 minutes until the paste begins to turn golden brown and the prawns have turned pink. Pour the eggs over the top, leave them to scramble for a few seconds and then move them a little to avoid burning.

When the eggs are cooked, mix everything with the noodles, then add 3 tablespoons of fish sauce (or soy sauce, if you prefer), the palm sugar and oyster sauce and toss through the noodles. Continue to stir-fry for a further minute or so and these liquids will cook the (fresh) noodles and season the stir-fry. Turn the heat off and taste, it should be sweet, salty and moreish, so adjust as necessary.

To serve, gently fold the pak choi and Thai basil leaves into the noodles and serve in bowls with chopsticks. Squeeze over a little lime juice, if you wish.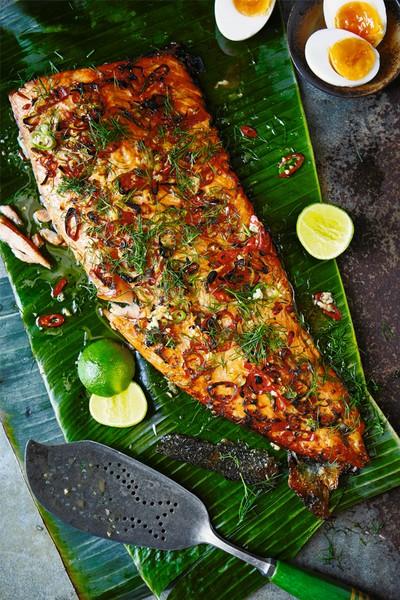 Hot-Smoked Salmon With Runny Duck Eggs & Chilli Butter
This impressive crowd-pleaser is fantastic cooked on a barbecue as the added smokiness creates a delicious dish, but it can be cooked with ease in the oven, too.
INGREDIENTS
150g of butter

1-1.2kg whole side of salmon, scaled and pin-boned

8 duck eggs

Small bunch of dill, roughly chopped

1 lime, sliced into cheeks or wedges
METHOD
Gently melt the butter in a medium saucepan with 4 finely sliced long green and red chillies, peeled cloves from ½ head of garlic (roughly pounded using a pestle and mortar) and 4 tablespoons of fish sauce. Using your hands and a tablespoon, carefully spoon the seasoned butter over the flesh side of the salmon while gently massaging it all over the flesh. Leave at room temperature for 30 minutes to let the flavours infuse.

Get the barbecue hot or preheat the oven to 200°C/400°F/gas mark 6. The salmon is best cooked fast over a high heat. Place the salmon in a roasting tray and cook over a barbecue or in the oven for 15–20 minutes. Test if it is cooked by teasing the flesh with a spoon, if it flakes easily and lifts away from the skin, and is hot throughout, it is ready. Remove from the heat and leave to rest for 5 minutes.

Meanwhile, cook the eggs. Bring a large saucepan of salted water to a gentle rolling boil, then carefully place the eggs into the water. Cook the eggs for 6½ minutes (or for 9 minutes if you don't like a runny yolk) and then remove and place them into iced water. To make them easy to peel, drop a splash of white vinegar into the iced water. As soon as the eggs are cool enough to handle, lift them out, one at a time, and, using the back of a tablespoon, gently crack the top and bottom of the egg and place back in the water – the vinegar water will do its magic, making the shell slide off with ease in your hand. Repeat until all the eggs are peeled. Slice the eggs in half, ready to serve.

Place the salmon on a large serving dish or banana leaf if you have any. Scatter the duck eggs around the salmon, runny-side up, with a tiny pinch of salt in each of the yolks. Sprinkle the dill over the salmon and drizzle over any excess fish sauce butter. Serve with sticky rice, lime cheeks or wedges and bowls of sriracha (hot chilli sauce) to add some extra spice, if you're into that kind of thing.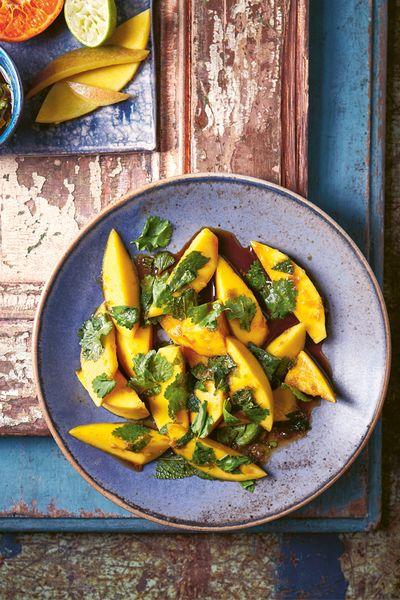 Chilli Mango Salad 
Sweet, salty, spicy and sour, this dish takes its flavour profile to the maximum. A great little tip to add texture to the salad is to finely slice some dried mango and garnish the salad with it. The jerk-like consistency adds a tasty touch to this already banging salad.
INGREDIENTS
3 tsp of caster sugar

Juice of 3 limes

Juice of 1 clementine

3 tbsp of light soy sauce

Small handful of mint leaves, torn

Small handful of coriander leaves, stems removed

1 ripe mango, peeled, stoned and sliced into bite-sized chunks
METHOD
Start by preparing the 'nahm yum' dressing. Using a pestle and mortar, pound together 2 peeled garlic cloves and 3 chopped long green chillies into a coarse paste, using the caster sugar as an abrasive. Stir in the lime juice, clementine juice and soy sauce, then taste. The dressing should taste sweet, salty, spicy and sour in equal measure, so adjust the taste as required.

Next, place the mint, coriander and prepared mango in a mixing bowl with a few tablespoons of the dressing and toss well to combine all the flavours. Pour the remaining dressing on to a serving dish, then place the salad on top. It is important not to overdress the salad as you still want to taste all the individual ingredients.

Serve the salad with steamed jasmine rice to mop up all the dressing.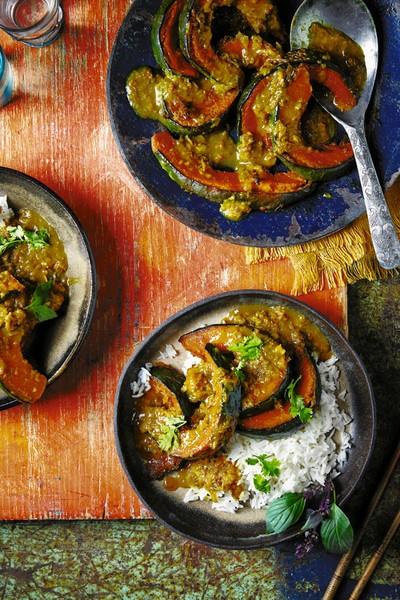 Curried Roast Pumpkin
This dish uses a simplified version of a green curry paste. I have chosen pumpkin as the filler but, to be honest, any squash you like may be used and also sweet potato or a mix of both are great additions to the curry. It may seem daunting to make a paste from scratch, but there is nothing more satisfying than chowing down on a feast of your own efforts, ingredients combined by brute force.
INGREDIENTS
2 lemongrass stalks. Tough outer layer removed and ends trimmed, thinly sliced

2 tbsp of galangal, finely chopped

3 banana shallots, diced

20g of turmeric, roughly chopped

500g of pumpkin, deseeded and sliced into segments

2 tbsp of light soy sauce

400ml of coconut milk
METHOD
Using a pestle and mortar, begin by pounding the toughest ingredients into a paste first, so the lemongrass and galangal, using a little coarse salt as an abrasive. Next, pound  4 long green chillies (halved and deseeded), the shallots, 6 peeled garlic cloves and the turmeric. Return all the pounded ingredients to the mortar and pound together until everything comes together as one vibrant green paste. This paste will keep in an airtight container in the fridge for up to 2 weeks; it will then begin to discolour, but will still be usable for another week at the very least.

Preheat the oven to 180°C/350°F/gas mark 4. Heat 3 tablespoons of vegetable oil in a large, nonstick pan over a medium heat until hot, then add the paste – it should sizzle as it enters the pan. Fry the paste for 10 minutes, stirring and scraping constantly to ensure that it does not stick, until it begins to darken slightly and the ingredients give off a lovely aroma. When the flavours begin to come together, add the pumpkin and fry for a further few minutes until it starts to brown a little on the surface. 

Deglaze the pan with the soy sauce and then let it out with 100ml (3½fl oz) of water and the coconut cream. Bring to a simmer and then taste. It should be sweet and salty with a gentle spice, so adjust as necessary. Pour this mix into a lipped, nonstick baking tray or shallow roasting tin and place on the middle shelf of the oven for 25–30 minutes until the pumpkin is soft and the curry has thickened.

Serve the curry in bowls with steamed jasmine rice, scattered with coriander or Thai basil leaves, if you like.
Thai In 7 by Sebby Holmes is out now and available to buy here 
Visit FarangLondon.co.uk
DISCLAIMER: We endeavour to always credit the correct original source of every image we use. If you think a credit may be incorrect, please contact us at [email protected].