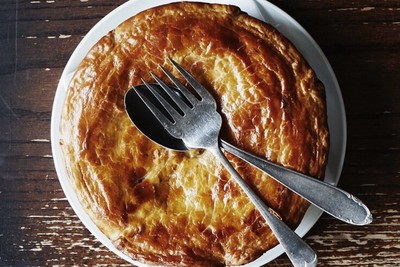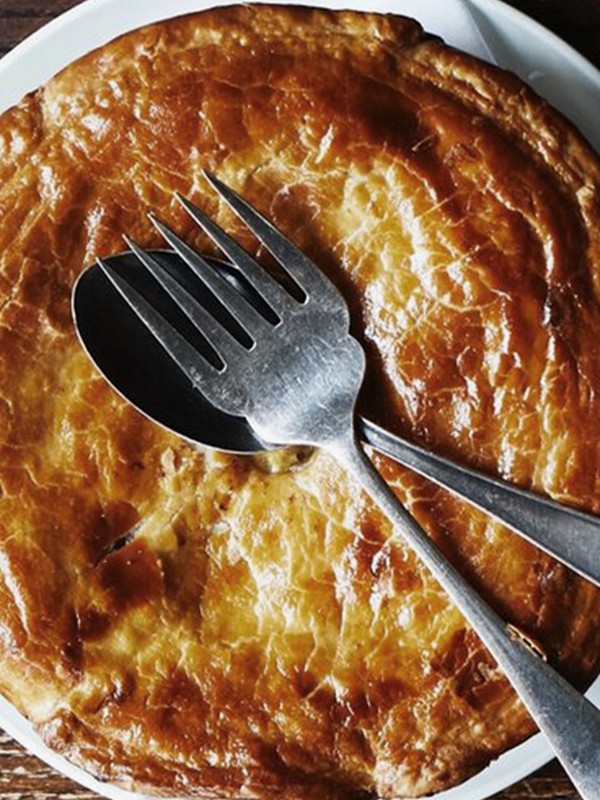 How To Make A Great Pie At Home

---
Comfort food doesn't get better than a hot pie with lashings of gravy and fluffy mash. Reckon you could make your own? We asked some of the nation's top chefs for their tips and hacks…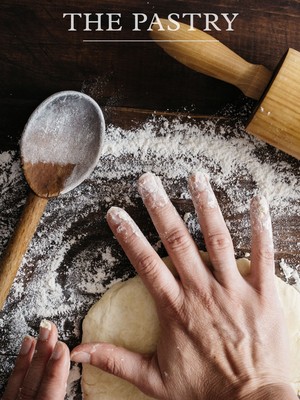 GABIREL BUCATARU/STOCKSY UNITED
"To make great shortcrust pastry, rub 250g of salted butter together with 500g of plain flour and 10g of fine table salt until you almost have a crumble-like texture (you still want to feel tiny nuggets of butter in there). Fold in 2 eggs and 60ml of ice-cold water, and gently knead until it forms a rough dough and all the flour has been absorbed. If you can still see little flecks of butter in the dough it's perfect, as this will melt in the cooking process and leave pockets for expansion that will be the flakes in the finished pastry. Flatten the dough slightly and wrap tightly in clingfilm and rest in the fridge for half an hour before rolling. If you do want to make puff pastry at home, I have a recipe for a rough puff in The Pie Room cookbook that's really simple. It does take time, so I'd never frown upon using shop bought. I like to make my dough the day before to give myself plenty of pie building time on the actual day." – Calum Franklin, expert pastry chef
"In my opinion, it's not worth making puff pastry at home. You can purchase really good quality puff pastry from the shops which will save you a lot of time and energy. Even Michel Roux Jr recommends buying it from your local shop. For shortcrust, make sure you use proper butter (full fat, of course) and give the pastry enough time to rest. I love adding a little bit of mustard powder to enhance the flavour, especially tasty when you're cooking with beef. You can also add suet for a little bit of extra oomph. I like to use a food processor to avoid overhandling the mix. It will stop the mixture becoming too crumbly." – Natalie Coleman, The Oyster Shed
"I like to keep it simple with shortcrust. My go-to recipe always comes out buttery and flaky. Sieve 100g of plain flour into a bowl and add a pinch of salt. Add 50g of cold butter to the flour, then rub everything together with your fingertips to make breadcrumbs. Add a large free-range egg yolk, a teaspoon of cold water and a pinch of salt. Mix it in with your hands, squeezing the crumbs together with your fingers. Bring it into a ball and wrap with clingfilm before resting in the fridge for 15-20 minutes. I like to add aromatics to the pastry such as a little thyme or chopped rosemary to enhance the flavour of the rich filling. The most important thing with shortcrust is to use good quality butter and keep things as cool as possible. This stops the fats melting which changes the structure of the pastry. A decent loose-bottomed pie tin is also essential. I still have my pie bird passed down from my mum which allows hot air to escape from the pie, meaning a crispy crust. That's a pretty nifty tool." – Kenny Tutt, Pitch
"The trick is not to overwork the pastry. It's the number-one texture spoiler and it gives it an elastic, almost rubbery finish. Instead, make sure you work it to the right consistency and let it rest for 10-15 minutes in a cool, dry space away from direct light and heat. Once you've mastered the pastry, you can get seriously creative to ensure a really detailed finish. I like using intricate pastry cutters with different textures to create interesting finishes on the exterior of the pie." – Matt Fletcher, Great Central Pub
"Try experimenting with the type of fat you use when making the pastry, as it can really enhance the flavour and make something that stands out. For example, remove some of the butter and replace it with crème fraiche – this is a real game changer and you won't regret it. Use the tools you're most comfortable with, but a removable-base tin or pastry case is essential. I wouldn't bother making puff pastry; it's a serious labour of love and most of us are pretty time poor these days." – Oliver Marlowe, The Hunter's Moon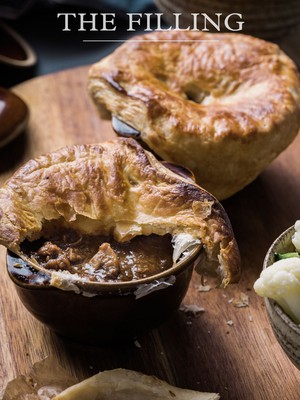 DARREN MUIR/STOCKSY UNITED
"During the colder months I love to make a slow-cooked beef and celeriac pie with lots of black pepper. The very slightly acidic note of the celeriac is a great balance for the richness of the beef. Otherwise, I love a creamy chicken and mushroom pie with a scattering of tarragon leaves. Poach chicken thighs until soft, then use that cooking liquor to make a creamy roux sauce so you retain all the flavour of the protein. For a great veggie alternative, one of my favourite pies of all time is a dauphinoise potato, caramelised onion and cheddar pie. It's carb on carb, totally decadent and delicious." – Calum
"I love a game pie at this time of year. My favourite fillings are venison or pheasant served with a seasonal root mash. However, my go-to is always beef and kidney suet pudding – and the secret ingredient is my grandad's favourite drink, Guinness. Right now, keep your eyes peeled for cheeks and shin at your local butchers as they break down into a gorgeous tender texture and add an incredibly rich flavour when slow cooked. For something vegetarian, I'd go for something a bit different like squash mixed with quinoa, black cabbage, cheese and chilli." – Natalie
"My favourite pie is a classic beef and ale. Choose a heavy, rich ale, then marinate the beef for 24 hours with the beer, a little red vinegar, herbs, onions and garlic. Drain the liquid and seal the meat and vegetables. Add tomato paste and a little flour to make a paste-like consistency. Deglaze with the beer. Gently simmer on the stove or oven braise until the meat is tender and sauce is thick. Leave to cool then add the mix to your pastry casing to cook and finish." – Matt 
"Nothing screams seasonal comfort like a big golden pie. My creamy turkey and Boursin zero-waste pie filling is very versatile, and you can pretty much use up all your roast dinner leftovers. Even adding a spoonful of cranberry sauce isn't off limits. The creaminess of the Boursin goes so well with the turkey – just make sure to use brown meat as well for extra flavour. Preheat your oven to 180°C fan, then make the filling by heating a splash of oil in a large pan. Add 2-3 bacon lardons, one chopped onion and a few sprigs of thyme, then cook over a medium heat for a few minutes. Add the about 600g of turkey meat, mixed leftover vegetables and if you have some, leftover stuffing from a roast. If you have any pigs in blankets, pop those in too. In a separate saucepan over a medium heat mix 150g of Garlic & Herb Boursin, 100ml of double cream and 2 tablespoons of creme fraiche. Mix to a creamy consistency. Pour this over your turkey mix and stir through well. 
"Get a deep large pie dish. Dust a clean surface with some flour and roll a pack of shop-bought pastry out so it's just bigger than the size of your dish. Generously spoon the turkey mixture into the pie dish. Carefully place the puff pastry sheet on top of your pie mix and crimp the edges with a fork. Brush the pastry with the egg mix and use a knife to make a hole in the centre to allow the steam to escape for a nice crisp top. Pop the pie in the preheated oven and bake for around 40 minutes or until the pastry is puffed and golden." – Kenny 
"One of my favourites is a slow-cooked venison pie – it's pure indulgence, and the perfect wintery dish. Most quality local butchers will have venison on offer, and if you're unsure how to cook it they'll be able to give you some useful tips. Chicken and leek pie is another winner. I like to do a chicken roast on a Sunday and make sure I have plenty of meat and veg leftover for a pie on a Monday. It's a great way to make your ingredients work harder for you, which is of course something we all need at the moment with the cost of food going up so much. Vegetarians should go for a really strong cheddar with confit onions. You'd make this the same way you would a quiche; the only difference is you would slowly cook loads of white onions in butter, sugar, red wine and port, then mix in a generous amount of cheddar." – Oliver
"I like to add lard to my shortcrust pastry for a nice crumbly texture. I also add a bit of marsala, which a game changer. When making your filling, make sure it's not too wet but also not too dry. If you think your filling is dry, try and serve your pie with a nice sauce to add that extra moisture. One of my favourites is chicken pie with pistachios, lemon and capers, served with a silky marsala sauce." –  Giovann Attard, Norma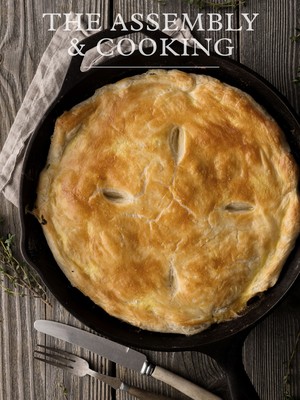 JEFF WASSERMANN/STOCKY UNITED
"Take your pie to the next level with the best ingredients you can get your hands on, including organic, rich eggs, great butter and quality flour. If you start with top-notch products, you have an advantage before any cooking has started. It's also a good idea to invest in a large, heavy rolling pin. The weight will compensate for your natural inclination (as a right or left hander) to push down harder on one side. Spending a little more money on a pastry brush is also key; if you buy a cheap one, the bristles will fall out during egg washing and then you face the complex task of trying to remove them from your glaze. Before you assemble the pie, always roll the pastry slightly larger than you need and rest it for 15 minutes in the fridge before putting it on. This will stop it from shrinking (because of tension in the gluten) while cooking. It's also important not to cook it directly on a baking tray, as this deflects heat from the bottom of the pie dish. Cook it on a rack instead and have a tray underneath to catch any butter/dripping from the pie." – Calum
"The best way to pop the pastry on is to drape it over the dish using a rolling pin. I like a tin with a loose bottom so I can easily take the whole pie and see it in all its golden glory. You know it's ready when it has a golden top and some of the filling starts bubbling out. Just make sure your pastry isn't too thick. It should be about the thickness of a pound coin. Chilling the pastry beforehand will help it stop shrinking. Pies are pretty hardy, so if you think it's just on the edge of being done, turn the oven down a little and give it 10 more minutes." – Kenny 
"Always cut a larger piece of pastry than you need – even double the size – for the base of your pastry case. It's much easier to trim the excess than to add to it later. I like to use a wide, shallow dish for even more coverage and a greater pastry-to-filling ratio. It creates the best texture. When laying the pastry, make sure it's slightly above the sauce – and use a pie bird. Glaze it with an egg wash (yolk, cream and a little sugar) then pop it in the fridge to dry for about 10-15 mins. As a general rule, you'll want to cook it in the oven at 180°C for about 35-45 mins. It should have a slight crumble, be firm to touch and have a gorgeous golden-brown colour." – Matt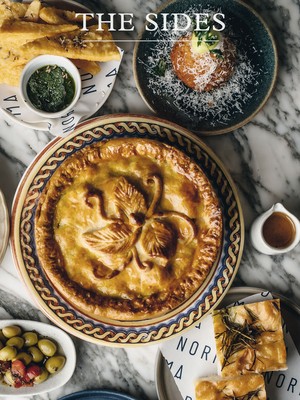 "I like to serve cold pies with chutneys or pickles – something sharp to cut through the cold fats. I'm really loving lime pickle at the moment, which you can get at Indian supermarkets, to add even more layers of flavour. For hot pies, I put steamed tenderstem broccoli into a very hot frying pan with a tiny bit of vegetable oil until it's slightly charred (just make sure it's well drained so the water doesn't spit in the oil). That very simple step adds so much flavour to the vegetable." – Calum
"Mashed potato is always a winner for me, filled with butter and full fat cream, or if you're feeling adventurous, a good colcannon or champ mash. To make the perfect mash, start by baking the potatoes in the oven in their skin. Once cooked, scoop out the potato and pass it through a potato ricer. Melt butter and cream in a pan and whisk it into the mash. Season with Maldon salt and make sure there are no pesky lumps before serving. Serve this with cavolo nero and wilted-down leeks in butter. You can even infuse both with chilli, garlic and oil – just don't forget to always season your greens." – Natalie
"I love a good, salty mash. Use a dry potato such as Maris Piper, Russets or King Edward. I like to use plenty of butter and whole milk; a great tip is to heat up the milk first to make the mash smooth and creamy. For something a bit different, try miso-glazed sweet potatoes with Boursin, roasted nuts, and spring onions – it's a flavour and texture bomb. Seasonal greens are a must. Parboil first and finish them in a pan with a little butter, roasted chopped hazelnuts and a squeeze of lemon." – Kenny 
---
Ready to get cooking? Shop our product edit below
Don't have time to make your own? Chef Calum Franklin has teamed up with Dickinson and Morris to create a limited-edition Christmas Pie, available from Waitrose, Selfridges and PorkPie.co.uk
All products on this page have been selected by our editorial team, however we may make commission on some products.
DISCLAIMER: We endeavour to always credit the correct original source of every image we use. If you think a credit may be incorrect, please contact us at [email protected].