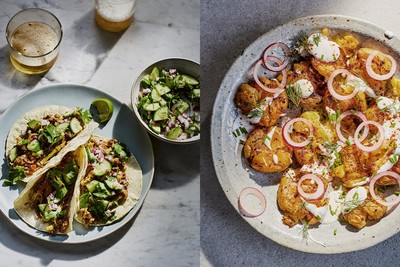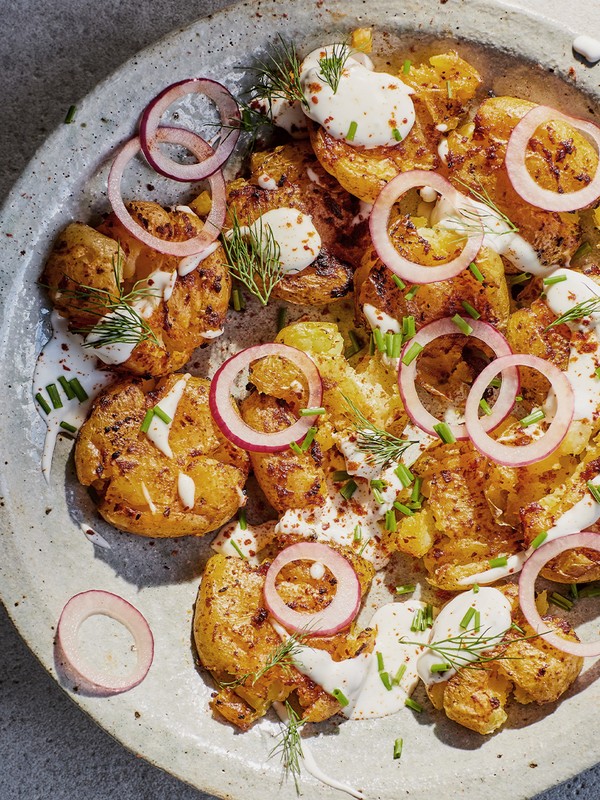 Max La Manna's Food Tips, Hacks & Recommendations

---
More than 1.2 million followers. Over 1 billion views. Max La Manna is a social media sensation. He's also an author and dedicated low-waste chef who's spent the last year asking his audience which foods they throw away the most. Their answers have helped to shape his excellent new cookbook, You Can Cook This. Max sat down with SLMan to talk easy kitchen hacks, weekend brunch ideas and his mother's epic tomato sauce…

I'm all about helping people to cook food they already have. Using entire ingredients can save time, save money and save the food itself. People can open You Can Cook This if they have a certain ingredient in their fridge, pantry or cupboard that needs eating. Instead of throwing it away, there are really simple chapter breakdowns on each ingredient and recipes to go with it. 
I wasn't surprised by the most wasted ingredients – because here in the UK we waste everything. Bananas, herbs, onions, bread, potatoes, bagged salad… Of everything we bring into our homes, a third ends up going to waste – that's roughly £800 of edible food per household every year.
Working in a restaurant, food waste was under my nose the whole time. I'd see these massive dumpsters come and pick up all the leftover food, and I started thinking about where it was going and what was happening to it. It was a Michelin-starred restaurant – why was food being thrown away? I was a line chef and we had to prep everything perfectly – everything had to be a perfect shape, so if you're cutting a carrot, you had to cut off the ends, peel it and then make sure everything was cut to a precise size. I started looking in my own bin at home and seeing what food I was throwing away. Before I could point fingers at anyone else, I had to point the finger at myself and say, 'Okay, what am I doing and how can I make those changes?' Slowly, one ingredient at a time, I started reducing waste and using the whole ingredient – and that's where I am today.
I'm not over here saying, 'You've got to go vegan.' That isn't the message – it's to cook the food you already have."
Creating a waste-free kitchen at home is actually very easy. The simplest way is to cook the food you already have. A lot of people go to the supermarket and they overbuy. Instead, before you even get there, think about the recipes you want to create that week or that weekend. It sounds obvious, but create a shopping list before you head to the store. Don't rely on remembering everything in your head! Even as someone who goes to the shop multiple times a week, I write lists because I don't want to go off piste and buy things I don't need. But before you make that list, you need to do an inventory of what you have and what you don't have – then go from there. 
If you're not in the habit of saving leftovers, don't cook more than you need. Saving your leftovers is a huge waste eliminator and there's a section in my book that has various recipes based on previous dishes in the book that show you how to use up those leftovers. Put them in your freezer and come back to them a week or even months later and they'll be good to go – and sometimes, it's even better than when you first made it. There are so many easy ways to make the most of leftovers – it could even be something like adding a bit of freshness to the dish by adding herbs or lemon zest or a squeeze of lemon juice or maybe some toasted seeds or nuts that go on top. You can make quick dressings and condiments which become flavour-packed toppings. Those quick little recipes that go on top of a dish can really enhance a leftover dish.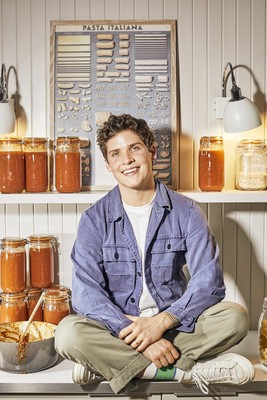 I've been vegan twice. The first time I went plant based was 2012 and it was a different time. I was 20, living in New York City, and it was a lot harder trying to make ends meet. I was cooking from home a lot, but cooking the same thing over and over again, and it felt very limited. Now I've been plant based for six years. It's been great – I love cooking the food I have, I love cooking with vegetables and I love working out how to mimic different textures in a playful way. I think I needed that first attempt so I could see how far I've come. If you look through the new book, a lot of the recipes won't be labelled as vegan – instead of saying vegan butter or vegan cheese I just use the words 'milk', 'cheese' or 'butter' as I want to encourage people to use what they have in their fridge. At the beginning of the book, it says everything in the book has been tested with plant-based ingredients, and by cooking the recipes you're just going to have more plants in your diet, but I'm happy if somebody at home wants to use dairy products. I'm not over here saying, 'You've got to go vegan.' That isn't the message – it's to cook the food you already have.
One of my first food memories is my mum's tomato sauce. She's Italian-French-American, so asking my mother for recipes in my 20s when I was living on my own was hard, as they're all in her head. For her, it's all about the feel, smell and taste as you cook. Every weekend, my mother would cook a fresh batch of tomato sauce in a 20-litre pan and the first thing I would wake up to when I was a kid was the smell of onions and garlic roasting. That was like my alarm clock. I'd go down to the kitchen to have my breakfast and watch her make tomato sauce from scratch. It would last us for the entire week.
I moved to the UK for the tea and the crumpets – but stayed when I met my wife. I first came over to host some supper clubs. I always used to cook at home and host supper clubs at my home in Brooklyn. One of my friends told me to post about them on social media and my audience started growing from there. About six months into my Instagram life, I started noticing that a large part of my audience was based in London, so I decided to host a couple of supper clubs here. Within three weeks, I'd met my now wife, and the rest is history.
Silo is one of my favourite restaurants in London. It's a zero-waste place in east London. The founder Douglas McMaster is now a good friend of mine. Mildred's is a great place and is meaningful to me as that's where I took my wife for our first lunch. Yauatcha in Soho is great too. It's not a vegan restaurant per se, but there's a reason I like it. When I was working in New York with the Michelin-starred chef, we had chefs from other restaurants that would pop in to see how things were being run. I made friends with one of those chefs, who ended up coming to London and is now is the exec chef of Hakkasan Group, which has Yauatcha. He and I are best friends now and, just by having that relationship, he's added more vegan options to the menu.
Every weekend, my mother would cook a fresh batch of tomato sauce in a 20-litre pan and the first thing I would wake up to when I was a kid was the smell of onions and garlic roasting. That was my alarm clock."
I have a couple of signature dishes if I have people coming over. For something speedy that's going to be comforting and delicious – kind of like soul food – I go for tofu butter chicken. The tofu is pressed to remove some of the water, then it's tossed in corn starch, and baked in the oven so it gets a nice crunchy outer layer but is still soft in the middle. I serve that with a curry sauce made with onions, garlic and ginger, a little bit tomato paste and some coconut milk, cooked until it thickens, then I toss it with the crispy tofu. It's so crunchy, warming and luxurious. I'll serve it with some rice and poppadoms or naan. If I'm trying to impress, I would go for my stuffed mushroom ravioli. Making a homemade pasta from scratch is really simple, but always impresses. I make the pasta using chickpea water (aquafaba), which most people throw down the drain. I then stuff it with some sautéed mushrooms. The base is a tofu and asparagus whip – the tops of the asparagus heads are sautéed with garlic and thyme – then I top it all off with lemon zest. I'm a big fan of microplane graters. I love just adding a little bit of zest to any dish for a little bit of an extra pick-up.
I love having a lot of friends over for brunch. I love coffee, so I have a nice coffee machine and will make everyone whichever coffee they want. Over lockdown, I really practised my latte art, so I love impressing people with my skills. I also love feeding people, so it's either going to be something sweet or savoury, or most likely both – maybe pancakes, waffles or French toast, and then I'll do a riff on a full English with scrambled tofu, toast, sautéed mushrooms, roasted tomatoes, spinach and baked beans. I'll fill the table with as much food and coffee as possible.
I grew up having pizza on Friday nights, usually made from scratch. I have a Gozney pizza oven, so for a fun Friday evening I like to make some pizza and serve it up for everyone before we sit down to watch a movie and have a drink. My topping choices depend on what mood I'm in – I'm a simple guy, so it could just be some marinara sauce and vegan mozzarella. Other times, I'll add vegan sausages crumbled on top of roasted peppers and mushrooms. 
On a Sunday, I like to be surrounded by people. Typically, I would like to be cooking, that's where I feel most comfortable. On a Sunday, I'd go for a nut roast, roasted potatoes, roasted veg on the side as well as some steamed kale or spinach with garlic, olive oil and lemon zest. The new book has a good recipe for a nut roast, where you caramelise roasted carrots at the base of the roast and then when it comes out the oven, you flip it over so it's kind of like a tarte tatin. If I said this to an American, they would have no idea what the hell I was talking about, as we don't do roasts in the US. But these days, I love to head to a farm shop and make a big roast at home.
---
INSPIRED? TRY THREE OF MAX'S NEW RECIPES BELOW...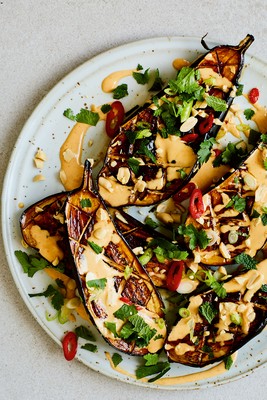 Sticky Aubergine & Peanut Salad
This is one of my all-time favourite ways to cook aubergine. The trick is to grill the aubergine without any oil for a really intense, smoky, charred flavour. It's coated in a sweet, sticky maple-sriracha glaze with a zesty peanut butter dressing, fresh herbs, crunchy peanuts, spring onions and chilli. Serve with brown or white rice for a satisfying main course.
Ingredients
2

tbsp

of soy sauce or tamari
For the sweet and spicy peanut sauce:

2

tbsp

of peanut butter, smooth or crunchy
Zest and juice of

1

-2

limes
To serve:

50g

of peanuts, roughly chopped
4

tbsp

of fresh coriander, chopped
4

tbsp

of fresh mint, chopped
3

spring onions, thinly sliced
1

red chilli, thinly sliced
Method
Step 1
Preheat the grill as high as it will go. Slice the aubergines in half lengthways and use a knife to cross hatch the flesh. Grill in a roasting tin for 10 minutes or until charred. Once the aubergine is grilled, remove from the oven and turn the oven to 220ºC/200ºC fan/Gas Mark 7.
Step 2
Meanwhile, whisk together the soy, maple syrup, sriracha and sesame oil. Place the charred aubergine on a baking sheet lined with baking parchment and drizzle with the marinade. Cover with foil and roast for 20 minutes. Remove the foil cover and spoon any glaze in the tray over the aubergine, then roast for a further 8-10 minutes, uncovered, until very soft and sticky.
Step 3
Whisk the ingredients for the sweet and spicy peanut sauce with enough water to give it a drizzle-able consistency.
Step 4
Once the aubergines are cooked, place on a large platter and drizzle with the sauce. Scatter over the peanuts, coriander, mint, spring onions and red chilli.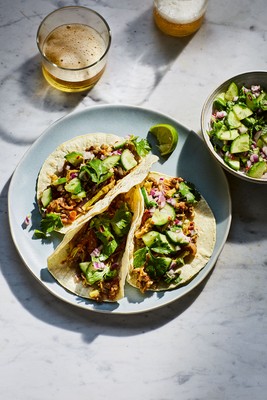 Smoky Lentil & Broccoli Stem Tacos
Meat eaters and vegans alike will enjoy this budget-friendly take on tacos. A handful of surprisingly simple ingredients lends big flavours and 'meaty' textures to the smoky lentil and broccoli stem taco filling.
Ingredients
½

red onion, thinly sliced
1

large broccoli stem, grated
1

x

400g

tin of green lentils, drained and rinsed
2

garlic cloves, finely chopped
4

sundried tomatoes, roughly chopped
1

tbsp

of soy sauce or tamari
1

tbsp

of nutritional yeast
To serve:

8

-12

corn or flour tortillas, freshly chopped coriander and basil lime wedges
Method
Step 1
Heat the oil in a large frying pan over medium heat and cook the onion for 3-5 minutes, stirring occasionally, until soft. Add the grated broccoli stem, lentils, garlic and sundried tomatoes, and cook for 2-3 minutes, stirring occasionally.
Step 2
Add all the remaining ingredients and cook for about 3 minutes, stirring frequently, until the mixture thickens and begins to stick to the pan. Stir in 1-2 tablespoons of water for the last minute of cooking. Remove from the heat and cover with a lid while you warm the tortillas.
Step 3
To serve, spoon the lentil and broccoli stem mixture onto warm tortillas and top with cucumber salsa, fresh coriander and basil, with lime wedges on the side.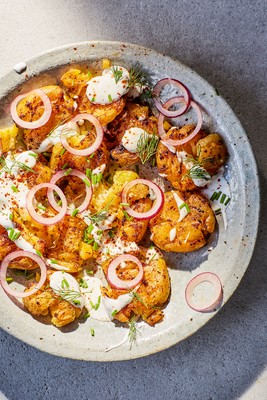 Crispy Smashed Potatoes With Spicy Lemon Mayo
This is a big fan favourite. Brushing the potatoes with tomato purée before roasting them gives them an amazing rich colour and a surprise extra layer of flavour. I love to serve these as part of a savoury brunch fry-up, with scrambled tofu, baked mushrooms and roasted tomatoes. They also make a fantastic starter or side dish.
Ingredients
20

new potatoes, not peeled
1

tbsp

of extra-virgin olive oil
Zest and juice of

½

lemon
To serve:

2

tbsp

of fresh dill, roughly chopped
2

tbsp

of fresh chives, roughly chopped
Method
Step 1
Preheat the oven to 200°C/180°C fan/Gas Mark 6.
Step 2
Bring a large pan of salted water to the boil, add the potatoes and cook for 10-15 minutes, until they are just soft enough that you can poke a fork into them, then drain.
Step 3
Meanwhile, whisk the olive oil, tomato purée, lemon zest, salt and pepper until smooth.
Step 4
Gently press the potatoes with the base of an empty jam jar until the skin breaks, then place them on a large baking sheet. Brush each potato with the oil and tomato mixture. Bake for 20 minutes or until golden and the edges are crispy, rotating the baking sheet after about 10 minutes.
Step 5
To a small bowl or jar, add the mayo, smoked paprika, chilli powder and lemon juice. Stir or shake for a few seconds until smooth and combined.
Step 6
Put the crispy potatoes on a serving platter and top with a few dollops of the spicy lemon mayo, some pickled red onion and fresh herbs.
All products on this page have been selected by our editorial team, however we may make commission on some products.
DISCLAIMER: We endeavour to always credit the correct original source of every image we use. If you think a credit may be incorrect, please contact us at [email protected].