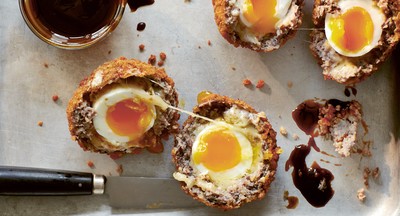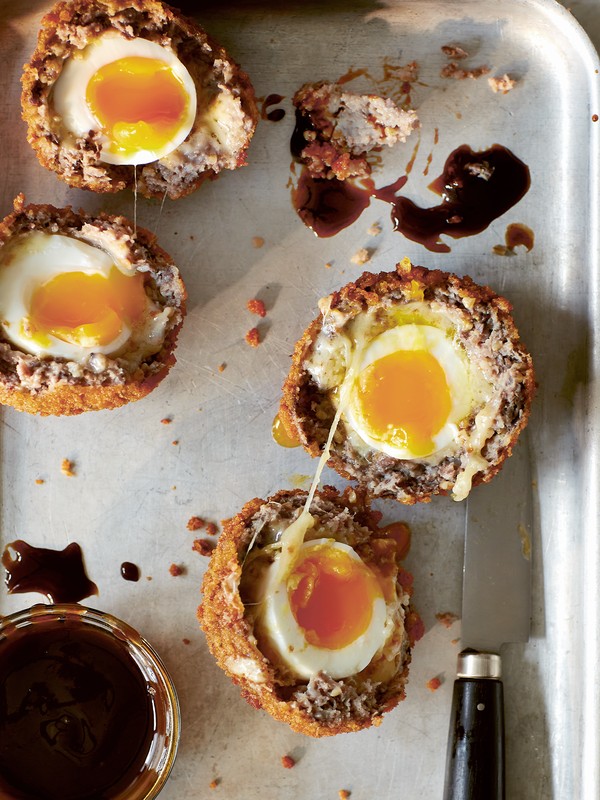 New Ways To Cook With Cheese

---
Mathew Carver is the chef behind London restaurants The Cheese Bar, Pick & Cheese and The Cheese Barge. His new cookbook 'The Cheese Life' features some of his team's signature dishes – from the ultimate toastie to aligot and sausages – and presents some inventive ways to cook with cheese at home. Here, he shares his favourite varieties and makers – plus three recipes to try.

Photography
Lizzie Mayson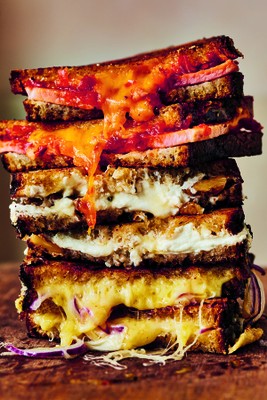 Creating the perfect cheese toastie was an early goal of mine. That led to our first business, The Cheese Truck, selling toasties at festivals up and down the country. The secret to the perfect toastie is to not skimp on the filling. The ratio of bread to cheese has to be right – it annoys me when you get a cheese toastie at a pub or café and the bread is thick, but you only get a whisper of cheese inside. We like to lather the outside of the bread in butter and fry it in a pan, low and slow, to get a golden crisp. Fifteen minutes is all you need.
My favourite cheese dish is aligot. I like to make this indulgent cheesy mash potato with lots of salt, garlic and butter. Heat up the mash in a pan and beat the cheese into it – it must be equal parts cheese and potato – until you get a slightly stringy texture. You'll find this in lots of French restaurants, but few places over here. Simple but delicious.
People often pair red wine with cheese, but I like white as it helps cut through the acidity and richness.
I've been eating lots of Corra Linn recently. It's impossible to pick favourite cheeses, but this manchego-like one is up there. It's made in Scotland from sheep's milk and it's delicious. I've also been loving a relatively new cheese called Pevensey Blue from Sussex. It has a fudgy, gorgonzola-type texture – and of course it's important to support British cheesemakers for reasons like cutting down on food miles and supporting rural communities closer to home.
One of my favourite suppliers is Fen Farm Dairy in Suffolk. It makes an incredible farmhouse-style brie, as well as quality dairy products like yogurt and clotted cream. Village Maid Dairy is a young cheesemaker to know. It makes a lot of sheep milk cheeses, including Spenwood which is similar to pecorino, and Waterloo which is like Brie. 
It's a good idea to branch out from your supermarket regulars. Look for cheeses that have been produced by smaller producers on a farm where they have their own animals. If you're buying non-UK cheeses, look for ones that have a protected designation of origin, meaning they must be made to certain regulations.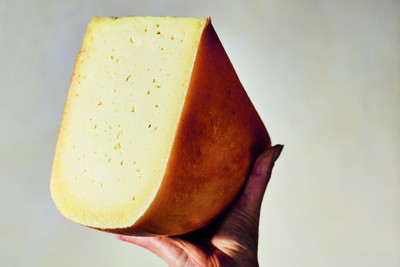 Caerphilly is an underrated cheese we should be eating more of. It has a bad reputation, mainly because the supermarket versions are terrible, but artisan Caerphilly is amazing. It's a mild, lactic cheese that might not seem exciting, but the flavours are very interesting. Gorwydd Caerphilly is one of my favourite varieties.
I like to buy cheese online from The Courtyard Dairy. It mainly sells ones from the north of England and has a great reputation for sourcing and preserving the best cheese. In London, I love Neal's Yard Dairy which has a great relationship with British suppliers. For something more European, La Fromagerie's sites are unrivalled. 
My perfect cheeseboard would include Village Maid Dairy's Waterloo, Corra Linn and Pevensey Blue. I'd also have a soft goat's cheese from an Oxfordshire producer called Norton & Yarrow. I don't like to go overboard with accompaniments, but I'd have crackers, honey to bring out the flavour of the cheese, and red onion and port chutney. And some salted almonds on the side because they're delicious. People often pair red wine with cheese, but I like white as it helps cut through the acidity and richness – I recently enjoyed a white Beaujolais by Chateau Cambon.
One of my favourite recipes from the new cookbook is the chicken poutine. Roasted chicken over homemade fries topped with cheese, sage and thick gravy – pure comfort food. I also love the cheese puffs with gouda cream and the smoked mozzarella sticks with chutney.
---
Ready to get in the kitchen? Here are three recipes from Mathew's book…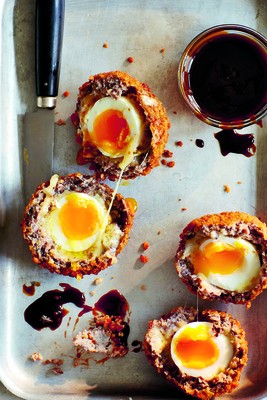 Smoked Poacher & Haggis Scotch Eggs
There are few things in life more satisfying than a proper Scotch egg. We're not talking about those clammy, grey supermarket ones here. We mean a crispy Scotch egg fresh from the fryer with a perfectly runny yolk. Add to that a layer of melted smoked cheese and you reach something close to snack perfection. We use Smoked Lincolnshire Poacher – a traditionally oak-smoked cheese that is a cross between Cheddar and Comté. Any smoked Cheddar will also work.
Ingredients
200ml

of stout, such as Guinness
120g

of ground pork mince
150ml

of HP Sauce or other brown sauce
120g

of Smoked Lincolnshire Poacher cheese, finely grated (or use smoked cheddar)
Vegetable oil, for deep-frying
Method
Step 1
Pour the stout into a pan and bring to a simmer. Reduce until you have about a third left. Once reduced, mix 1 part stout to 2 parts HP Sauce for a stout brown sauce that takes a Scotch egg to new plains.
Step 2
While the sauce is reducing, make the Scotch eggs. Line a baking sheet with non-stick baking paper. Lay out the finely grated Poacher on the lined tray and allow to come to room temperature, so it becomes soft and malleable.
Step 3
Bring a large pan of water to a steady boil and add the 2 eggs in their shells. Cook for 6 minutes.
Step 4
Drain and put the eggs straight into the iced water. When cool, peel the eggs and set aside.
Step 5
In a bowl, mix together the pork mince, haggis and black pepper. Split the mixture into 2 x 100g patties.
Step 6
Lay another sheet of baking parchment on top of the Poacher and flatten the cheese into a sheet with a rolling pin. Then cut 2 small circular patties of the cheese, around 11.5cm in diameter.
Step 7
The trick to assembling the Scotch egg is to lay out a sheet of cling film around 20cm long. Dust it with a layer of flour and place one of the meat patties on top.
Step 8
Using your hand, flatten it until you get a 12cm-round meat patty. Add to this a layer of cheese, ensuring you get a consistent 3mm layer all the way across. Leave a 5mm gap around the edge of the sausage meat then place one egg in the middle of the cheese.
Step 9
Collect up the corners of the cling film and bring together, gently squeezing to completely cover the egg in the sausage meat mix. Ensure all the egg is covered.
Step 10
Repeat for the other patty and egg, then chill both in the refrigerator for 1 hour.
Step 11
Remove the eggs from the refrigerator and remove the cling film. Dip the balls into the beaten egg and then into the breadcrumbs, ensuring an even coating. Repeat this process until they are fully covered.
Step 12
Half-fill a large heavy-bottomed pan with vegetable oil and place over a medium heat until it reaches 180°C/Gas Mark 4 on a sugar thermometer. If you don't have a thermometer, test the oil with a cube of bread. It should brown in 30-40 seconds when the oil is at the right
Step 13
Carefully remove from the pan and allow to drain on kitchen towel. Serve warm with the brown stout sauce.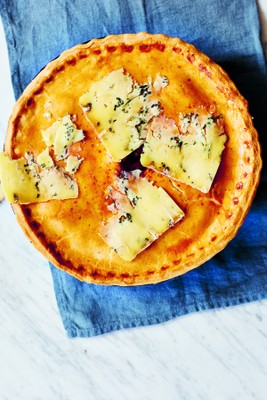 Stichelton & Beef Bourguignon Pie
What could be more comforting than slow-cooked beef bourguignon? How about beef bourguignon topped with pastry and blue cheese? Sara Lewis, head chef at The Cheese Barge, came up with this incredible pie one winter and we can't get enough of it. We use Stichelton, a raw milk blue made in Nottinghamshire. It's made in a similar way to Stilton, but can't be called as such because Stilton is a protected cheese that must be made with pasteurised milk by law. It's sweet, tangy, meaty and biscuity (cracker-like) all at once.
Ingredients
800g

of beef shin or chuck, diced
½

Spanish onion, peeled & chopped into

2cm

cubes
1

leek, chopped into

2cm

cubes
1

garlic clove, roughly chopped
1

carrot, peeled & chopped into

2cm

cubes
200g

of Stichelton cheese (or Stilton)
500g

of pre-rolled shortcrust pastry, cut into a lid slightly larger than the ovenproof dish
Method
Step 1
Preheat the oven to 180°C/Gas Mark 4. Season the beef with salt and pepper. Heat the oil in a large frying pan and brown the meat in batches over a high heat for 5-10 minutes.
Step 2
Remove the beef from the pan and set aside. Add the bacon lardons to the same pan and cook over low heat until well rendered, about 5 minutes. Remove from the pan and set aside. Add the onions to the pan and cook in the remaining fat until caramelised, about 5-10 minutes. Remove from pan and drain off any excess fat.
Step 3
Add all the vegetables and sweat over a low heat in the same pan until caramelised, about 10 minutes. Add the tomato purée and red wine, then add the measured water and stock cubes. Bring to the boil.
Step 4
Tightly wrap the herbs together with string. Transfer the beef, onions, and vegetable and stock mixture into an ovenproof dish and mix well. Add the herbs. Lay non-stick baking paper over the top and cover with foil. Place in the oven and cook for 5 hours until the meat is tender.
Step 5
Ladle out all the liquid into a pan and simmer over a high heat, until reduced by half to get a thick saucy consistency.
Step 6
Increase the temperature of the oven to 200°C/Gas Mark 6.
Step 7
Return the braising liquid to the meat and veg in the ovenproof dish. Crumble two thirds of the cheese across the top. Slice the remaining third into very thin slices.
Step 8
Brush a little beaten egg around the rim of your dish and cover with the shortcrust pastry, pushing it in around the edges of the dish. Cut a cross in the middle. Glaze the pastry with the remaining egg.
Step 9
Bake for 30 minutes until the pastry is golden. Remove from the oven and immediately lay the slices of cheese on top of the hot pastry. Serve with a leafy salad and a large glass of red wine.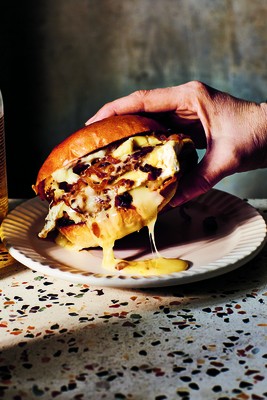 Truffled Brie Burger
I never wanted a burger on the menu at our restaurant in Camden, but our butcher sent us some burger mince by mistake one day. We came up with this recipe at the last moment and it sold out so quickly that it's not left the menu since. This recipe makes more mayo than you need, but it goes with everything so it's worth having extra in the refrigerator.
Ingredients
For the patties:

340g

of beef mince – fat content should be at least

20

%
For the truffle mayo:

1

½

tsp

of wholegrain mustard
1

½

tsp

of white wine vinegar
Juice of

¼

lemon, or more to taste
2

tsp

of truffle paste (we use minced black truffles from Truffle Hunter), or more to taste
100ml

of truffle oil (we use Truffle Hunter's White Truffle Oil)
For the caramelised onions:

2

large yellow onions, thinly sliced
For the burgers:

Vegetable oil, for greasing
25g

of salted butter, melted
140g

of brie, cut into thin slices
Method
Step 1
To make the patties, Mix the beef and seasoning together in a bowl. Split the mixture into two and shape into balls. Then flatten with the palm of your hand until 3cm (1-inch) thick. Place on a plate, cover with cling film and refrigerate for 30 minutes before cooking. Season the outsides just before cooking.
Step 2
To make the truffle mayo, place all the ingredients, apart from the two oils and salt, in the bowl of a food processor or blender and blend together.

Step 3
Combine the truffle and veg oil in a jug and drizzle the mixture very slowly into the mixture as the food processor is running. If you rush this step, you risk splitting the mayonnaise.

Step 4
You're looking for a thick and creamy texture. If it's too stiff, add a few teaspoons of water to loosen. Add salt, more lemon juice and/or truffle paste according to your taste.
Step 5
Keep in an airtight container in the refrigerator for up to 5 days.
Step 6
To make the caramelized onions, add the oil to a wide-based pan over a medium–high heat. Add the onions, then turn the heat down to low and cook, stirring regularly, for about 30 minutes, until brown and caramelised. Remove the pan from the heat.
Step 7
To make the burgers, add a little oil to a heavy-bottomed frying pan and heat over a high heat until very hot. Add the patties to the pan and cook for around 5–6 minutes on each side for medium and 8-9 minutes on each side for well done.
Step 8
While they're cooking, slice your buns in half and give them a good brush of melted butter on the cut side. Add them, cut side down, to a second frying pan over a medium heat for 3-5 minutes to toast them.
Step 9
Once you've cooked the burgers on both sides, add the brie on top of them. Add a splash of water to the pan and then quickly cover with a lid so the steam melts the cheese.
Step 10
When the buns are ready, remove them from the heat and spread the bottom buns with bacon jam. Then add a generous dollop of truffle mayonnaise to the top and bottoms of each bun.
Step 11
When the cheese has melted and the burgers are cooked, get them out of the pan and place one on the base of each bun.
Step 12
Return the pan to a medium heat; leave any remaining fat and juice from the burgers, as this will all add flavour. Add the caramelised onions and gently heat for 2-3 minutes while the burgers rest.
Step 13
Add the caramelised onions to the top of the burgers and finish with the top of the buns.
Photography by Lizzie Mayson
The Cheese Life by Mathew Carver & Patrick McGuigan (Kyle Books, £25) is available to buy now. Visit Amazon.co.uk 
All products on this page have been selected by our editorial team, however we may make commission on some products.
DISCLAIMER: We endeavour to always credit the correct original source of every image we use. If you think a credit may be incorrect, please contact us at [email protected].