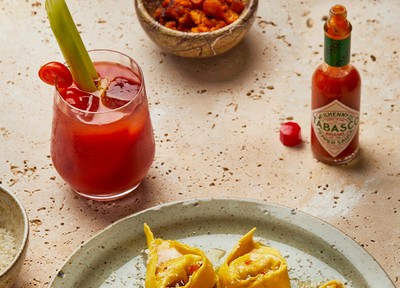 What To Know About Tabasco – And How To Use It

---
Alongside Heinz ketchup, French's mustard and Flying Goose sriracha, Tabasco sauce is a cult condiment. Available in eight strengths, it can be used to add flavour and heat to liven up almost any dish. From understanding how it's made to using it in simple recipes, here's what you need to know about the world's most popular hot pepper sauce.

Photography
PASTA EVANGELISTS X TABASCO
What Is Tabasco?
Labelled in 25 languages, sold in over 195 countries, added to soldiers' rations and put on restaurant tables around the world, Tabasco is undeniably the most famous pepper sauce in the world. Tabasco products are made by McIlhenny Company, which was founded by Edmund McIlhenny in 1868 on Avery Island, Louisiana. That's where he developed the recipe for Tabasco Original Red Pepper Sauce that's been passed down from generation to generation. To this day, the company is family owned and operated on the same island. Nearly 150 years later, the basic recipe for Tabasco sauce is also virtually unchanged – these days the aging process for the mash is longer (up to three years in white oak barrels) and the vinegar is high-quality distilled vinegar. 
How Is It Used?
Tabasco isn't just for Bloody Marys and oysters. The team on Avery Island suggest using its sauce in the following ways:
Shake on wings and ribs for a fiery, fruity finish or marinate kebabs before BBQing or grilling. 

Add to your favourite curry and pasta sauces.

Sprinkle on tacos, fajitas and burritos.

Zip up cheese on toast and dips with a couple of drops.

Brush on grilled steaks, ribs and chicken.

Stir into mashed or baked potatoes.

Whisk into chowders, stews, casseroles and soups.

Use to add heat to Mexican, Caribbean, Asian, African and Cajun dishes.

Sprinkle over pizza and focaccia.
What's In It?
There are now eight different flavours and strengths – from Sweet & Spicy to its 'Scorpion' offering, plus a new sriracha sauce in the product range, but these are the four most readily available in the UK:
 

Original Red Pepper Sauce
The original recipe contains just three ingredients: vinegar, peppers and salt. The focus of this one is heat with flavour.
Works best with: Chilli con carne & spaghetti bolognese.
 

Green Jalapeño Sauce
The green jalapeño hot sauce is mild, but full of flavour – and you can enjoy the taste of jalapeños in every shake. The recipe for this one includes distilled vinegar, jalapeño pepper, water, salt and corn starch.
Works best with: Salads, tacos & anything else that calls for a dash of jalapeño flavour. 
 

Chipotle Pepper Sauce
This rich, full-bodied hot sauce is the perfect balance of smoke and heat. Made from vine-ripened red jalapeño peppers that are slow-smoked over a pecan wood fire, this sauce is also made from distilled vinegar, water, salt, sugar, onion powder, garlic powder and a couple of secret spices.
Works best with: This robust pepper sauce is just right for marinating or grilling meats, and adds an unexpected smokey flavour to cocktails, dips and puddings.
 

Habanero Pepper Sauce
Made from a blend of peppers, papaya, mango and spices, this Habanero sauce has a heat level that's not for amateurs.
Works best with: This Jamaican-style sauce adds Caribbean flair to dishes. Add some 'sweet heat' to dishes or kick condiments up a notch by adding it to ketchup or mustard.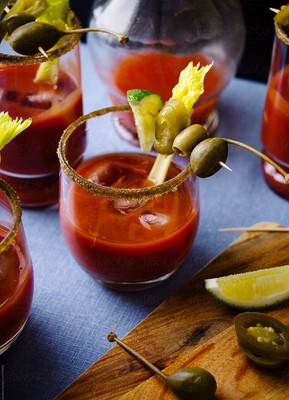 PASTA EVANGELISTS X TABASCO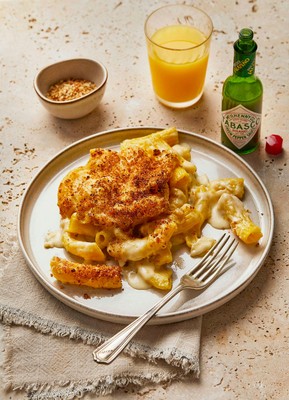 PASTA EVANGELISTS X TABASCO
Is It Unhealthy?
Unlike its spicy cousin sriracha, Tabasco isn't full of sugar, making it a much healthier way to add heat to dishes. It's also gluten free, fat free, kosher, halal and vegan, making it an accessible ingredient. Just keep an eye on the sodium: in its Original Red Pepper Sauce you'll find 35mg of sodium per teaspoon. However, given that the recommended daily intake for adults in the UK is 2.4g of sodium – and you only need a few shakes of sauce – this is one of the healthier condiments out there.
 
How Spicy Is It?
According to the Scoville scale – the barometer that measures capsaicin, the chemical in peppers responsible for their heat – Original Red Pepper Sauce scores 2,500-5,000 points, making it as spicy as a jalapeño. Here's how the rest of the collection compares:
 
Sweet & Spicy Sauce: Scoville Rating: 100-300
Buffalo-Style Hot Sauce: Scoville Rating: 300-900
Green Jalapeño Sauce: Scoville Rating: 600-1,200
Sriracha Sauce: Scoville Rating: 1,000-3,000
Cayenne Garlic Sauce: Scoville Rating: 1,200-2,400
Chipotle Pepper Sauce: Scoville Rating: 1,500-2,500
Original Red Pepper Sauce: Scoville Rating: 2,500-5,000
Habanero Pepper Sauce: Scoville Rating: >7,000
Scorpion Sauce: Scoville Rating: 35,000
 
How To Cook With Tabasco
Korean-American chef Judy Joo told us why Tabasco sauce is her must-use ingredient…
 
Everyone knows what to expect when they spot that little red bottle. I love hot sauce, but Tabasco is the one I reach for the most because it's so versatile. It gives everything I have it on an addictive quality, which I love. I have been known to carry my own bottle on flights (plane food is so bland) and to the cinema to spice up my popcorn and nachos. 
You can really add it to everything. I tend to put it on anything from popcorn, pizza, avocado toast, and eggs to dishes like guacamole, pasta, potatoes, curries. Everything. One of my favourite go-to easy dinners is making stir fries with any leftovers in my fridge. I'll toss together a bunch of veggies, some chicken and jazz it up with fresh garlic, ginger, onions and a splash of good-quality soy sauce. Then at the table I'll give it a generous drizzle of Tabasco.
I never let a dish that typically isn't spicy stop me from experimenting. Sometimes this is when you discover the best combinations. I also like Tabasco Green Pepper Sauce, which is zesty and has a milder heat, and great to try if you're sensitive to spice. I usually put it on non-spicy dishes to lift them with a hit of acidity and spice from a few dashes.
There are so many variations on the Bloody Mary using every spirit imaginable, but the spice has to be Tabasco. It's the classic choice for a Bloody Mary and an essential.
I am a self-confessed hot sauce addict. One of the best dishes you'll ever have it on is Korean fried chicken. My restaurant Seoul Bird is currently collaborating on some fried chicken dishes with Tabasco using its sriracha, which is the brand's take on the classic Thai sauce. It's flavoured with the same oak barrel-aged peppers in the classic Tabasco so it has that signature kick, but with a deliciously rich, sweet and garlicky flavour. As Korean fried chicken is known for the sauce it's doused in, it's the perfect dish to mix and match sauces onto.
 
Visit Seoul-Bird.co.uk
 
Keen to cook with Tabasco? Shop our favourite products below…
Feeling inspired? Try six of our favourite Tabasco sauce recipes, from a salmon sushi bowl to sirloin steak tacos…
DISCLAIMER: We endeavour to always credit the correct original source of every image we use. If you think a credit may be incorrect, please contact us at [email protected].