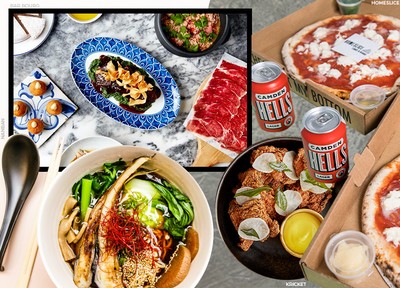 What To Order On Deliveroo

---
Street-food traders and Michelin-starred restaurants alike have switched to DIY meal kits to help us all through another lockdown. Sometimes, though, just a regular takeaway is what's needed. From ramen and curries to pizzas and pies, here's the best of what Deliveroo has to offer in the capital…

BEST FOR WARMING COMFORT FOOD: Goila Butter Chicken at Carousel
Chef Saransh Goila's butter chicken has garnered a cult-like following since he started serving it in Mumbai five years ago. It even earned him the People's Choice prize at India's famed food festival, World on a Plate. Now he's putting down roots in London with the launch of a delivery-only concept, which marks the first time Saransh's signature curry has been made permanently available outside of his home country. Available on Deliveroo, deliveries come with dal makhana, sourdough naan, pickled sweet and sour shallots, coriander chutney and jeera rice.
What To Order: Goila butter chicken and sourdough naan.
Visit Deliveroo.co.uk
 
BEST FOR FRIED CHICKEN: Around The Cluck
James Cochran spent nine years working for Brett Graham at Michelin-starred The Ledbury and The Harwood Arms before striking out on his own with James Cochran EC3 and then Islington's 12:51. Now, the Great British Menu champ has launched Around the Cluck, a delivery service that focuses on fried chicken. Serving Thursdays and Fridays 5-10pm, James teams up with a different top chef each month. For February, Adam Handling has designed specials including 'Nanny Sophie's Fried Chicken Burger': buttermilk chicken, chicken butter, sticky sauce and slaw in a brioche bun.
What To Order: American buttermilk chicken burger, french fries with jerk salt and chicken gravy mayo.
Visit Deliveroo.co.uk
 
BEST FOR SRI LANKAN DISHES: Hoppers
An award-winning eatery from the Sethi family, who also own Trishna and Gymkhana, Hoppers is one of the very best Sri Lankan restaurants in the city. Hoppers is named after one of the island nation's most popular dishes – egg-topped pancakes – and its delivery menu brims with flavour and aroma. Delivery is available from its King's Cross and Marylebone sites.
What To Order: Crab kari or bone marrow varuval with egg roti.
Visit Deliveroo.co.uk
BEST FOR BREAKFAST: Ottolenghi
Ottolenghi has a range of delis and restaurants across London (Notting Hill, Islington, Spitalfields and Belgravia), each known for towering displays of pastries, much-copied dinner party-style salads, pantry items and wine. Delivery options focus on these Middle Eastern, North African and Asian influences, spanning everything from store-cupboard essentials to breakfasts to be enjoyed in bed – think almond croissants, cinnamon brioche pretzels and fruit salads.
What To Order: Butternut and chickpea curry with lime leaf and coconut crumb, followed by the cheesecake of the day.
Visit Deliveroo.co.uk
 
BEST FOR STEAK: Gaucho
Gaucho's 'Meat & Bun' is a new burger concept available to order exclusively via Deliveroo across London. The Meat & Bun menu is inspired by the ingredients of Argentina's Pampas region. Choose from the likes of fillet steak sandwich topped with mustard onions and chimichurri sauce, BBQ brisket burger, and a 'posh' fish and chips bun.
What To Order: The Gaucho Brunch Sandwich – sirloin steak, fried egg, bacon, crispy onions, criollo sauce and mayo served in a soft milk bun.
Visit Deliveroo.co.uk
 
BEST FOR A TASTE OF EUROPE: Bar Douro
Under a railway arch next to Flat Iron Square, Bar Douro offers authentic Portuguese food and wines. Its small-plate focused menu draws inspiration from the cervejarias and tascas of Lisbon and Porto, with ingredients sourced locally or specialist products imported directly from Portugal. Do not press 'Checkout' without placing an order for its pastel de natas.
What To Order: Smoked Portuguese sausage croquettes with lemon mayo.
Visit Deliveroo.co.uk
BEST FOR KEBABS: Berenjak Soho
Berenjak Soho specialises in authentic Iranian cuisine, and its current delivery option offers a menu of charcoal-grilled kebabs, dips and sides. Whether you're ordering a meal for one or a family feast for four or five, be sure to add the kitchen's mast o musir (strained Greek yoghurt full of herbs) and some craft beet to your order. The delivery radius for this one is eight miles for orders made at least 24 hours in advance, and three miles for same-day orders.
What To Order: Jujeh kebab – chicken breast kebab with buttery saffron rice and grilled tomatoes.
Visit Deliveroo.co.uk
 
BEST FOR RAMEN: Bone Daddies
We've loved Bone Daddies ever since it opened up on Peter Street eight years ago. Small, loud and dark, it's the perfect spot for slurping noodles cooked in 20-hour bone broth and topped with 'cock scratchings' without fear of being reprimanded for making a mess. During lockdown, it's sending bowls of ramen to you at home, alongside a range of poke bowls, bao, curries, mochi, beer, cocktails and snacks.
What To Order: Spicy miso ramen with crispy duck bao.
Visit Deliveroo.co.uk
 
BEST FOR BIRYANIS: Dishoom To Your Door
Dishoom has become a London institution, scattering itself across the capital from King's Cross to Covent Garden. Right now, its biryanis, self-styled ruby murrays and ever-popular house black daal are available for local delivery. For each you order, the restaurant will donate a meal to a child via Akshaya Patra, a charity in India that provides nourishing free meals to schools.
What To Order: Chilli chicken and house black daal.
Visit Deliveroo.co.uk 
BEST FOR MODERN INDIAN: Kricket
Combining the best British seasonal ingredients with authentic Indian flavours, aromas and spices, Kricket offers a casual approach to east-meets-west dining. Cooked and packaged with care, its delivery concept offers feasts of differing sizes, plus a huge selection of dips and sides, such as mooli pickles, two types of raita, date and tamarind sauce and chilli garlic mayo – all outstanding accompaniments to the excellent Keralan fried chicken.
What To Order: Welsh lamb leg korma and king prawn moilee.
Visit Deliveroo.co.uk
 
BEST FOR PIES: M. Manze Pie & Mash
M. Manze Pie & Mash's pies, mash, green liquor and eels are legendary and uphold the traditions created by founder Michele Manze more than a century ago. Today, three London sites – Bermondsey, Sutton and Peckham – deliver pies made with its famous handmade pastry. A light, flaky crust is filled with minced beef sourced from the freshest prime cuts – no filler meats or offal here – and a modest amount of gravy, before the final pastry lid is added. Looking for a meat-free option? There's a vegan version made with soya mince.
What To Order: Pie, mash and liquor – for just £4.99.
Visit Deliveroo.co.uk
 
BEST FOR JAPANESE FUSION: Nanban
One of our favourite spots in Brixton, former MasterChef winner Tim Anderson's Nanban offers a quirky take on Japanese dude food. Alongside umami-laden dishes such as crispy jerk pork belly, a variety of ramen and yaki udon, there's his knockout chicken karaage: crispy marinated deep-fried chicken thighs with honey-miso mayo. Delicious with a cold pale ale or sparkling sake, which also just happen to be available to order.
What To Order: The 'Nanbanoffee Pudding' – banana custard, honey cream and miso butterscotch.
Visit Deliveroo.co.uk
BEST FOR ITALIAN PIZZA: Santa Maria
Santa Maria is owned by Angelo and Pasquale, who opened their own space in 2010 after working in several restaurants across London. The pair are Neapolitan and obsessed with pizza: the wood-fired offerings served in Santa Maria are a match for the pizza you can eat on the streets of Naples, using the same ingredients and adopting the same cooking method. Don't forget to order a bottle of chilli oil to accompany your pizza.
What To Order: The Sant'Anna – tomato, mozzarella, cotto ham, artichokes, black olives and parmesan.
Visit Deliveroo.co.uk
 
BEST FOR SEAFOOD FANS: Trishna
Trishna – along with sister restaurants Gymkhana and Brigadiers – makes one of the best at-home meal kits we've tried. But if you can't be bothered to do any cooking at all, this Michelin-starred restaurant also delivers its contemporary Indian coastal cuisine and an extensive wine list that focuses on emerging regions and fine wines from niche producers from all over the world.
What To Order: Tandoori lamb chops and Dorset brown crab.
Visit Deliveroo.co.uk
 
BEST FOR AUTHENTIC CHINESE FOOD: Xi'an Impression
Xi'an Impression champions authentic food from China and is much loved for its spicy dishes bursting with flavour. Noodles are the star here – regulars love the hand-pulled biang biang noodles served in a signature special chilli sauce – but the kitchen also turns out excellent dumplings, soups and street food such as the Xi'an pork hamburger.
What To Order: Those biang biang noodles, with a side of smacked cucumber with fresh garlic sauce.
Visit Deliveroo.co.uk
BEST FOR AMERICAN-STYLE PIZZA: Homeslice
Homeslice's dough is made in house, aged for 24 hours and cooked in a custom-built wood-fired oven. Catering for carnivores, vegetarians and vegans alike, the pizza list has 14 different combos, balancing classics such as margheritas with seasonally changing toppings including pumpkin, broccoli, pecorino and crispy onions; and its riff on a quattro formaggi (four cheeses, jalapeño salsa and rye crumb). Its bottled sauces, cocktails and brownies are also worth a try.
What To Order: Wagyu beef pizza, plus a bottle of truffle creme fraiche or soy truffle glaze.
Visit Deliveroo.co.uk
 
BEST FOR FISH & CHIPS: Poppie's
Poppie's is renowned for its authentic fish and chips – and justly so, with born-and-bred eastender Pat 'Pop' Newland,at the helm. Pop's career started in 1952 when, aged 11, he got a job cutting up copies of the Daily Mirror to wrap fish and chips in. Today, Poppie's is also defined by its in-house fishmonger, Salih, who prepares all the fish on site and commands the kitchen below its Soho shop.
What To Order: Traditional haddock and chips with mushy peas and tartare sauce.
Visit Deliveroo.co.uk
DISCLAIMER: We endeavour to always credit the correct original source of every image we use. If you think a credit may be incorrect, please contact us at [email protected].