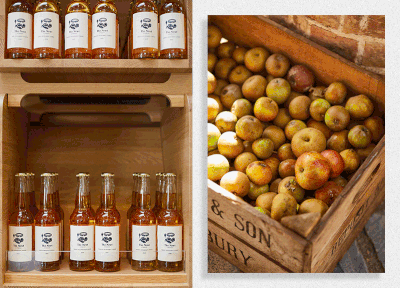 What You Need To Know About Cider

---
Thanks to some dubious 90s incarnations, cider was once considered the preserve of teenagers and thirsty festival-goers, whose cans of choice were served warm and sugary. But this centuries-old drink has had a welcome craft makeover in recent years, and is fast becoming a cool alternative to beer and wine. Two cider masters – one from a longstanding cider farm, the other pressing apples for one of the UK's hottest hotel openings – told us why it's time to try cider this summer.
Photography THE NEWT
First up, why do you like cider?
"I come from six generations of cider makers spanning the last 200 years, so you could say cider runs through my veins. The simplicity of cider is one of its major attractions for me: fermented apples and time – what's not to love about that?" – David Sheppy, Master of Cider, Sheppy's Cider
"It is the true taste of Somerset. From harvesting the local cider orchards by hand to manually pressing the apples, to the first gallon I ever made at home – watching the yeast do its 'magic' – I was totally spellbound. Drawn into the history, tradition and anecdotes of bygone times, my passion grew from there." – Greg Carnell, Cellar Master, The Newt
What's special about it?
"What I find particularly special is the historical importance it's played over the centuries. From being used as a form of currency to the social importance and togetherness it has brought. It's a drink that has its heart and soul in the community." – David
"Cider is such a broad church, with different techniques, styles, tastes and aromas – with experimentation never ending. It brings people and communities together whether they're harvesting apples, pressing or, of course, drinking." – Greg
Why is cider cool right now?
"There's no doubt cider has held on to the shirttails of the craft brewing phenomenon, but recently it has distinguished itself as a refreshing alternative to craft ale. I think the general consumer is now a more educated drinker and they like to support local producers and know about what they're buying." – David
"We hope to continue finessing the perceptions of cider as a drink to be appreciated in the same way as wine."
How has cider changed then?
"One of the most common things I hear when at a trade show is, 'I can't drink cider, I overindulged in my teens!' Well, I hear you, but chances are the quality of the cider you drank back then was probably not of the quality you could find now. There are so many cider varieties and fruit-based ciders, there really is one for everyone. Trust me." – David
So it doesn't have to be sugary?
"No. It used to be that the consumer generally wanted an easy-drinking sweeter cider on a hot summer's day, but that has changed a lot in recent times. The Mintel report – an industry publication – shows that consumers are now opting for a drier cider, possibly due to the saturated market for sweet cider, or perhaps in response to the amount of sugar some producers add to their cider." – David
"Sugar is typically added to ciders that are made on a commercial scale. The ciders we produce have no sugar or water added to them – their flavour profile has been carefully controlled by temperature in our cellar, using the same cold-fermentation processes used for wine." – Greg
Is it still as ferociously strong as it used to be?
"Cider naturally settles at around 7-8% ABV. Obviously, this doesn't fit with those that want something a little more accommodating, so cider producers now offer a great range of products: we offer a low-alcohol cider which sits at 0.5%; single variety and fruit-based ciders at 4%; right through to the stronger, more complex ciders in our vintage range. The key is to keep the natural flavours of the cider – making the cider sing, leading with the taste of the fruit and not synthetic fruit flavourings or sugars." – David
"As we control sweetness by fermenting for less time, there is more residual natural sugar, hence less alcohol by volume. Alcohol in cider, as in wine, gives body and mouthfeel, but it's just one of the players in the pitch with the aroma and taste profile. Our sweet blend and No.3 Yarlington Mill cider are lower ABV and sweet, compared to our dry blend and No.1 Kingston Black that are dry and higher in alcohol. We do not make ciders to a specific ABV – when the sweetness is perfect, we filter out the yeast and arrest the fermentation." – Greg
Can cider go well with food?
"Dry cider is either low or no sugar. Its acidity perfectly cuts through fat such as pork belly or a mature cheddar. Sweet cider is full of natural apple sugars. Its aromas of ripe apple and rich, deep and golden amber make it a great accompaniment to apple tart. Sparkling blends are force carbonated during bottling. The larger bubbles prickle in the mouth, releasing the flavours and aromas. Our true sparkling cider 'The Winston' is bottle-fermented for a second time, just as champagne is. This is our flagship and these natural bubbles are finer and more delicate. With high acidity and 12% ABV, it is on a level with sparkling wines, but with such different aromas and flavours. It goes beautifully with oysters." – Greg
"One of the things that makes cider so good is its ability to cut through rich, fatty foods. Dry, zingy ciders with acid, tannin and plenty of scrubbing bubbles can help to refresh the palate. This is the reason why cider goes so beautifully with cheeses and charcuterie, and why BBQ belly pork never tastes better than when you've got a glass of cold cider alongside it." – David
"There are so many cider varieties and fruit-based ciders, there really is one for everyone. Trust me."
How should it be served?
"It can be served cold, cool or room temperature. Cider is very forgiving and it's really down to the drinker and their preference. Like good wines, too cold and you tend to lose some of the complexities in the cider but as long as it's enjoyed, you can drink it how you wish." – David
Why should people consider getting into cider now?
"Whether they get into it or not, I think cider makes a fantastic alternative to beers and even wines. It's versatile and accompanies a variety of ingredients and dishes." – David
"There are a growing number of makers that really care for cider and the quality is getting better every year. Cider as an alternative to wine has long since been forgotten – well it's time to change! The menus in our restaurants now feature cider lists as well as wine lists." – Greg
What should cider first-timers look out for?
"Support local and don't be afraid to experiment. There are some fantastic independent cider producers around and sometimes I think it's all too easy for people to go with what they know rather than try something different. It's also important to understand what you're drinking. Access to social media now means you can really get an understanding for the values of a producer and see if they align with yours." – David
"Buy as local as you can find – just like honey – and look for ciders that use 100% apple juice." – Greg
And finally, any particular producers you recommend SLMan readers try?
"There has been a wave of independent local producers including Little Pomona, Oliver's, Ross on Wye, Wilding Cider, and even one of our neighbours, Merlin Labron-Johnson, who heads up Michelin-starred Osip in Bruton. They are all moving the drink back into the spotlight, where it deserves to be. I also really rate Pilton Cider and Burrow Hill." – Greg
Inspired? Here are the bottles to try…
DISCLAIMER: We endeavour to always credit the correct original source of every image we use. If you think a credit may be incorrect, please contact us at [email protected].