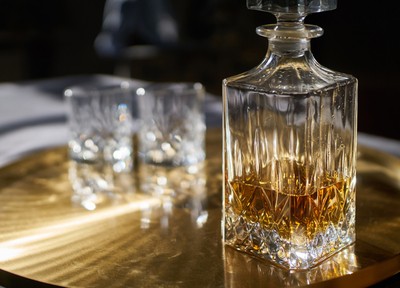 Where To Start With Scotch Whisky

---
New distilleries and a growing appreciation for the craftmanship involved in producing Scotch mean Scotland's whisky industry is enjoying a boom time. Kristiane Sherry of Master of Malt explains how – and why – you should get involved…

Apparently it's an exciting time for Scotch whisky right now, Kristiane – why is that?
The Scotch whisky industry is currently in a significant upswing, with new distilleries being built. Primarily this is because new consumers are coming into the category. The rise of whiskies from around the world has also forced Scotch to up its game, stave off its staid image and appeal to a far wider audience.
We've all heard the hype around Japanese whisky in recent years… Is Scotch still the best then?
'Best' is such a subjective concept. What one whisky lover adores will confound another. For a long time Scotch whisky enjoyed a stellar reputation, as has Japanese whisky. Due to supply issues, we're seeing the landscape of Japanese whisky shift, and a lot of the highly favoured expressions have now been discontinued. There's still great liquid coming from Japan, but that's the same for Scotland, and indeed all manner of regions. Excellence can be found the world over!
What do you think makes Scotch special?
For me, Scotch is special because of its history and heritage. It's produced according to tight regulations that haven't shifted much at all over the centuries. There are so many stories centering around the people who work at distilleries and craft the liquid. And the landscape that envelops so many distilleries is absolutely stunning. And all of this is before we even get onto the flavour.
And are we right to think single malts are the best of the best of Scotch whisky?
Single malts are highly regarded for a number of reasons. Firstly, the time it takes for them to mature. You can't do anything with your product for at least three years. And in reality, we know very many single malts are aged for far longer than that. When it comes to age statements, 10 or 12-year-old expressions are sometimes thought of as 'entry level'. That's at least a decade spent in oak! Then there's the production process. Pot stills are like giant kettles – using them in production is a batch process that requires great skill. There's inherent craft in producing and blending single malt expressions, which is reflected in their reputation. Especially old and rare single malts from particular distilleries, sometimes closed sites, can fetch six-figure sums at auction.
How does age affect whisky? Is older always better?
Age doesn't necessarily make for a better whisky – but the amount of time any spirit spends in a cask will have an enormous effect on flavour. While casks are (hopefully!) water tight, they're not air tight. This means they can 'breathe', which draws the spirit into the oak. This does four things: the interaction with the barrel means the spirit picks up colour and flavour; the addition of oxygen also impacts flavour; water, ethanol and other parts of the spirit can evaporate through the oak; and then a level of char on the inside of the barrel helps remove some harshness. Oak barrels are magic! There will however come a point when the effects of maturation become too much for a spirit – which is one reason very old whiskies are incredibly rare.
Breaking the category down a bit, whiskies from different parts of Scotland can be quite different themselves, right?
There are five main Scotch whisky regions: Highland (sometimes Highland and Island), Lowland, Speyside, Islay and Campbeltown. While traditionally a whisky region can give you some clues to what a whisky will be like stylistically, this isn't set in stone. Today many distilleries play outside the conventions of what you'd expect them to produce. For example, Islay whiskies have a reputation for being very smoky, but you can find expressions with no perceptible smoke at all. Similarly, some Speyside producers that typically produce fruit-forward whiskies now bottle peated expressions. While there are typical distilleries, always research individual expressions if you're looking for a particular flavour profile.
Who are the classic distillers to know?
There are at least 130 malt whisky distilleries in Scotland – and all have an incredible part to play in the industry. I would say some of the bigger names to look out for are Glenfiddich, Glenlivet, The Macallan, Springbank, Laphroaig, Lagavulin, Auchentoshan, Glenfarclas and Glenmorangie.
How about a couple of smaller names to keep an eye on?
There are lots of smaller – or indeed lesser known – distilleries to get excited about. Some to look out for include Kilchoman, Isle of Raasay, Craigellachie, Tobermory/Ledaig and Kingsbarns. A really exciting distillery that's just opened – but doesn't have any spirit that's come of age yet – is Ardnahoe on Islay. I can't wait to see how they cut a niche through what Islay whisky is so known for. Another interesting new island producer is Lagg on the Isle of Arran. When distilleries are this new, it's super exciting to guess what direction they'll go in. A couple of newer producers that now have spirit include Isle of Raasay (fruit-forward, lots of wine casks) and Kingsbarns, which focuses on a fruity-floral element.
If someone was buying their first three bottles of Scotch for the drinks cabinet, what should they be?
I'm going to broaden it out from single malt for this one. I would say you could go for one aged single grain, one fruity single malt, and one smoky single malt…
If you want to spend a bit more on a bottle, how should you approach that?
If you're buying for yourself, have a think about what flavour experience you want. I would then really recommend shopping by genuine reviews. Of course, nosing and flavour notes are personal, but if others love a certain aspect in a whisky, that's a good sign. If you're buying for someone else, have a think about what other food and drinks they like, and shop accordingly. If you're trying to choose between two, for me it comes down to distillery character. Research other expressions from that distillery, and use that to inform your purchasing decision, too.
What's your own favourite Scotch, Kristiane?
I'm not sure I can choose just one! But I do have two favourite styles. I adore aged single grain – the lighter, vanilla-led, peppercorn-forward, aromatic character is incredible. The category represents really great value considering some of the age statements are rather lofty. I also really love heavily peated single malts. I love the smoky, roadwork, iodine character – some of these whiskies are just so transportative and full of flavour.
And how do you drink your Scotch?
I will always try every expression neat first. I think it's super important to sip a spirit as the distiller intended, regardless of category, ABV, anything else. But then it's totally down to my mood. Sometimes I might add some water (especially if the whisky is of a higher ABV) as it really can transform a dram. Or, if I'm feeling decadent or adventurous, I might whip up an old fashioned, a Manhattan, or even a highball. You could also try a sour, a boulevardier, or even add a splash to good coffee.
Any tips for tasting a whisky properly?
If you're really analysing a whisky, you'll want to assess the appearance, nose, palate and finish – by finish, I mean the positive qualities that linger once you've swallowed the spirit. For each, you'll want to think about the actual characteristics, but also how characterful, how expressive, how intense or pronounced it is. If you're tasting a whisky more for fun, I would say start with tiny sips. Let the whisky coat your mouth. Then go back for a little more. If you're struggling to pick out notes on the nose or palate, try comparing to a second dram. If you feel nose-blind, try smelling your own (clean, unperfumed) skin – your forearm is ideal. That helps me reset.
What's the best glassware to enjoy a Scotch in?
For tasting or sipping whisky, I always recommend a tapered glass – a Glencairn or ISO glass is ideal. The funnelled tulip shape helps focus the aromas, and it really does make a difference. If you're up for ice, a tumbler will be your friend. You really don't need fancy ingredients for at-home cocktails (sub a shaker for a jam jar, use a sieve as a strainer, and an egg cup as a measure – because most cocktails are based around ratios). If you really want to feel fancy, Urban Bar has some great barware.  
Is the blended stuff worth bothering with at all?
Yes – blended whisky can be an absolute joy. Never overlook a blend! Bear in mind that, while single malts by law have to come from one distillery, they are still (usually!) multiple casks blended or vatted together. Blended Scotch is essentially the same, except you can use liquid from multiple distilleries, and there will be grain whisky in there too. But the skills are the same. It takes real artistry to craft the balance and consistency required of blends, and they can be incredibly expressive. Some brands to check out include Johnnie Walker, Compass Box and the new Glasshouse expression. Generally, though, just look for the same things you would in a single malt: flavour, character, expressiveness. Lots of retailers, including Master of Malt, have whiskies available in 30ml samples so you can try before you buy a full bottle.
If you're heading out in London, where would you go for whisky?
My favourite spots are Black Rock, Milroy's and Salt Bar. For whisky cocktails, Swift is an absolute MUST. 
Finally, as we look ahead to a winter in various levels of lockdown, why do you think whisky is the spirit we should be keeping closest at hand?
Whisky is delicious and versatile. From the sweet lightness of single grain to oily, robust peated expressions, and genuinely innovative bottlings from world whisky producers, I don't think there's another category that can deliver the same spectrum of flavour. Plus, whisky is ideal for sipping neat, over ice, or mixed in an array of serves. It really is a winner regardless of setting or season – or indeed level of lockdown.
KRISTIANE RECOMMENDS A GREAT STARTER BOTTLE FROM EACH SCOTCH REGION
DISCLAIMER: We endeavour to always credit the correct original source of every image we use. If you think a credit may be incorrect, please contact us at [email protected].