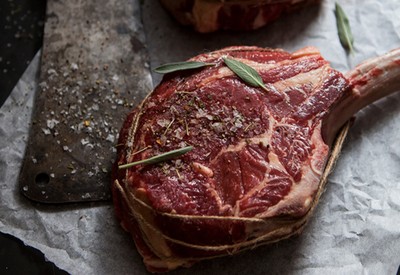 How To Cook The Perfect Steak

---
For many of us, steak, peppercorn sauce and a bold red represent the holy trinity of home cooking. Two of those things are easy to come by, but an exquisitely cooked cut of beef is not. To help you achieve greatness in the comfort of your own kitchen, we asked seven meat pros what to do…

Photography
NADINE GREEF/STOCKSY UNITED
Michael Carr
Fenchurch Restaurant
When buying meat, always go local. And always use a butcher. They are experts in their craft and will know everything about the meat they are selling – if the cows are looked after properly, fed well and grazing on the best farms in the UK. That all makes for a better taste.
I normally go for a good-quality 8-10oz steak. The thickness of the meat is important – if the steak is too thin, it will cook too quickly, and you won't have enough time to introduce flavour. That's why I go for ribeye: when the steak hits the pan, the fat immediately renders out and you can bring that back in slowly by basting it, along with other ingredients. I cook it in good-quality unsalted butter which is rich in yellow colours. Always add fresh herbs – I like thyme, rosemary and a bulb of garlic crushed underneath the knife. 
Cook a ribeye for 2-3 minutes each side in a really hot pan. Then rest the meat for the same amount of time you have cooked it – this is essential, and means the meat will taste its absolute best.
Visit SkyGarden.London
Jamie Shears
CUT at 45 Park Lane
At CUT, we have a secret steak salt seasoning which has seven ingredients in it. It lifts the flavour of the steak so much, but sadly I can't share the recipe. At home, I like to use garlic granules, onion granules and a good sprinkle of fleur de sel, seasoned evenly on both sides.
Check the temperature of your steak with a meat thermometer. You'll want 50ºC for rare, 55ºC for medium-rare and 60ºC for medium. Once cooked, let your meat rest for 4-5 minutes. 
Visit DorchesterCollection.com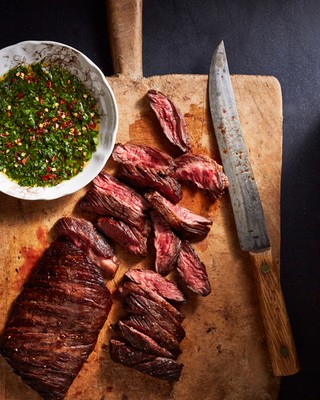 JENNIFER CHONG/ STOCKSY UNITED
"Don't be afraid of cheaper cuts. Bavette or flank are much more affordable per kilo and they have excellent flavour."
Don't be afraid of cheaper cuts. Bavette or flank are much more affordable per kilo and they have excellent flavour – you just need to do a little more to help it on its way and avoid any potential toughness.
Tenderise the beef by bashing it thinner with a tenderising mallet. If you don't have a mallet, use a rolling pin then stab over it with a fork. Alternatively, you can score it with a sharp knife in a criss-cross hatch. The thinner the better because it'll cook quicker: sear for just 45-60 seconds on either side in a very hot pan, then leave to rest for a minute before serving (this allows for more flavour from the marinade).
Get creative with your marinade. But choose one with some acidity, which helps increase tenderness. Depending on the flavour profile and cuisine you're serving, I like red wine, garlic and rosemary or tomato purée, smoked paprika and chilli. After marinating, make sure the steak is patted dry with kitchen paper so it doesn't stew in the pan with excess moisture.
Visit Sorted.Club
Sameer Taneja
Benares Mayfair
I always like to age mine a couple of days more in my fridge. My personal favourite is a porterhouse steak with Bordeaux or blue cheese sauce. When I'm not in the mood for porterhouse, I'll go for a comfort-food skirt steak sandwich – skirt, baby gem and olive oil in sourdough bread.
The most important part is the resting of the steak. If I cook a steak for 7 minutes, then I let it rest for around 10 minutes. On a winter's day, it's a good idea to cover it with aluminium foil to keep the temperature right while it's resting.
Visit BenaresRestaurant.com
Ioannis Grammenos
Heliot Steak House
Spending more will usually get you a better quality of steak. When you're shopping for your steaks, look out for a rich pink colour and even marbling, which all indicate how good a steak will be. Protein doesn't have taste, it's the fatty strands – known as marbling – that create the flavour and boost the succulence of the meat. Visit your local butcher where the quality of meat is likely to be superior.
Try the finger test by pressing the meat when it's on the grill. If it gives a little bit and springs right back, that means you have got medium rare. 
There is no such thing as an under-seasoned steak. I like to use extra virgin Greek olive oil, salt and pepper before cooking to allow the steak to absorb the seasoning fully. If you like a smoky favour, mix 100g of salt, 30g of black cracked pepper and 10g of smoked paprika, then rub this over your steak before you cook it.
I like a silky red wine sauce or a green chimichurri for a little heat. However, it's important to keep in mind the cut. Sauces are there to complement the steaks and elevate the flavour of your grilled meat. Steaks with high marble content go best with a sharp or light spicy sauce to cut through the fat; lean steaks are best with a buttery sauce. But try not to overcomplicate things – let the steak be the star of the show.
 
A great steak deserves great sides. My first choice is always a Greek salad with grilled feta cheese – although who can say no to a side of mac 'n' cheese? At Heliot Steak House, we serve ours with fresh truffle and a poached duck egg on top. 
Visit HippodromeCasino.com
The biggest decision you have to make is about the cut. The classic four options are rump, sirloin, ribeye and fillet, but don't be afraid to explore one of the lesser-known cuts such as onglet or flat iron. The main factor to contemplate is how much fat you enjoy. Fat equals flavour, but for some a leaner cut is more appealing. A handy guide is if you prefer chicken thighs to chicken breast, a ribeye is your best bet, but if you prefer the leaner chicken breast, try a sirloin or fillet.
Pull your meat out of the fridge at least one hour before cooking so it gets up to room temperature. Not only will this help build a great crust, it'll leave you with a juicier, more tender steak.
To get that steakhouse crust, cook your steak over a high heat (prepare for it to get smoky in your kitchen!) which means you want to be careful in how you season your steak. Although black pepper pairs well with beef, it can burn and leave you with a bitter taste. Try seasoning just with salt and then grind some black pepper over the steak while it's resting.
Sauces are there to elevate not overtake your steak. You'll want to match your cut with the right sauce: if you've gone for a fatty ribeye, try a fresh and zingy chimichurri or salsa verde. If you've gone for a lean cut like a fillet, serve it with something rich and indulgent like a creamy peppercorn sauce.
The tendency with an indulgent steak dinner is to throw decadent flavours into each element. Look for balance on your plate to cut through some of those rich flavours. The acidity of slow-roasted vine tomatoes, or simple lemon-dressed greens will help to bring out the best of the rich meaty flavours.
Visit Gousto.co.uk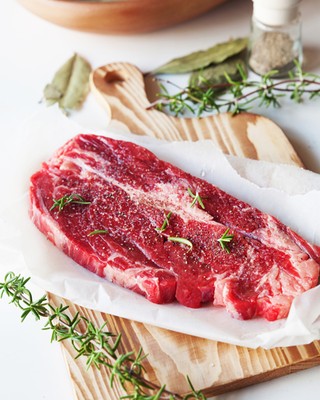 JIRA SAKI/ STOCKSY UNITED
"Sauces are there to elevate not overtake your steak. If you've gone for a fatty ribeye, try a fresh and zingy chimichurri or salsa verde."
Prepare all the tools you need for the job in advance. A heavy based skillet or frying pan is my preferred choice when cooking indoors. You'll also want a good pair of tongs or spatula, a wire rack for resting, and a spoon for basting.
For leaner steaks, apply the fat or oil directly onto the meat and not to the pan. If pan frying or cooking in a griddle pan, finish with a knob of butter and baste the steak. And always carve the steak against the grain.
Use tongs to turn the steak and avoid using a fork. A fork can pierce the meat, losing vital juice. Don't move your steak too often; wait until you get a good sear before turning, as each time you move the steak, the temperature will drop.
Visit Farmison.com
And Here's How To Know If Your Steak Is Cooked To Your Liking…
Blue Should still be a dark colour, almost purple, and just warm. It will feel spongy with no resistance.
Rare Dark red in colour with some juice flowing. It will feel soft and spongy with slight resistance.
Medium-rare A pinker colour with a little pink juice flowing. It will be a bit soft and spongy, and slightly springy.
Medium Pale pink in the middle with hardly any juice flowing. It will feel firm and springy.
Well-done Only a trace of pink colour but not dry. It will feel spongy, soft and slightly springy.
DISCLAIMER: We endeavour to always credit the correct original source of every image we use. If you think a credit may be incorrect, please contact us at [email protected].