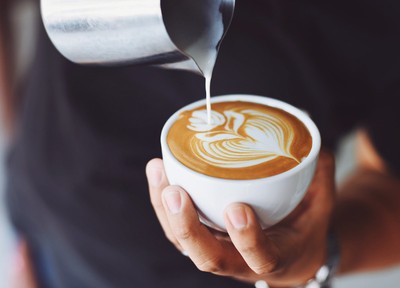 How To Get Barista-Style Coffee At Home

---
Not currently grabbing-and-going on your usual commute? Or just want to improve your Saturday-morning game? To help you master coffee making, SLMan asked James Bailey – head of quality at Workshop Coffee – for his tips. We've also rounded up the best coffee subscriptions, gadgets and delivery services out there now...

Photography
Workshop Coffee
JAMES'S ADVICE
What's best – ground or whole beans?
Whole bean, 100%. The moment coffee is ground is the moment all of the nuanced flavours and aromas we value so highly begin to disappear. Buying fresh beans and investing in a good-quality burr grinder will give you the ultimate control over the freshness of your coffee, the taste and the strength, as well as the ability to set the grind just right for your brewing method of choice. You should always buy beans with a roast date printed on them. Also check the harvest date (when the coffee was picked) and arrival date (when it arrived in the country it was roasted in), as this ensures the freshness and quality of the beans. 
Once you've got it, where should you store coffee?
Beans are generally best stored in the bag you buy them in – if it comes replete with a one-way degassing valve and a resealable strip. If not, I'd recommend decanting them into a vacuum-sealed canister. Keep them away from strong odours, heat and light, as well as out of the refrigerator – the fats and lipids in the beans are prone to soaking up odours and so will take on the aroma of whatever is in your fridge. Ground coffee should also be kept in a cool space, such as your kitchen cupboard, and in a sealed container.
And what are the brewing options?
There are three main types of coffee brewing…
 
Drip methods
These combine gravity and time to create smooth filter coffee by pouring hot water through a bed of ground coffee housed in some form of chamber or cone. These are typically paper filtered, although metal and cloth filters are also available. This is best done with medium-sized or coarse ground beans.
 
Immersion methods
Immersion methods like the French press or AeroPress allow coffee grounds to sit in water to steep and extract before being filtered and decanted. They require finer ground beans than drip methods. 
 
Pressurised methods
Finally, pressurised methods use a sealed chamber and pass water at high pressure through finer ground coffee, like in espresso or stovetop brewing. This process can create more foam and viscosity, and produces stronger, more concentrated coffee, but at the expense of being much more tricky to master and requiring a lot more maintenance and cleaning. 
 
Which one you opt for will just come down to personal preference and the equipment you feel comfortable buying, plus the level of commitment you're willing to make. Drip and immersion are the easiest methods to follow at home. 
 
Do you need a machine to achieve barista-style coffee?
Not necessarily. Barista-style coffee – as in an espresso either drunk straight or topped up with textured milk – involves a lot of money, training and time. To replicate this at home requires a level of dedication that goes beyond a hobby and begins to look a little more like a lifestyle. It can be done – and done well – but requires investment in the right machinery. Many speciality coffee-focussed cafés also promote filter coffee beverages, which can be much easier to recreate at home by investing in a burr grinder and simple pour-over cone. 
 
What gadgets can help you achieve a high-quality brew?
Alongside a burr grinder and water filter, scales are the best addition to your home set-up. Use them to accurately measure your dose of coffee beans before grinding and then to ensure you add the right amount of water. Getting this right ensures your cup of coffee is the right strength for your taste. 
 
And finally, how do you master frothy milk?
There are ways to mimic what a professional barista achieves, but remember that it won't ever be quite the same as the real thing! You can use a steam wand attached to an espresso machine, if you've invested in one, or purchase a standalone frother that will whip up milk while heating it to create a fluffy foam. There are lots on the market that are all very easy to use.

THE MUST-HAVE GADGETS
Hario V60 Dripper Set, £8
If you choose to drip brew, this set from Hario provides you with everything you need. With its easy-to-clean pour-over cone and 40 filter papers, you just add your freshly weighed out ground coffee, pour over some hot water and let the set work its magic. Simple and effective. 
 
Visit WorkshopCoffee.com
Wilfa Grinder, £90 
Widely regarded as one of the best electric grinders out there, Wilfa's device maximises the aroma and flavour of your coffee, and offers five different grinding sizes to accompany different types of brewing methods. It can hold up to 250g of beans, uses minimal heat to maintain flavour, and has a handy timer function. 
 
Visit WorkshopCoffee.com
AeroPress, £30 
The AeroPress has earnt itself a cult following for good reason. Providing aficionados with high-quality, smooth coffee both on the go and at home, the AeroPress filters and brews ground coffee in under two minutes. Lightweight, compact and eco-friendly thanks to its compostable filters. 
 
Visit Whittard.co.uk
Dualit Milk Frother, £49.99 
This device from Dualit will whisk your milk of choice into a light foam in 70 seconds and has the capacity to froth enough for two drinks at a time. With its sleek stainless-steel design, plus an automatic switch-off function and easy-to-clean detachable whisk, it's a reliable addition to any home-brewing set-up. 
 
Visit JohnLewis.com
THE NEED-TO-KNOW SUBSCRIPTIONS
Pact 
Pact lets you personalise your subscription plan. At registration, you can choose either whole beans or Nespresso-compatible pods; you'll get advice on the best grind size for your equipment; and there's a choice of blends. All Pact's coffee is bought direct from farmers across three continents, ensuring they are paid fairly. 
 
Visit PactCoffee.com
Workshop
Selling seasonally sourced coffee from farmers around the world, Workshop's subscription service delivers top-quality, ethically produced coffee to your door either weekly, fortnightly or monthly. Choose from filter, espresso or decaf pouches and let the Workshop team send you the best beans from an ever-evolving range. 
 
Visit WorkshopCoffee.com
Kiss The Hippo
Kiss The Hippo offers whole beans and ground coffee. Pick a blend or single-origin pouch, and your coffee will be dispatched every Wednesday, 24-48 hours after its roast date. All Kiss The Hippo coffee is roasted in house using one of the most environmentally friendly roasters, with the team aiming to make the farm-to-cup journey as direct and sustainable as possible. 
 
Visit KissTheHippo.com
Perky Blenders
Perky Blenders is well known for its smooth, hand-roasted speciality blends. Join its Coffee Club plan to ensure you get your fix every month. There are standard three, six or 12-month subscriptions, or go for the new six-week 'I'm At Home' option. There's also a Flex Club, which lets you pay as you go and control when you'd like to receive pouches.
 
Visit PerkyBlenders.com
Dog And Hat 
This subscription box provides coffee lovers with two, three or four bags from UK and international roasters. Choose from assorted, filter, ground, decaf or espresso boxes, and the Dog And Hat team will select different blends to send you each month. All of its packaging is 100% recyclable. 
 
Visit DogAndHat.co.uk
True Start Coffee 
Want instant coffee that's a cut above? True Start aims to bring the coffee-shop experience to your home through its barista-grade coffee powder. Made from Arabica beans by smallholder farms in rural Colombia, this is a smooth, rich blend. Sign up to a weekly or monthly delivery drop. 
 
Visit TrueStartCoffee.com
THE DOOR-TO-DOOR DELIVERERS
Ground Coffee Society
Ground Coffee Society lets you preorder hot and cold drinks, as well as bagels, via its website or app. Open 7am-3pm Monday to Saturday, this is the easy way to call in a weekday pick-me-up. 
Order here

Black Sheep Coffee
Black Sheep's branches across London, Oxford and Manchester are offering customers the chance to order cups of frothy coffee, along with iced drinks and pastries, online and get them sent to their door. 
Order here

Social Brew Café
Along with its healthy brunch dishes, cakes and deli platters, Kiwi-owned Social Brew has added high-quality coffee, fresh leaf tea and smoothies to its delivery menu. Based in Putney, it delivers to customers in south London via Deliveroo. 
Order here
DISCLAIMER: We endeavour to always credit the correct original source of every image we use. If you think a credit may be incorrect, please contact us at [email protected].