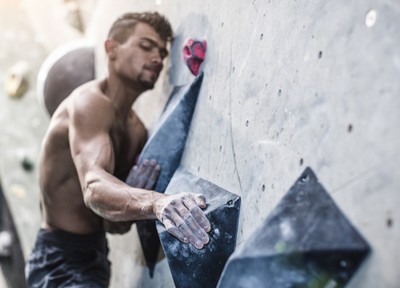 How To Get Into Climbing

---
Ever watch the climbing documentary Free Solo? We suggest you do and regardless, combining fitness, the great outdoors and a shot of adrenaline, climbing is a sport that's surging in popularity. Tempted to give it a go? Here's what you need to know and where to get started…

Photography
ISTOCK.COM/SANJER
Start Indoors
Even if you're itching to get outdoors, the experts recommend starting out in a climbing gym to hone your technique before you scale things up. The term 'rock climbing' encompasses a number of disciplines, from bouldering to mountain climbing and mountaineering. Think about what you want to achieve: do you want to summit peaks, boulder at your local wall, or perhaps aspire to be the next Alex Honnold?
 
For Daniel Puddick, founder of Sundried and keen rock climber, a climbing wall provided the perfect opportunity to master the basics. "If you're a total beginner, head to an indoor wall and consider booking a session with an instructor or experienced climber. Most indoor walls tend to have different climbs graded on a scale, making it a great place to monitor your progress. All of these places use artificial hand and footholds placed to create routes of varying difficulty. Route setters can move holds easily, creating an endless number of new climbs on the same wall. And remember there's no pressure to ever take things outdoors – just because you run on a treadmill, doesn't mean you need to do a marathon. Plenty of people never venture outdoors, and an indoor wall will provide constant challenges."
 

Know The Lingo
"There's a lot of lingo used in the climbing world," says Norwegian bouldering champion Thilo Schröter. "Knowing a few of these will definitely help you, whether you're down at your local wall or out on the mountains. Listen out for 'beta', which essentially means a potential solution to a route; 'crux', the hardest part of a route; 'crimp', a synonym for the grip type used on edges where your fingers have an aggressive angle; a 'full crimp', when you crimp a hold and place your thumb on top of your index finger; and a 'pinch', i.e. a hold that must be pinched with the thumb."
 

Get The Right Gear
Like any sport, kit matters. And when it comes to something as technical as climbing, it's even more important. Eleanor Anstice from Ellis Brigham Mountain Sports says that whether you're climbing indoors or out, on a rope or bouldering, there are several items you'll want throughout. "Climbing shoes, a chalk bag and a brush are must-haves," she says. "Investing in a pair of shoes is the first step. You want to find a climbing shoe that gives a close but comfortable fit. Unlike most footwear, your feet should be touching the front – a slight curve in the toe is okay but avoid having them bunched too tight. Try to not go too big, either, as a baggy shoe will make it much trickier to stand on smaller footholds."
 
When it comes to brands, Thilo is a fan of La Sportiva. "Its Solution shoe is an all-round choice. If you prefer a softer shoe, the Theory is an excellent choice – it also offers the best toe-hook in the game. If you're looking to climb outside, a slightly stiffer shoe can come in handy, and for that the La Sportiva Miura VS is my personal go-to for small edges."
"A lot of beginners tend to climb with their arms and forget about their legs, when in fact your legs are actually much stronger, and more important on less steep terrain."
Keep An Eye Out For Innovation
"One change we are seeing across the outdoor industry is a move towards more sustainable products and practices," says Eleanor. "Keep an eye out for Boreal's Beta Eco climbing shoe, which uses recycled materials and is vegan. On the hardware side, Edelrid's HMS Bulletproof Eco is one to try – it's the brand's first non-anodised carabiner. It features a steel insert to prevent premature wear and, by reducing the damage caused by rope friction and bolt hangers, it extends the carabiner's lifespan." Daniel is also a fan of Secret Stuff's Chalk Cream, a no-fuss liquid chalk.
 

Hone Your Technique
Climbing may appear basic, but there's more to it than meets the eye. "A lot of beginners tend to climb with their arms and forget about their legs, when in fact your legs are actually much stronger, and more important on less steep terrain," Thilo says. When hanging from holds, try to keep your arms straight, rather than flexed, which will give your muscles a chance to rest rather than being constantly engaged. Eleanor adds that it's also important to think about your feet. "Often overlooked when starting out, learning how to weight your feet is key. Once you've got through a couple of sessions, try incorporating some footwork drills into your warm-up and remember to always stretch after a session. Improving flexibility is a reliable way to enhance your climbing abilities," she advises.
 
Just don't make the classic beginners' mistake of not looking after your skin, she says. "Whether indoor plastic or outdoor rock, both take a toll on the state of your hands. Beginners will find that it isn't strength or tiredness that finishes a session, everything can just get too painful to hold. A common skin injury is a flapper, which happens when a section of the skin gets ripped open. It exposes the sensitive layer of skin underneath and leaves a loose flap semi-attached. Finger tape is your friend – use it to keep a plaster on or to protect other blistered fingers from the same fate."
Get Outside
Once you've built strength and technique, and learned the skills to climb safely, consider taking things outside. "Climbing outdoors is all about safety," Eleanor stresses. "It's about having the knowledge and equipment needed to keep you safe. Climbing with friends who have more experience – and the gear to go with it – is another great way to ease yourself into climbing outdoors." Eleanor adds that climbing outdoors brings with it the risk of the elements. "It's not just rain you want to avoid. While spending a day in the sun may sound appealing, struggling to hold onto sweaty rock is no fun. The UK has various types of rock, each with its own set of characteristics. Take gritstone, for example, a Peak District classic: a coarse-grained sandstone variety, it provides plenty of friction, which is maybe why so many climbers head for the grit in the depths of winter."
 

Invest In Outdoor Kit Too
If you're bouldering outdoors, your kit requirements are minimal, says Eleanor. "Assuming you have a decent pair of shoes, the next thing to invest in would be a bouldering mat. Black Diamond and Organic Climbing have some great options. If you are roped climbing, the priority should be your safety trio: a harness, helmet and belay device. When it comes to brands, look out for Black Diamond, Petzl and DMM." Thilo says it also pays to think about your apparel. "Look to clothes that don't restrict movement and keep you warm. Arc'teryx's Incendo Pants are my go-to – they're light and super comfortable. The Aptin Zip Hoody is my favourite mid-layer when it's too cold to climb in a t-shirt."
Eleanor's best places to climb across the UK…
IN LONDON
With 20 walls and counting, London has a wealth of excellent climbing venues to choose from. Including both roped and bouldering areas, make sure you check out the Castle Climbing Centre. Set in a Victorian water pumping station, it's been a staple of the London climbing scene for over 25 years. In contrast, the Arch Climbing Wall Building One+ resides in a former Damien Hirst gallery. Delivering 15,000 sq ft of bouldering and training areas, this stylish centre will test your mind and body to the max. If you are looking for something a little different, head to Yonder. It's got a bouldering wall, workspace and yoga studio all under one roof. A bit of work, a bit of play, it even has a café and bar on the side.
 

CLOSE TO LONDON
On the border of Kent and East Sussex, you'll find Southern Sandstone. Formed over millions of years, the sandstone outcrops offer some unique climbing opportunities. Due to the delicate nature of the rock, it can only be top-roped or soloed (climbing without ropes). There is a strict code of practice in place, so make sure to read up on the rules.
 

FURTHER AFIELD
Head north to the Peak District to experience some of the best climbs in the country. There are many areas to explore – this is easiest to do with a car. Offering roped climbing and bouldering alike, Stanage Edge is the place to start. A gritstone escarpment, stunning views and quality climbs make it a top choice.
Shop the kit you need to get you started...
For more information, check out The London Climbing Guide. For outside the capital, find a guide or course via the BMC. Follow Thilo on Instagram and head to Ellis-Brigham.com and Sundried.com 
 
DISCLAIMER: Features published by SLMan are not intended to treat, diagnose, cure or prevent any disease. Always seek the advice of your GP or another qualified healthcare provider for any questions you have regarding a medical condition, and before undertaking any diet, exercise or other health-related programme.
 
 
DISCLAIMER: We endeavour to always credit the correct original source of every image we use. If you think a credit may be incorrect, please contact us at [email protected].