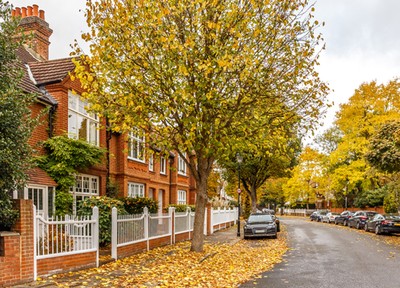 How I Made It In The Property Industry

---
Before Brexit and coronavirus, there was the global financial crisis of 2008. Joel Baseley of London estate agency Rampton Baseley launched his business in the teeth of that downturn. He tells SLMan how he got over the bad timing and built a business that stands up against the big hitters and is one to be proud of.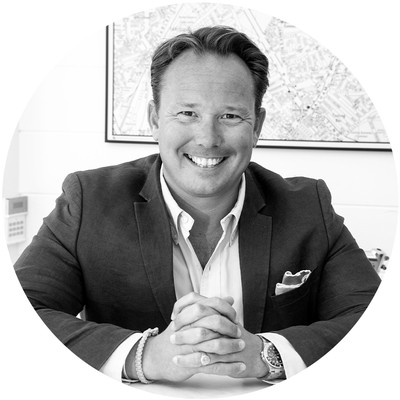 So you launched Rampton Baseley over a decade ago, Joel. What were you doing before then to get to that point?
I have been an agent man and boy, as the saying goes – more or less since leaving school, with a brief spell of backpacking in between. I came to London and started my career just round the corner from where I work now. That was at Winkworth on Lavender Hill in south-west London, then I moved to Douglas & Gordon down the road. Throughout my first ten years of estate agency I renovated and moved home regularly, gradually climbing up the property ladder, which ultimately gave me my share of the funds we needed to set up the business. 
What was the inspiration for starting the business?
We set up Rampton Baseley at a time when there was becoming more parity in our industry. The internet allowed independent businesses like ours to play on a level playing field with the international giants.
 
Did you always want to start your own business?
Absolutely. My dad was self-employed for 40 years and, whether we like it or not, most of us emulate our fathers. Throughout school I juggled five jobs at a time and even in the early years of estate agency I was working an extra job in the evenings and weekends, so I guess there was always a bit of entrepreneurial spirit in there.
 
Rampton Baseley launched at a tricky time… How hard did it get?  
It got really bad. I can remember bursting into tears in a coffee shop, telling my partner Patrick Rampton that it wasn't losing my life savings that bothered me, it was the shame of failing so early. Patrick put his arm round me and told me stop being such a moron and somehow convinced me – rightly – that we would get through it. He still does that from time to time!
 
What kept you going?
It felt like there was no other option than to keep going. We had invested everything from a financial point of view and an emotional point of view, but I guess the strength of our relationship carried us through. I have never been able to fully understand why but, when the chips were down for Patrick, I seemed to be able to carry the load and vice versa.
 
When did you realise you were winning?
On a personal level, I have always had a love of classic cars and for my 30th birthday I bought myself a 1968 Porsche, which was a lifelong dream fulfilled. It wasn't very expensive and it ran terribly, but I will never forget driving it home for the first time. On a business level, within 18 months we were picking up the lion's share of the best instructions for our area, so it was pretty obvious to us and our clients that we had quickly made it to the top of the heap.
 
What does the business look like today?
I like to think it looks like a high-performing sports team. We have highly motivated expert players, fantastic camaraderie, great management and our property register is the trophy cabinet.
 
I like to think I'm a good motivator, a people person and I've always had a pretty decent work ethic. Without wanting to sound too Trump like, I enjoy doing 'the deal'.
What do you think makes Rampton Baseley stand out from the competition?
I'm often asked this and it's really difficult to answer succinctly. The fact we are owner operated must come fairly high up on the list; the directors of the company are fully involved in the day to day running of the business. We are at the coalface and that means we react quickly to changing market conditions and we make sure minimal balls are dropped.
 
How do you compete against the likes of Savills, Knight Frank and the big boys?  
Firstly, we tend not to think about 'competing' with Savills and Knight Frank. Of course, that's what we are doing on a daily basis, but at the same time we are often working alongside them as joint agents. It's important to get on with our competitors in order to do this job well and that's a part of my job I really enjoy. When we are competing, it's often just our track record that wins the business – it speaks for itself.
 
What makes you good at your job?
There are a whole host of skills that are useful in estate agency. Sadly I don't possess all of them. However, the qualities I lack are often made up for within Patrick's armoury. I like to think I'm a good motivator, a people person and I've always had a pretty decent work ethic. Without wanting to sound too Trump like, I enjoy doing 'the deal'. Patrick is unbelievably diligent, thorough and determined. All of these qualities make for a good estate agent and a good businessman. 
 
Do you enjoy it?
I absolutely love my job. I love our business. I truly believe that at the heart of any successful business, there is a leader who would come to work for free if necessary.
 
What other factors have been crucial to your success?
I have a very supportive family. My parents have always encouraged me and they have always believed in my limited abilities! My wife is a total legend who is also extremely supportive. I am very lucky in both regards. 
 
What do you do to try and maintain a work/life balance?
Like most people, I really enjoy a holiday. I have a saying, 'I am not always at work, but I am always working'. This allows us to get away more often than I would ordinarily be able to. There are exceptions to the working while on holiday thing: the Christmas break is always much more relaxing because the business is fundamentally closed down and that is when I can really properly switch off. Other than that, I enjoy coaching rugby with my little boy on the weekends and going for coffee with my 10-year-old daughter – not that she likes coffee but she does like a brownie and chat. We spend lots of our spare time with our friends. Friends are extremely important to me.
 
How has lockdown affected the business?
The first lockdown was really hard. Not being able to do viewings is a pretty big problem if you are in the estate agency business. However, we didn't furlough as many of our employees as our competitors, which turned out to be a really good strategy. We had plenty of front-end sales people managing our ongoing sales and nursing them through to completion. We also had valuers lining up instructions in order to have a healthy register, so as soon as we came out of the gates we were in really good shape and hit the ground running. I can't claim credit for this – from very early on in the crisis, Patrick firmly believed there was going to be a decent market after lockdown. I'm just very pleased he was right.
 
What's the long-term plan for Rampton Baseley?
The long-term plan has changed a lot already. Since we started, we've bought out three estate agency businesses and we intend to continue with that expansion and the acquisition of lettings books in particular. At the moment, our view is that beyond four or five offices we could lose the quality of our offering, but that still leaves us room for one or two more operations to be added to our little network.
 
What motivates you today?
We always wanted to build a business that we can be proud of and that's not about fancy websites and beautiful offices, although we do have both! It's about building the best team. As we grow, it's extremely satisfying to get the right people in the right positions
 
Finally, you were recently awarded an MBE. Tell us more…
In the same year we launched Rampton Baseley, I organised the first Roast Beef Club event. The Roast Beef Club was originally a gathering of 30 of my friends to celebrate St George's Day. We are not very good at recognising our patron saint's day in England, so I thought it would be fun. Year on year, it grew and we started raising money for military charities. The main event now hosts roughly 1,000 people in London and there are spin-off events in Hong Kong, Singapore and Jersey. So the MBE is for charity work. Like with most people who receive this kind of honour, the work of many other volunteers makes it possible, so I like to think of it as a recognition for the Roast Beef team. 
 
JOEL'S 3 TIPS FOR A SUCCESSFUL CAREER & BUSINESS…
Concentrate on the quality of the offering, rather than the profit. 
Invest in the very best people. 
If you don't enjoy going to work, something is wrong. Confront the problem.
 
To find out more about Joel's business, visit RamptonBaseley.com
DISCLAIMER: We endeavour to always credit the correct original source of every image we use. If you think a credit may be incorrect, please contact us at [email protected].