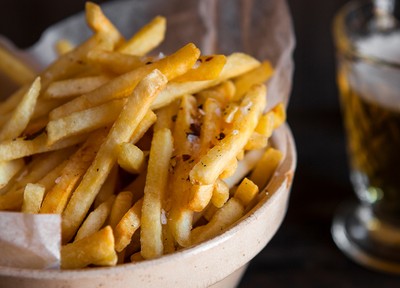 How To Make The Best Chips At Home

---
Chips are one of life's small pleasures. But there's a big difference between cooked from frozen and made fresh. Whether you prefer them fried or baked, we asked ten chefs to share their top tips for making great homemade chips.

Photography
NADINE GREEFF/STOCKSY UNITED
Peter Gray, Head Chef at Heston Blumenthal's The Hind's Head
"First, cut and shape your potatoes – my favourite varieties are Lovers, Maris Piper or Agria depending on the time of year. To make triple-cooked chips, wash the prepped potato chips in cold water to remove as much starch as possible – wash them until the water runs clear. Place the washed chips into a large pan of salted cold water and bring to the boil, skimming off any scum that rises to the surface. As the water starts to boil, turn the heat down and set a timer for 13 minutes. Gently stir the chips from time to time and cook until they begin to break up and have a rough surface. Once the chips are cooked, carefully remove them from the pan using a slotted spoon and place on a wire rack, making sure they are in a single layer. Place in the fridge to cool. Once the chips have fully cooled, place them in the fryer at 130°C, being careful not overload the fryer baskets. Fry the chips so that they form a crispy outer layer, and turn very lightly golden in colour (this will take from 13-18 minutes), then remove the baskets from the fryer. Drain off any excess oil and once again lay them out onto the wire rack and place back in the fridge. When you're ready to eat, set the fryer to 190°C. Place a portion of chips into the basket and drop them into the fryer. Cook the chips until they are very golden in colour (this will take 3-4 minutes). Remove the basket from the fryer and drain the chips, shaking off any excess oil. Season with fine salt and shake the chips to evenly season them. Sprinkle Maldon sea salt over the top and serve." 
Visit LearningWithExperts.com
 
Jacob Kenedy, Chef/Patron at Bocca di Lupo
"Buy Koffmann's potatoes. Pierre is the don, both of cooking and of potatoes. His potatoes are now behind the best chips, roasties, gratins and mashes in our best restaurants, and can be in your kitchen, too. Season the potatoes with salt after cutting them and a good 15 minutes before cooking, letting the salt permeate the chip so it's seasoned from the inside out. For anything thicker than shoestring, cook the potatoes before you fry them crispy – do this by frying them first at a lower temperature. And, as with all frying, don't be overly afraid of the oil (just judiciously cautious). Make sure the pan is warm and dry before pouring the oil in, and don't drop food in from a height (that's when it will splash). Instead, use a slotted spoon to gently lower the chips in. And don't over-fill the pan – it will cool the oil down too much, and the chips will stick. Instead get the oil properly hot (180°C, not smoking, but good and hot), and fry in batches."
Visit BoccaDiLupo.com
 
Simon Wood, Masterchef Winner and Chef/Patron at Wood
"Peel and then portion 500g of Rooster or similar, red-skinned potatoes into nicely sized chips. In a large pan of boiling salted water, cook the chips until they're just starting to soften. Remove them from the water and immediately chill in ice-cold water to stop the cooking process, lay them out on a tea towel to dry and then place in the fridge for 45 minutes. Fill a large saucepan with 2 litres of vegetable oil and place on a low heat (you don't want the oil to go over 80°C) then add the now-dry chips to the oil and cook for 12 minutes. Remove them from the oil and place them on a tray lined with a tea towel, place them in the fridge for an hour, remove from the fridge and allow them to come to room temperature. Heat your oil to 180°C and start to fry the chips until golden on the outside and fluffy on the inside. Serve with salt and malt vinegar."
Visit WoodRestaurantGroup.com
 
Nicholas Balfe, Chef/Director at Larry's
"If you get a metal baking tray really hot (220°C), with plenty of olive oil before adding potato wedges (leave the skin on and cook straight from raw), salt, garlic, thyme and/or rosemary, the side that connects with the tray really crisps up, taking on a deliciously crunchy texture and keeping the inside quite fluffy. Right now, Charlotte potatoes are the variety to buy – their flesh is quite firm, not too floury, but the starch at this time of year gives them a nice sweetness, which works particularly well in the potato latkes we're making at Larry's as part of our takeaway menu."
Visit LarrysPeckham.co.uk
 
Ligia Lugo, Co-Founder of The Daring Kitchen & Vie De La Vegan 
"One of the best choices for making chips are Russet potatoes. They work great for baked chips because the skins are thick and dry, and they crisp up deliciously. Here are some tips for making them crispy. Soak the potatoes in cold water after cutting for at least half an hour. This will remove a lot of the starch and result in crispier potatoes. It also prevents the sugars from browning before the potatoes are cooked. Dry them thoroughly after soaking them so they don't steam and get soft in the oven. Oil and season them well. If you want them really crispy you need to be generous with the oil. Bake them at 190°C for a little bit to cook and then turn up the heat to crisp them up. If you need to reheat your chips in the microwave pop them in for 20-40 seconds. You can also reheat them in the oven, which will give you less soggy results. Preheat your oven to 200°C, spread the chips in a single layer on a foil-lined sheet, and bake for 5-10 minutes." 
Visit VieDeLaVegan.com
VIKTOR SOLOMIN/STOCKSY UNITED
Marwa Alkhalaf, Chef/Patron at Nutshell London 
"Every country in the world loves a good chip, and it's no different in the Middle East. What sets some chips apart from the meal-y processed chips you might buy in bulk is thick-cut hearty chips, seasoned with tangy sumac salt for a citrussy, fragrant cut through the richness of freshly fried chips. Simply mix sumac spice through salt and sprinkle liberally on your chips!"
Visit NutshellLondon.co.uk
 
Jamie Robinson, Executive Chef at Tesco 
"One of the many things that has stayed with me all these years is making quality chips, even at home. It takes some time but trust me, it's worth every bit of effort. Starting with the potato, there is only one winner – the Maris Piper – which is perfect for extra-fluffy, crispy chips. Start by peeling and cutting into rough chip shapes – I don't make mine too uniform as the rough edges will make the best crispy chips later on. Add the chips to a lightly simmering pan of heavily salted water but be careful not to overfill it as the chips need room to move. Cook until they start to break down a little and then carefully remove the chips with a slotted spoon onto a tray to air dry. Leave plenty of space between the chips and don't stack them on top of each other. Once they cool you should see some pale whiteish edges – this is the starch from the potato setting on the outside and the pivotal step for super crispy chips. Next, fry in small batches on 130°C for around 7-10 minutes per batch. At this stage you can chill or even freeze the chips for later use (they hold well chilled for 2-3 days if needed). To finish, turn the fryer up to 190°C and cook the chips until golden brown. Drain, add a good sprinkle of sea salt and serve."
Visit Tesco.com
 
Cesar Fernandez, Home Economist at Miele GB
"Choose the right potato – in this case, go for Maris Piper. Try to cut them into even-sized pieces and never peel them, as there are so many nutrients on the skin already. Place them in a saucepan of cold, salted water, bring to a boil and cook for 2 minutes, before draining them and allowing them to dry afterwards. Get your oven hot before you bake them, ideally you want to use a fan assisted function, as this will make the chips crispier. Try to use a metal baking tray to cook them as it is a much better heat conductor than glass or silicone. Coat the potatoes with vegetable oil and season them well before spreading them on a thin layer. You don't want to pile them, as that will prevent them from browning and crisping. Set your oven to 220°C and cook the chips for 25-30 minutes, turning them halfway through so they are evenly cooked. The best kitchen utensil to use will be a pair of kitchen tongs. Add any seasoning just before serving."
Visit Miele.co.uk
 
Owen Morgan, Founder of Bar 44 & Assador 44
"For a take on chips reminiscent of being on holiday, par boil wedged potatoes, strain and evaporate the moisture before chuffing like you would for roast potatoes by shaking them around in a pan or colander. Then lightly dress with olive oil and roast them until golden and crispy. Drizzle with more olive oil and a large pinch of sea salt and kick back with a beer like Estrella Galicia to feel like you're on the Spanish coast."
Visit Bar44.co.uk
 
Pam Digva, Co-Founder of Sauce Shop
"Chips don't have to be a side dish, they can be the main meal. We love to make loaded fries at home. A favourite is Buffalo-loaded fries, using our Buffalo hot sauce with extra jalapeños, loads of melted mozzarella and cheddar, soured cream, chopped spring onions for some added freshness and maybe a squeeze of lime, too. If you want to add some meat, shredded grilled chicken works well too. Failing that, some extra fat chips with our Great Taste Award ketchup is always a winner."
Visit SauceShop.co
DISCLAIMER: We endeavour to always credit the correct original source of every image we use. If you think a credit may be incorrect, please contact us at [email protected].