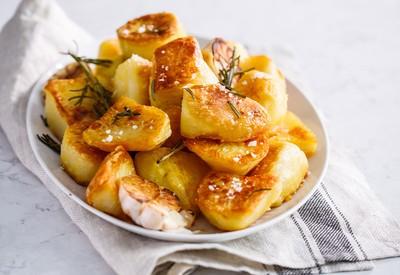 How To Make The Best Roast Potatoes

---
Whether you're a novice in the kitchen or a seasoned cook, a bit of expert advice never goes amiss. That's why we asked ten head chefs how to get everyone's favourite accompaniment just right.
Photography MAPLE FROM CANADA
"The secret is thinking like a pro and getting as much done the day before as possible to take away the stress of every element coming together at the time the family gets around the table and lunch is served. The day before, cut five Adrianne or Carolus potatoes roughly into 3-inch pieces with the skin on. Add these to a deep saucepan with cold water, thyme, bay leaves, garlic, peppercorns, salt and pepper to taste. Slowly simmer for around an hour until almost cooked (check by sticking in a knife). Drain gently with a colander over the sink. Place on a tray to dry out in the fridge overnight. The next day, preheat your oven to 220°C. An hour before serving, add the potatoes and beef fat to a tray and cook for 30 minutes. Turn every 8-10 minutes until you have a crisp and crunchy skin around the fluffy potato inner. Turn the oven down to 160°C and cook for a further 25 minutes. Baste the potatoes with the beef fat. Season with salt and pepper, and let them rest in the excess beef fat until you're ready to serve." – Iain Smith, No. Fifty Cheyne 
02
Choose Your Potatoes Wisely
"For the best roast potatoes, use a floury potato like Maris Piper. Peel and cut into large chunks, and boil in salty water until the edges start to look fluffy, then drain and let them steam for a few minutes. Now, using either goose or duck fat, cook the potatoes on a high temperature (around 190°C), turning them every 20 minutes or so. For extra flavour, add half a bulb of garlic and a few sprigs of thyme halfway through, then cook until golden brown and crispy." – Daniel Mertl, Ganymede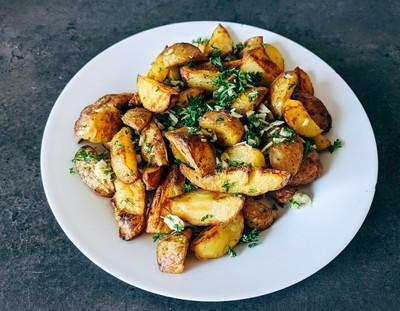 MARCUS WINKLER/ UNSPLASH
"You need a dirty potato like a Maris Piper or a King Edward. Dirty potatoes have a lower sugar content, so they crisp up better without burning. I peel them and cut them into what I call 'roast potato shape' – this is basically as many edges as possible. It's the trick to maximising your crispy edges! I then cover them with cold water and a good handful of salt. Preheat an oven tray with beef fat at 200°C, plunge the potatoes in and roast them at a high heat until golden and crispy." – Tom Westerland, Crockers
"Parboil the potatoes in salted water until you are slightly fearful they are ruined. Drain, then spread out on a tray to dry out and cool. Then roast in plenty of duck fat until golden and crisp. Avoid the temptation to cook too many – it will only hold things up during the hectic final hour before eating." – Pascal Wiedemann, Pompette 
05
Temperature Is Everything
"Blanch the potatoes, then cool completely and chill or even freeze. Get some duck fat really hot in a big oven tray and add the chilled potatoes along with garlic, rosemary and thyme. Roast on a high temperature for about 40 minutes, remove from the oven, pour off any excess oil, and season with salt. Leave them to cool again. Before you're ready to serve, pop them back in the oven on a slightly lower temperature and cook until piping hot, golden and crispy. The chilling and recooking processes keep them perfectly moist on the inside and crunchy on the outside. It also means you can do all bar the last step well ahead of time, so you can stay organised on the big day." – Francesco Mazzei, Fiume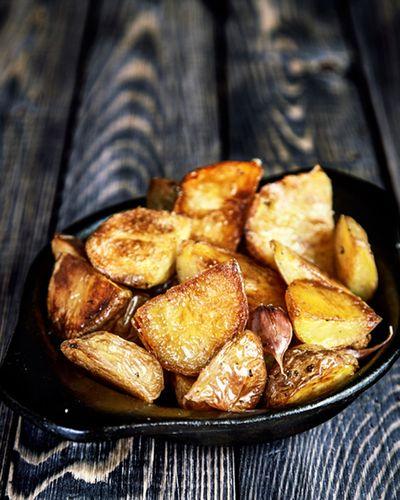 PROTONIC LTD/ STOCKSY UNITED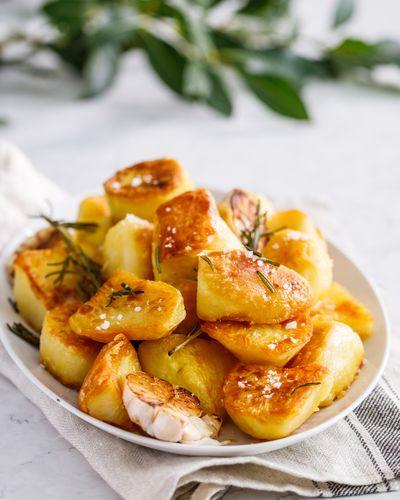 MAPLE FROM CANADA
"After parboiling your potatoes, add them to a pan of hot fat – but don't bother with goose fat! Use vegetable oil or – even better – you can trim the fat from your beef or other meat you're cooking, or even ask your butcher if they can give you any spare fat to add to your pan. I like to add plenty of garlic and thyme, plus Maldon sea salt." – Liam Dillon, The Boat Inn
"Peel a selection of medium chipping potatoes, cut them into quarters and put them in cold water. Refrigerate them overnight to get rid of excess starch from the potato. The next day, put the potato quarters in salted cold water and bring to the boil once. Reduce to a slight simmer and cook for approximately 10 minutes (they need to be slightly overcooked). Drain them and carefully shake them around in a bowl so the outside of the potato breaks. Let the potatoes steam, then put them in the fridge to cool down completely. Add a generous amount of olive oil and thyme before roasting them at 190°C for about 30 minutes until golden brown. If you have a deep fat fryer, set it to 125°C and deep-fry for 30-40 minutes until slightly golden brown. Take them out, then set the fryer at 180°C and fry again for about 2-3 minutes until crispy and golden brown. The benefit is a definitively crunchy roast potato that's golden brown all around and perfectly even." – Sebastian Rast, London Stock
"For the best roast potatoes and I mean truly the best – not just veggie best – use Marmite. With just a salty slick of Marmite rubbed over your boiled potatoes before roasting, you will end up with craggy, crunchy savoury roasties – and nobody will believe that not an ounce of goose fat has been involved. Use a good amount of vegetable oil pre-heated until extremely hot, give the potatoes a good grind of rock salt before putting them in the oven, and remember to turn them every now and again. The result will be crunchy, umami-laden roasties." – Gemma Simmonite, Gastrono-me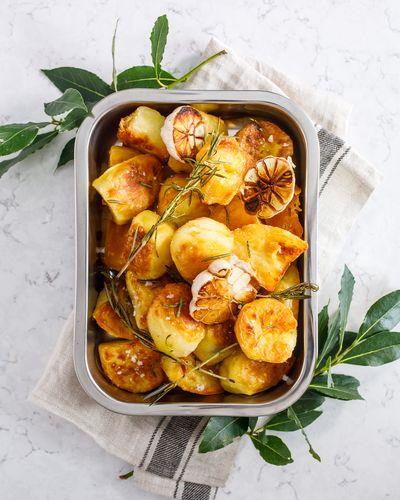 MAPLE FROM CANADA
"There's a science to the perfect spud, but it doesn't need to take up your time on Christmas day. Achieve the perfect crisp on the outside and light fluffy middle by cooking once ahead of time, then roasting in hot oil from frozen on the day. You'll level up the feast with the crunchiest roasties in the game, and none of the hassle of peeling and boiling on the day. Leave the potatoes to fully cool before carefully adding them to freezer bags. To cook, preheat the oven to 220°C. Once hot, add the frozen pre-parboiled potatoes to large baking trays and bake in the oven for 1 hour or until they are golden and crispy. Add your favourite herbs halfway through cooking to flavour the oil without burning. My favourite is rosemary, garlic and a generous sprinkling of grated parmesan." – Jordan Moore, Gousto
"Always parboil your potatoes in salted water. This helps season them but will mean you don't need to cook them as long in oven. Always place your boiled potatoes into hot oil. You can always break a little piece of potato off to test the oil. And never overload your tray. A single layer of potatoes is best. You want to start your potatoes on a high heat (200°C) but slowly drop the temperature as time goes on (every 10 minutes) down to 180°C. Once golden they can be finished with a couple sprigs of rosemary or thyme or a couple of crushed garlic cloves for the last few minutes in the oven." – Graham Brown, Lorne
DISCLAIMER: We endeavour to always credit the correct original source of every image we use. If you think a credit may be incorrect, please contact us at [email protected].