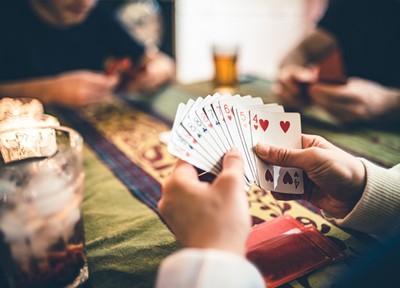 How To Master Poker

---
From James Bond to Tony Soprano, the thrill of poker to the male mind is well known. While online sites have boomed in popularity over the last few years, serious players will tell you that sitting at a table with your opponents is the best way to learn. Poker pro Giovanni Borrelli gave us a 101 lesson in the basics of the game, the table etiquette to know, and his advice for beginners…

Photography
ISTOCK.COM/FOTOGRAFIA INC.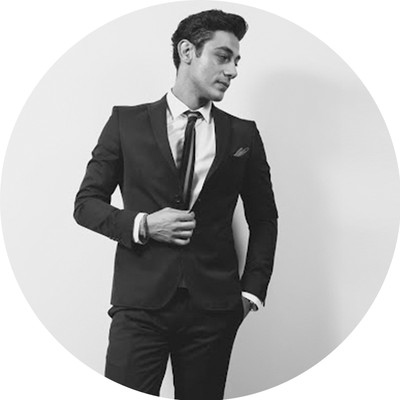 Let's start with how you got into playing poker…
Coming from a big Italian family, poker was a big part of my upbringing. Whether that was serving drinks at my dad's poker nights when I was a teenager or playing rounds with my uncles at the weekends, there was always a poker night in the diary. When I moved from my small Sicilian village to New York in the early 90s, I got a job at a casino in downtown NYC and started playing regularly.
When did you go professional?
I started playing competitively around 15 years ago, then decided to make a career out of it. A combination of luck, being in the right place at the right time, and good old determination meant that I was able to compete against some great players early on in my career, which taught me invaluable skills I still use today. My family were fairly surprised when I decided to go pro (my mother wanted me to return to Sicily to work in the family restaurant) but were supportive when they realised how much money I was making.
Has poker become more popular in the last few years?
Definitely. Online poker has boomed over the last few years, and in-person games have been picking up too. A lot of people discovered poker during lockdown, and here in NYC I've noticed lots of new pros coming to the table. Poker is a very sociable game, so people have been keen to play in person with their friends, as opposed to playing online. It's also proven increasingly popular with women which is great to see – it's a male-dominated field here in the US, but there are lots of female masters coming to the fore.
Do you think the online boom has affected the integrity of the game?
No, but I do think that some people look down on online poker and associate it with gambling addiction. In my opinion, it has brought it to the mainstream and has given people who live on their own, or those who want to join a new community, the chance to get involved. Online poker is a booming business and there's big money to be made. As long as people play within their limits, I think it's great.
For beginners, what's the best way to get into it?
That depends on what you want to get out of it. I always suggest hosting games or poker nights with friends or family to get into the habit of playing regularly. You can supplement this with online games, but if you really want to improve your skills – and the etiquette that comes with playing at a table – you should do it in person. Invite different guests to the game to make it more interesting – sometimes, playing with the same people can become predictable, so don't be afraid to reach out to people outside of your immediate network. Of course, if you're just starting out, I would avoid gambling or raising the stakes too high. Start out with low-value chips or substitute the money for something else altogether. I know a few people who have found themselves in sticky situations after being too ambitious too soon.
What's the aim of the game?
The ultimate goal is to win money. You do this by capturing the pot which contains bets made by the other players. In most versions of the game, money saved is just as valuable as money won, so it's key to know when to release a hand and when to bet.
What game should you start with?
Texas Hold 'Em is the easiest to learn. The rules are fairly basic and can be adapted if you want to up the ante. No-Limit Hold 'Em is another good one for beginners and can be played in short bursts.
How many people can play?
You need between two and ten players, though six or seven is ideal. If there's just two of you, Heads Up is a great game to try, while most other games (like Texas Hold 'Em, Badugi and Omaha Hi) suit larger groups.
What equipment do you need?
You're going to need a set of cards and chips, a deal button timer and a chip calculator. I would also recommend buying a special poker table to make things feel a bit slicker. You could even invest in an automatic card shuffler if you're hosting regular poker nights – they certainly save time and take the pressure off the dealer.
"Some of the best poker players out there have been beaten by pure luck, while novices have won big bucks thanks to skilful tactics. Of course, you need a certain level of competency to get really good, but it's all down to the personal player and how much you risk."
How long should a game last?
On average, about one to three hours, though some big games have been known to last up to 12.
Tell us about etiquette – what rules should you follow at the table?
It depends who you're playing with, but on the whole, it's a good idea to have some rules in place. Here are my top rules to follow:
Act quickly – don't move too fast but be mindful of the other players and don't take too long during your move. Don't get distracted by outside elements – try and keep your head in the game.
Don't comment on other players' moves. This can be seen as disrespectful and you don't want to be accused of throwing someone off.
General chit chat around the table is okay, but don't talk too much. Some players like general conversation, while other prefer silence – read the room and follow suit.
Don't disturb others – this includes taking a call or talking too loudly.
Never reveal your cards. This is obvious but keeping a 'poker face' is crucial.
Keep your chips in your area and make sure they're displayed clearly.
Feel free to congratulate the other players. 'Nice hand' usually does the trick.
When making drinks, it's courteous to offer one to the other players. If someone is serving you drinks, be mindful not to have too many so you don't disrupt the flow of the game.
If you're in a casino or playing in a more formal setting, always tip the dealer and other staff.
How much of poker is luck and how much is skill?
This is hard to say. Some of the best poker players out there have been beaten by pure luck, while novices have won big bucks thanks to skilful tactics. Of course, you need a certain level of competency to get really good, but it's all down to the personal player and how much you risk.
Is it important to read your opponents?
Yes. When you're just starting out, people's mannerisms can tell you a lot, but don't put too much stock in them. Some players will be visibly agitated or flushed if things aren't going well, so use that to your advantage. On the other hand, lots of players bluff – use your judgement but don't rely on it solely.
Are there any books you recommend?
Ed Miller is one of the best authors on the game and many of his books are excellent for beginners. The Theory of Poker by David Sklansky is a 90s classic that teaches you to think like a pro. I also recommend listening to audiobooks while you practise.
What's been your most exciting game?
Around six years ago, I was at a poker tournament in Boston and was competing against some pretty big names in the final round. Going into the game, I was calm and confident, but around halfway through I was dealt a tricky hand of cards. There was a fair bit of buzz around this particular tournament and it was being televised, so the pressure was on. I managed to remain calm and think a few moves ahead, which eventually led to me winning the game. The stakes were pretty high, so it was a great win for me and my team.
Finally, if you weren't a poker player, what would you be doing now?
That's a good question. I like to think I'd be back in Sicily working in the family business. Though in New York, I would definitely go into finance or investment banking. Poker teaches you to be analytical and work with numbers at speed, so I'd be able to transfer those skills over.
Feeling inspired? Here are Giovanni's top five tips:
Keep your eye on the game 
This might sound obvious, but you want to watch other people's moves as much as your own. Don't get distracted by things outside of the table, don't talk too much and don't distract other players. It's a psychological game as much as a tactical one, so you need to concentrate.
 
Understand strategy and start at low stakes 
Start out with 'play money' or no money at all. You don't want to find yourself in a sticky situation or, worse, debt. Learn various strategies for the types of poker you're going to play, then problem-solve several scenarios that could occur at each point.
 
Learn poker odds 
This is crucial. You need to know how poker odds work if you're to think tactically. What are the pot odds? What cards could your opponent have? You can seriously improve your hand by learning about odds – this is where a good book or manual comes into play.
 
Learn to fold 
It can be difficult to know when to fold, especially when you're just starting out. Players tend to hold onto their cards for too long at the beginning, especially against passive opponents who start raising out of nowhere. Understand that there are different types of players and learn how to play against them.
Only play when you're in the right head space 
Too many good players have lost money after letting their emotions get the better of them. Similarly, don't play with the intention to win big. Of course, that's the goal, but don't let the idea of winning cloud your judgement or affect your moves. Instead, think calmly and practically. That way, if you lose, no big deal, and if you win, fantastic.
DISCLAIMER: We endeavour to always credit the correct original source of every image we use. If you think a credit may be incorrect, please contact us at [email protected].