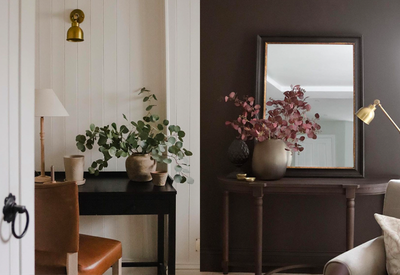 Interior Dos And Dont's With Toby's Home

---
The man behind Toby's Home on Instagram is known for his contemporary, masculine take on interiors. Whether you're updating a room in your home or getting ideas for a full renovation, we asked Toby to share his design dos and don'ts, and his go-to brands…

Photography @TOBYSHOME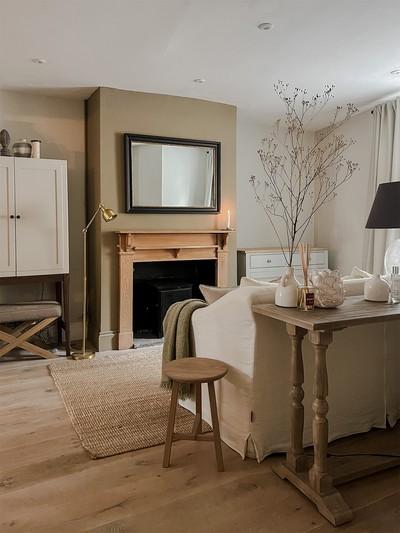 Do use pattern in every room. Even if it's a simple stripe or check, try to bring just one or two simple patterns into each room. It might be a pair of cushions in your living area or blinds in your kitchen, for example. Jane Clayton is one of my go-to brands for custom cushions and curtains – it has an incredible range of designers and fabrics in one place. For standard curtains, I often suggest Loom & Last which is an accessible way to access a bespoke service. Right now, the most popular type of pattern has to be checks and gingham – to make it feel masculine, use it sparingly. And work in pairs so that it feels a little 'smarter' than it otherwise might. A pair of patterned cushions in a muted scheme would create a considered feeling – while nodding to the trend.
Do create 'red threads' throughout your entire home. A red thread means creating consistency and the feeling of 'togetherness'. In homes, this usually means taking a theme and carrying it around the whole home. This can be as simple as using various shades of the same colour in each room, in different variations and levels in each space, but so that it feels considered and connected. Choose a red thread that's easy to carry throughout your home. A dark oak or bronze accent in each scheme would be a good place to start. This might mean having the same wood finish for your dining table as the finish of your bedside tables or kitchen stools. It carries throughout the home and makes for a more calming space.
Do bring the outdoors in. Paint the walls green, add timber furniture or just bring a couple of plants into each room. Greenery helps create a calming, peaceful space. My go-to paint brands are Little Greene, Edward Bulmer and Neptune. For an earthy, nature-inspired green, I like Farrow & Ball's Treron, French Gray and Lichen, all of which go well with lighter and darker neutrals. In terms of furniture, you can bring outdoor elements inside with bespoke timber items. There are so many places to hunt for quality, well-built furniture, but if you want to be thrifty you can't beat an antiques fair – like Shepton Mallet Fair in Somerset or Sunbury Antiques in Portsmouth. Also, have a look on Facebook Marketplace. You'll occasionally find a treasure. Use keywords like 'real antique' and 'wooden furniture' for older well-built pieces.
Do use layered lighting. Consider different light sources in every room, even the bathroom. A layered lighting scheme, including pendant and wall lighting, floor and table lamps, and downlights, will create a homely atmosphere. My favourite brands for lighting include Pooky, Jim Lawrence, OKA and Zara Home. Matilda Goad does great lampshades, while Alfred Newall is my go-to for bases. For a really masculine shade, I suggest a simple coolie shape (which is essentially an empire shade with stronger cone taper). Shops like Made.com, H&M Home, and even Etsy sell some great ones. This, on a wooden base, will look incredibly simple and masculine. An Anglepoise – or vintage equivalent – will look equally masculine and practical in most spaces.
Do research where your interior pieces are coming from and how they're being made. Lots of interior brands and suppliers offer sustainably and ethically sourced and created collections. Try to be mindful of what you're bringing into your home. Some of my favourite sustainable and ethical brands include: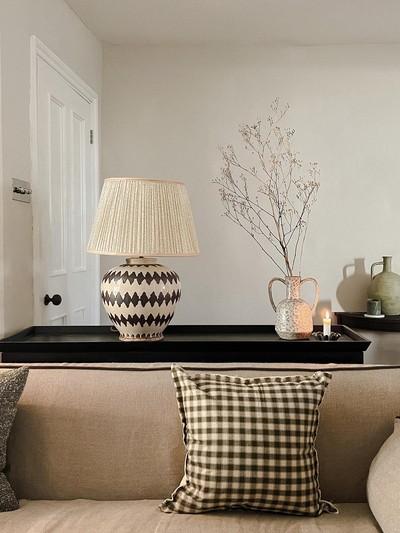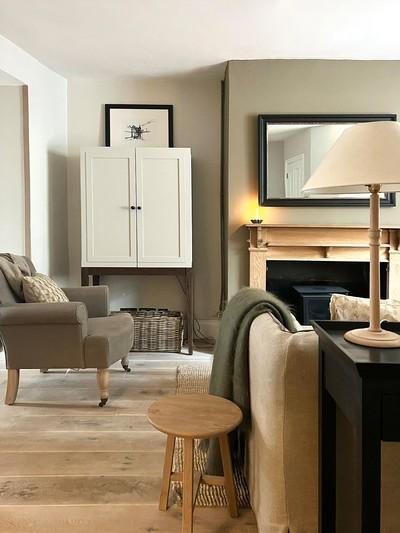 Do paint your walls, woodwork and maybe even ceilings the same colour. This will create a contemporary, fresh feeling, and makes a room feel larger but enveloping. In smaller kitchens, painting the cabinetry in the same colour looks incredible. Right now, everyone seems to be loving greens and browns. Olive from Neptune, Broccoli Brown by Farrow & Ball, and Panel by Paint & Paper Library have all been popular this year. As we move into spring, paler, warmer colours will be more popular, as well as shades with green and grey undertones – like French Gray from Farrow & Ball. A lot of my male clients still love deep, rich blue, inky shades, which can look very sophisticated if used in the right space – with the right natural light. If you're patient, painting a room yourself isn't too tricky. Preparation is key – wipe the walls, lightly sand them, and leave a day or so between coats. Also, don't feel obliged to gloss woodwork. Eggshell is much more contemporary and just as long-lasting. That said, one thing I wouldn't do myself is paint a ceiling. It's messy and very time consuming. My favourite paint brand for ease of application and quality is Little Greene. It's creamy and thick. Ca Pietra's range of 'Proper Good Paint' is great for application too.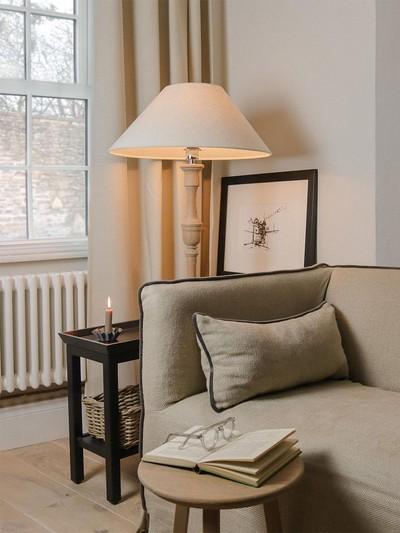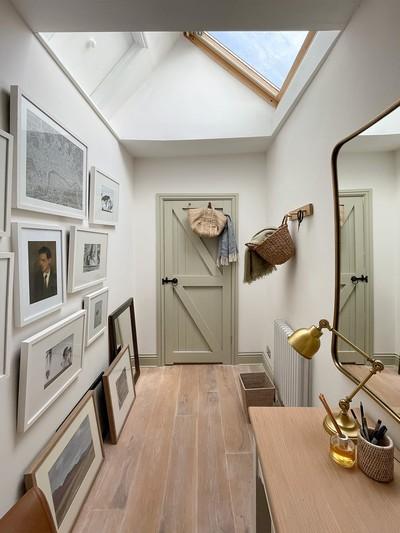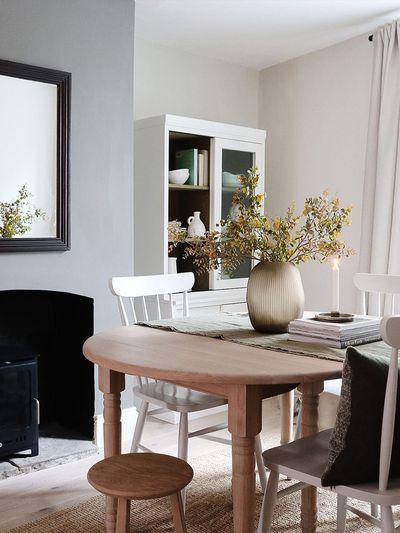 Don't rush the design process. Quick decisions are more often than not the worst decisions – and will end up taking more time and money to put right. Think about details, ask for help from friends, or seek advice from a professional. If you have a different style to your partner, remember it's all about compromise. Go homeware shopping and look at pieces you both like – think about why you both like the things you do… Is it the colour? Shape? Texture? And then compare what's similar about what you like and go from there. Good design will last for years and years – especially if you love it, you won't want to change it (much like your favourite cologne). I'd suggest minor updates every couple of years – like swapping out some cushions or refreshing the paint colours. I also suggest some seasonal updates, like changing plants, adding a couple of scented candles, or changing a couple of the cushions for some warmer or cooler materials dependent on the weather.
Don't forget to design to the style and age of your property. I always think it's best to be sympathetic to the bones of your home. Restore original features, and source furniture and create colour palettes to suit the architecture of your property. On the other hand, if you have a newer build, you can make it feel lived-in and characterful by making sure each room flows into one another. Nothing is permanent, and with newer homes walls can easily be moved or knocked down. Add built-in cabinetry for storage and interest – as well as architectural details like cornice or coving (if it suits the property). Panelling is a great way to add depth and character to plain rooms – as well as strength – but don't be compelled to go for the same style as everyone else. Think about what will suit your home.
Don't be afraid of colour. But also don't feel pressured to use too much of it. Everyone has a different relationship with colour. I always recommend choosing two or three colours and subtly adding them throughout your home. For a masculine space, deep, dark colours always work well. Think inky blues, rich greens and mahogany brown. You can also add pops of colour with furniture – just don't stray too far from your core home colours. For example, a rich navy room would look great with a pop of burnt orange in an armchair or pair of cushions. Or a neutral pale wall colour would look great with an oat linen armchair and vibrant green throw draped on its back. My favourite furniture brands include OKA, Soho Home, Love Your Home, Neptune, Amara, Sofa.com, Anthropologie and The Conran Shop.
Don't feel pressured into going open plan. Kitchen-living-diners still seem to be all the rage, and although open-plan living can be great, it's also a trend that doesn't work in all homes. People often forget the benefit of being able to close one door and open another. If you don't go open plan, make the spaces flow by using the same flooring throughout. It's such a simple, affordable way to connect spaces. Another tip is to have 'pocket doors' to connect the spaces. These are doors built to open into the walls – it's not too big a job, and gives you the feeling of open plan, whenever you want it. For hosting, invest in speakers that connect to one another so that the music is the same in every space in your home. It'll give the feeling of connection as people move from one space to another, without it being open plan. Classic Kitchens Direct is incredible for well-made timber kitchens at a more affordable price point compared to competitors – and they can be repainted in years to come, as trends change. I also love Bath Kitchen Company, The Shaker Workshop and the much bigger DeVOL Kitchens for its unique designs.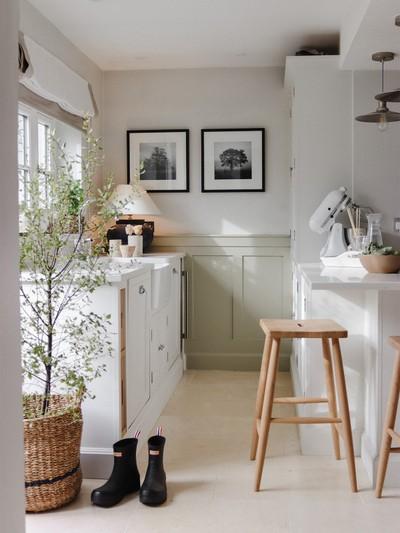 Don't buy cheap. Trends don't last, but well-built and designed furniture does. There are loads of great antique shops in Bath and Tetbury in Gloucestershire. Also, eBay has a fantastic range of bespoke brands and makers. The most important things to invest in are a quality kitchen, mattress and desk chair – all things you'll use every day and will massively improve your life if you get them right. And art – it will stay with you forever if you love it. You can save money on things like plants and pots, and kitchen accessories like utensil holders, glass storage jars and crockery.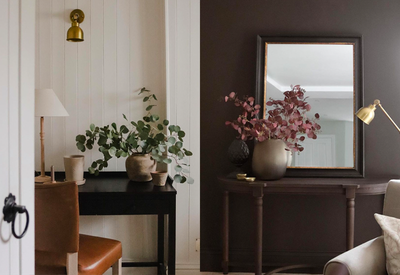 Don't buy a television that overpowers a room. Or if you do, find a solution, whether that's painting the walls black to camouflage it, using a storage dresser or even installing a 'TV mirror'. One very affordable hack you can do yourself is to hang a large canvas over a wall-mounted TV. This seems strange but it works very well when you have guests over and want to quickly hide it. Simply hook a deep framed canvas over the top of the TV, and remove it when ready to watch again. If you like watching TV in bed, you should absolutely have a TV in your bedroom. Just be careful to not let it steal focus or be in your direct eyeline as you fall asleep. Even the idea of watching TV can be a hindrance to your sleeping pattern. Wall mounted in and among a gallery wall would look great in a bedroom, or on a shelf in a wall of wardrobes works well.
For more information and interior design tips, visit TobysHome.com & follow @TobysHome
DISCLAIMER: We endeavour to always credit the correct original source of every image we use. If you think a credit may be incorrect, please contact us at [email protected].