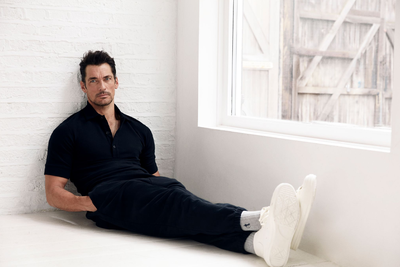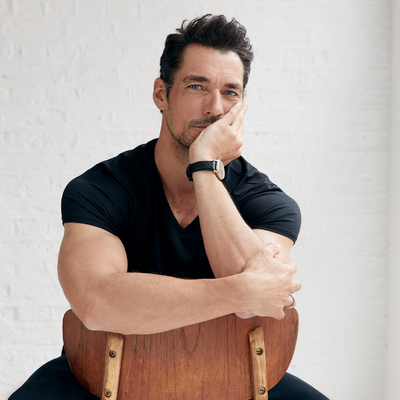 How I Made It: David Gandy

---
David Gandy shot to stardom in the noughties as the face of Dolce & Gabbana Light Blue. Since then he's fronted campaigns for the biggest names in fashion, even staring down at the world from 50ft billboards in Times Square. Now he's applying that experience to launch his own brand – with two children as well, life has certainly changed for the legendary model. He told SLMan how it came to this…
Photography ARNALDO ANAYA-LUCCA
I completely fell into modelling. A university housemate of mine put me up for a competition on This Morning. Growing up I wanted to be a vet, until I discovered that when it comes to academia I should know my own limits! I've always been car mad. In the school holidays, I'd go and do work experience at car magazines and I saw myself getting into car journalism. My main passion was and still is design – whether that's engineering or car design – and perhaps that's the direction I should have gone in to begin with. But now I'm getting to do that with my fashion brand, David Gandy Wellwear.
My mum says I was always very adamant about what I'd wear and how I put things together. At uni I was always in vintage stores, as I wanted to look different to everyone else. I still did that in my earlier modelling days – I had to, as like all of us I was struggling to make ends meet – and I used to love going into all the great second-hand stores in New York.
I think everyone has an idea of what they think modelling is like. Some people assume you have to be fit and working out all the time. That's a stereotypical view, as only about 25% of successful models are at the gym and looking after themselves. From the off, I chose not to go into a model flat. I knew they'd be disgusting, so I used to take myself off to really shitty hotels where you had to share a bathroom with a whole floor, or me and a friend would share a hotel room – but it meant it was just us as individuals. Modelling is very much a group dynamic – especially with men, as they're like a pack – with everyone gossiping and asking each other how much they're earning, so I just decided to do my own thing. 
The industry can control you a lot – and I wanted to be in charge of my own destiny. A lot of models would have been happy doing what I was doing – modelling for catalogues, making quite good money, travelling the world – but that felt like wasted creativity to me, just shooting, shooting, shooting. Of course, it's a lovely way of making a living – you're off to a lovely location, you're off shooting and there's no pressure – but I wanted more out of it. I was never going to carry on like that because I wasn't happy. It was a massive risk to change my brand image, and I had to give everything up, but for me it was worth it
I stood out by not following what everyone else did. At the time, everyone wanted androgynous models and everyone was getting skinnier. But I was never going to be that skinny guy. Then the D&G Light Blue campaign came out and everything changed – suddenly everyone was trying to replicate the look and being masculine was back in fashion. That's the funny thing about the industry, it's quite sheep-like with everyone following the trends. Once I was in triple denim and got ridiculed, then a month or two later Ralph Lauren did one of his shows featuring the same thing and everyone thought it was fabulous.
"At the time, everyone wanted androgynous models and everyone was getting skinnier. But I was never going to be that skinny guy."
I was in a good mental space because I was training. I was going to the gym and playing a lot of sport when everyone else wanted to be skinny and wasn't eating. I taught myself about the gym and nutrition, so I always felt like I was quite healthy, even though I was sleep deprived and always on one flight after another. I miss that now though, more than anything. I love airports and whenever I see a plane in the sky, I wish I was on it.
My 'pinch of salt' attitude to the fashion industry is probably a bit of an act. There's that famous line in The Devil Wears Prada when Miranda Priestley says: "You're trying to tell the world that you take yourself too seriously to care about what you put on your back." Men do that. They say: "I don't care what I wear, my wife chooses it for me." But if you've chosen what you've worn that day and how you're wearing it, then you like fashion. My friends back in Essex are gilet mad at the moment. When I'm down the pub with them and they're all in their gilets, it's funny to see how the look has filtered its way down from high fashion and catwalks to Moncler and then M&S or Reiss.
For the D&G Light Blue campaign, I remember going straight from a catwalk show to Naples to meet the photographer Mario Testino. The next day we were on a speedboat to Capri for the shoot. It was frightening really, but I suppose I was also thinking, "Now this is what I expected from modelling!" At the time, we knew we were creating something very different, so it was exciting too.
I was very loyal to Dolce & Gabbana. When it came to other brands wanting to shoot me – such as Valentino who hadn't wanted to shoot me before – my attitude was, no, now I'm D&G and I'm loyal to them. Massimo Dutti supported me early on too, so I've always been loyal to them. If you're loyal to brands they'll show that loyalty back – because everything you do is about building longevity. As Cindy Crawford always said, "I don't want a one-night stand, I want a marriage with a brand." I always thought that was a very clever way of putting it. She really pioneered that and she did things like Playboy, which no one else would have done. Of course, as soon as she did it, everyone else wanted to. She went on to do interiors stuff, then presenting and TV work, so she really thought outside the box and was very clever. 
The 2012 London Olympics is one of my proudest moments. Being the only male was the highlight. There was a massive argument between all the girls about who was going to walk out first – it was fascinating to see. I could see the director surrounded by all the girls – Naomi, Kate – and in the end they walked out together. I was just happy to be there. Paul Smith designed a gold suit for me to wear, which ended up looking bronze.
Modelling led me down quite a few different avenues. Investments, start-ups, collaborations, columns for GQ and Vogue. From all that, I launched Wellwear. I've never underestimated how hard it would be to launch a business and be a founder of a brand. In other roles and collaborations, you're never fully in control. But then when you are, you're the one who has to worry about the money, where investments are coming from, how to spend them correctly and making sure everyone's happy. All your time is taken up thinking about the next collaboration. It's difficult, but it's doing okay at the moment.
Launching a fashion business is the last thing I have to tick off before I can retire a happy person. It's a success at the moment, but it's going to take many, many years to get it to where I want, but I have to at least attempt these things.
I've learnt from other people throughout my career. Just look at Dolce & Gabbana's work ethic. They would finish a show then everyone would gather to watch it back before Domenico would be, "Right, onto autumn/winter!" and straight back into the studio. They still oversee everything and I think I've learnt to do that: have an amazing team around you, but remember that the responsibility still lies with you. And then there's Tandy Anderson at Select Model Management. She was a female boss of a modelling agency, which just didn't exist back then. Everything was against her, but she's never complained – she just got on with it full pelt and became the best. She's the driving force and still is to this day. She'll come up with 20 ideas. Ten of them will be okay, five of them will be a disaster, and five of them will be the biggest thing ever – like me working with D&G. Everyone thought I should go with Armani, but she was adamant. And that's now how I'll walk into the office sometimes: "Right, I want to project something onto a big building!" Everyone will ask what I'm on about, but there's something in my head now that says we have to try these things. 
Never underestimate how hard launching a brand is. It's ruthless out there and you can get eaten up. Money does funny things to people and you can't always trust the people you think you can. Gentlemen's agreements are fine until something becomes successful, then things change. I've learnt this the hard way, unfortunately.
"Cindy Crawford always said, 'I don't want a one-night stand, I want a marriage with a brand.' I always thought that was a very clever way of putting it."
And never underestimate the amount of money you'll need to start a business. In most cases, you'll need to quadruple the amount you think you'll need to raise. Also, a lot of people think owning 51% of their company means they're in full control. They're not – you need 71% for that. Make sure you or you and someone you trust very much have 71% between you – then you'll have full control. I've seen it in other businesses where founders pretty much have to sell the company.
Everyone thinks marketing is cheap now because of social media. It's not. It's expensive and you're not getting as much from it as before. This is why so many brands are looking at going old school and taking out billboards. Everyone assumes that everyone's on social media, but my ten friends back in Essex? Half of them are not on Instagram, so social marketing isn't going to filter down to them. It's a certain age group – a family man in his 40s – we want to reach, so how do we get to him? Billboards at stations, as he's still going to be commuting or driving. But that's brutally expensive – and you can't analyse its impact like you can with social media.
We're only a year old, so we're still learning. When you launch a brand, you've got all the initial excitement and newness of it all, and people are obviously going to buy into that. Now we need to do another full year to see how it compares to the first. We're learning what people want – sets do really well for us – what they buy, what they're looking for, their price point, everything. I think we've got the foundations of what our customers want: men won't wear anything that's not grey, black and blue. But we still want to come up with our highlight pieces like the duvet coat. You can't just come up with things you know will sell – a blue sweatshirt, a blue polo shirt – you've got to come up with these interesting pieces that people are going to buy into. They won't be as successful as other products, but they'll be exciting for the team to create and get behind, which is important.
Some days I don't know how I manage to juggle my modelling career with ambassadorships, being the founder of a company and family life. I hate routine, which is why I loved modelling and travelling – and then you're thrown into family life and there has to be one. My day is based around dropping off and picking up my daughters and taking the dog (who's from Battersea Dogs & Cats Home as I'm an ambassador) for a walk, but other than that, every day is different and I love that. It's not just Wellwear I'm working on, there's still Vitabiotics, 20 or so investments, and I've been a director of Watches of Switzerland Group Foundation for about a year now. I love it, because we donate about £5m a year to charities, and we visit each of those to see what they're doing. But there's no doubt that it's easier taking each day as it comes when you're single and child free. When you chuck a family into the mix, it can be testing. And my life has never been busier. I always thought I was busy before; now I have no idea how I filled all that time!
DISCLAIMER: We endeavour to always credit the correct original source of every image we use. If you think a credit may be incorrect, please contact us at [email protected].