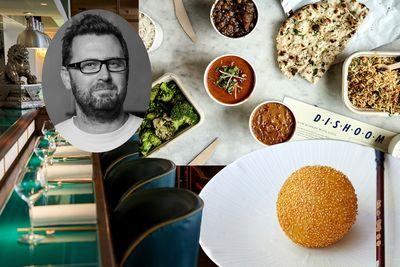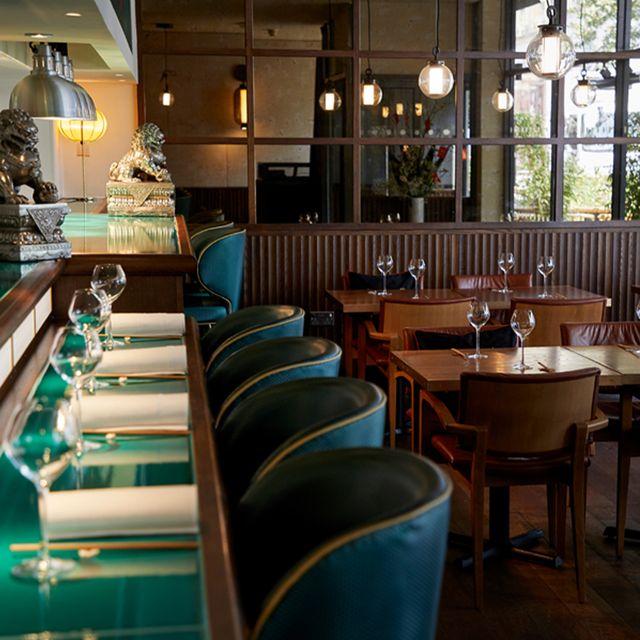 My Life in Food: Scott Hallsworth

---
Aussie chef Scott Hallsworth made his name heading up Nobu kitchens around the world. After mastering izakaya dining, he opened what Giles Coren called the "magnificent and unexpected" Kurobuta in Chelsea. Three years later, Scott sold his three Kurobuta restaurants and opened Freak Scene in Soho, which he's relaunching later this year. Here, he shares his favourite places to eat, food memories and the dinner he relies on after a long shift.
One of my earliest food memories is a birthday cake my mum made. I was around four years old and it was shaped like an Aussie rules football. From that point onwards, I remember getting to choose a novelty cake from a Women's Weekly birthday cake book every year. I still have a reprinted copy of that book now.
My first ever creation was inflicted on my dad. It was a Sunday morning and I put slices of apple and onion on toast, topped with melted cheese and hundreds-and-thousands sprinkles. He managed to eat a fair bit, but soon after that he taught me how to make my first proper meal: nachos and tacos. It was simple, unfussy cooking – I used to cook a batch of mince with Old El Paso seasoning sachet and a jar of the sauce too. I would use the same mince in the tacos and over the nachos. Both were served with grated cheese and sour cream, but the nachos had shredded iceberg lettuce. Sadly for my dad, I'd want to have that meal at least once a week for the next few years. 
The restaurant I revisit most often is Duck and Rice in Soho. It's a fairly laid-back joint which my kids love too. We can spread out and order piles of dumplings, noodles and green veg. I used to mainly go there for the roast duck but it's not my thing anymore. I gave up meat about three years ago and the idea of consuming it now is rather off putting to say the least. I was really wrestling with the idea that an animal had to be killed so that I could eat whatever I felt like; it seemed selfish and the kind of opulence you might see from some insane medieval king. I don't think my body was agreeing with meat consumption either. Since giving it up, I've lost weight, have no digestion issues and feel light and more energetic. Right now, I love trying vegan meat alternatives, like Redefine Meat's 3D printed steaks, which are mind blowing.
I always start my day with a green juice. My go-to combination is granny smith apples, a whole lemon, spinach, ginger and cucumber. However, when I'm at the bar it's always a beer. I like cocktails if they're well made but I'm no connoisseur of spirits. I always like a sake session with my mate Ollie who owns and operates Tengu Sake.
My favoruite restaurant in London is A Wong. Everything on the lunch menu is brilliant. There's some excellent, inventive dim sum that must be about the best you can get. 
For evening drinks Milroy's of Soho is my go-to. Who doesn't like a hidden bar, especially when all the cocktails are ace? It'll always score you top points when you take someone who's never been – if you can get a table. Just head to the back of the room and push on the bookcase to step inside. I may be getting this slightly wrong, because the drinks are fairly potent, but I usually start with the coconut butter-washed rum cocktail. 
I'm really looking forward to the return of David Thompson with Long Chim. I've heard it's on the cards and can't wait to hear more about it soon. I remember when David first opened Nahm, his Michelin-starred restaurant at the Halkin hotel in London. There were regional Thai dishes that were mysterious, incredibly balanced and often extra spicy. David brings back lost or forgotten family dishes from around Thailand – the Thai government even enlisted him to teach these lost preparations to the younger generations of Thai chefs. 
Pizza is my go-to comfort food. I'll eat almost any version of pizza (so long as there's no meat involved) as I'm certainly no traditionalist in that sense. Last year after a very late service at a new restaurant I was working on at the first F1 Grand Prix in Jeddah, one of the local staff and I went for a kinda greasy, American-style, thousand-topping, 15-inch, heart-stopper of a pizza. Our Italian restaurant manager who was in the car with us was less than impressed. Since then, I haven't stopped hearing about my poor choice of pizza and each Sunday she sends me a video of her local pizza joint in Rome where they make a perfect margherita. I still eat dodgy delivery pizza from time to time though.
After a long day at work, I love making fried rice. Nothing too complicated but always with chilli and sometimes crab. If I'm in a hurry, I'll use a pre-cooked packet of brown rice – you can make a very tasty fried rice in minutes with one of those.
My favourite takeaway is Dishoom. The black dhal is killer! I could eat that on its own with naan. However, the jackfruit biryani is the real winner. I try to hold back from eating it all in one go because it also makes for an excellent lunch the next day. 
One place that deserves some attention is Tandoori Nights in East Dulwich. My dad used to love it there whenever he was in the UK. Order the green handi which is hot and spicy – you're bound to get a sweat on. 
The best dish I've ever created is Dover sole fillets cooked with butter and served with a spicy shiso ponzu. I came up with that when New York restaurant guru Drew Nieporent bowled into the Nobu kitchen one night, fresh off the plane and said he was craving Dover sole. The result has stuck around for nearly 20 years and I still crave it myself.
I love to throw a seafood BBQ in summer. Thai fish cakes, miso-yaki shrimp, soft-shell crab bao buns and plenty of fresh pickles and salad. That reminds me, I need to arrange one again soon.
Sundays are all about dim sum. My kids and I love crispy dough stick cheung fun, and we order all of the different shrimp and scallop steamed dumplings. We plough through piles of beansprout noodles, veg spring rolls and far too many pots of chili oil. 
For date night, Darby's in Nine Elms always hits the spot. The vibe is relaxed, the service is slick and professional, and the oysters are always brilliant. I feel like I'm in another city when I leave there. It's opposite the new American embassy and the developments are nice to walk around after a great meal.
One of the best restaurants I've discovered abroad was Tickets in Barcelona. I must have been there at least four times and I'm gutted it's now closed. The dishes were rooted in classic tapas cooking, but reinvented, thoughtful and playful. It was the kind of place that puts a huge smirk on your face with each new dish. And for dessert you could get up and relocate into a candy-scented room with Willy Wonka playing on projectors. It was a hell of a lot of fun.
The most decadent meal I've ever had was at Hameau Albert 1er in Chamonix. Not the best meal I'd ever had but certainly the most decadent at that point in time because I couldn't really afford it.
There are so many restaurants I'd still like to go to. I'm due to go on a whirlwind tour of Japan and south east Asia later this year which will take in a load of them. I'll let you know my recommendations in a year… 
My favourite chef is Salt Bae. Only kidding. I wouldn't say I have a favourite, but I've met a few of my older heroes and despite them being friendly and charming towards me, they always scared the shit out of me! Pierre Gagnaire, Charlie Trotter, Leif Mannerstrom, Tetsuya Wakuda and Daniel Boulud. I have deep respect for them all.
My dream dinner guest is Black Francis of the Pixies. I'm told he's quite a foodie, so I'd be keen to hear his thoughts on my dishes. I might extend an invite to my summer seafood bash… 
My last meal on earth would start with a selection of sashimi in or around the Tskuji fish market in Tokyo. For the main, I'd go for sole meuniere with French fries on a table facing Pampolone Beach near St Tropez, followed by my mum's pavlova for dessert. 
Right now, I'm working on relaunching Freak Scene later this year. The original in Soho was an eat-at-the-bar restaurant serving pan-Asian izakaya with a pumping rock and hip-hop soundtrack, Aussie hospitality and a hell of a lot of sake bombs. I'm excited to welcome new customers when we open…
DISCLAIMER: We endeavour to always credit the correct original source of every image we use. If you think a credit may be incorrect, please contact us at [email protected].