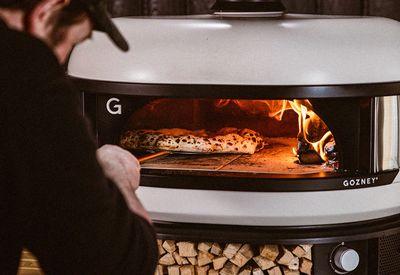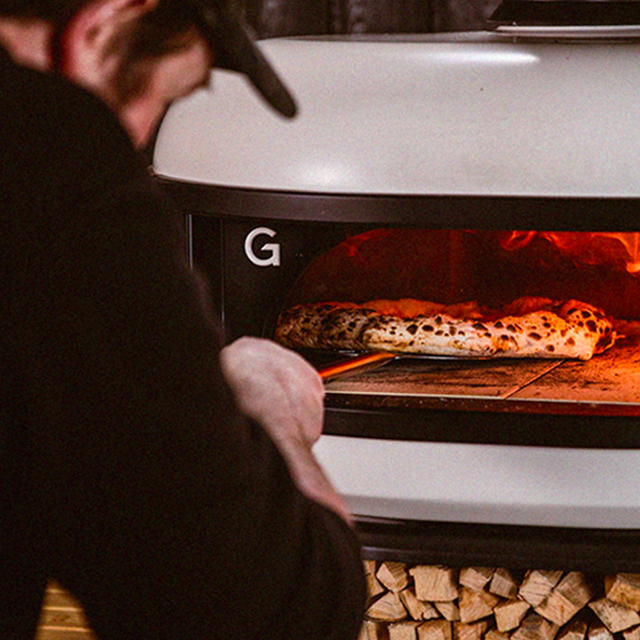 A Pizza Entrepreneur Shares His Advice

---
After doing a year in rehab at 21, Tom Gozney found social situations a struggle. A homemade pizza oven helped him reconnect with friends, inspiring him to start building them for local restaurants. This laid the foundations for his Gozney range of pro-quality pizza ovens. Last year, he launched the Gozney Dome, which attracted $8m in sales on launch day and won a coveted Red Dot Design Award. SLMan sat down with Tom to talk brand building, business tips and top toppings…
I was at a real crossroads before starting the business. I was relatively lost as a teenager and went a bit too far down the wrong path. I ended up in a South African rehabilitation centre in 2007 and spent just shy of a year in there. When I came home, I didn't really have any idea of what I wanted to do with my life. I knew I was destined to do something that would challenge me and keep my occupied. I had a lot of drive and ambition, but didn't really know what it was.
I'd gone from partying hard to essentially being teetotal, so I threw myself into cooking as a way of socialising. I was only 21 when I came out of rehab, and all my friends were still going out, so I started cooking for people. One evening, I was making pizzas for everyone in a conventional oven in the kitchen. They were soggy and a bit rubbish. Spontaneously, I said: "I'm going to buy a pizza oven for the garden." I looked at them online and saw there were very few options – mainly Italian imports for north of £3,000.
That night I decided I'd build my own. There were loads of useful Australian and American forums, where wood-fired cooking was a little bit more progressive. There were broad plans to follow. It was relatively simple: build a base, put insulation on it, put a firebrick floor down, then build what's essentially a giant sandcastle. Lean the bricks against the sandcastle, remove the sand through the mouth of the oven and you're left with a sort of brick-built igloo. The concept was relatively straight-forward and I already had practical experience of building, so I digested it for an hour or two and started digging the foundations the next day. 
That first oven looked like a horrendous mud hut. My wife was dubious about the success of the project, but it's ended up having a huge on our lives – and on my waistline. Importantly, it changed the way I socialised – all of my friends became obsessed with it. It was a shining light in a moment of vulnerability. In the very early days of my recovery, it gave me purpose, a platform and a social life.
Cooking next to a flame means you can make the most amazing pork crackling, and you'll never taste roast potatoes like those you've cooked in a wood-fired oven.
A decade ago, there was just one company in the UK making pizza ovens. We launched The Stone Baked Oven Company as an affordable alternative to those big expensive prefabricated kits. Now you can get pizza ovens everywhere – from Aldi to Tesco – and there's been an incredible movement in the last decade, specifically in the last three to four years. Pizza ovens have truly transitioned from niche to mainstream.
I wanted my business to solve the exact issue I'd had – by creating a wood-fired oven that was accessible, easy to install and affordable. I spent five months looking at material compositions of prefab ovens and researching every single business selling wood-fired ovens across the world. Then, for first time in my life, I designed my own product. I had a £5,000 loan from my mum and £2,000 of that went on a fibreglass mould. Another £2,000 was spent on a website, then I found a manufacturer in the north of England that specialised in precast high-heat refractory concrete. I went and badgered them. I was wet behind the years, young and naïve and I didn't really know what I was doing, but I was super determined to make it work. I managed to get them to take a chance on me. I had a business model where they would manufacture the ovens, put them on pallets and ship them directly to the customers for me, while I was fulfilling all the orders for accessories, flues and doors that I was making with local fabricators. I shipped those out from my spare bedroom at home, and that's how it all started.
The Stone Bake Oven Company had a very slow start. Consumers didn't think they needed a wood-fired oven in their garden. For a couple of years, we did a lot of agricultural shows demonstrating the ovens. There was an interesting bit of timing in 2013, about two years after we started, when Jamie Oliver bought into a wood-fired oven company and decided it was his new thing. It was the flavour of the moment for him for a year or two, and all of a sudden wood-fired cooking was all over mainstream TV. As a naive businessman, I was nervous, thinking, "God, we're not going to be able to compete with Jamie Oliver." Actually, he generated a huge wave of awareness. And because our products were made in the UK, the designs were pretty and we were at a great price point – Jamie's were more expensive than ours – we did well and The Stone Bake Oven Company evolved.
Because I was dyslexic and not too successful at school, I never learnt what my key attributes or skills were. Building a business was a much more meaningful education for me and I learnt how to market and how to do branding. I have a real passion for engineering and design, and I saw an opportunity to solve a problem in the commercial oven space. There were loads of pizza restaurants opening, but they were installing these ginormous, two-tonne ovens that came fully built. They were having to spend around £30,000 taking shop fronts off listed buildings and using cranes to install these ovens into the kitchens. I decided I would solve that. I developed and patented a modular fast-assembly installation system for large professional-grade ovens, which we could carry through a doorway or up or downstairs and assemble, and install in seven hours. That was game changing for the market.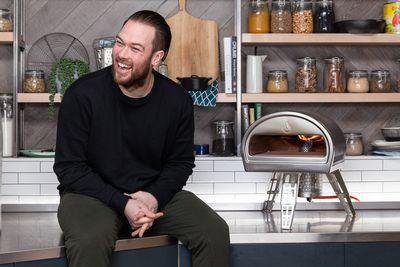 Then the huge artisanal Neapolitan pizza trend took off in the UK. Our ovens were built so efficiently, because of the materials I'd designed, that they used much less fuel than others on the market. We became one of the first companies to become certified by Defra under the Clean Air Act. That, combined with the accessibility of our ovens and the way they looked, meant our commercial business just flew and within nine months of launching we were easily the UK market leader. There was a Time article on the top pizza restaurants in the UK, and our ovens were installed in nine out of 10 of the best in London.
While we were doing all that, I had the idea for the Gozney RoccBox. With The Stone Bake Oven Company, it was very difficult for us to scale our products outside of England, because even though the products were accessible in comparison to the big Italian ovens, they were still 150kg and cost a fortune to ship. So there was an opportunity for us to develop a product. My goal was to be able to ship it anywhere in Europe for £10, which meant it had to weigh less than 25kg. It took us three years to design, because wood-fired ovens work on the basis of thermal mass – the stone absorbs the heat from the fire and radiates it. It was a real engineering feat to make the RoccBox function in exactly the same way as a professional oven while keeping it lightweight.
We smashed our crowdfunding target in hours. We launched on Indiegogo at midnight. By 6am, we'd surpassed $100,000; by the end of the fourth day we had gone past $600,000; and by the end of the month we'd hit $1.2m in sales. It was a phenomenal success and the RoccBox became the first ever stone portable oven in the global market.
When we launched the Gozney Dome in 2021, I knew it would replicate the same success. I had an ongoing friendly argument with one of our board members. He was obsessed with Roccbox – as am I – but for me the Dome is the purest expression of the perfect oven as a designer and an engineer. I just knew it was going to be the product that really shaped us and built Gozney into a truly big business. The two of us had these funny little bets around how well the Dome would do, and then when launched it, it went bananas. We did something like $8m in sales in five hours on our website alone. We didn't really have a marketing budget – we just did an Instagram campaign. The demand for the product since has been absolutely insane.
To me, the Dome is almost like an ancient Neapolitan oven and Apple came together and had a baby.
I'm in the process of moving my family over to the US. We've been trading from the UK for years, but the US has over 50% of our revenue without anybody on the ground. When we launched the Dome, we attracted interest from some really interesting investors out there. Two of them were key figures for building the Skullcandy headphones brand and Traeger Grills, which they bought in 2014 for around $18m. Last year it went public at a $3.5bn valuation. The day after the Dome launched, I got a phone call asking if they could invest and get involved in steering the business in the North American market to go after a big win like they did with Traeger. That's the journey we're on right now, which is super fun.
There's a ton of things that happen when you're growing a business. Lots of people are scared of the process of stepping out of their comfort zone and doing something they may not have done before. I had no qualifications, no experience and no mentors. But I had a determination to build something for myself and I worked my socks off. I think perseverance, determination and never giving up are such important attributes, because it's not easy. You've got to balance so many things when you're building a business.
We live in a really cynical country. I don't feel like the UK truly elevates entrepreneurial spirit. Go to America and everyone cheers from the side lines. I had lots of people in the early stages saying, "Why would you bother setting up a pizza oven business?" or "Who's going to spend £500 on an oven when you could just order a takeaway?" When the cynics come, I would just say follow your instinct and don't let external parties deflate you and pull you down.
My first oven looked like a horrendous mud hut. My wife was dubious about the success of the project, but it's ended up having a huge on our lives – and on my waistline.
With pizza, it's all about the dough – I geek out on it. When you're cooking a pizza in a live fire environment, with a dry heat and a naked flame, any dough you make will be transformed. You could make a basic four-ingredient recipe using salt, yeast, flour and water, cook it in the oven and it will be the best pizza you've ever had. The oven gives you these pillow-like fluffy crusts that are crispy and hollow – amazing-looking pizzas that look like they've come out of a cobbled backstreet in Naples, but they're really light and easy to digest. My go-to toppings are probably oregano, garlic, anchovies and Bianco DiNapoli tomatoes. 
Pizza is all about connection, community and participation. If I'm throwing a party, what I love to do is get a few pizza paddles, get the oven on, all the toppings laid out and then bring my guests round and show them how to open the oven, top the pizza and cook it, then let everyone make their own. Everyone has fun and pizza is so much more delicious when you make it yourself. In a world where everyone is glued to their phones and social media, the only time I ever truly see my friends is when we come together for pizza sessions. Phones just get left in a drawer somewhere and everyone forgets about them – unless they're taking a quick snap of their pizza. It also takes all the pressure off the host.
Anything is possible if you put your mind to it – it certainly has been for me. It's a little bit surreal that I've gone from building an oven in the back garden for a bit of fun because we had soggy pizzas to building a global brand that's got the potential to really scale into something much more significant than I could have ever imagined.
THE OVENS
Tom talks us through the options…
The Dome's a fantastically versatile, dual-fuel oven. To me, the Dome is almost like an ancient Neapolitan oven and Apple came together and had a baby. That's why I think it's been so successful – it's a modern take on a really classic way of cooking. Cooking next to a flame means you can make the most amazing pork crackling, and you'll never taste roast potatoes like those you've cooked in a wood-fired oven. It's a really dry heat with no moisture, so it gets everything super crispy – you can do amazing things like crisping up the skin of fish or slow-cooking a leg of lamb (I like to chuck a handful of fresh rosemary on the wood fire and shut the door so the herb infuses the lamb with rosemary smoke). There's a steamer for making sourdough bread, and you've got the ability to do smoking and slow roasting. I love to experiment with smoke and heat.
Buy one here
We've taken the engineering of a two-tonne oven and shrunk it down so home cooks can enjoy the pizzeria experience. The RoccBox still works like a commercial oven – you'll get that great heat retention so the pizza crust rises perfectly. This one is amazing for convenience. If you want it to be transportable, it's brilliant and if you just want to cook pizzas and steaks, it's a great price point. It's a personal thing, but the aesthetic of our pizza ovens makes them stand out against everything else on the market.
Buy one here
DISCLAIMER: We endeavour to always credit the correct original source of every image we use. If you think a credit may be incorrect, please contact us at [email protected].