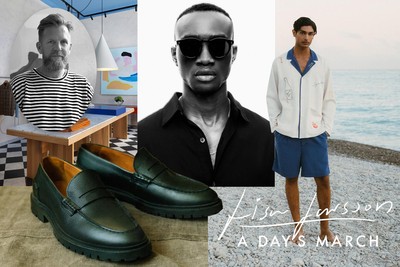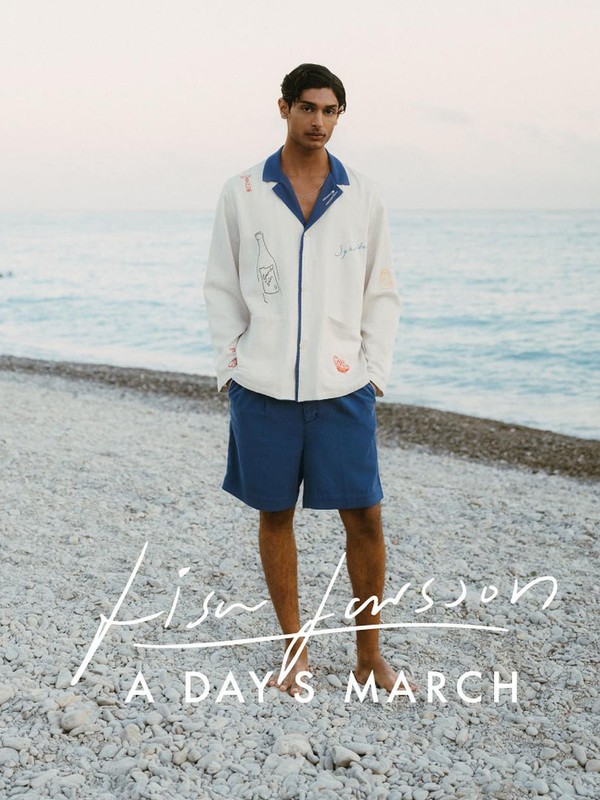 SLMan Meets… The Founder Of A Day's March

---
Pelle Lundquist is one of the three friends behind A Day's March – the timelessly cool Swedish menswear brand that's about to open a new store in Soho. Here, he tells SLMan about the label's own journey, offers up his finest style advice and hands out a few Stockholm recommendations…

The three of us have been friends for over a decade. Stefan and I met while we were working at an ad agency back in 2006. We had lots of fun and shared interests like culture, fashion and food. I got to know Marcus through his wife – who was CEO at that same agency. While we all have busy family lives, we try to meet as regularly as we can. Stefan and I have just been to a party for the Polar Music Prize.
Good friendships are based on being able to be 100% yourself. With that come values such as honesty and loyalty. Curiosity is also something that needs to exist in all good relationships. When you're no longer curious about a person, the conversation dies. 
We came up with the idea of a 'one-stop shop' for menswear – and A Day's March was born. Classic styles, clean silhouettes and high standards were the fundamentals we began with. While we've tweaked and updated designs to keep things interesting and relevant in the ever-changing fashion world, these are the pillars we still stand by in 2023.
Our shared passion is to produce good clothing that stands the test of time. These are styles we want to wear ourselves, and that get worn again and again. I also think we are an honest brand: what you see is what you get. We don't try to be something we are not. A brand becomes more likeable and relatable when it's true to itself, and I believe we have achieved this.
To buy less and use more is always the best choice. I believe our production methods are better than most brands. For example, 60% of our garments are produced in Portugal using renewable energy and local materials. We use a lot of recycled fabrics, organic cotton etc. – but let's not greenwash here. Our industry is bad for the planet, full stop. We all have a long way to go…
We considered being an online-only brand. In the end we decided that to fully communicate the brand's quality, we had to have something tangible for people to touch and feel. We've got eight stores now in Sweden, Denmark and the UK. The future of retail lies in a blend of online and offline presence. In our previous small London store, it was difficult to provide the service and experience we want to offer. In the new store we can showcase the full assortment in a beautiful environment – a space for people to not only shop, but to discover the quality of the brand firsthand.
LONDON VERSUS STOCKHOLM…
The obvious difference between London and Stockholm is size. In a big city like London, you'll see a more interesting mix of people and culture which influences everything from music to food, architecture to fashion. My own experience of London is influenced by how I consumed music, literature and film when I was young. When I'm in London now, I feel that I'm a part of something bigger, which is a romantic, comforting feeling. Also, the food is great – the London culinary scene lives up to its reputation. A couple of weeks ago an old friend sent me to one of his favourite places – Barrafina. A modest chain with no frills, but excellent service and food. It's the kind of restaurant you wouldn't find in Stockholm.
But Stockholm does have some great old restaurants. Tennstopet has a perfect Swedish menu of meatballs, herring and shrimp toast, as do Sturehof and Pelikan. Wetend does French classics – sometimes you just need that entrecôte. As for new places, Café Nizza does great pasta and Indio Kitchen has a delicious Japanese menu. 
If you're in Stockholm during the summer, make the most of the water. Luckily, that's not very difficult since it's a city made up of a bunch of islands. Spend a day exploring the archipelago – or get on a boat from the city centre for 20 minutes and visit a modern art museum called Artipelag. Fresh air, nature and art will make you feel good. 
If you want to stay somewhere fancy – with all the celebs – go to Ett Hem. But if you're coming here during summer (which you should), consider renting an Airbnb on Djurgården. It's a part of Stockholm that feels like the countryside but is still central. On a sunny day it has great places to swim, outdoor cafés – and museums if you need some rest from the sun. 
AND FINALLY, SOME STYLE TIPS…
'Money talks. Wealth whispers' – it's not only a tagline for a Swiss bank anymore. The trend of quiet luxury seems to be growing strong – look at the popularity of brands like The Row, Loro Piana and Brunello Cucinelli. All of this suggests luxury shoppers are turning away from bold in-your-face designs in favour of pared-back style. A key reference here is the wardrobe of the cast of Succession. I think it's a healthy direction given that fast fashion brands will find it hard to copy. 
My go-to outfit is a light and crisp poplin overshirt paired with 90s-fit denim. Layer it up with a tee, overshirt and sweater on cooler evenings. 
Always accessorise. Watches, sunglasses, belts and jewellery are all great for accentuating your core garments, and dressing them up or down depending on the occasion. Garment care is also important. When the outfit looks crisp, you do too. 
Structured knitted short-sleeve shirts will be everywhere this summer. They're taken from 60s Hollywood, but we'll see them designed with modern takes and styled with fresher, cooler pieces for a current feel. 
A lot of men don't evolve their style with age. Guys in their 40s are still wearing versions of what they wore when they were young. The result? Too many middle-aged men in skinny jeans and tight shirts. With age comes the opportunity to learn from life and to develop a richer and more mature personality. I think that should be reflected in your style too, since it's a part of your personality. 
There are five key pieces every man should own. A dark blazer – make sure you get a good wool twill one in black or navy. It's so useful for so many occasions. A white poplin shirt is a no-brainer. So are mid-blue denim jeans because they'll never go out of style. An overshirt is more of a modern piece, but it's extremely versatile once you know how to work it into your wardrobe. Wear it with your white shirt for a formal look, or dress it down with a t-shirt and jeans. Last but not least, every man needs the perfect white t-shirt – boring but so true. 
To get out of a style rut, reduce your closet to the essentials. Ask yourself: what do I really need? Next, slowly add pieces from your favourite brands that you see as an investment, thinking of how these can complement your current wardrobe. Then add accessories for interest. 
Follow @ADaysMarch & visit the new store at 24 Berwick Street, Soho, W1F 8RD
DISCLAIMER: We endeavour to always credit the correct original source of every image we use. If you think a credit may be incorrect, please contact us at [email protected].