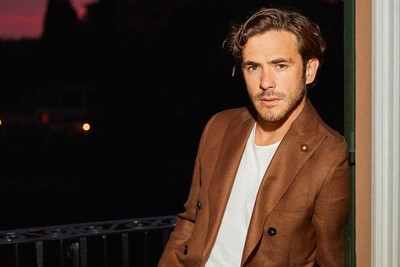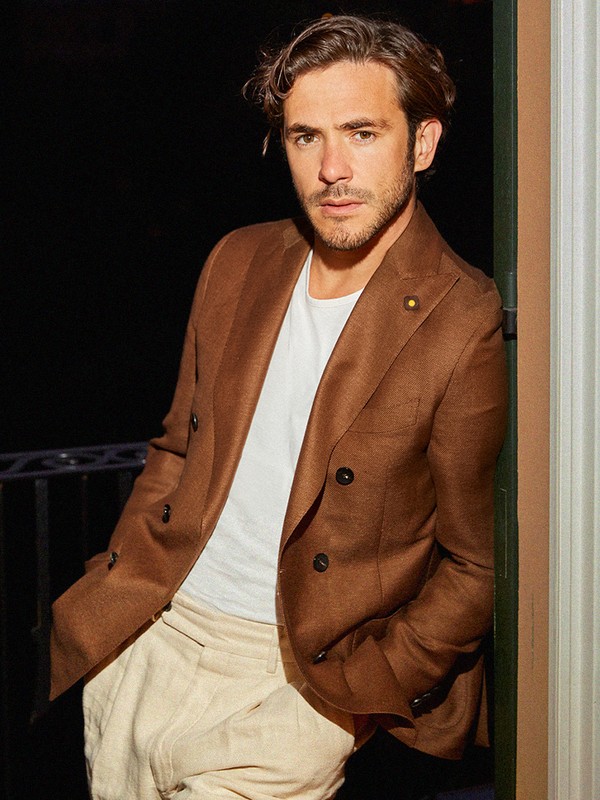 SLMan Meets… Jack Savoretti

---
After discovering he could hold a note as a teenager, Jack Savoretti busked at cafés around the UK before landing a record deal. Two decades on, the singer-songwriter has two number-one albums under his belt and has worked with the likes of Bob Dylan, Nile Rodgers and Kylie Minogue. Jack spoke to SLMan about discovering music as a child, life on tour, and why he doesn't still consider himself a musician.

I was born in Paddington but raised in Parsons Green until I was about seven. We moved abroad when my dad got a job in Switzerland. We lived in the Italian region in southern Switzerland in a small village, which was beautiful and filled with a lot of artists and farmers. I ended up going to quite a religious school run by priests and didn't have the best time. I was used to being in London with my friends, then suddenly I was in a totally different world which was a huge culture shock. It didn't help that I couldn't yet speak Italian so it's no surprise that I didn't do well at school. Luckily my parents soon realised and sent me to an American school instead. It was like a bubble of American culture in this beautiful Swiss alpine setting. I got the best of both worlds, which kind of saved me because it pushed me to take music more seriously. It gave me the confidence to think that writing a song is something you could do. 
I started singing by accident. It was on a school trip when I was about 13 or 14 and Sister Act 2 had just been released. I was obsessed with the film, and I really resonated with the shy kid who gets up and sings 'Oh Happy Day'. I started singing along and my two best friends turned to me and said, 'I didn't know you could sing?' Then my childhood sweetheart paid attention to me for the first time. Suddenly I had this little moment and realised that singing felt good. I actually hated music classes at school. I was never in the productions or musicals, but just before I graduated, I decided to put a concert together with a few friends. That was the first time I ever got on stage.
My family are musical but they're not musicians. I don't remember getting into a car without music being the focus of the conversation and the journey. At home, there was music on the radio the minute we woke up to the moment we went to bed. Even though my mum is British, there was a lot of American influence in the music she listened to, from Motown to James Taylor. My dad on the other hand listened to a lot of Italian music which really seeped its way into my subconscious and I've only really appreciated it in the last ten years or so. 
I didn't know anything about the music industry back then. It felt very removed in Switzerland, but my parents were supportive in the early days. Actually, when they thought I was trying hard they were supportive, but they were also very quick to tell me when they weren't impressed, which meant that I genuinely believed them. Now I surround myself with people who aren't easily impressed and are happy to tell me when something isn't good enough. 
I worked in a falafel shop in Shepherd's Bush when I moved back to London. I was 19 and working part-time while studying cinematography at university. I got good grades, but I wasn't excited about it. I would come home and just write songs. Around that time, I was hanging out with people who were photographers, graffiti artists and poets, doing all these things that I didn't know were an option when I was growing up. Seeing their courageous decisions made me think, 'What am I doing? I just have to go for it.' I thought it was better to fail at something I love than succeed at something I didn't really care about. I dropped out of uni without telling my parents. That was the only time they got angry – they were worried I was putting all my eggs in one basket. I didn't really have a goal; I just knew I wanted to make songs.
My first gig was at The Garage in Islington. I was lucky enough to play alongside two Welsh brothers who were incredible guitarists. They'd played with artists like Natalie Imbruglia. I was never attracted to the music scene for the live shows; my first passion was song-writing. If you'd asked me back in 2019, I would have been happy as a songwriter while other people went on tour to promote the music. However, that night in Islington felt so good. The performance felt physical, almost like playing sport. Not that it was competitive, but it felt like you were against the room and you had to win them over. It was exhilarating and I've grown to love it more and more. I've never enjoyed playing live more than I do now.
In those early days I was probably a bit overconfident in my song-writing skills. Every time I finished a song, I thought it was a miracle, but other people weren't always so impressed. I'm still my biggest fan when it comes to song-writing – whether I write it alone or with someone else, there are high fives all round. But performing was a different matter. I was always nervous, and it took me a long time to be genuine and myself on stage. I was scared of putting my foot in it or saying the wrong thing. When I started being myself, people connected with it more – an audience can see when you're being genuine and when you're not.
"I dropped out of uni without telling my parents. That was the only time they got angry – they were worried I was putting all my eggs in one basket."
Then Caffé Nero asked me to be its artist of the month. That was back in 2008 and it was a big moment because people like Cat Power and Ray LaMontagne had started out that way. This was before I had a record deal and I was getting every door possible slammed in my face. I really needed more gigging experience so I asked if we could play live shows at each café. We weren't allowed to do that because of strict licensing rules, but they let me go into each branch and busk with a few songs. We'd planned to do it for a couple of branches in London but ended up playing at 64 Caffé Neros around the UK in one month, doing two to three performances a day. It's still one of the most gruelling things I've ever done. There were mothers with babies and customers on laptops who occasionally told us to shut up, but people generally enjoyed it. It was a hell of a learning curve. 
During those early years I was let down by a lot of people I worked with. I realised that failure doesn't scare me – as long as it's not my wrongdoing. There were a few times when I said to myself that I wasn't going to let anyone mess up the opportunity for me. I'm okay with things not working out as long as it's me who's messed it up.
I don't really feel part of the music industry. The part I love is connecting with people who make music. I didn't grow up in a culture that knew much about the industry as a whole – we didn't have the magazines, or awards ceremonies that other kids had, so it wasn't something I ever looked up to.
I wouldn't say I've had a 'big break'. I'm fortunate that I've had great moments and I've been around long enough to appreciate when opportunities come around, but I've not had that moment or 'one song'. We've had two number-one albums but never a top 40 single in the UK, which is pretty of unheard of in the industry. One reason why we've had success – and also not success – is because we've built a strong fan base and we've toured so much. It wasn't the intention or the plan, but because I didn't have that huge moment, we had to get to work. My band and I had to hit the road and gig all over the place, whether that was in a pub for ten people or in front of 5,000. We took whatever opportunity came our way. 
It was a big moment when Corinne Bailey Rae invited me on tour with her. It was in 2006 when she was really on the up and it was probably the best tour I could have been on. Corinne's work ethic is unbelievable – I've never seen anything like it to this day. The way she was with her band, her crew, the crowd. Every single day was amazing. I've done a lot of tours since, and that isn't always the case with every artist. You do see some pretty ridiculous sides to artists on tour. My first solo tour is still a bit of a blur, mainly because we just didn't stop. We went a bit overboard on the first night and forgot we had four more weeks of gigs! I did a good ten years of being a support act, so getting my first tour bus and seeing my name in the lights was a big moment. 
One of my favourite performances was at La Fenice in Venice. It's one of the most beautiful opera houses in the world. It was my wife's birthday and we had a wonderful setup with various pianists and guitarists. We'd been touring all around Italy, and Kylie Minogue and Imelda May joined us on the closing night. Being on that stage with those two women is going to be hard to beat. That said, playing at a sold-out Wembley Arena was unbelievable. It sounds really corny but playing there felt like I'd made it. I'd never thought of life as having these big markers, but that was definitely a moment where I felt legit. However, before we got on stage, I had a few doubts. Do we belong here? Are we going to pull this off? When we played that first song, all those doubts disappeared. Two months later, lockdown hit. I thought it might be the end of road, but I snapped out of that and got back to work.
There are so many artists I admire. I was fortunate to tour with Jake Bugg about ten years ago. He's the real McCoy, as is Lissie, who sang with me at Wembley. Mika is another gent in the music business. He's fascinating and one of the most genuine people I've ever met. Then there's John Oates of Hall & Oates, a true legend who I admire. I plucked up the courage – after a few drinks – and messaged him on Instagram and asked him to feature on my last album.
"The first time we played on The Graham Norton Show in 2016 was surreal. We really witnessed the power of TV. A week after it aired, we had a top ten album."
The first time we played on The Graham Norton Show in 2016 was surreal. We really witnessed the power of TV. A week after it aired, we had a top ten album. What we did in three minutes in TV kicked the crap out of the past decade we'd done on the road. Since then, we've been on the show three more times, most recently in 2021 when I played with Nile Rodgers. That was a real pinch-me moment, with Dave Grohl and Sophie Ellis-Bextor sat on the sofa. We had a huge party at home when it aired.
I still don't really consider myself a musician. I like to create music, but I don't really want to know how it works. I look at it the same way a kid looks at a magician. I don't want to know the tricks or the technique, which infuriates a lot of musicians I work with. But there's a certain naivety there which attracts me to song-writing. I have a rubbish imagination, so I get inspiration from everyday life. Unfortunately, most of the stuff you hear in my songs has happened to me, or it's something I've seen or experienced. Song-writing is a bit like fishing; you have to wait for something to come to you. 
My latest album Europiana was born in lockdown. I was so sad that we couldn't travel, and my kids couldn't experience that, so I wanted to recreate that feeling at home. Lots of it was influenced by the music I grew up listening to. A lot of people told me I was crazy to release an album called Europiana just after Brexit, but it wasn't a political album. I wanted to celebrate European music – as a genre it doesn't get taken seriously enough. 
Right now I'm writing an Italian album in Italy. I want to go back to the drawing board and throw myself in the deep end again. I'm also looking forward to going back on tour in the UK in the summer.
Follow @JackSavoretti
Buy tickets to Jack's next UK tour at JackSavoretti.com
All products on this page have been selected by our editorial team, however we may make commission on some products.
DISCLAIMER: We endeavour to always credit the correct original source of every image we use. If you think a credit may be incorrect, please contact us at [email protected].