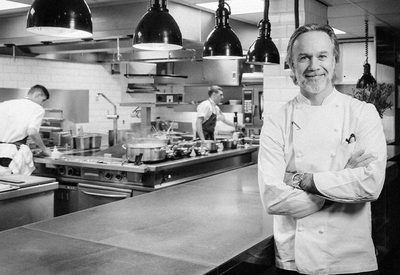 SLMan Meets… Marcus Wareing

---
When 14-year-old Marcus Wareing was offered the choice of working in his dad's fruit and veg warehouse or going into a restaurant kitchen, he chose the latter. It was the right call. Since winning his first Michelin star at the preposterously young age of 26, Marcus has become a MasterChef judge and star player on the British culinary scene. With a new BBC show on its way, he spoke to SLMan about his impressive life in food…

I had two options growing up. It was either working with my dad in the warehouse or becoming a chef like my big brother. And my dad asked me not to follow him, so I became a chef. I went to work in my brother's restaurant when I was 14. He was head chef in a hotel in Southport and I had the opportunity to do breakfast work, buffets, sandwiches – anything in the kitchen – and that was my introduction to cooking. Because I was there at very early age, it just felt like the most natural thing for me to do.
Even at my age I'm still discovering things about food. I've been a chef for 34 years, I've worked in amazing kitchens and I've done MasterChef. But then I stumbled across a smallholding in East Sussex four years ago which introduced me to a whole new part of life. Now I'm really excited about discovering the things we can grow in the garden.
In my new TV series, I take the chef's jacket off. Every episode I go out and find the best small suppliers, then bring their animals and ingredients back to the smallholding. Then it all comes down to a beautiful dish cooked in my garden, using those products. I want to take away the pressure people feel when they return home with a load of fresh ingredients. It's all about confidence. Be brave and bold – and be prepared to make mistakes like I do.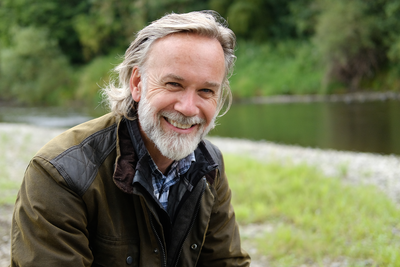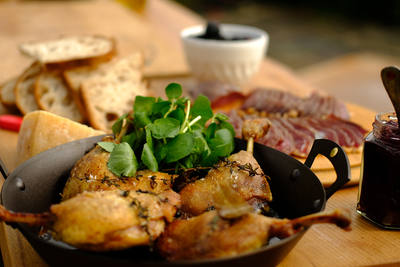 I still love MasterChef. Every year is different. We meet up for three months and discover incredible new dishes, incredible new talent and find a generation of chefs that no one would probably notice if it wasn't for the competition, so it's a joy to do.
I've only ever employed one chef from MasterChef. Craig Johnson, who won it four years ago, is still with me. He's an absolutely fantastic talent, but he never wanted stardom or fame, he just wanted to continue his career path. I really admire that. MasterChef is a great accolade to have, but it's just the beginning of the journey. To be successful, you've got to keep learning and expanding your imagination – and that's what he's done.
The dishes at my restaurant Marcus used to be all about me and my style of cooking. But then time goes on, you start to go out and do bits and pieces such as MasterChef and the new TV show, and things change. Now, I tend to come into the kitchen and really talk to my chefs and start guiding them through what dishes we want to put on the menu. I find a base or something I want to work with – it could be a courgette flower or piece of meat or fish ­­– and we work off that. The most important thing running a Michelin-starred kitchen is consistency. Every single dish you put on the pass has to be a strong dish.
I love going out to eat. I want to eat anywhere that celebrates hospitality and good cooking. Whenever we go to central London, it's always Roka, always Japanese food. I also love Scott's for fish, and I love Hélène Darroze's and Clare Smyth's cooking. Brett Graham is just about to reopen The Ledbury, so I'm really looking forward to going there for dinner. I had dinner at Claude Bosi at Bibendum the other day – it's excellent. We went to Tom Sellers' place – Restaurant Story – last week to celebrate and say goodbye to some members of my team who have been with me for many years.
I've only ever employed one chef from MasterChef. MasterChef is a great accolade to have, but it's just the beginning of the journey. To be successful, you've got to keep learning and expanding your imagination.
The first restaurant I remember is the fish and chip shop in the village where I used to live. I don't do takeaways these days – and I don't really do fish and chips either ­– but it was always a great thing when mum said, "Here's a couple of quid – go to the chip shop and get your dinner before work," back when I used to do shifts at my dad's warehouse. That was a proper treat.
I've had a lot of memorable meals but there was one recently that I just thought was absolutely outstanding. It was at Moor Hall up in Lancashire. As a chef, when you eat out, you go through the first thing you put in your mouth right to the very end, looking for inspiration or thinking you would have done this differently or you're not sure about a particular combination. This time, I couldn't fault it. I walked out of there and thought, wow! It's very rare I have a meal out and there's nothing I'd like to change.
For a weekend treat it will be a bacon or sausage sandwich using meat from a fantastic butcher we have in Wimbledon Village. If it's a Sunday, it'll probably be a full English – that's my style. There has to be a tin of Heinz on there too!
I love Sundays. A lazy lie-in, reading the newspapers, a nice breakfast, watching Liverpool play, taking the dog around Wimbledon Common, then having a family meal round the table and a couple of hours of great conversation. A really great Sunday is all of that – when it's pouring down with rain. I love rainy Sundays because if it's a good day, I'll end up going out in the garden, which then stops me spending time with my family.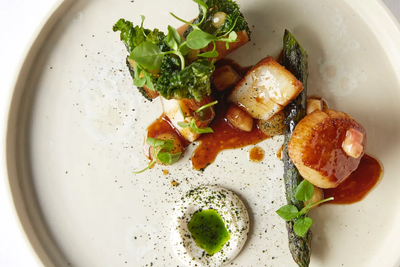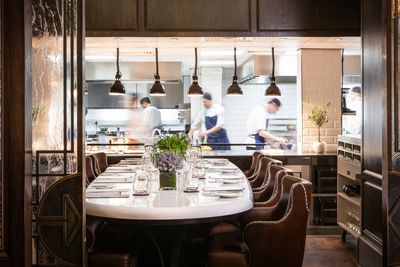 Sundays mean a roast dinner. We don't have beef that much because everyone likes it cooked differently, so it will probably be a fantastic chicken, leg of lamb or a piece of pork. I love all three and couldn't choose one over the other. All three need to be cooked slowly – always. The slower you cook it, the more tender the meat is, the juicier it is and the more flavour it has. I like a leg of lamb cooked in the oven when you can come back to it three-and-half hours later and it's beautifully cooked. It's all about the temperature and confidence – don't panic. If you get the temperature of your oven right (150-160ºC) you can leave it in there for 3-4 hours and it'll be amazing. If it's on 180ºC, after three hours you're stuffed.
The best party I've ever thrown was my wife's 40th. I didn't want to cook, so we went to the Connaught instead. The food was cooked by Hélène Darroze and it was just a beautiful French-style buffet which all our friends and family came to enjoy. It was a luxurious event that was all about the food and company. It was just lovely – a carvery, hot dishes, roasted meats, beautiful canapes, great desserts, ice-creams…
After a long, late shift I usually don't eat anything. Years ago, I used to come home and have a bowl of cereal, but I wouldn't do that now because it's just overloaded with sugar. I might have a cup of tea, maybe a biscuit or piece of chocolate, but that's probably about it. When I go on MasterChef, I taste food all day. It's a long, 12-hour day, but when I come home after work, I'll always have an egg and cress sandwich. I don't know why, I just have this craving for egg and cress sandwiches in summer. I love them.
DISCLAIMER: We endeavour to always credit the correct original source of every image we use. If you think a credit may be incorrect, please contact us at [email protected].