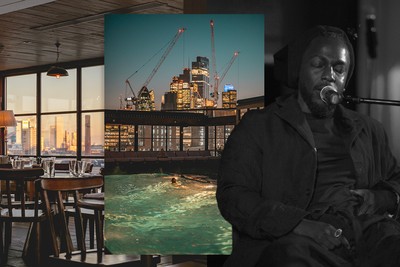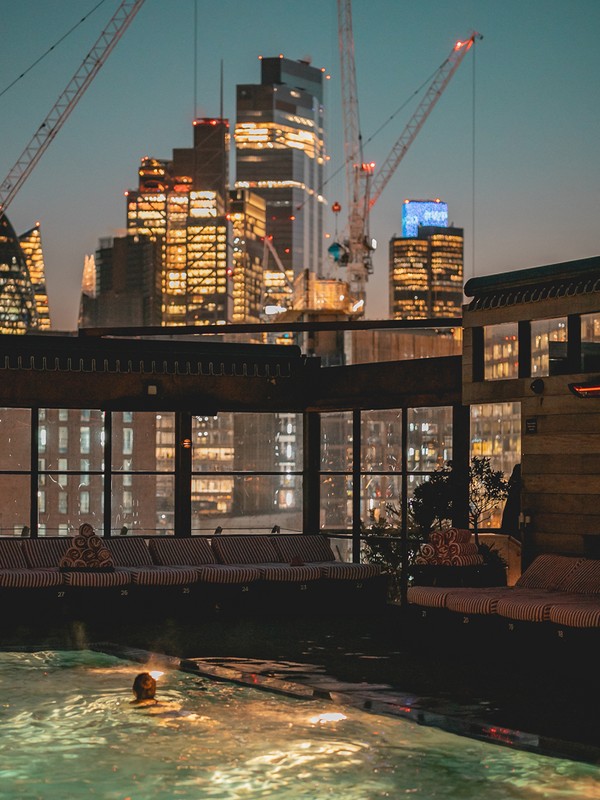 SLMan Meets… Soho House's Global Head of Music

---
Dom Chung was a DJ and promoter before he landed the role of global head of music at Soho House, so it's safe to say he has his ear to the ground in the music industry. He spoke to SLMan about what he gets up to behind the scenes, the up-and-coming artists to know, and the tracks he plays at his own house parties.

Photography
JUSTINDESOUZA/ GREG NOIRE
I've worked in live music for 20 years, having worked my way up the ladder with various roles including DJing, promoting, and being a touring agent. I came onboard with Membership Collective Group to launch The Ned, and the role quickly grew from that point within the business. As global head of music, I act as the conduit between the music industry and Soho House, primarily leading the bigger talent buying but also overseeing our core in-house franchises and ensuring we have consistency with our DJs, bands and playlists.   
I base myself out of our head office most days. Regardless of what event has happened the night before, I'm a morning person, so I'm usually in the office by 9am to collaborate with the team. This is where most of the planning and admin happens. In the evenings, it depends what's on, but at least two or three times a week I'll be in one of our Houses to check out an event. 
When it comes to booking acts, our remit is pretty simple. We just want to book the best shows we can at any given time and champion emerging artists as well as supporting established ones. We're constantly working with the industry to identify opportunities, and then thinking about what works best where.   
Soho Rising is our in-house program for championing the best emerging talent around. I wanted to reposition Soho House as a tastemaker channel within music, and felt we needed a brand around it to help connect with members. Since its inception, we've had the likes of Arlo Parks, Griff, Holly Humberstone, Moses Boyd, Berwyn, Gabrielles and Serpentwithfeet perform.
"One DJ who really gets the crowd going is Honey Dijon. DJing is about playing to the crowd in front of you and understanding how to read the room, which is exactly what she does."
I love discovering new music. I'm constantly plugged into the industry and looking at what's happening, but I also still love finding new artists music myself, whether that's via radio or playlists. I'm really excited about two up-and-coming artists in particular, both of whom are playing at the next Soho Rising shows. The first is Dylan, think the UK's version of Taylor Swift – who's recently toured with Ed Sheeran and has just sold out two Hammersmith shows, and Debbie, who's worked with John Legend, Lucky Dayes and recently featured on Stormzy's new album. Both of these feel really on the money in the current climate, and are genuine stars of the future. 
Patti Smith and Erykah Badu were two dream acts to book. They're both proper icons. In the future, I'd love to book Neil Young for something. 'Down By The River' is one of my favourite songs of all time, and the best way to start any day. 
Recently, I've been playing Emma-Jean Thackray on repeat. It's really incredible UK Jazz, I love what's coming out of that scene right now. The track 'Say Something' on her latest album Yellow instantly transports me somewhere warm. It's really incredible UK Jazz, I love what's coming out of that scene right now. Shout out to Ezra Collective too, who recently released an album and will be touring early next year. 
Kendrick Lamar's recent show was one of the most innovative I've seen within that genre. He made an arena show feel intimate, there was a real sense of theatre about it too, in a way that felt perfectly choreographed for an arena setting. We were lucky enough to have Kendrick come to 180 House for an intimate live show post-performance for his close friends and family. Having someone at the top of their game perform to an intimate audience in one of our Houses felt truly special. 
It's hard to choose a favourite DJ as it all depends on the setting. I love underground house and techno. There's a difference from what I would consider a great set at Panorama Bar to a beach set at Garden Tisno, and there's room for both. I love proper selectors such as Luke Unabomber, Benji B, or Gilles Peterson. Often some of my favourite DJs aren't particularly well known on a global level. 
One DJ who really gets the crowd going is Honey Dijon. DJing is about playing to the crowd in front of you and understanding how to read the room, which is exactly what she does.
Music-wise, a great house party, is all about the journey. I would start pretty mellow with background music so people can feel the mood, then gradually warm it up as the night progresses. Anything from the likes of Roy Ayres, Cymande or Sade work as a style guide for the for the early part of the evening. Then, for peak house party it would be the likes Talking Heads and Fleetwood Mac with a side of Sean Paul.  
If you're after a great playlist, our Morning, Noon and Night channels on Spotify channel are worth checking out if you like the sounds from our Houses. They were also the inspiration for our first vinyl album earlier this year, which has the same name. 
My top three start-of-the-weekend tunes are 'In The Evening' by Sheryl Lee Ralph, 'I Feel Love' by Donna Summer and 'You Make Me Feel' by Sylvester. The one track that always gets me on the dancefloor is 'Vogue' by Madonna. As a kid, I didn't really understand its routes in New York's LGBTQ clubs and counter culture, and I love that a community seeking to build their own world of self-expression inspired a mainstream hit. I wish chart music sounded so good today.
One of the best gigs I've ever been to was Blur Sunday at Glastonbury. It was a case of 'right place, right time'; it was a real moment. Anyone who was there would agree something special happened that was more than the sum of its parts. 
The best festival I've played at was Wilderness. The Valley is an amazing place to be on stage. You have around 7,000 people descend into the night-time area and I've been fortunate enough to do it a couple of times now. That said, my favourite festival to go to has to be Glastonbury. For scale and size, you really can't beat it. You'll usually find me in the NYC Downlow: escapism in its purest form. If you're looking for something more refined, our annual House Festival is about as premium as it gets, and blends the worlds of music and food brilliantly. I'm working on next year's line up as we speak! 
Music-wise, my favourite House is probably Shoreditch House. The roof deck overlooking the city skyline gives us an amazing platform for live music and DJ sets in the summer, and we've had the likes of Ghetts, DJ Harvey, The Blessed Madonna and Sugababes all provide standout moments. We want the music to be pretty consistent on the whole, but understanding the different demographics and cultures of each venue gives each site a degree of personality.
Right now, we're working on the opening of Soho House Stockholm. We've confirmed local act The Hives to perform ahead of their forthcoming album and tour with The Artic Monkeys. I'm also excited about the Art Basel Miami event, where we've put a huge week of programming together including Kelis, Roy Ayers, Rick Ross and Nick Cave amongst others.  
All products on this page have been selected by our editorial team, however we may make commission on some products.
DISCLAIMER: We endeavour to always credit the correct original source of every image we use. If you think a credit may be incorrect, please contact us at [email protected].