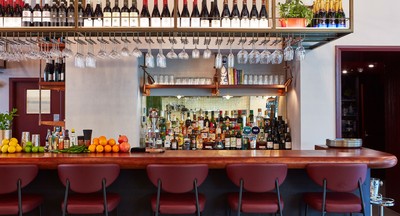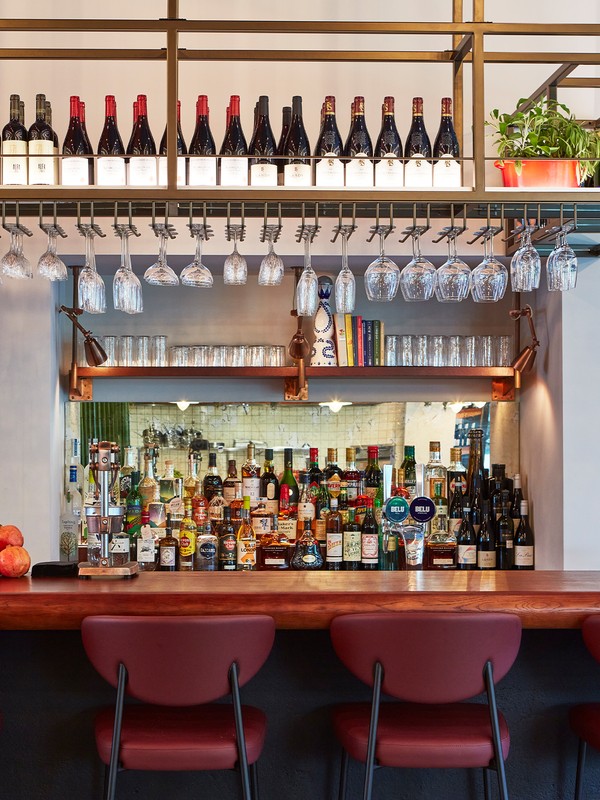 SLMan Meets… Top Israeli Chef Eyal Shani

---
Jerusalem-born Eyal Shani is the wildly eccentric celebrity chef behind London casual-dining phenomenon Miznon, plus a raft of legendary spots in Tel Aviv, New York, Paris and beyond. As he launches Lilienblum in Shoreditch, we caught up with him to talk inspiration, MasterChef and how cooking eight porcupines after a bad break-up sparked him to open his very first restaurant…

Photography
LILIENBLUM/YUKI SUGIURA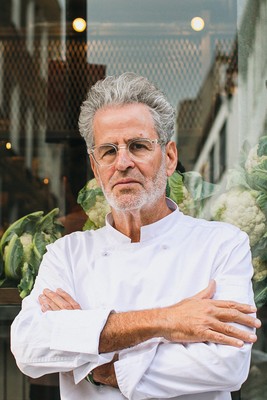 I'm currently in the middle of shooting 18-hour days for MasterChef Israel. I'm used to it now – it's not actually the recording that's tiring, it's the eating. It can make you feel crazy. When I judge on MasterChef, I'm searching for genius. Being a genius is mostly about freedom and a very clear vision. It's about finding shapes that are very simple, but most people cannot see them. It's not about lots of details, it's about the vision.
When I hire people, I look at two things. Their eyes and the way they shoot food for their Instagram profiles. I'm not teaching them how to cook – certainly not in the traditional way. I now have something like 1,000 chefs working with me around the world and I try to work on frequency and energy. When I create a new restaurant, I have a team who teach all the local chefs how to cook our way. The thing that I'm mostly doing is connecting myself to the head chef – I become them, and they become me. For three weeks I live with them and talk with them, trying to make their brain an improvement of my own. I teach them how to look at food, how to think about food and how to experience and feel the ingredients like they are part of you. Our kitchen is like a religion: you have to believe.
I decided to become a chef 37 years ago. I lived in Amsterdam for a while, which is where I met the first woman who broke my heart. I thought I was going to die. So I left the Netherlands and came back to Israel, and went to stay on my best friend's farm in the middle of nowhere. While I was there, I lived like a priest. I lived in a small stone house, I didn't buy food, I only drank water from the river and foraged in the wild. I lived a very primitive life, because I had to understand what was happening in my life. One day, a few friends of mine who were hunters brought eight porcupines with them. I made a fire and we roasted them, opened four bottles of good red wine and we ate our meal on the ground. I slept outside that night. I woke up as the sun was rising and I understood that I was going to become a cook. That was the spark.
I get my inspiration from everything. Everything in my life is an ingredient – the light, architecture, an eggplant, a scent blowing in the wind. It all becomes a big internal database. When something touches me, I stop, look and experience it. I like to give lots of time to things that come to me accidentally, because I know that one day they will be a part in a big puzzle as my body digests them and puts them in the right place. I work on intuition, based on a lot of visions and thoughts and feelings.
It's not about food. It's about people. Food is my vehicle, but the purpose and the destination are people. But I also feed off the energy of the customer – though I hate that word, so I prefer to use the word audience. We work with open kitchens: the kitchens are the stage, the chefs are the actors and you are watching us. I need your energy, because there's no way you can feed 200 people a night with your own energy – you must be an open pipe that collects energy and transforms it into an idea.
I was one of the first people in the world with an open kitchen. I chose one for transparency, and because I need the energy of the dining room. But the third and most important reason is that for each act – each movement, each plate – I need to know the final destination. I cannot cook in front of kitchen tiles because they don't have a face. But if you're sitting in front of me and I'm cooking for you, I can imagine what I'm going to do for you – and I'm open to the opportunity that your energy will change everything at the last minute. It feels like I'm cooking in front of people's hopes.
I cook in a completely different way at home. It took me a long time to learn how to cook at home, because there is no audience and no one clapping. When I'm in the restaurant, I'm cooking with my team and we are a chain of energy. A restaurant kitchen runs on tempo, and that fast pace is kind of a blessing because you have no time to think and no time to analyse. Analysing kills food in my opinion. You have to cook food based on instincts – that's the way we cook in my restaurants. At home, I work very quietly and very precisely on each thing I do. The result is completely different. It's less creative and more precise, and I don't have to run away from myself – at my restaurant, people are inspired by what I'm doing and copy me, so I need to have time for myself sometimes to try new things.
If there was no olive oil in the world, I would quit cooking. It brightens food, it's very tasty and it's very Mediterranean. I love it because it opens the doors of other ingredients to make new connections with other foods, be that cucumber or tomato. It's a kind of magic.
I decided to launch my London sites last year by chance. Over the last 20 years, I haven't pushed anything in my life. I'm always watching and looking for a change in the rhythm. We have some places in Tel Aviv that are really seductive. People from all around the world come to eat at HaSalon, trying to seduce me to launch a restaurant with them. Mostly, I enjoy hearing it, but refuse, as we now we have something like 52 restaurants (I've stopped counting). Now, I only do something if I feel like it. But any new place offers me new culture, new people and new ingredients. I change my dishes daily in Israel, but after 35 years of working there I feel like I'm coming full circle, as I've made so many combinations over the years and my development has become a very slow process. Arriving in London to launch Miznon and then Lilienblum, everything is completely different – the movements, the energy, the light, the smell. It's so inspiring to me, it's like my kitchen has been reborn. It's a big chance for me to continue creating.
When I decide to launch a restaurant in a new location, I have a big dream that it will change the lifeblood of the city. It's very childish to think like that, but life is all about illusions. Sometimes in the kitchen you see a connection that's precise; you think you've invented something huge in the world, but you've invented nothing. Nevertheless, you must see yourself as God if you want to continue to create. In the end, the things I'm doing are not that important – I know that – but that doesn't mean I shouldn't feel like I'm changing the world. That is my motivation.
For more from Eyal, it's @EyalTomato – and to book a table, it's Lilienblum.co.uk and Miznon.co.uk
All products on this page have been selected by our editorial team, however we may make commission on some products.
DISCLAIMER: We endeavour to always credit the correct original source of every image we use. If you think a credit may be incorrect, please contact us at [email protected].