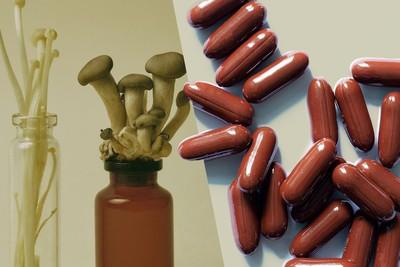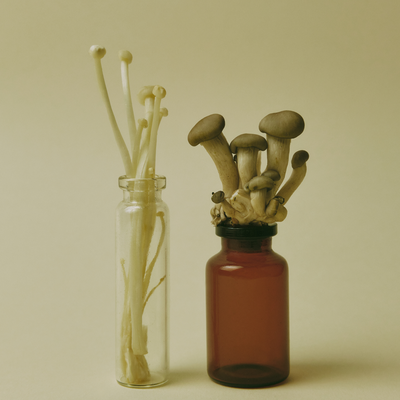 Medicinal Mushrooms: What They Are & How They Work

---
Stress, anxiety, immunity, gut health, sleep, libido… Recent reports have suggested medicinal mushrooms can help with them all. But what exactly are these high-functioning fungi? And how do they work? SLMan went to the experts for answers…

Photography ELIZA ALVES/STOCKSY UNITED; BANJONGSEAL324/ISTOCK
What's the science behind medicinal mushrooms?
"The benefits of mushrooms have been known for centuries, especially in Asia, but in the West we are only just wising up to their true potential. Medicinal mushrooms are similar to edible mushrooms in that they are eaten, but they have far higher concentrations of active compounds that have medicinal properties. Compounds called beta-glucans are found in the cell walls of medicinal mushrooms. Beta-glucans aren't digested by the body – instead, once they reach the lower intestine, they bind to receptors that activate our immune system. Beta-glucans also nourish the gut microbiome – which influences everything from our mood to immunity – and affect our sugar and cholesterol metabolism. Medicinal mushrooms also contain other unique antioxidants that have potent anti-inflammatory properties." – Clarissa Berry, nutritionist for DIRTEA
So they could help build general immunity, but are there specific issues they can go to work on?
"Mushrooms are one of nature's most powerful superfoods. I've used them in my clinical practice for over 20 years with great success, but they've been used for over 2,000 years to support immune and overall health. As well as regulating the immune system, they're fantastic prebiotics – they're rich in the starches and fibre that gut bacteria feed on in order to thrive. A paper published in 2007 showed mushrooms can inhibit cancer growth and protect against viruses. Medicinal mushrooms are an incredible source of antioxidants, which protects the body against ageing. They've also been shown to regulate blood sugar, support the liver and supercharge brain health." – Dr Simoné Laubscher, nutritionist & WelleCo formulator
"Chaga has more antioxidants than any other food, and anti-inflammatory properties that bolster the immune system."
"Nothing to do with psychoactive magic mushrooms, medicinal fungi are completely safe. As they are non-addictive, the body doesn't start to rely on their effects. They work in a way that strengthens the body, rather than simply providing a crutch that allows the body to become lazy over time. However, it's a good idea to pause for a few weeks every couple of months to give the body a rest." – Clarissa
Any other tips for taking them?
"Mushrooms work by regulating the system over time. For the best results, you should take them for a couple of months. If you are at all in doubt, chat to a nutritional therapist or herbalist specialising in medicinal mushrooms. Start with a concentrated extract which states the exact levels of key compounds like beta-glucans and terpenes, so you can gauge the most beneficial dose for you. You can mix and match mushroom species, so long as you are taking a daily dose for at least two months." – Sophie Barrett, mycotherapy advisor at Hifas da Terra UK
"One teaspoon of cordyceps powder a day has been shown to increase testosterone levels and sperm count. "
What should you look for in a supplement?
"The most important thing to look for when choosing a medicinal mushroom supplement is that it is certified organic – ideally 100% organic mushroom fruiting body or grain-free mycelium in vegetable capsules. It's also vital to know the quality and production processes are standardised and certified. There are many 100% organic medicinal mushroom products on the market, but unless these products have standardised levels of terpenes or beta-glucans, you won't see the benefits." – Sophie 
"Also look at where the mushrooms have been grown. Wild-harvested mushrooms are best as they contain a greater number of active compounds. Mushrooms grown on trees and logs (similar to how they grow in the wild but cultivated for larger-scale production) are the next best thing, so are perfect if you're looking for a superior quality but more affordable supplement. Steer clear of mushroom formulas that have been cultivated on grain – this isn't mushrooms' natural food, meaning the mushrooms won't have the same concentration of active ingredients." – Clarissa
WANT IN?
HERE'S WHERE TO START
Best For Brain Power: Lion's Mane
"Lion's mane stands out when it comes to cognition. Compounds in lion's mane called terpenes can regenerate nerve cells and are neuroprotective. This powerful mushroom can improve cognitive performance, focus, memory and mental clarity, making it a brilliant addition to your morning routine. There is also promising research on its ability to reduce symptoms in those with dementia and to speed recovery from nervous system injuries." – Clarissa
Best For Immunity: Chaga & Reishi
"Beta-glucans are found in all medicinal mushrooms, but their levels are particularly high in reishi, making it a fantastic supporter of immunity. Beta-glucans have been shown to fight off infection, and find and destroy damaged or cancerous cells. They also nourish and support the gut microbiome, which further contributes to healthy immunity. Chaga, meanwhile, has more antioxidants than any other food, as well as powerful anti-inflammatory properties that bolster the immune system." – Clarissa  
Best For A Pre-Workout Boost: Cordyceps
"Studies have shown cordyceps can improve athletic performance. Its ability to support our energy systems and oxygenation may improve endurance, reduce fatigue during long bouts of exercise, and studies suggest it can improve performance. Athletes in China traditionally take cordyceps as a natural performance enhancer and attribute many of their successes to this incredible mushroom. Cordyceps isn't your typical pre-workout – instead of making you restless, it provides a natural boost to improve not only your performance but also recovery. Cordyceps can also enhance libido and sexual vitality. Studies show that just one teaspoon a day can increase testosterone levels and sperm count." – Clarissa
Best For A Bedtime Tonic: Reishi
"Reishi is one of the most powerful adaptogens in nature, with potent calming and stress-relieving effects. It's also been shown to provide relief for migraines, and can regulate the intestinal flora, which we now know can play a role in easing symptoms of anxiety and depression. It can also protect the brain from the effects of stress and is a natural tonic for the vagus nerve – the biggest nerve in the body that plays a central role in our nervous system." – Sophie
Best For Heart Health: Maitake
"A traditional Chinese tonic used for over 2,000 years, maitake is an incredible adaptogen, which means it can help the body to better manage its stress response. It's a premium source of fibre, B vitamins, amino acids, copper, potassium and selenium, and has also been linked to lowering blood cholesterol levels to protect the heart." – Simoné
DISCLAIMER: Features published by SLMan are not intended to treat, diagnose, cure or prevent any disease. Always seek the advice of your GP or another qualified healthcare provider for any questions you have regarding a medical condition, and before undertaking any diet, exercise or other health-related programme.
DISCLAIMER: We endeavour to always credit the correct original source of every image we use. If you think a credit may be incorrect, please contact us at [email protected].