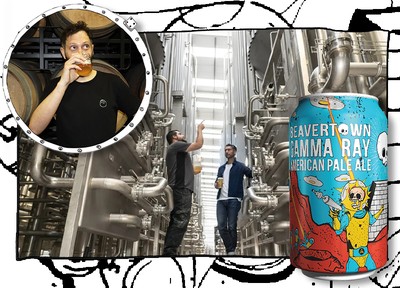 My Interesting Job: Beavertown's Head Brewer

---
Horacio Colombo's passion for beer and the craft beer industry started back home in Argentina, where political unrest in the early 2000s meant that all beer imports stopped, and Horacio and his friends needed to get creative. They started making their own beer in their kitchen, and Horacio accidentally found his calling. Now head brewer at Beavertown Brewery – which won Brewer of the Year UK 2020 – Horacio told SLMan what his days now tend to look like, and what's next in the world of beer.

My journey as a brewer began while I was at university. A school friend who was studying chemistry brought out one of their textbooks, where it explained how to make beer. Four of us were around the table at the time and all our eyes lit up. We divided the tasks of getting all the materials and equipment together, and two weeks on we were brewing our first beer. Two happy weeks after that we drank the whole 20 litres. We brewed a few more batches and, after a couple of failures, we left it for a while. After that I brewed on my own every now and then just for fun. 
Fast forward to 2014, I had just moved to London. I saw what was happening around craft beer and I knew it was my calling. I went to all the small breweries around my area with my CV explaining to whoever I'd find there that, even though I had no experience working in a brewery, I had been home brewing for years and I knew it wasn't a glamorous job, that there was lots of cleaning and hard work to do. One of those breweries hired me to clean casks and kegs and, after a few months, I was being trained as a brewer.
To get into brewing seriously, you need qualifications. To start off, in the UK there's a General Certificate in Brewing which is a qualification from the Institute of Brewing and Distilling that is recognised internationally. That will give you a good base to get into beer. These days, there are a lot of people getting into brewing and having a qualification like this one will open more doors than any informal knowledge you might have.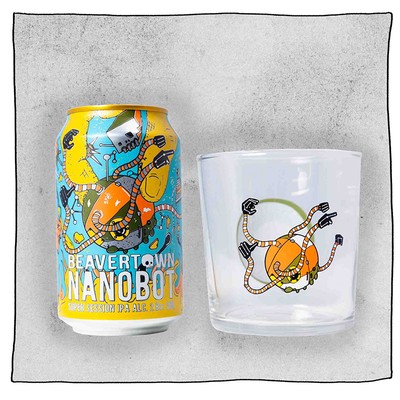 There's never a dull day at work. As head brewer, I spend a good part of my day going over what the team has brewed, dry hopped and centrifuged. I try to involve the team as much as possible when it comes to working on projects, and spend time planning their growth and progression, as well as recruiting top brewers. Whenever we're working on a new beer, a good part of my day revolves around meetings with the planning team, the quality team, compliance, marketing and sales. These days my role doesn't involve as much physicality as it used to, but what I always loved about this job is engaging physically and mentally with what you are doing: making science while lifting heavy loads.
Before Beavertown I worked at Brewdog. The brewery is based in Scotland and after two-and-a-half years there I felt I needed a new challenge and I missed living in London. Beavertown was the perfect place for me to move to as it was going through a big expansion at the time, with a lot of opportunities to progress, learn and contribute. The brewing industry isn't huge, and I knew a few people already working here, so I contacted them and asked if it was a smart move for me – and everyone was excited and happy to be working here. Plus, I've always liked Neck Oil. Essentially, too many things aligned and it made the decision a very easy one.
One of the things I love most about working in beer is the feeling you get when you go to the pub and have a pint of a beer you've brewed, fermented, dry hopped, centrifuged (and processed in any way) and it's delicious. There's an extra great feeling when you see other people enjoying it. 
One of the biggest misconceptions about the job is that you're drinking all day. Another big one is that anyone could do it, when it actually requires a lot of knowledge to do it well. Finally, there's the idea that it's cool or glamorous. It's really hard work. 
"These days my role doesn't involve as much physicality as it used to, but what I always loved about this job is engaging physically and mentally with what you are doing. Making science while lifting heavy loads".
The best part of the job is simply making beer for a living. It doesn't get better than drinking the freshest beer at the end of a long day. The most challenging parts are having to be quick to find solutions when things don't go as planned. This is a very fast-paced environment and time is critical when you're brewing, so finding answers to problems that arise (and they arise a lot more often than you'd wish) is paramount to maintaining a good standard on your beers.
Beavertown is really collaborative. The inspiration for the names of our beers comes from just about anywhere. From Neck Oil to Lazer Crush, our beers have variety and character. One of our main inspirations is science fiction, hence beers such as Gamma Ray, and we reflect this on our cans. Beavertown's creative director, Nick Dwyer, is responsible for all of the brand's artwork. He's an award-winning graphic designer and illustrator, and is the mastermind behind everything to do with Beavertown's look, from the cans to our Tottenham Hotspur Stadium taproom. 
Branding in beer is really important these days. Beavertown's look has become iconic and we want to spread it as far and wide as possible – which is why we now sell everything from cans and t-shirts to glassware and socks. People love the look of the cans and this spills over into the merch, which people are always eager to get their hands on. I think branding in beer is really important because it shows what the company is all about – innovation.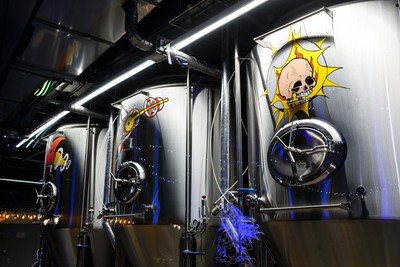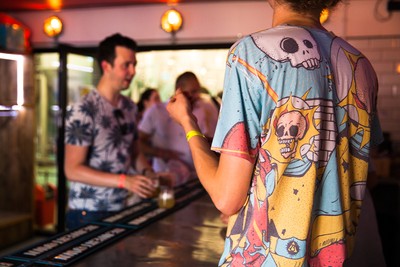 Craft beer has matured so much in the UK in the last ten years. We're at a stage in which you can get amazing craft beer in almost every pub in the country. In terms of where the scene goes next, I think that among the breweries now brewing great beer, some will keep on growing, while others will choose to remain small and sell smaller batches. Fundamentally, drinkers recognise when a beer is good and will keep on choosing it – so you can't really go back to what there was before when you've had really good beers.
There have definitely been a few career highlights for me. Travelling for work as a brewer is great. Going to festivals and meeting people who actually thank you for making great beers – that's mind blowing. Beavertown being crowned Brewer of the Year UK 2020 by the International Beer Challenge was also an incredible achievement, and something we're all so proud of. We pour our passion and energy into crafting brilliant beers, so it feels great to be acknowledged for it. Overall, being able to work with amazing people and make brilliant friends in the industry is undoubtedly the best part of the role. 
The last 18 months have been interesting. With pubs closing, we lost most of our sales and had to shift our attention to our canned beers, but we managed to find a way to adapt quickly. Our direct-to-consumer team took off, growing from two people to eight and sales increased by nearly 1,000% a week at its peak. Another challenge we faced was that you obviously can't work from home when brewing. We had to adapt quickly and put Covid safety protocols in place to ensure our staff were protected.
"Brewing is a job that may sometimes seem repetitive, but there's so much beauty in the small differences and improvements you achieve by doing things again and again."
The off-trade became our main outlet when pubs were closed. Supermarkets we didn't have deals with before March 2020 started selling our core range beers – we're now stocked in Ocado, Tesco, Sainsburys, Asda, Morrisons and M&S. While independent bottle shops that always stocked our beers also now sell our seasonal and one-off beers.Beavertown's events have always been always unmissable. Right now we're looking forward to our birthday party in August. Beavertown's actual birthday is in February, but because we couldn't celebrate back then, we are going to have a proper party on 7th August at our new flagship brewery site in Enfield. We've brewed new beers for the event, collaborating with up-and-coming breweries, and there will also be street food brands and a radio station. We can't wait to all be back together, celebrating. 
I love pubs. One of my favourites is The Mermaid in Clapton, which is currently still closed, but I can't wait for it to open again. The High Cross in Tottenham has a fantastic selection of beers at all times. The Spread Eagle in Homerton is a vegan pub with a great menu of food and drink. The Left-Handed Giant brewpub in Bristol is great. The Bull in Ditchling is the home of Bedlam, a small brewery I worked for when I lived in Brighton – I also really rate The Evening Star in Brighton and The Westbourne in Hove. 
I've learned not to plan too much in advance. Five years ago, I was in Scotland and had no clue I'd be here today. Five years before that I was living in Buenos Aires and had no clue I'd be living in the UK. Five years from now, I know I'll be where I want to be. As long as I hold the reins of my life, I'll be happy doing what I want to.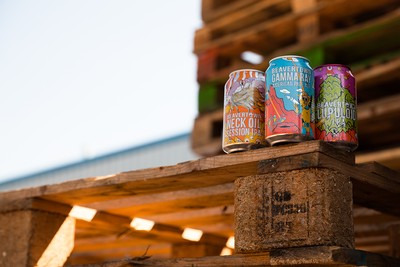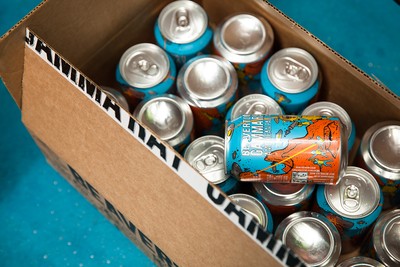 What's next in terms of beer trends? The thing about trends is that in the past, breweries would follow them and not always get it right before the next fad would arrive. I think breweries are waking up to this and getting specific with certain styles instead of jumping from one to the next. This has a huge benefit for us, the drinkers, because if we want to drink a specific style, we know which breweries are making the very best of them. 
There are loads of other breweries I rate all around the world. Just check out Drop Project, Amity, Lakes, To Øl, Wicklow Wolf, Brlo, Lemke, Vocation, Signature, Garden, Cantillon and Boon. And the two Argentinian breweries I love are Punto de Equilibrio and Juguetes Perdidos. 
My advice for anyone wanting to get into the beer industry is to be persistent. Brewing is a job that may sometimes seem repetitive, but there's so much beauty in the small differences and improvements you achieve by doing things again and again. Never stop learning and stay humble. I have forgotten where I heard this quote, but I have repeated it until I made it mine: "He who learns only from himself has a fool for a teacher." This has been my professional mantra and it's worked fine for me so far.
DISCLAIMER: We endeavour to always credit the correct original source of every image we use. If you think a credit may be incorrect, please contact us at [email protected].